Love with Food
. All opinions are 100% mine.
When you commit to a healthy lifestyle, there are so many challenges you will face when it comes to your food. One of the biggest challenges we face is finding healthy snacks. As much as I would like to, I can't make everything from scratch and there is something to be said for having some variety in your snacking repertoire.
Enter Love With Food.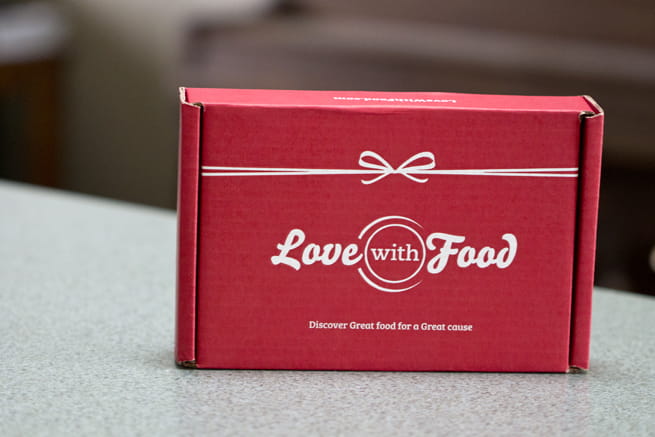 The Love With Food Concept is simple.
What is Love With Food?

Love With Food helps you discover new organic, all-natural snacks delivered to your door every month. Our subscription membership starts as low as $10/month. Every month, Love With Food members will receive a curated box of unique, hard-to-find tasty snacks which varies based on seasonal themes.
Love With Food Healthy Snack Box
There are two box sizes available the "Tasting Box" which contains 8+ new snacks each month and the "Deluxe Box" which contains 16-20 new snacks each month.
I was sent a Tasting Box to try and it was filled with some unique and interesting (and of course tasty) Organic and All-Natural Snacks, many of them I have never heard of.
Opening the box was like a Christmas present. I was so excited to see what was inside!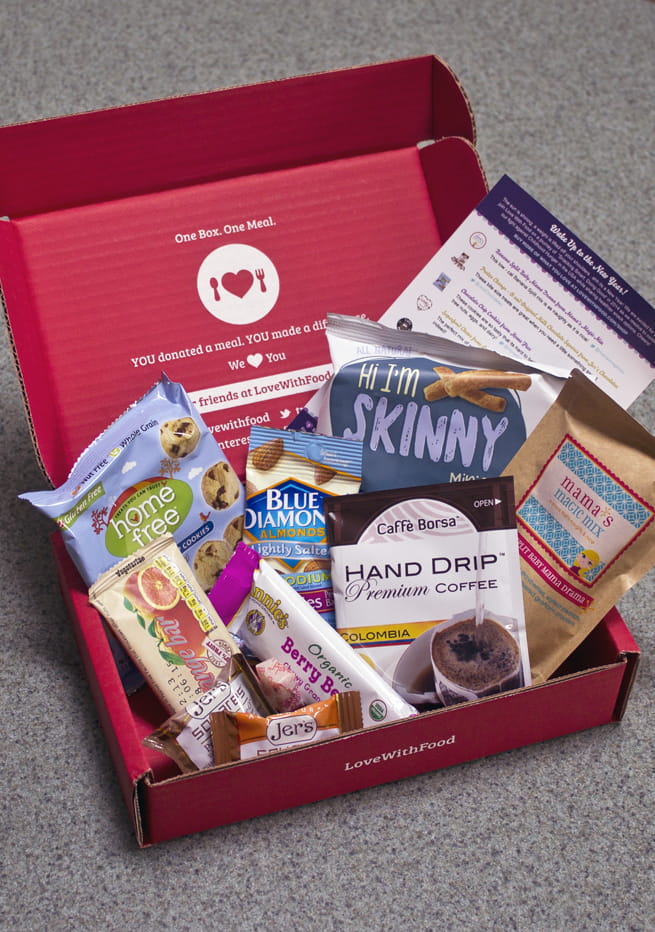 Oooh look at all those great yummy snacks!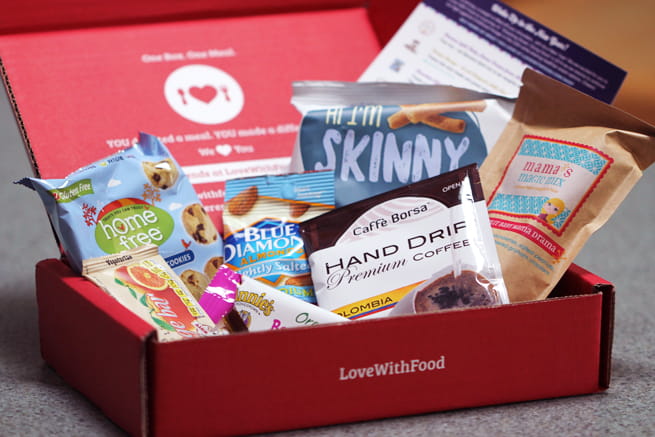 Of the 8 different items in this box, I had only ever heard of one of them, so it was such a treat (no pun intended) to be able to sample some new, natural products that we otherwise would never have had an opportunity to try.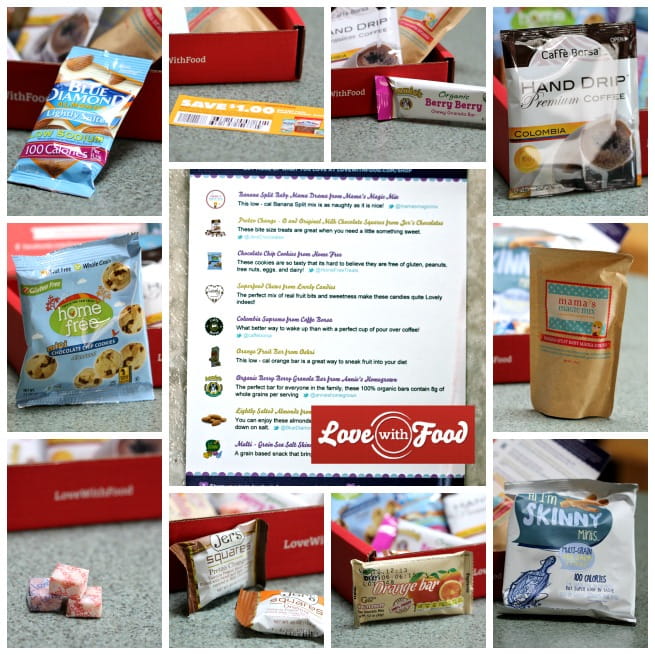 Included in my box:
Lightly Salted Almonds from Blue Diamond Almonds
$1.00 off coupon from Blue Diamond Almonds
Organic Berry Berry Granola Bar from Annie's Homegrown
Columbia Supremo from Caffe Borsa
Chocolate Chip Cookies from Home Free
Banana Split Baby Mama Drama from Mama's Magic Mix
Superfood Chews from Lovely Candies
Pretzo Change-O and Original Milk Chocolate Squares from Jer's Chocolates
Orange Fruit Bar from Oskri
Multi-Grain Sea Salt Skinny Sticks from Hi I'm Skinny
Because I have committed myself to a no sugar lifestyle, I let my kids do the sampling of the products for me. Except the almonds. Those were mine. And I ate them all and licked my fingers. As for the rest of the products, they really seemed to like them all, especially the Lovely Candy Fruit Chews. They fought a little bit over who got the last Home Free Chocolate Chip Cookie, and asked me to buy more of the Skinny Sticks.
There was one product in the box, however, that we didn't try because I felt like it really didn't belong in a box with healthy snacks. The Mama's Magic Mix actually contains partially hydrogenated palm kernel oil, margarine which contains partially hydrogenated soybean oil, mono diglycerides, sodium benzoate and artificial colors. None of these would qualify as "healthy" so I was quite surprised when I read the label.
I am assuming this was an oversight on the part of Love With Food but I felt it was necessary to mention. It's a good lesson actually that you can't just trust things without reading the label for yourself. The rest of the products in the box are great alternatives to mainstream snacks filled with artificial ingredients – I read every label for myself to be sure.
Snacks That Do Good
In addition to providing unique Healthy Snacks each month, every Love With Food box donates a hungry meal to a food bank.
For every box sold, we donate a meal to several food banks such as the Feeding America Network and Share Our Strength – No Kid Hungry. Join us to help end child hunger one meal at a time!
Get Your Own Love With Food Box
You can get your own curated box of unique and healthy snacks right to your door every month by clicking on "Snack Box" on the Love With Food website. You then choose your box, select a tasting plan, and then you will enjoy discovering great new products every month.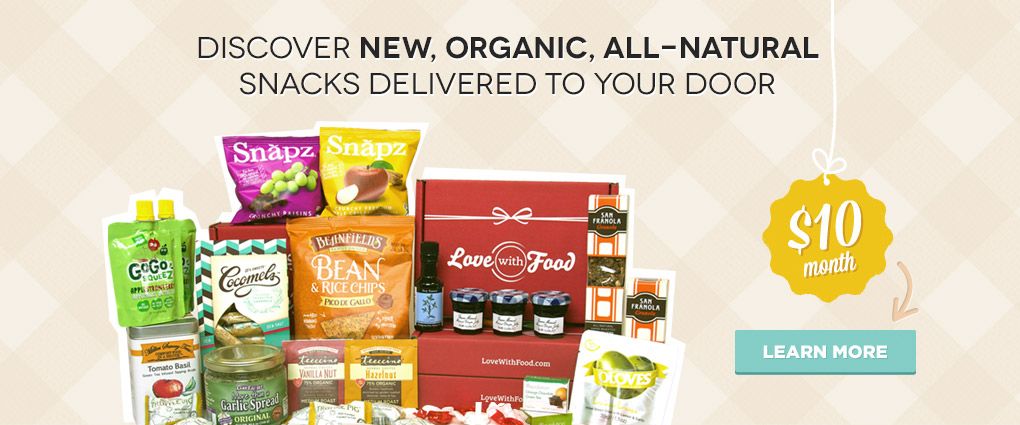 Love With Food boxes ship free and cost only $10/month if you select the annual plan. You can cancel at any time too.
Currently Love With Food also has some great promotions going on. Order before 1/31 and you will receive a $15 gift card to either Soap.com or Little Black Bag. You can also use coupon code NEWYEAR2014 to save $5 off any snack subscription.
Join our newsletter!
Subscribe to get updates and great stuff via email including subscriber-only goodies like free printables and giveaways.

This is a Sponsored post written by me on behalf of