This collection of 15 dishes will take your sense of taste on a wild voyage, from crunchy lotus root chips to spicy lotus root curry. Prepare to discover the health benefits and delectable flavor of this unsung champion of the vegetable world!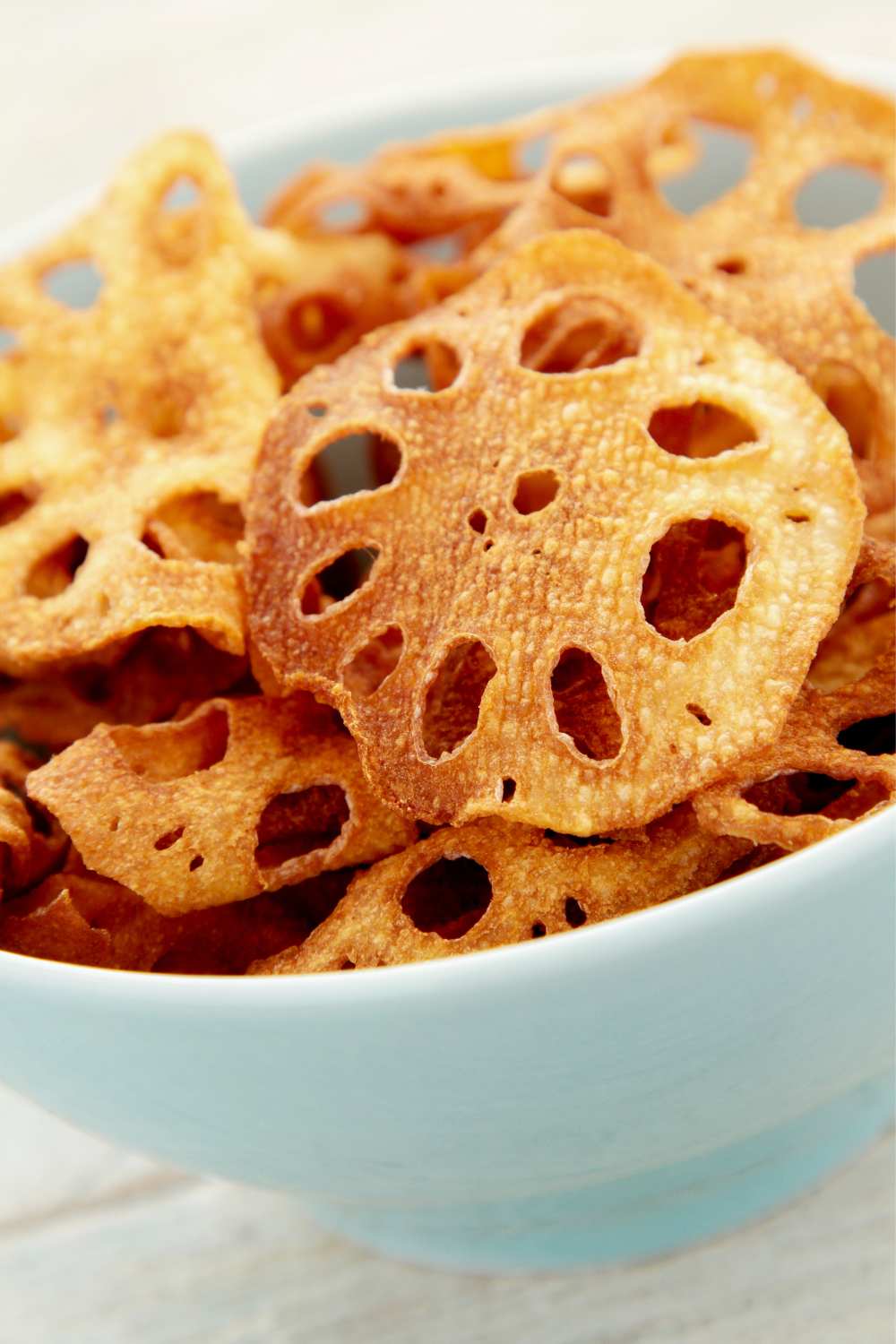 What Is Lotus Root And What Does It Taste Like?
Lotus root is an edible root vegetable that is native to Asia. It is a healthy and low-calorie vegetable that has a mild and slightly sweet taste. It is high in fiber, vitamin C, potassium, and other essential nutrients.
Can I Eat Lotus Root Raw Or Does It Need To Be Cooked?
Lotus root can be eaten both raw and cooked. When eaten raw, it has a crispy texture and a slightly sweet flavor. However, cooking lotus root is recommended as it makes it easier to digest and also enhances its flavor. It can be boiled, stir-fried, deep-fried, or even roasted.
Where Can I Find Fresh Lotus Root?
Fresh lotus root can be found in most Asian grocery stores, as well as some specialty markets. It is typically sold whole or in pre-sliced form. Look for lotus roots that are firm, with no visible signs of damage or soft spots. It is recommended to use fresh lotus root within a few days of purchase for the best flavor and nutritional value.
15 Recipes With Lotus Root
These 15 recipes will have you falling in love with lotus root and feeling healthy as ever:
Crispy Honey Chilli Lotus Stem is the perfect solution if you're in need of a fast and tasty appetizer or snack. Lotus stem, deep-fried and then doused in a sweet and spicy honey chili sauce, stars in this Indo-Chinese dish. To get a crunchy texture, the lotus stem is dusted with cornflour and given mild salting.
The combination of soy sauce, honey chili sauce, and sriracha in this sauce strikes the ideal sweet-and-spicy balance. For extra taste and visual appeal, sprinkle on some red pepper flakes, sprinkle on some sesame seeds, and top with the green parts of spring onion. Relish while it's still hot.
Baked Lotus Root Chips are a delicious and healthy snack that you can easily make at home. Simply slice the lotus root thinly using a mandoline or a knife and add the slices to a bowl of cold water to keep them from browning. After patting them dry, place the slices in a single layer on a parchment-lined baking sheet and brush them lightly with olive oil.
Sprinkle with sea salt and fresh ground black pepper, and bake in a preheated oven for 10-15 minutes until they turn brown and crispy. Remove from the oven and let them cool before serving or storing in a zip-lock bag for up to 2 days. Enjoy the crispy texture and the subtle flavors of lotus root in every bite!
Nadru Yakhni is a traditional Kashmiri dish that features lotus root slices cooked in a creamy yogurt sauce. The lotus root slices are boiled until tender and then combined with a mixture of yogurt, chickpea flour, and spices to create a rich and flavorful sauce. The dish is then simmered until thickened and garnished with aromatic spices such as cumin, cardamom, clove, and cinnamon, along with dried mint.
The result is a comforting and nourishing dish that highlights the unique texture and subtle flavor of lotus root. Serve Nadru Yakhni with rice or naan for a satisfying and delicious meal.
This Kung Pao Lotus Root recipe is a spicy and savory dish that showcases the unique flavor and texture of lotus root. The lotus root is cut into small dice and blanched before being stir-fried with garlic, ginger, dried peppers, Sichuan peppercorn, and scallions. The Kung Pao sauce adds a rich and complex flavor to the dish, with notes of dark soy sauce, light soy sauce, vinegar, sesame oil, and sugar.
The addition of toasted or fried peanuts adds a crunchy texture and nutty flavor. Garnish with chopped scallion sections and serve hot for a warm and satisfying meal.
Lotus root stir-fry is a savory and colorful dish with a crunchy texture. The lotus root is marinated in vinegar to remove its bitter taste and then stir-fried with garlic until translucent. The addition of mushrooms and peppers adds a pop of color and flavor to the dish. The sauce, made with soy sauce, oyster sauce, rice wine, and corn syrup, coats the vegetables perfectly, making every bite irresistible.
The dish is finished with a drizzle of sesame oil and a sprinkle of sesame seeds, giving it a nutty and slightly sweet flavor. This is the perfect dish for a healthy and flavorful meal.
This Lotus Root Stir Fry recipe is a perfect balance of flavors with a kick of heat. The thin slices of lotus root are boiled until tender and then stir-fried with fragrant garlic, scallions, and a mix of spices like cumin powder and sesame seeds.
The chili oil and red and green peppers add a pop of color and spiciness to the dish, while the light soy sauce, vinegar, and sesame oil give it a savory and nutty undertone. This vegetarian-friendly dish is a quick and easy way to add some excitement to your mealtime.
These lotus root cakes are a flavorful twist on classic meat patties! Grated lotus root and carrot add a crispy and crunchy texture to the juicy ground pork, while a mix of soy sauce, salt, and chicken bouillon adds savory flavor. Fry them up in avocado oil until crispy and golden brown on the outside, and serve with a side of leafy greens or rice for a complete meal.
The salty, sweet, nutty, and crunchiness of this Korean braised lotus root make it the ideal side dish. In order to get a dark brown and somewhat crunchy texture, the lotus root is first cooked in vinegar before being braised in a mixture of soy sauce, brown sugar, Mirin, and corn syrup.
Because of the corn syrup, it has a glossy finish and a sticky covering. Sesame oil and seeds are used as garnish for the dish. This side dish is great both chilled and at room temperature. If you're wanting to spice up your cuisine with some authentic Korean tastes, go no further than this recipe.
Experience the vibrant and bold flavors of Thailand with this vegan Lotus Root Tom Yum Soup. The earthy and crunchy texture of the lotus root slices melds seamlessly with the spicy and tangy broth made with galangal, lemongrass, grape tomatoes, and kaffir lime leaves. Button mushrooms add a meaty touch to the soup.
Finish off the soup with a squeeze of lime juice, vegan Thai sweet chili paste, and chopped cilantro for a burst of fresh flavor. Garnish with pounded chilies and lime wedges for a stunning presentation. This soup is perfect for a cozy evening or a light lunch.
This Lotus Root Stuffed with Minced Meat recipe is a unique way to enjoy this tasty root vegetable. The lotus root slices are pre-cooked and then stuffed with a mixture of minced chicken, chopped Japanese cucumber, red pepper, and ginger.
The stuffed slices are then cooked until the meat is golden brown, resulting in a delicious and satisfying dish. The added coconut oil provides a nutty flavor, while the cucumber gives it a refreshing crunch.
This Red Bean Curd Braised Pork Belly with Lotus Root is a mouthwatering dish that's sure to impress. The succulent pork belly is braised with lotus root, ginger, and garlic, resulting in a flavorful and tender dish that's perfect served over steamed rice. The addition of red bean curd adds a depth of umami flavor, while the red chili gives a touch of heat that can be adjusted to your preference.
The dish is finished off with sliced shallots and more chili, adding a pop of freshness and color to the dish. This is a dish that's sure to satisfy your cravings and transport you to the flavors of China.
The thinly sliced lotus root in this salad is blanched and cooled before being covered with a savory and spicy sauce—the ideal dish for the warmer months. Drizzle some rice vinegar or fresh lemon juice over the slices for a tart bite.
There are two sauces to choose from: a mild, sweet dressing made of soy sauce and black vinegar; and a hot sauce made of soy sauce, ginger, garlic, black vinegar, and chile oil. Garnish with fresh coriander and green onions and serve cold. This salad can be thrown up in a flash and served with any dish to add some crunch and flavor.
Lotus root stuffed with minced pork is a delicious and crispy dish. First, the lotus root is peeled and sliced. Then, a mixture of minced pork, green scallions, ginger, light soy sauce, cooking wine, salt, and pepper powder is added to the pork.
The mixture is then spread evenly on one slice of lotus root and covered with another slice. The lotus root slices are then deep-fried in a mixture of egg, cornstarch, flour, water, and salt until crispy and golden brown. Serve warm and enjoy the savory and crispy taste of this lotus root stuffed with pork.
Simmered Lotus Root, also known as Renkon no kimpira, is a simple yet flavorful Japanese side dish that is easy to make. Thinly sliced lotus root is simmered in a savory sauce made of mirin and soy sauce, giving it a sweet and salty taste. The addition of toasted sesame oil and seeds adds a nutty aroma to the dish.
For a bit of extra heat, chili flakes or shichimi togarashi can be sprinkled on top. This dish pairs well with rice and other Japanese dishes and is perfect for those looking for a healthy and tasty vegetarian option.
This Japanese Stir Fried Lotus Root is a flavorful side dish that can be prepared in a short amount of time and with little effort. Thinly sliced lotus root is browned in a combination of cooking and sesame oil until cooked through, and it is then simmered in a dashi broth or water until it reaches the desired consistency.
Sugar, which is sprinkled on top, provides the sweetness, while soy sauce contributes to the saltiness. This meal is packed with a variety of flavors and textures, and it is served hot with an optional topping of Sichimi Togirashi, which is a Japanese spice mix. Ideal for any meal or as a nutritious snack on its own.