Note: I received the Lottie Dolls product shown to facilitate my review. Post originally published on Nov. 7th, 2013 and updated on April 20, 2018.
"Be bold, be brave, be you."
That is the motto of Lottie Dolls, an innovative new fashion doll designed for girls ages 3 through 9 years old. We all know that Barbie has undergone a lot of controversy regarding the unrealistic body image messages the doll sends. Girls cannot possibly achieve the look that Barbie portrays and despite her attempts at equalizing herself in a male world, she still falls short of being an appropriate, realistic role model for young girls.
And it's so important for me to provide my daughter with age appropriate toys.
Other popular lines of dolls also lack a wholesomeness that most parents of 3-9 year old girls would prefer to see in a doll. My daughter keeps asking for one of the more suggestively dressed dolls. I think they look more like they are aimed for high school aged children and have vetoed her requests many times. Which is why I am so happy to have found Lottie Dolls!
Some key features of Lottie Dolls that make them unlike any other doll out there:
Lottie Dolls are 7-1/2 inches tall. Not too big and not too small.
Lottie Dolls look like little girls and have a "childlike" body.
Lottie Dolls encourage girls to be themselves with a variety of different dolls full of character and uniqueness.
Lottie Dolls have removable clothing and joints that move so the dolls can be posed.
Lottie Dolls are age-appropriate barbie alternatives!
Check out the line of Lottie Dolls:
These dolls have such character! Much like my own daughter.
Which is why the Pandora's Box Lottie is a perfect fit for her!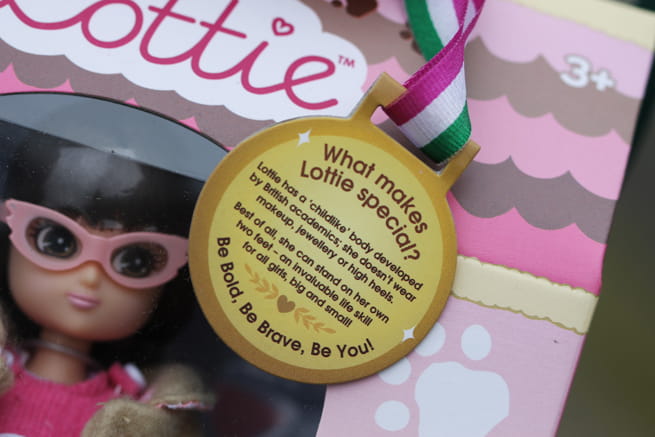 About Lottie:
Lottie is a feisty character; she can stand on her own two feet and whilst she occasionally makes mistakes, she learns from them.
About Branksea:
Lottie lives in a fictional place called 'Branksea'. Branksea is a mixture of woodland, countryside, and coastline; very much in keeping with the active, outdoors Lottie ethos and an ideal setting for all of Lottie's adventures and escapades.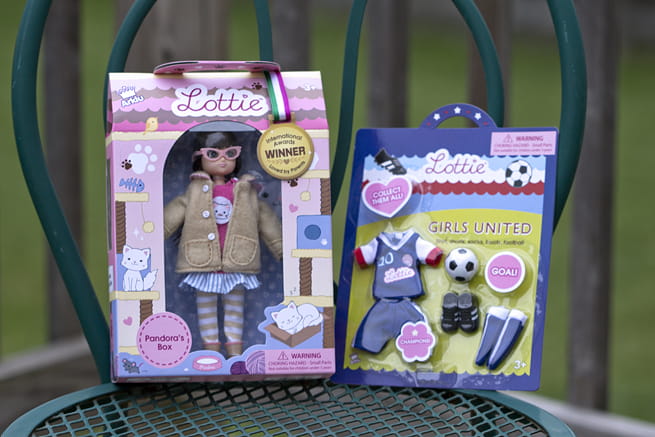 Pandora's Box Lottie Doll
Lottie is volunteering at Branksea Animal Shelter, helping to look after the homeless cats and dogs. One day a cardboard box is mysteriously left outside the front door with a hungry and frightened Persian cat inside. They decide to name her Pandora. Unlike the Greek myth, where a box brought unhappiness, here the arrival of Pandora is a cause for joy and fresh hope. Lottie helps to nurse Pandora back to health and make sure that her furry coat is kept clean and fluffy.
Girls United Outfit Set
Branksea is hosting its annual football tournament. Lottie and her friends have teamed up to make an all-girl soccer team. All summer they have been practising their drills, taking it in turns to score goals, bouncing the ball from their knees to their heads, and running up and down the pitch dribbling the ball. With their red, white and blue uniform, Lottie's team look ready to play! Who will score the winning goal?
I love the little box the Lottie Doll comes in, it tells her story and can be used to store her in when she isn't being played with. I can't even begin to describe how endearing she is. She has so much detail! Her hair is soft and is not supposed to get tangled and knotted like other dolls. Her clothing is so cute and detailed with tactile fabrics and even real buttons. She is pose-able and can be dressed and undressed in available outfits.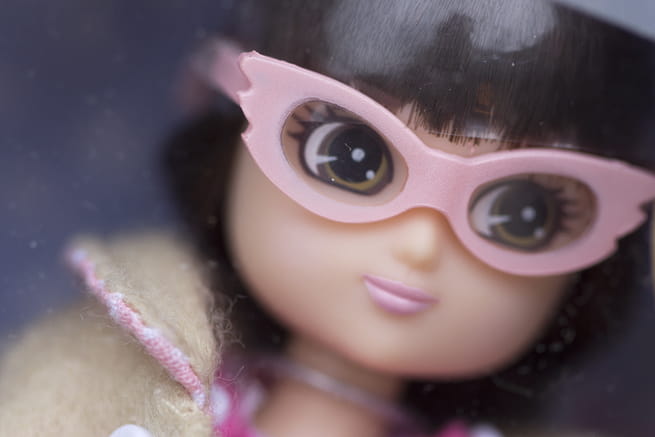 The Girls United outfit that we received is a full blown soccer player's get-up with uniform, socks, shoes and a soccer ball. Girls can play soccer too! There are also other outfits and accessory sets available for Lottie to be whomever she wants to be and take your daughter along for the ride.
Lottie Dolls where to buy:
Lottie Dolls Amazon
Lottie Dolls Target (Lottie Dolls do not seem to be available at Target any longer)