Welcome to our collection of 15 delicious recipes featuring the humble yet versatile long bean!
Whether you're looking for a quick and easy stir-fry or a more adventurous dish, these recipes are sure to satisfy you.
From Thai basil chicken to Chinese-style green beans, we have something for everyone. So grab a bunch of long beans and let's get cooking!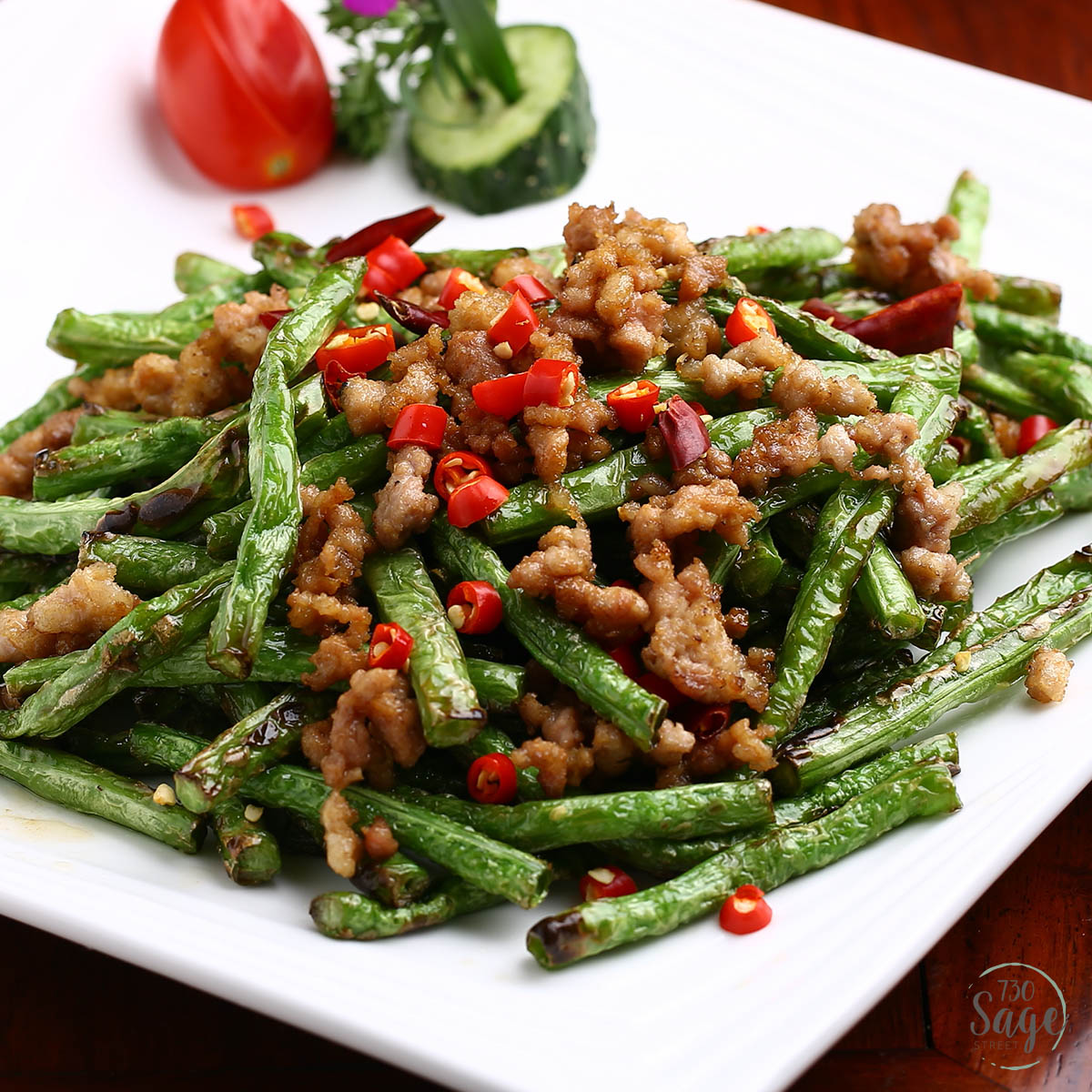 How Do I Choose And Store Fresh Long Beans?
Choose fresh long beans that are firm, bright green, and have no signs of wilting or discoloration. They should snap easily when broken in half. Store them in a plastic bag in the refrigerator for up to a week. Before cooking, rinse the beans thoroughly and trim the ends.
Can I Use Canned Long Beans In These Recipes Instead?
While fresh long beans are ideal for these recipes, canned long beans can be used as a substitute. Simply drain and rinse the beans before using them in the recipe. Keep in mind that canned beans may have a softer texture than fresh ones and may not hold up as well in stir-fries or other dishes that require longer cooking times.
15 Recipes With Long Beans
These 15 long bean recipes will have you cooking up a storm with this unique and delicious vegetable:
Pork belly adobo with long beans is a Filipino classic that packs a flavor punch. In this recipe, juicy pork belly is cooked in a tangy and savory sauce made from vinegar, soy sauce, and garlic. The dish is then elevated with the addition of tender-crisp yard-long beans that provide a delightful crunch to every bite.
Garnished with fried garlic bits, this dish is a perfect balance of flavors and textures that will leave you craving for more. Serve it hot and enjoy the mouthwatering aroma that will surely whet your appetite.
Sri Lankan Long Beans Curry, or Ma Karal Curry, is a delicious and spicy way to enjoy this vegetable. Cut the long beans into bite-sized pieces, and sauté them with onions, tomatoes, and a blend of spices. Add some coconut milk for a rich and creamy texture.
This curry is perfect for serving with plain rice and other curries. If you're looking for a new way to prepare long beans, give this recipe a try. It's a great way to explore the flavors of Sri Lankan cuisine.
Spicy and aromatic, this Thai green bean and tofu stir-fry will tantalize your taste buds! The curry paste, made from an exotic blend of dried chilies, garlic, shallots, lemongrass, and galangal, delivers bold and complex flavors to this dish. The tofu and green beans, crispy on the outside and tender on the inside, absorb the flavors and textures of the paste perfectly.
The dish is completed with a touch of sweetness from the sugar and the savory depth of the soy sauce. Enjoy it hot over steamed jasmine rice!
These crispy and savory tofu-stuffed long beans are a must-try for anyone who loves flavorful Asian cuisine. Start by blanching the long beans in boiling water and ice water to achieve the perfect texture, then stuff them with a tasty mixture of tofu, mushrooms, and spices. Pan-fry the beans until they're golden brown, then simmer them in a mouthwatering sauce made with soy sauce, hoisin sauce, hot bean paste, garlic, and Thai chilies.
Finally, thicken the sauce with a cornstarch slurry and sprinkle toasted sesame seeds over the dish for a nutty flavor and satisfying crunch. Enjoy this delicious dish as a main course or a side dish to complement any Asian-inspired meal.
This 2-Ingredient Long Bean Omelette recipe is a quick and easy breakfast or lunch option that's packed with protein and flavor. Whisk together the chickpea flour, non-dairy milk, water, and kala namak to create a fluffy omelet mixture that's poured over spiral-patterned blanched long beans in a non-stick pan.
Cook until bubbles form and then flip to cook the other side. This versatile dish can be served hot or cold, making it perfect for meal prep. Enjoy a healthy and delicious meal with this simple recipe.
Now, this long bean and tomato stew is truly delicious. It's a great way to use up fresh long beans and ripe tomatoes in a comforting and flavorful way. I love how the allspice and nutmeg give it a warm and cozy aroma, while the tomato sauce adds a depth of flavor that brings everything together.
And the best part? It's so easy to make! Just a few simple steps and you'll have a hearty and satisfying meal on the table in no time. So go ahead, give it a try, and enjoy!
This Chinese long beans with ground pork recipe is a perfect example of how simple ingredients can create amazing flavors. The ground pork is marinated with soy sauce, Chinese rice wine, and white pepper, which creates a savory and slightly spicy taste. The beans are then stir-fried with garlic and ginger and topped with pork, Chinese olive vegetables, and a touch of soy sauce for added umami flavor.
This dish is a quick and easy weeknight meal that pairs well with a side of rice or noodles. It's a perfect balance of flavors and textures that will leave you feeling satisfied.
You don't need to go much further than these Garlic Chinese Style Green Beans if you're looking for a simple and flavorful side dish with a Chinese flavor profile. These beans, which are bursting with the rich tastes of garlic and onion, are much superior to any takeout option.
You can whip up a savory and fulfilling side dish in no time at all with only a handful of basic ingredients like shallots, garlic, and fresh green beans. Don't leave off the rice wine vinegar, oyster sauce, or soy sauce if you want this meal to have the flavor profile it is known for. These delicious green beans are guaranteed to win you over whether they are served warm or chilled.
This spicy Szechuan pork and green bean stir fry is the ideal weekday dish since it only requires one pan. This tasty meal takes about 15 minutes to prepare and is well worth the little work required to prepare it.
Green beans that have been cooked to perfection are tossed with a sweet and savory sauce made from chicken stock, balsamic vinegar, coconut aminos, and Medjool dates, and topped with ground pork that has been seasoned with garlic, ginger, and Sichuan peppercorns. Add some heat with some dried red chiles and white sesame seeds, and you've got a restaurant-quality lunch without leaving your house.
Spicy long bean and pork belly stir fry is a must-try for anyone who loves bold and delicious flavors. The recipe features long beans, pork belly, and a blend of aromatic spices like star anise, fennel seed, coriander seed, and more, which create a mouthwatering dish that's perfect for any occasion.
After blanching the beans, they're stir-fried with the pork belly and spices, along with garlic, shallot, ginger, and serrano peppers. A splash of Shaoxing wine and soy sauce adds a wonderful umami flavor, while black bean sauce, white sugar, and fish sauce balance it out. To finish, the dish is drizzled with toasted sesame oil, creating a delicious mix of textures and flavors. Serve with rice for a truly satisfying meal that's sure to impress.
This Indonesian stir-fry is a delightful mix of sweet, spicy, and tangy flavors. The dish features tempeh cubes fried to a deep golden brown and glazed with kecap manis and oyster sauce. Long beans and a blend of chiles, shallots, garlic, lime leaves, salam leaves, and galangal are added to the mix, providing a medley of fragrant aromas and flavors.
To give it a tangy kick, a nugget of tamarind pulp is added to the sauce. Once everything is well-coated, the dish is cooked until the sauce has reduced to a thin glaze. Perfectly paired with steamed rice, this dish is a must-try for anyone looking to explore Indonesian cuisine.
With this genuine recipe, you can create Thai Basil Chicken at home that is on par with that served in a restaurant. This recipe is fragrant, full of taste, and good for you since it is made with ground chicken, Thai bird's eye chilies, garlic, and fresh basil. Fish sauce and more chili peppers, as a garnish, should be added to the meal so that the whole experience is more true to the traditional cuisine of Thailand.
If you want an additional kick, serve it hot over rice with a fried egg and some lime juice squeezed over it. You may have a delectable dinner prepared for any event, at any time of the day or night, and it will only take you twenty minutes of your time.
This Karamani Payaru Poriyal recipe is a simple yet delicious way to prepare long beans. Start by cooking the chopped long beans with turmeric and salt until tender. Next, grind coconut, cumin seeds, and red chili to make a dry powder. Heat coconut oil in a pan and temper with mustard seeds, urad dal, and curry leaves.
Add the cooked long beans and mix well, then add the ground coconut mixture and stir until combined. Cook for 5 more minutes and it's ready to serve! This poriyal is a perfect side dish for any rice dish.
With tender, flavorful pork, crisp and fresh beans, and perfectly cooked noodles, you'll be in food heaven with every bite of this recipe. To start, fry up some pork fat until it becomes a meaty, delicious residue. Then, add in the ginger, lean pork, star anise, and half of your chopped garlic until everything is perfectly cooked. Once you add the beans and light soy sauce, you'll be hit with a fragrant aroma that'll make your mouth water.
Let everything simmer until the soup dries up, then mix in the rest of your garlic for an extra punch of flavor. This dish is perfect for a cozy night in, and you'll definitely be making it again and again.
This Chinese-inspired green bean and tofu salad is a delicious way to enjoy a fresh and healthy meal. With a mix of sweet and savory flavors, this salad is sure to please your taste buds. Whisk together the light soy sauce, black bean paste, rice vinegar, ginger, shallot, and chili until it forms a delicious vinaigrette. Cook the green beans until they are tender, then toss them with half of the vinaigrette, tofu, and cilantro.
Top with the remaining tofu and vinaigrette, then garnish with cilantro and fried Asian shallots. A beautiful and flavorful dish that's perfect for lunch or dinner.