Welcome to a seafood lover's paradise with these 15 delicious recipes featuring lobster ravioli.
From rich and creamy sauces to bright and zesty flavors, there's something for every taste bud.
Whether you're looking for a quick and easy weeknight meal or an impressive dinner party dish, these recipes will surely satisfy your seafood cravings.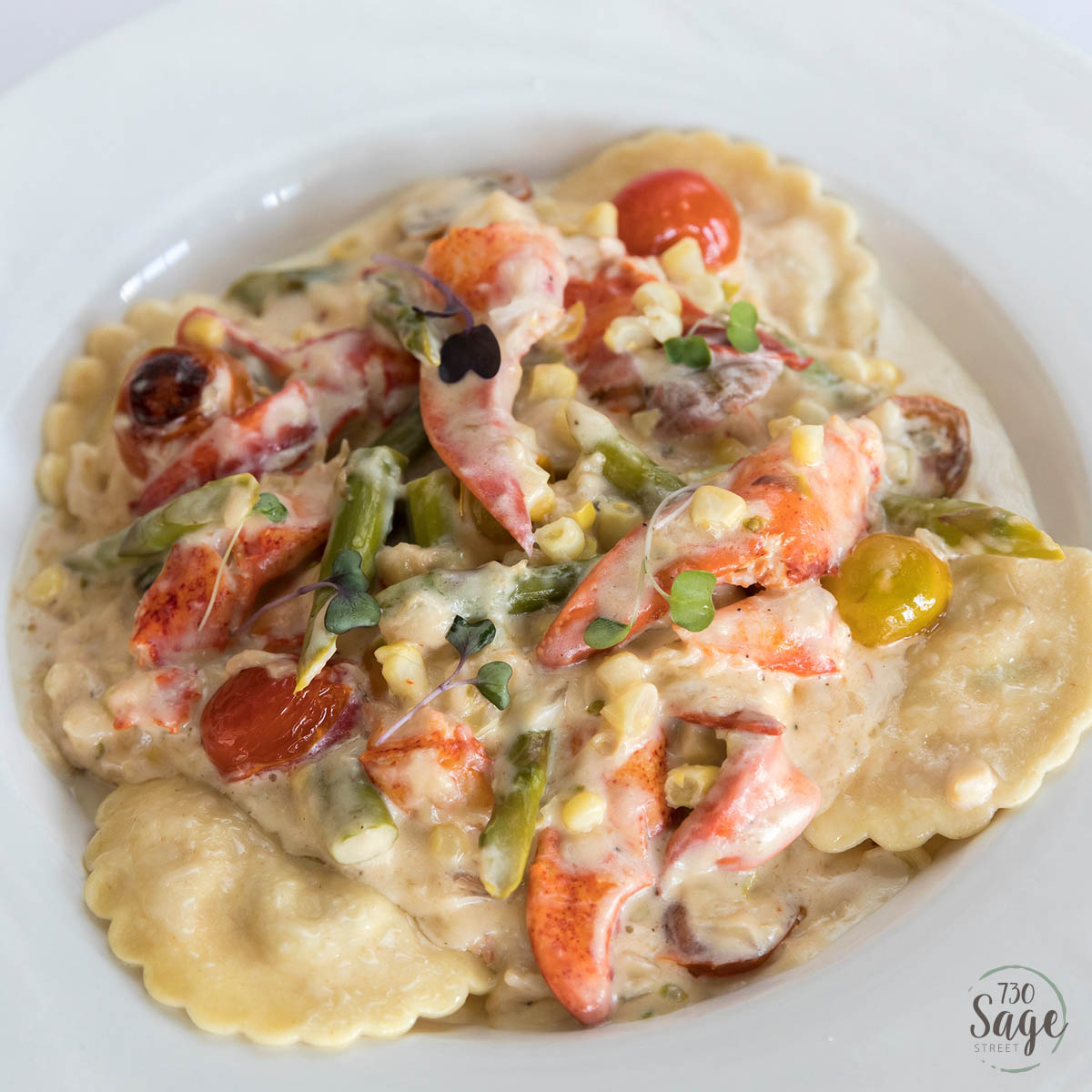 Can I Use Pre-made Ravioli For These Recipes?
Yes, pre-made lobster ravioli can be used for these recipes for a quicker and easier meal. However, making homemade ravioli from scratch can also be a fun and rewarding cooking project. Look for high-quality pre-made ravioli made with fresh ingredients, and adjust cooking times according to package instructions to ensure the best results.
15 Recipes With Lobster Ravioli
These 15 lobster ravioli recipes will transport you straight to Italy without leaving your kitchen. From classic tomato sauces to creamy alfredo, there's something for everyone to enjoy:
This lobster ravioli recipe is a true showstopper that's sure to impress your dinner guests! The delicate pasta is made with flour, eggs, and a touch of water, and filled with a decadent mixture of lobster meat, ricotta cheese, garlic, parsley, lemon juice, and crushed red pepper flakes (if you like a little heat!). The ravioli is then tossed in a delicious sauce made with browned butter, garlic, and fresh sage.
The result is a dish that's bursting with savory flavors and has a texture that's both tender and velvety.
These magnificent Lobster Ravioli with Saffron Cream Sauce are a taste of Italy that is guaranteed to delight your palate with their meaty lobster filling and rich saffron cream sauce. Ravioli should be boiled in water first before the sauce is prepared. In a large saute pan, melt the butter and sauté the garlic and shallots until they are tender. Add wine, heavy cream, and saffron and stir until the mixture thickens.
To finish, season with salt, pepper, and lemon juice. When the ravioli is done cooking, add it to the sauce and toss it to coat. This Lobster Ravioli with Saffron Cream Sauce, garnished with chives for additional taste and appearance, is ideal for a special event or a romantic meal for two.
Indulge in a luxurious and flavorful meal with this Brown Butter Lobster Ravioli with Tomato Cream Sauce. The buttery and tender lobster and shrimp filling is perfectly complemented by the rich and creamy tomato sauce, creating a warm and comforting dish that will leave you feeling satisfied and content.
Each bite is packed with a delightful combination of flavors and textures, making this dish perfect for a special occasion or a cozy night in.
Take a trip to the Mediterranean with this Lobster Ravioli with Lemon Cream Sauce recipe. The tender lobster ravioli is bathed in a velvety lemon-infused cream sauce with a subtle nutmeg flavor.
The white wine adds an additional layer of complexity to the sauce. The lemon juice gives it a zesty, fresh flavor that awakens the palate. Top it off with grated parmesan cheese and a sprinkle of fresh parsley and lemon zest for a light, fresh finish.
Get ready to be transported to a world of culinary ecstasy with this lobster ravioli recipe. Picture a dish so flavorful, it'll have your taste buds jumping for joy. The rich, buttery garlic cream sauce is like a warm embrace on a cold day, while the delicate homemade pasta wraps around the succulent lobster filling like a cozy blanket.
This dish is the perfect balance of luxury and comfort, fit for a king or queen or anyone who just wants to feel fancy. Don't be surprised if you find yourself daydreaming about this dish for weeks to come!
The creamy, garlicky Lobster Ravioli Sauce is a great complement to either handmade or prepackaged lobster ravioli. In less than ten minutes, you can have your family enjoying this delicious sauce.
A flavorful foundation of melted unsalted butter, minced garlic, and chicken stock is enhanced with the addition of heavy cream, Parmesan cheese, and chopped crab pieces. Lemon juice, black pepper, and salt are used as seasonings in the sauce. To make a rich and smooth supper, pour over the prepared lobster ravioli and sprinkle with parsley.
These Lobster Ravioli with Champagne Buerre Blanc Sauce are a luxurious treat for seafood lovers. The lobster is steamed to perfection, then mixed with cream cheese and spinach for a rich and flavorful filling. The wonton wrappers are light and delicate, holding in all the deliciousness inside.
The sauce is the perfect finishing touch, with the champagne vinegar adding a hint of sweetness and tanginess to the creamy butter sauce. Serve with a fresh salad and a glass of white wine for the ultimate romantic or celebratory meal.
Get the finest in decadence with Lobster Ravioli in Garlic Browned Butter Sauce; the fresh pasta is filled with chives, so each mouthful is a flavor explosion. White and sherry cooking wine reduction with shallots flavor the lobster filling, which is then combined with mozzarella cheese and lemon zest.
The ravioli is tossed in a delicious garlic browned butter sauce after being cooked to perfection, making it a great choice for a holiday meal or any special event. This dish, which is elevated by the addition of Parmesan cheese and fresh chives, is a must-try for any seafood fan.
This Shrimp & Lobster Ravioli with Sherry Cream Sauce recipe is simply delightful! The combination of tender shrimp and succulent lobster in a Nuovo Pasta ravioli is a true treat. And the sherry cream sauce - oh my goodness, it's simply divine! The creamy richness is balanced perfectly by the tangy tomato paste and a hint of red chili flakes for a little kick.
If you're celebrating anything, this meal is ideal with a bottle of Prosecco. The addition of a few shrimp after cooking would make it much more decadent.
Try out this recipe for Shrimp and Lobster Ravioli in Sherry Cream Sauce the next time you're in the mood for some decadent seafood. A blend of dry sherry, heavy cream, and Italian tomato paste are used to create this luxurious sauce, which gets its little kick from a sprinkle of red chili flakes.
The creamy sauce with its garnish of golden shallots and fresh chives is the ideal complement to the luscious ravioli stuffed with shrimp and lobster. This stylish and tasty dish is simple to prepare and is sure to impress your guests.
Savor every bite of this luxurious Shrimp & Lobster Ravioli with Sherry Cream Sauce. With a festive ambiance, this dish will delight your senses and tickle your palate. Cooked to perfection, the ravioli offers a tantalizing taste of the sea in every bite. The rich, creamy sauce infused with sherry and tomato paste is the perfect complement to the seafood flavor.
This meal is aesthetically pleasing and delicious thanks to the addition of a few chopped fresh chives on top. Before serving, sprinkle a few cooked shrimp on top for an extra seafood punch.
Prepare yourself for a culinary adventure with this recipe for Lobster Ravioli with Crabmeat Cream Sauce. The stuffing of juicy lobster and snow crab with a combination of garlic, shallots, and chives is accompanied by a creamy cognac-infused sauce. Pasta dough created with a combination of durum wheat and semolina has a tender texture that goes well with the filling.
This meal is ideal for an intimate dinner for two or a gathering of close friends. Serve your visitors some of these decadent ravioli to wow them.
Dive into the luxurious tastes of Lobster Ravioli in Fennel Cream Sauce. Cooked in butter and heavy cream, the fragrant base of thinly sliced fennel and finely chopped onion creates a silky smooth sauce.
Together with the sauce, the ravioli is cooked gradually until al dente and becomes a delectable dish. Add some zest from half a lemon and some fresh parsley and parmesan cheese over top.
The Lobster Ravioli in Cognac Cream Sauce is a sumptuous dish. If you love lobster and ravioli, you must try this dish created by Alessandra Aiello. Lobster is cooked to perfection with shallots and garlic in a buttery cognac sauce, then tossed with pasta, passata di Pomodoro, heavy cream, and parsley for a luxuriously savory meal.
Every celebration, not just Valentine's Day, would benefit from this dish. That would go perfectly with a glass of wine, some insalata, and a tart of tiramisu for dessert.
You'll like the superb and lavish flavor of Gordon Ramsay's Lobster Ravioli Recipe. Salmon mousse and delicious lobster flesh are combined in a filling scented with basil, lemon zest, and juice. Perfectly cooked ravioli are topped with rich and fragrant lobster stock, tomato chutney, and a lemon vinaigrette.
Microgreens are a lovely finishing touch that elevates the dish's presentation. The tastes are strong and well-balanced, making it an excellent option for celebrations or whenever you want to treat yourself to something special.