With their delicate and unique flavor, lobster mushrooms are a delightful addition to any recipe.
Whether you're a fan of pasta, soup, or seafood, there's a recipe here for you.
From the creamy and comforting lobster mushroom mac and cheese to the hearty and flavorful lobster mushroom risotto, these 15 recipes will satisfy your cravings and leave you wanting more.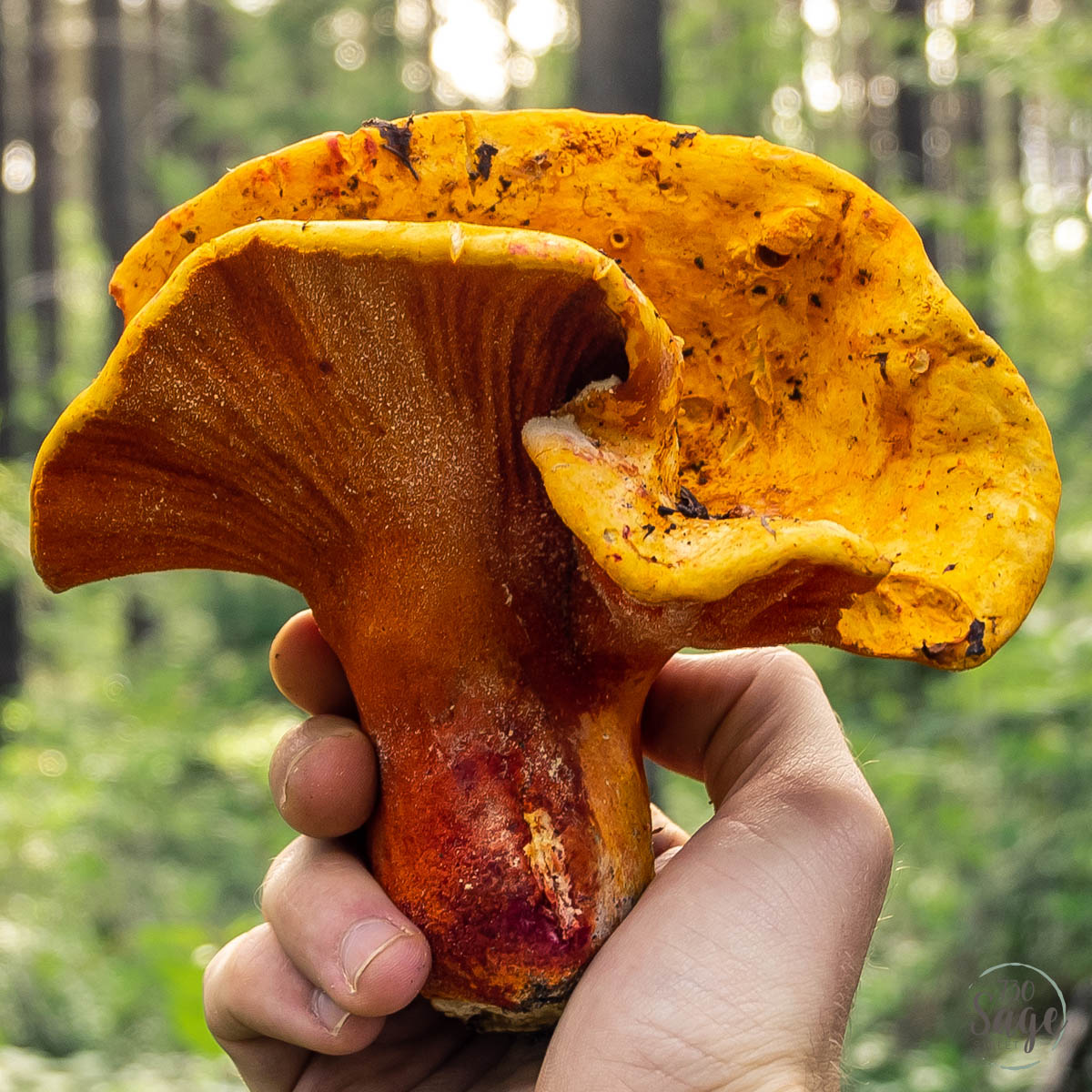 Where Can I Find Fresh Or Dried Lobster Mushrooms?
You can typically find fresh or dried lobster mushrooms at specialty grocery stores or farmers' markets during the late summer and fall seasons. Dried lobster mushrooms are also available online from various retailers. Make sure to choose mushrooms that are firm, without any soft or mushy spots.
Can I Store Lobster Mushrooms, And If So, How Long Do They Last?
Yes, you can store lobster mushrooms in the refrigerator. Fresh mushrooms should be stored in a paper bag or wrapped in a damp paper towel to keep them from drying out and can last up to 5 days. Dried mushrooms should be stored in an airtight container in a cool, dry place and can last up to a year.
15 Recipes With Lobster Mushrooms
Elevate your culinary experience with 15 these incredible recipes using the versatile and unique lobster mushrooms:
Take a bite of the ocean with this vegan lobster roll made with lobster mushrooms, and marinated in an ocean broth made with wakame, kombu, and nori.
Sautéed in butter and white wine, the mushrooms are mixed with plant-based mayo, chopped celery, green onion, and lemon juice. Serve this flavorful mixture in a soft bread roll or baguette, with some greens for a pop of color. It's a delicious and cruelty-free alternative to the classic New England lobster roll that will satisfy your seafood cravings.
These vegetarian lobster mushroom rolls are a delicious take on the traditional seafood favorite. The diced lobster mushrooms are sweated with oil, garlic, and smoked paprika, giving them a deep and smoky taste that goes nicely with the acidic and creamy lobster salad.
The salad is a wonderful compliment to the earthy mushrooms; it is made with mayonnaise, fresh herbs, lemon zest, and hot sauce, and is brimming with flavor. Serve on buttered, toasted hot dog buns, then sprinkle with chives for a blast of flavor. Add some potato chips for a satisfying crunch on the side.
This easy-to-follow recipe for Lobster Mushroom Rice Pilaf will take your regular pilaf to the next level. The meal's deep and earthy taste comes from the lobster mushrooms, while the fragrant herbs and spices round out the dish to make it the perfect accompaniment to your favorite main dishes.
On top of that, rice cakes may be made out of leftovers, making for a fast and delicious snack. Fluffy, golden rice that everyone will love is easy to make if you follow these directions. To up the opulence factor, try topping it with some sautéed lobster mushrooms or shrimp.
Lobster Farrotto with Lobster Mushrooms and Zucchini is a luxurious and hearty dish that will make any occasion special. The perfectly cooked lobster meat is the star of this dish, with its succulent taste and tender texture. The nutty and chewy farro pairs perfectly with the umami flavor of the lobster mushrooms and the sweetness of the zucchini.
The creamy and cheesy finish is thanks to the addition of Parmesan and butter. The micro basil adds a touch of freshness to the dish, balancing all the flavors perfectly. This dish is perfect for impressing guests or for a special date night at home.
Transport your taste buds to Italy with this flavorful Lobster Mushroom Bolognese recipe. Sweating the mushrooms in butter and adding garlic and prosciutto give the sauce depth and complexity.
The addition of dried lobster mushrooms adds a subtle, earthy flavor to the sauce, which is enhanced by the fresh thyme. A rich tomato paste, wine, and stock mixture are reduced by half, and the sauce is finished with a touch of milk for creaminess. To serve, reheat the sauce and toss it with your favorite pasta and a sprinkle of grated parmesan and chopped parsley.
These Perfect Sauteed Mushrooms are a simple, yet elegant addition to any meal. The combination of the cinnamon cap, oyster, king oyster, shiitake, and cremini mushrooms creates a flavorful blend of earthy and nutty notes. Garlic and white wine add a fragrant aroma and a subtle sweetness to the dish.
Be sure not to burn the garlic, as it can quickly become bitter. These mushrooms are perfect as a side dish or a topping for steak, pasta, or rice. Try them out for a quick and easy way to add some elegance to your meal.
Vegan Lobster Cream Cheese Wontons are the perfect appetizer to impress your guests. The lobster mushroom filling is cooked in a flavorful ocean broth and combined with non-dairy cream cheese, green onions, and a touch of sugar for a perfectly balanced flavor.
Wrapped in an egg roll or wonton wrappers and air-fried to crispy perfection, these wontons are a crowd-pleaser. Serve them with sweet and sour sauce or sriracha mayo for an added kick of flavor. Don't be surprised if they disappear within seconds!
Pappardelle Alfredo with Lobster Mushrooms is the perfect blend of delicate pappardelle pasta and meaty lobster mushrooms. The creamy sauce, made with melted butter, minced garlic, red chili pepper flakes, whole milk, and grated Parmesan cheese, adds a rich, indulgent flavor to the dish.
The chopped lobster mushrooms are sautéed until tender and add a meaty texture to the dish. The combination of flavors creates a dish that is both savory and satisfying. Serve immediately and enjoy the bold flavors of this classic Italian dish with a unique twist.
Crispy and salty, these lobster mushroom cakes are a wonderful addition to any meal. Sautéed to perfection in clarified butter, animal fat, or oil, these patties are made from shredded mushrooms that have been combined with a variety of herbs and spices.
The outcome is a snack that's crispy on the outside yet soft and tasty on the inside. These cakes are fantastic for vegetarians since they are simple to prepare yet offer a wow factor to any dinner. Serve these in place of boring old crabcakes and see how quickly they vanish.
This lobster mushroom hollandaise sauce will take your eggs benedict to the next level. The earthy flavor of the mushrooms is incorporated into the velvety emulsion, giving the sauce a sumptuous and opulent texture that goes well with the soft poached eggs and the crisp bacon.
Shallots, champagne vinegar, and tomato paste are added to cut through the richness of the buttery sauce and provide a pleasant acidity. This hollandaise is the epitome of decadence, thanks to the addition of cayenne pepper and fresh tarragon. Enjoy a luxurious treat by drizzling it over your go-to brunch or breakfast meals.
Tagliatelle with Lobster Mushrooms & Burrata is a perfect main course pasta dish that's easy to make but special enough for any celebration. Lobster mushrooms add a beautiful pop of color to this dish, but you could easily use Chanterelles instead. Sliced and sautéed in olive oil, these mushrooms are combined with shallots, garlic, stock, and thyme to create a delicious sauce.
The addition of cold butter adds a touch of creaminess, while crushed red pepper adds a little heat. The tagliatelle is cooked al dente and then combined with the sauce and mushrooms. Burrata, drizzled with olive oil, is the perfect finishing touch, adding a creamy richness to the dish.
These Lobster Mushroom Breadcrumbs are a delicious addition to any seafood dish. Made with ground lobster mushrooms, sweet paprika, fresh thyme, and finely ground dried wild onions, these breadcrumbs are packed with flavor. Drizzled with melted butter, the mixture is then refrigerated until it firms up, and then it's ready to use. Simply spoon the breadcrumbs over lightly oiled and seasoned white fish like cod and bake until the fish is cooked through.
The result is a crispy and flavorful topping that perfectly complements the mild flavor of the fish. These breadcrumbs are best used fresh, so make them in small batches for the best flavor retention.
Tagliatelle with Lobster Mushrooms & Burrata recipe is a perfect balance of flavors and textures. The sliced lobster mushrooms add a pop of color, while the burrata cheese adds a creamy and indulgent element.
The sauce, made with shallots, garlic, chicken or vegetable stock, and fresh thyme, is the perfect complement to the tagliatelle pasta. The dish is finished with a sprinkle of chopped parsley and freshly ground black pepper. This recipe is easy enough for a busy weeknight dinner but special enough to serve for a celebratory meal.
With flavorful stuffing made from fresh lobster mushrooms, this dish is guaranteed to impress. The swordfish is sliced thin and rolled up with the stuffing, then browned to perfection for an irresistible texture. Topped with a tangy caper sauce, this dish is elevated to a whole new level of decadence.
Served on a bed of lightly browned cauliflower, this dish is sure to impress your guests and leave them wanting more. Don't hesitate to try out this recipe for your next special occasion!
This rich and savory mac and cheese is elevated to new heights with the addition of tender, earthy lobster mushrooms. The creamy sauce is made with soy milk, cheddar cheese, and a blend of aromatic spices that perfectly complement the meaty flavor of the mushrooms.
This indulgent comfort food is perfect for a cozy night in, and the bright green onions add a pop of freshness to every bite. Whether you're a vegan or simply looking to mix up your mac and cheese game, this recipe is sure to impress.