When you hear the words "vacation home" you probably think one thing:
I can't afford that.
But, thanks to Carefree RV Resorts Park, that's not actually true, because Carefree RV Resorts have affordable Florida vacation homes for every budget.
Imagine spending your vacations at the beach while not having to worry about where you will stay – because you own your very own vacation home. Who doesn't dream of this view?
I have always dreamed about owning an RV and being able to enjoy annual Florida vacations with my family. My kids want nothing more than to spend time at the beach, and my husband I would love that as well. Being from Indiana, with our rough winters, vacationing in our own home near a Florida beach would be a dream come true.
And when we reach retirement age, Carefree RV Resorts have communities that are age-qualified for those who want a quieter vacation or even a place to settle down and retire.
A dream within reach with Carefree RV Resorts!
About Carefree RV Resorts
With 34 RV Resorts in Florida, Carefree RV Resorts have something to suit any budget or need. They have homes ranging from under 20K for pre-owned to 50K for brand new, fully customized homes. There is an additional lot rent paid either seasonally or annually.

Carefree RV Resorts is a family of 101 RV parks and Manufactured Home Communities across the United States and Canada.

Carefree offers a wide selection of new and used Park Model homes for sale in their RV Resorts, and mobile homes in their Mobile Home Communities.
Carefree RV Resorts offer:
Park Model Homes start around $20,000 + annual lot rent.
Locations in desirable cities from Daytona Beach to Key West and other popular vacation destinations throughout Florida.
The RVing lifestyle without the RV at a fraction of the cost.
Great amenities including:

Pet friendly communities
Themed weekend activities like wine tastings
Classes for lifelong learning
Special interest groups
Family friendly communities
Age qualified communities
What is a Park Model Home?
A Park Model is a smaller, single-wide home that is considered a recreational vehicle. Park Models are designed for placement in RV resorts, campgrounds, or locations where smaller trailers are an acceptable living environment.

A typical Park Model is a single structure and is shorter and narrower than a Manufactured Home. They typically have one bedroom, one bath, an eat-in kitchen and living room. Park Models are typically eight to thirteen feet wide and have one or two bedrooms. They are under 500 sq ft.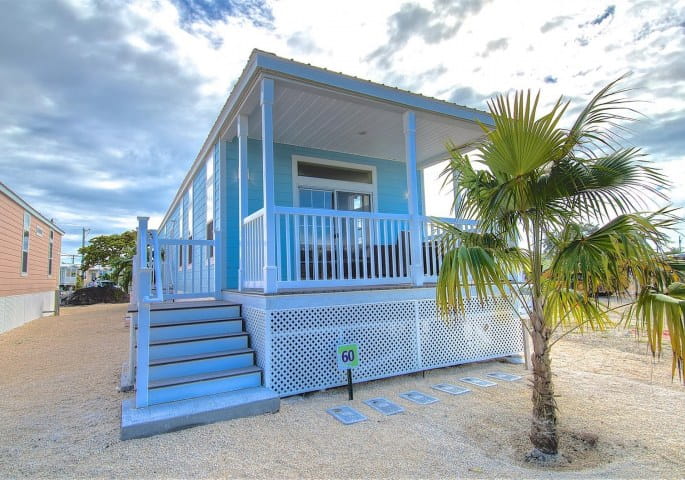 With Carefree RV Resorts your dream of owning a vacation home can become a reality!
Did you know that it can cost hundreds of thousands of dollars to buy and maintain an RV? Not to mention the cost of gas driving that big thing around. With a Carefree RV Resort vacation home, you can still enjoy the benefits of an RV lifestyle, at a much lower cost. And you could even allow friends and family to use it when you are not on vacation.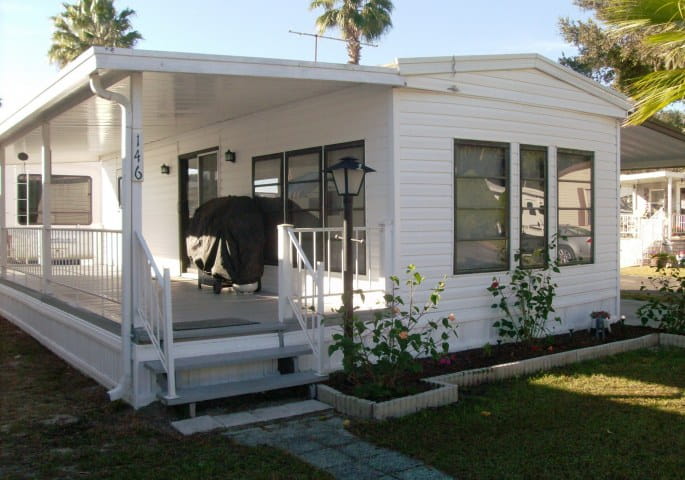 How to shop for a Carefree Parks Model Home
If you purchase a home during your house-hunting visit, Carefree will pay for your stay. How cool is that?
Carefree is currently running a special called "Your Passport to Paradise – You stay we pay!"

With the help of a Carefree sales advisor, your visit will be planned at prime Florida destinations based on your interests and preferences. We'll select properties that have everything you are looking for to preview during your personalized visit. Accommodations include up to 4 nights for 2 guests in a Carefree Resort Home. Flexible dates. Subject to availability. Arrive by car or RV and simply commit to a guided tour of the Carefree property of your choice. Availability varies by property. Plan your visit before April 30, 2015. Every home buyer will receive a $1,500 check within 15 days after close of their resort home.

For more information call Sheri at 855-999-9812.
Would owning a Florida Vacation Home be a dream come true for your family?
To learn more visit: Carefree Resort Homes.

Many thanks to Carefree RV Resorts for sponsoring today's story and encouraging me to make my dream a reality by owning an affordable vacation home!
Join our newsletter!
Subscribe to get updates and great stuff via email including subscriber-only goodies like free printables and giveaways.