Most of the time, when I look at a past photo I took, it's not that particular moment in time that the image brings me back to, it's usually the location, activity or event where the photo was taken that floods back into my memories.
Take this photo for example: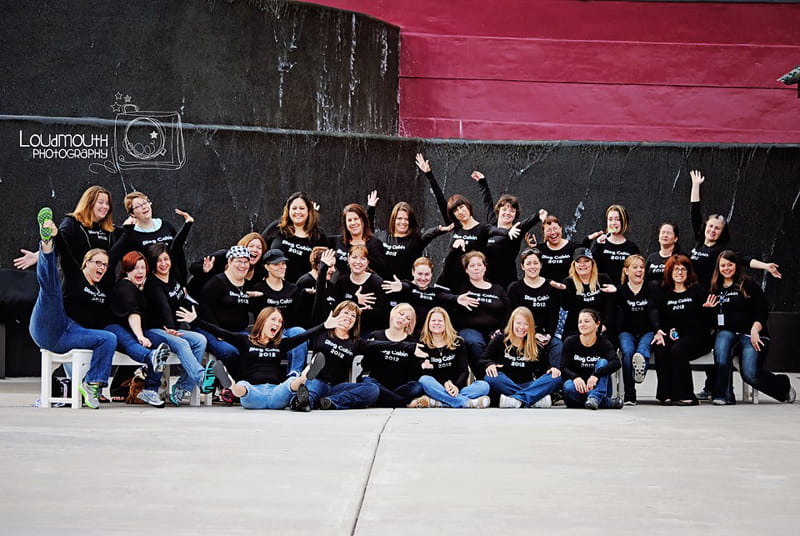 What I remember about that photo is not really the moment itself. What I remember are scenes from the entire weekend where 30 or so mom bloggers gathered together in Pigeon Forge, Tennessee for Brandcation. This moment was just one of so many photos that captured the fun from the different events from our trip. And with over 30 bloggers, most with smartphones and cameras, there were literally thousands of memories captured in photos.
But to be able to relive these memories, these scenes from that trip, we have to search and sort through blog posts and social media feeds and even then it will be nearly impossible to find all of the great photos captured spread across 30+ accounts during that amazing weekend.
If only a new app called Seahorse was available then. Then, we could have documented the trip instantly together in shared place.
About Seahorse

Seahorse is basically an app that allows you to create private albums, called "scenes" that you can then invite your friends and family to contribute to. It's a great way to document family reunions, birthday parties, vacations, outings, field trips and so much more. With everyone having access to smartphones and cameras these days, Seahorse gives you a way for everyone attending to combine their shared experiences taken through photos and videos into a single location.
Features:
Private
Shared scenes with family & friends
Saves your photos in their original resolution
Accepts photos and videos
Photo timeline with ability to search and sort
Locate photos on a map
Shake your device for a random photo
Daily flashbacks from past years
Getting started with Seahorse is easy!
How to setup Seahorse
First thing you need to do is to sign up using Facebook, your Google account or with an email address and password.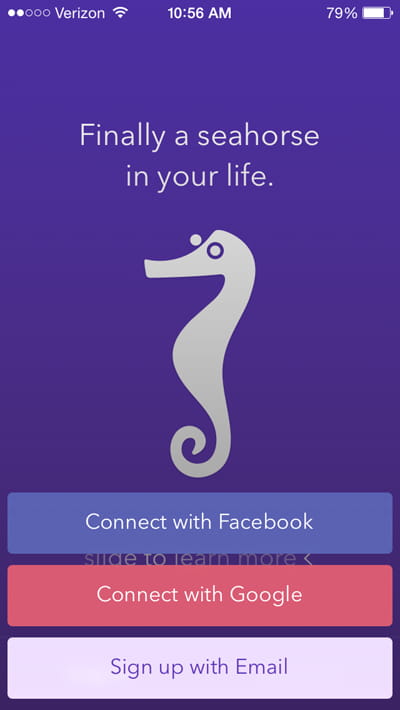 There is very little setup required beyond that, and the interface is intuitive.
Seahorse Interface
There are two main interface areas, your picture on the upper left corner and the menu across the bottom.
Clicking on your picture gives you access to your account information and the app settings. Two other things to note on this screen are the option to upload photos from other services and the option to redeem a promo code (see beginning or end of post for a code for 5GB extra free storage).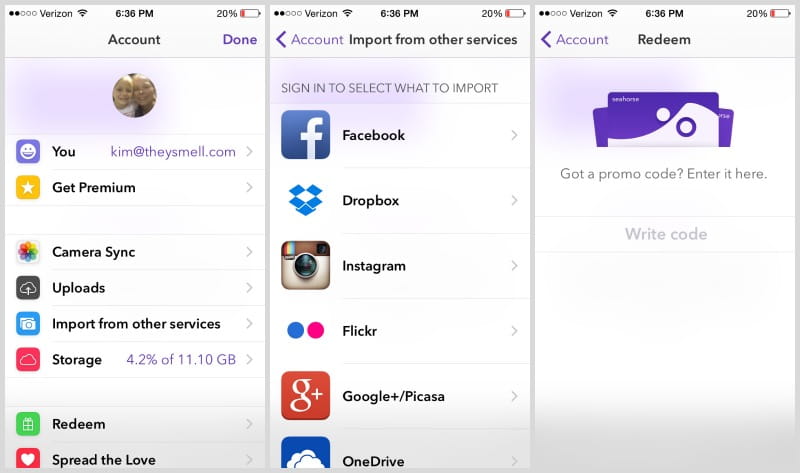 From here, you just need to start creating scenes and inviting your friends to help you complete the memories by adding their photos.
Creating scenes in Seahorse
It's so easy to create scenes in Seahorse! You click the scenes tab on the bottom, click "New Scene" and then you name your scene and add friends who will collaborate with you on the scene. From there you can add to your scene by taking a photo or video, importing from your camera roll or even importing from your computer.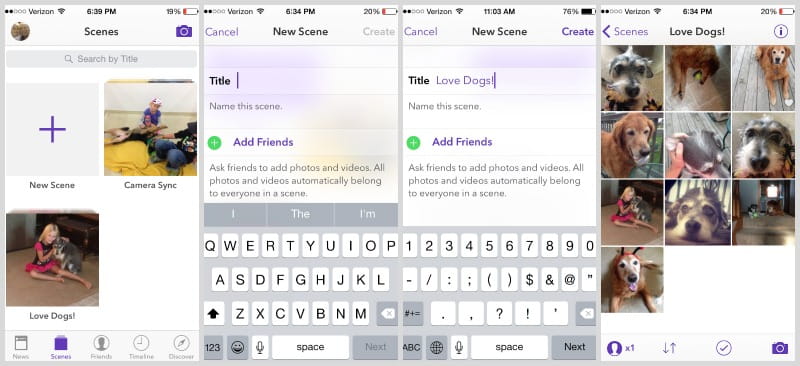 I mentioned the import feature earlier, this is another great way to add scenes to Seahorse. I wanted to get all of my photos from Facebook into Seahorse, and it was as simple as a couple of clicks. I received an email when the import was complete. Seahorse automatically created a scene with my Facebook Mobile Uploads and within the app I can sort them or move them based upon how I want my scenes organized. I love that app also imported the photo descriptions I included by making it appear as a comment on the photo.
You simply click the photo and then "comments" and you will see your original description of the photo. This is great for reminiscing!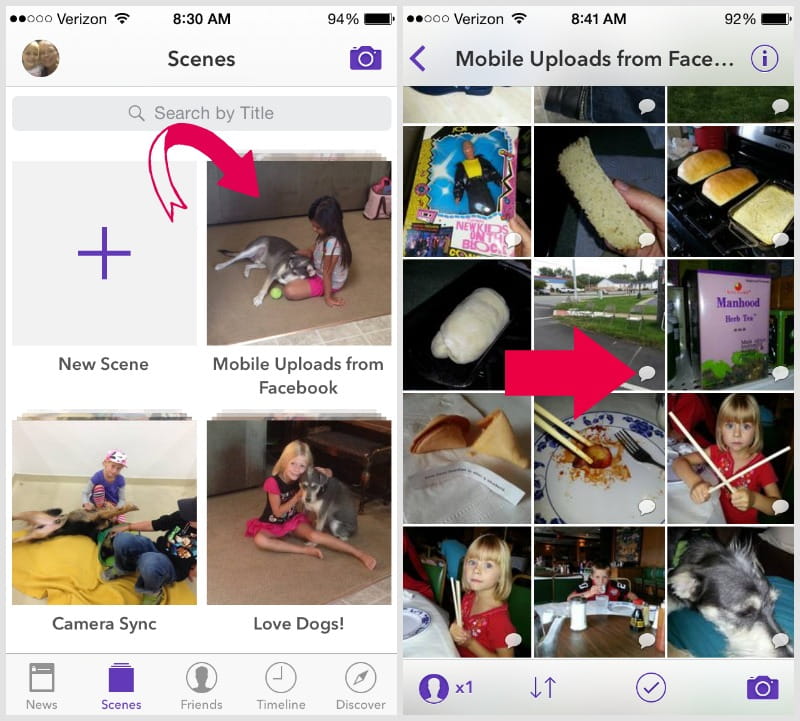 Once friends are added to scenes you will see who has access to which scenes, you will get the ability to favorite and comment on photos, and you can go into each photo within a scene and share it or copy it to another scene. You can also make certain photos public if you want, send them via message or email or save photos from the scene to your phone.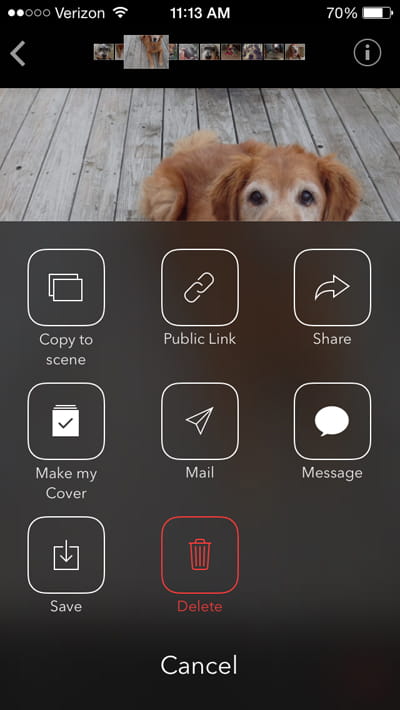 I did want to note that after the iOS update (I'm using an iPhone 5) I can no longer create a scene without adding friends to it, and then add them later. The app will lock up if I don't add friends as I am creating the scene. Prior to the update, I could create a scene without adding friends and then add them later. I have also had some issues with Facebook sharing since the update.
Discover Seahorse
And after your scenes are created, Seahorse lets you experience them in fun new ways through the discover tab across the bottom of the menu.
Discover is fun and interactive! You get to see the locations the photos were taken at on a map, you can get a random photo with a shake of your photo, or you can travel back in time and see a photo from today's date in years past.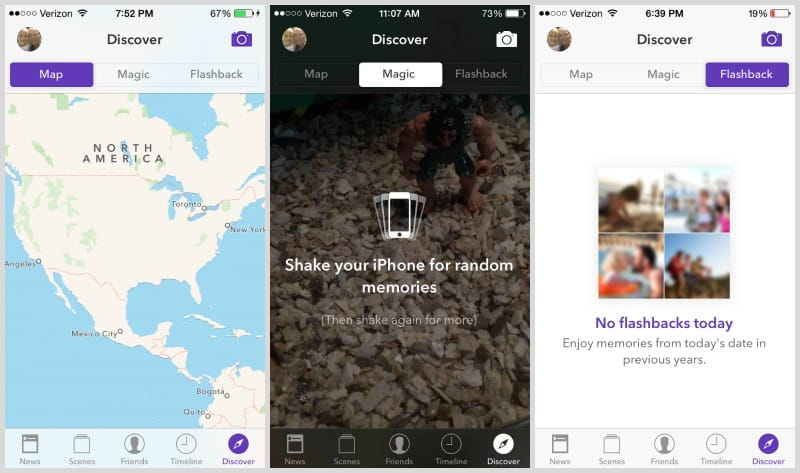 Get Seahorse
Seahorse is available in the App Store and on Google play.
Seahorse is free to use up to 5GB of photo storage. There is a Premium Version for $9.99 per year that gives you 100GB of extra space.
You do get some opportunities to earn extra storage space, however, as you begin to use the app.
And I have a promo code that will give you an extra 5GB of storage FREE!
Seahorse App Promo Code: CLEVERHORSE. This code is good through October 31, 2014 and can only be used once per user.
From birthdays and family reunions to girls night out and date night selfies, Seahorse offers a way to privately document and share all of the memories you created into collaborative "scenes" only accessed by those who are invited to contribute.
What event or activity in your life would collaborate with your friends and family to capture all of your memories using Seahorse?
I was selected for this opportunity as a member of Clever Girls Collective and the content and opinions expressed here are all my own.
Join our newsletter!
Subscribe to get updates and great stuff via email including subscriber-only goodies like free printables and giveaways.