I was around 28 years old before I ever had an opportunity to use an automatic dishwasher. Before that, I was the dishwasher.  When I finally had the chance to use one, I was hooked. I have not lived without a dishwasher ever since.
But dishwashers seem to have come with their share of challenges in our lives. We haven't quite found one we love, in fact, we bid farewell to one particular machine with a sledge hammer. The machine we had in our home until recently was not fancy. It did not have any bells and whistles aside from being able to turn off the heated dry setting. Other than that it was a basic machine with a white interior – but it did do one thing: it was consistent about cleaning our dishes.
So the idea of getting a new machine (when it ain't broke, don't fix it) left me with concerns because we had finally found a machine that we could count on to clean our dishes. But after reading about the LG TrueSteam, I was intrigued by all it had to offer.
And I can tell you right now that after a few days of using the TrueSteam, I am IN LOVE.
**queue the slow motion running towards each other with arms outstretched while sappy romantic music plays scene**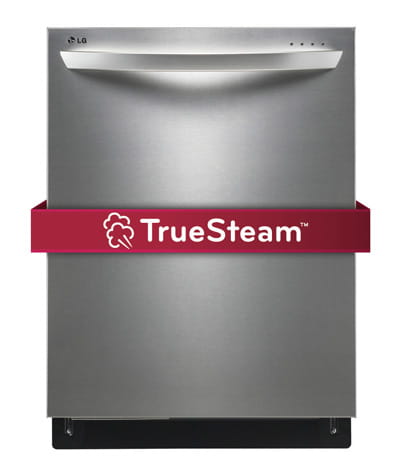 Sigh.
I wish I could hug it. It *may* have some lip marks on it from my lip balm. I'm not sayin' one way or the other.
Before we talk about the reasons I am in love with an inanimate object, we should talk about delivery and install. I had a bad experience with the original install of this machine (you can read more here: Sears Appliance Delivery FAIL) but LG and H.H. Gregg came to the rescue and brought out a new machine and installed it in a very professional manner. I even requested the installer's card so I can request them specifically if I buy another appliance from H.H. Gregg.
Back to the new love of my life…..
About the LG TrueSteam:
It's shiny.
It has 3 racks.
It's quiet.
It's energy efficient.
It washes with steam and eliminates the need for pre-washing.
It has an adjustable third rack.
It's quiet.
It has flexible racks.
It has a 10-year limited warranty on the motor.
I really think it loves me back.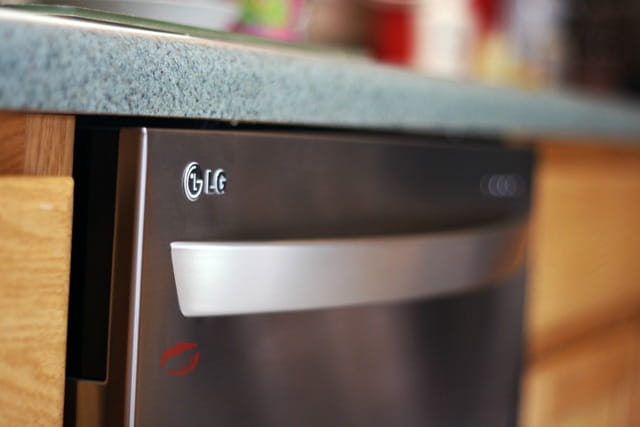 A Few of My Favorite Things:
Top rack
My hands-down favorite feature of this machine is the third rack on top. I stare at it with pure joy in my heart whenever I open the machine. In fact, sometimes I leave it open just to admire it. It is seriously brilliant. Why the heck didn't anyone think of this before? You can put all sorts of utensils in it. Lids. Silicone cupcake liners (I use them for my son's lunches), and anything else small enough that never fit quite right on the regular racks. Plus, the rack is adjustable to accommodate slightly taller items like shallow cups. I seriously have no idea how I survived for this long without this third rack.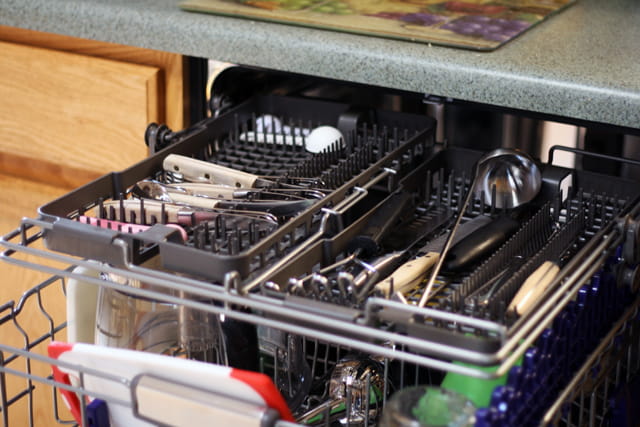 Quiet
This machine barely hums when it runs. The water running through the supply and drain hoses is louder. My old machine sounded like an airplane was taking off in my kitchen. Now when I run the machine at night it doesn't startle me awake thinking something strange is going on in the house.
Steam Dual Cycle
This cycle lets you put delicate items on the upper racks and sprays the water at 2 different intensities to protect fragile items. This is great for putting pots and pans in the lower rack and more delicate china on the upper rack.
Half Wash Mode
If you don't have a full load, you can choose only to wash items in the upper or the lower rack. This comes in handy when you cook and bake as much as I have been. Often the middle of the day baking adds too many dishes by dinnertime, this way I can run a half load in the middle of the day while conserving water because the machine is smart enough to know I am running a half load.
EasyRack Plus System
The TrueSteam can hold up to 14 place settings and the racks are fully adjustable so you can set them exactly as you need for your loading style or for the needs of each specific load. The bast part of this is that you can easily raise and lower the middle rack to set it to exactly the right level.
This machine cleans my dishes very well, fits more than I ever thought possible in it, and does it quietly and offers everything I could ask for in options and flexibility. It saves nearly 5,000 gallons of water a year over hand washing (which is huge when your water bill is already $100/mo) and saves time as well.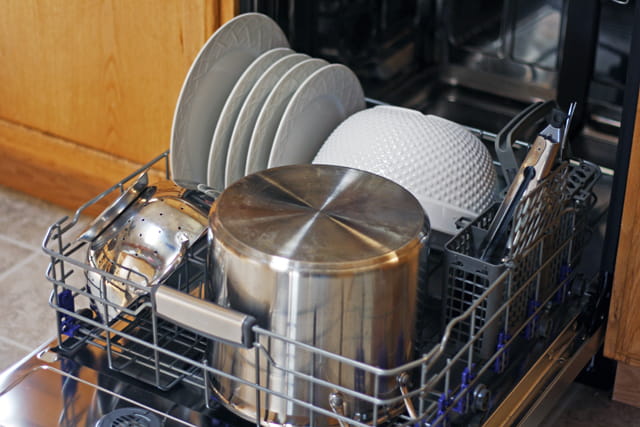 So, what's your loading style?
The LG TrueSteam is the perfect dishwasher for someone with my dishwasher "loading style". I consider myself a "Serial Re-arranger". No one else is allowed to load the dishwasher. Should they attempt to load it, I will automatically move what they placed in the machine to a more 'ideal' location.
What about you?
What is YOUR loading style?
Whatever it is, it could win you a trip to NYC with me. Yes, I said WITH ME. How cool is that?
Enter to win a trip to Food Network's Wine & Food Festival in NYC October 12-14!
What you get if you win…..
One (1) GRAND PRIZE: Trip with your Blogger (that's me) to the NYC Wine & Food Festival being conducted in New York City on October 12-14, 2012.
Prize includes the following:
(1) Roundtrip air transportation
Two (2) nights hotel accommodations.
Ground transportation (airport to hotel and return)
Festival tickets
$250 spending money
Approximate retail value: $3,000
How to enter:
To enter, simply tell me what YOUR dishwasher loading style is.
There are 2 parts to your loading style: LOADING STYLE NAME and LOADING STYLE DESCRIPTION. These should be unique and creative because you will be judged on your entry as follows:
50% Originality of name entered for the loading style. 50% Creativity for the loading style description.
Earlier I told you my loading style, this is an example of a complete entry:
Loading style: "Serial Re-arranger".

Loading style description: No one else is allowed to load the dishwasher. Should they attempt to load it, I will automatically move what they placed in the machine to a more 'ideal' location.
I will select 10 finalists from all entries (one entry per person) and LG will then select the winner from those 10 finalists.
I can't wait to see one of you at the Wine & Food Festival in October!
See the official contest rules here: LG TrueSteam Dishwasher Contest official rules. Please note that the official rules state the contest ended on Sept. 15 but it also states "Dates may vary by participating Bloggers" so the contest is live and active on my blog through October 1, 2012 at 12:01 am CST.
Eligibility: The LG TrueSteam® Dishwasher Contest (the "Promotion") is open only to legal residents of the fifty (50) United States and the District of Columbia who are at least eighteen (18) years old at the time of entry. Employees of LG Electronics USA, Inc., Sponsor, Administrator, Ogilvy and Mather, participating Bloggers, and any of their respective related companies, parents, subsidiaries, affiliates, and agents and any agencies or other companies involved in the development or execution of the Promotion or production or distribution of Promotion materials, as well as the immediate family (spouse, parents, siblings, and children) and household members of each such employee are not eligible. The Promotion is subject to all applicable federal, state, and local laws and regulations. Void where prohibited.
Note: LG-One has provided me with an LG TrueSteam Dishwasher and is sending me to NYC to attend the Wine & Food Festival as part of this promotion.
Join our newsletter!
Subscribe to get updates and great stuff via email including subscriber-only goodies like free printables and giveaways.