Post sponsored by Lunchbox but all opinions are my own.
There is nothing more depressing than seeing sad dogs on Thanksgiving.
We all know the scene.
The entire family is gathered around the table and the family pets watch from afar with a starved and attention deprived look in their eyes. When a scrap of food falls from the kid's table your pup is torn between racing towards it or staying put…they don't want to be scolded for 'begging.'
Imagine having a heightened sense of smell, and being around the aromas of a Thanksgiving feast all day without getting a single bite.
Wouldn't that be considered torture? Just a little?
Okay, I'll settle for a smidgen of neglect and cruelty.
We shouldn't do that to our furry friends. Let's give them something to be excited about this Thanksgiving.
Or as I should say…Dogsgiving.
Dogsgiving DIY Cornucopia Doggy Bags
This easy activity will give your dog the treat they deserve while the rest of the family enjoys their thanksgiving meal. This is a great way to stop your best furry friend from feeling left out on such an important holiday.
The best part of this activity is it is great for kids, and lets your guests bring something special home for their dogs as well.
Step 1: Set up a "Thanksgiving Doggy Bag Station" with a cornucopia filled with your favorite Big Heart Pet Brands® treats, along with festive decor.
Step 2: Provide cellophane "doggy bags," customs tags or labels (free printable below!), and yarn in your favorite fall colors to tie it all together.
Step 3: Instruct your guest to fill their bag with their dog's favorite treats.
Step 4: Use the ribbon to tie the bag and have them take these delicious treats home for their dogs to eat.
Download the printable doggy bag tags right here.
There are even more Thanksgiving Themed Doggy DIY's available for you to browse.
Treat the Pups this Thanksgiving
Our dogs are wonderful members of our family, it would mean the world to me if you would put something like this together for your own family pet and show them you appreciate them.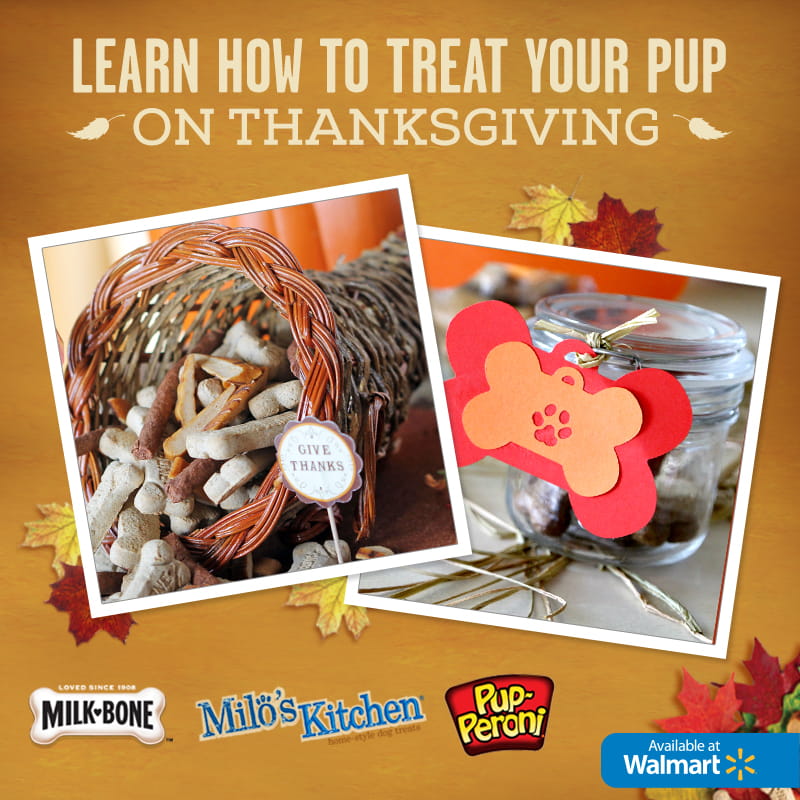 If you need more inspiration, there's an adorable video featuring Mishka the Talking Husky.
There are many wonderful ways you can treat your dog, but it turns out they need it just a little bit more when they're tempted by all the human food being consumed on Thanksgiving.
What ways do you spoil your dog during the holidays?