This post was sponsored by Depend as part of an Influencer Activation for Influence Central. I received complimentary products to facilitate my review.
When you give birth, certain things get stretched out. Things that have no business being stretched out. Things that you didn't even know that you had.
Which causes all sorts of fun issues that no one tells you about. Because if they did tell you, the human race would become extinct.
But no. No one tells. So if you delivered naturally you spend the next few weeks not being able to even feel your nether regions, let alone know if they are working properly. Then, to add insult to injury, for months beyond that you can actually feel them and you get the joy of knowing that they most certainly are not working properly.
I'm talking about bladder leakage.
Great dinner table conversation eh? Hey, once you've developed an entourage that prevents you from ever peeing alone again, no conversation is taboo. Anytime. Anywhere. And honestly, even if they have never said anything, many women can relate to this problem. Actually over 51 million American women. That's an awful lot. In fact, that is the equivalent of 1 in 3 American women. In any given group of women, you can look at the women on either side of you and know that one of you is likely to suffer from it.
Cause of Bladder Leakage
Pregnancy and childbirth aren't the only things that causes bladder leakage, as much as I blame my kids and make them feel guilty so they give me their desserts. There are other causes including diabetes and other medical conditions.
So now that you've admitted that you have a problem, and place blame where blame is due – with my kids (yes, you can blame my kids for your bladder leakage), what do you do about it?
Do you find yourself not participating in things that cause you to be active?
Do you avoid long car trips?
Do you come up with excuses for why you are staying home instead of visiting with friends and family?
Do you send your husband to run your errands?
Do you refuse to workout in public?
Or maybe you can't avoid these things and you find yourself constantly living in fear of having an embarrassing accident. And yes, my kids are to blame. Trust me.
Life is no fun if you live in fear of leaks!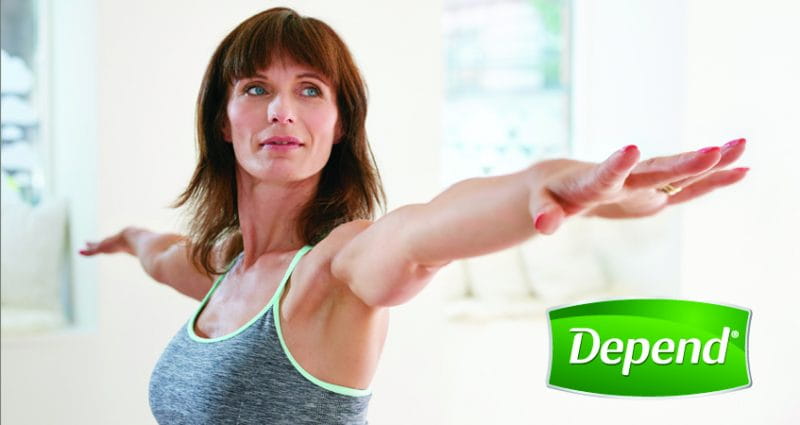 Depend Silhouette Active Fit
Thankfully, you have options in a new product from Depend called Silhouette Active Fit. Active Fit are cloth-like briefs that resemble underwear with a lower rise and a more natural look, fit and feel. New Depend Silhouette Active Fit are smooth under clothes and are available in black and beige.
Depend Silhouette Active Fit gives you back your confidence. Because you NEED to get out there without fear of leaks. You have to pay your kids back somehow and nothing is better payback than chaperoning school dances or better yet, actually dancing at said school dance.
#Underwareness
For almost 2 years now, Depend has spearheaded a social movement called #Underwareness in an effort to combat the stigma that surrounds this sensitive issue and also supports charitable causes that that are working to help advance the research and education of bladder leakage.
The campaign is simple, for every photo or video shared that uses the hashtag #Underwareness, Depend will donate $1, up to $3 million dollars through 2016 to fund these important charities.
Coupon
Depend wants you to be able to have the confidence you need to do your everyday things, so they have some money saving coupons for you to redeem when you buy the new Depend Silhouette Active Fit Briefs: Depend coupons.
Join our newsletter!
Subscribe to get updates and great stuff via email including subscriber-only goodies like free printables and giveaways.