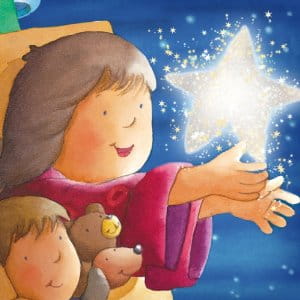 Reading to your child can open up a whole world of imagination for them. As you read the words on the pages, they get lost in the stories you are telling and their minds make them come to life.
But what if there was a way for a story to engage their visual senses as well? What if they could see the story as their imaginations unfold?
And what if there was a way for a story to engage their sense of touch too? What if a story could be interactive, allowing your child to look, touch, and listen, engaging almost all of their senses?
With a new app called Laura's Journey to the Stars, it's no longer what if, it's what is.
About Laura's Journey to the Stars
Take an astronomical adventure across the sky with Laura and her little brother Tommy as they discover a world of imagination! Children and parents will enjoy the cherished story of love and friendship brought to life with easy-to-follow narration, interactive animations, sound effects, built-in mini games, and a little magic from Laura's star.
Features
More than 80 animated scenes, funny sound effects, and exciting interactive options for children
Lovingly drawn illustrations by the popular children's book illustrator Klaus Baumgart
Read-aloud function included: Captivating story-telling by native speakers
Appropriate for children: No in-app purchases
Intuitive, child-friendly controls
Language options: German, English, and Chinese (Mandarin)
My daughter has always been a reluctant reader. It's not that she can't read, it's that she doesn't have a whole lot of confidence in herself when she does. So we don't push it. But it means that we are always looking for creative ways to show her that books are fun and amazing and hopefully allow her to still have a positive relationship with them.
Apps like Laura's Journey to the Stars really help us encourage a love of reading in her, because they engage her in a way that traditional books can't.
"Is this a book?"
Watching her light up as she was able to engage with the story is very fulfilling. I couldn't help but smile as the book captivated her. She really enjoyed the sound effects and seeing items within the app change when she touched them.
The story is adorable and the illustrations are beautiful and colorful.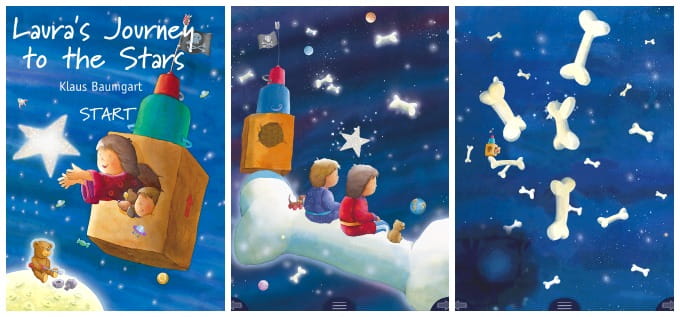 Mini-games like Pairs with Socks and Whac-An-Alien are fun and engaging.
And it's easy for kids to go back to their favorite spot by using the tab at the bottom. They can navigate to any point in the book.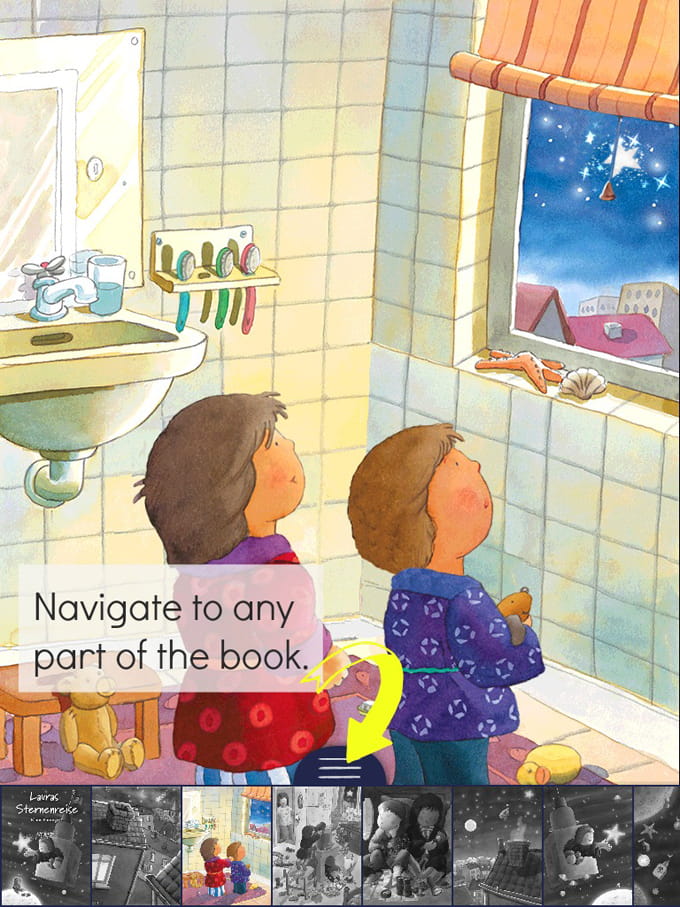 I also love how relaxing this book was. It's a great way to help kids wind down before bedtime. The tone was relaxing and sweet, and the story was the ideal way to get them ready to drift off into dreamland.
Laura's Journey to the Stars also has a great feature that I think many apps for children often overlook. There are no in-app ads or purchases. The developer does have a section that you can access that shows the other great apps they have created, but it's locked for parents only.
Laura's Journey to the Stars is available now for purchase for $2.99
Whether you have a reluctant reader, or a young child who will light up at the idea that they can fully engage with a book with all of their senses, Laura's Journey to the Stars will delight them over and over again.
Note: this is a sponsored article but all opinions are my own.
Join our newsletter!
Subscribe to get updates and great stuff via email including subscriber-only goodies like free printables and giveaways.