When you buy a house you usually fall in love with certain features such as room sizes, the back yard, the upgrades, the kitchen, the number of bathrooms, etc. You picture whether your furniture will fit, and you imagine all the extra space you will have and what you will do with it.
You don't think about some of the *minor* details such as how cold it will be in the lower level of this wonderful new home.
My husband and I both work from home in the lower level of our house and it gets cold!
We don't want to turn the heat up and heat the upper level of the house while the kids are at school and we are working so we have come to rely on space heaters to keep us warm. It saves money vs heating up the whole house.
But space heaters are ugly.
UG-LY
At least, I always thought so.
A few weeks ago, Staples invited me to try out one of their space heaters.
I didn't even know Staples carried space heaters, but they do, and they have a HUGE selection. It was hard to pick just one but I settled on one that was unlike any space heater I had ever seen.
Lasko® Designer Series Ceramic Heater with Remote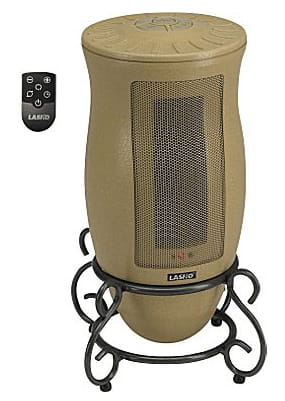 How cool looking is this heater?
About the Lasko Designer Series Ceramic Heater with Remote:
With style to spare, the Designer Series Oscillating Ceramic Heater provides warmth and charm to any room.

Heating capacity: 1,500W
Heating method: Ceramic
2 Quiet Settings: High, Low, plus Auto-thermostat
Automatic overheat protection
Multi-function remote control
Oscillation for full-room coverage
7-hour timer
Electronic touch-control operation
Adjustable thermostat
Self-regulating ceramic element
Fully assembled
E.T.L. listed
90-day mfr. warranty
Right out of the box this heater was even better looking than the picture. I was excited to plug it in and try it out.
I took the video below right after I plugged in. I apologize for the background noise, for some reason my phone was not cooperating.
I had originally set the heater up in the living room to test it and wow it kept it nice and cozy in there. It throws the heat pretty far too, I could feel it from the couch a good 10 feet away. I frequently find Toby sitting a few feet in front of it basking in the heat.
Maybe I need to get him a sweater…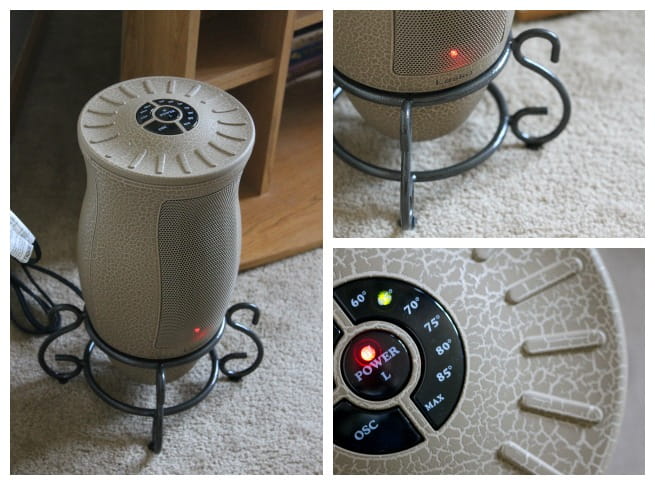 I have since moved the heater downstairs near my desk and I have noticed a huge difference in how warm it is down here. I love that you can set the temperature, I'm generally comfortable around 70-72 and it will turn on and off based upon how warm it is in the room.
The oscillating feature is also a huge plus because it helps distribute the heat more evenly. I also like the timer feature because I don't have to remember to turn it off. I just set the timer for 7 hours in the morning when I first sit down at my desk and the unit shuts off 7 hours later, usually a bit after I am done working. If I come back to my desk, I keep the remote handy so I can turn it back on if I need to. I just need to remember to point the remote towards the base of the heater, not the top.
The Lasko® Designer Series Ceramic Heater with Remote from Staples is a great looking and performing little space heater that is perfect for home or office.
Staples wants to help one of you keep warm this winter! Enter to win your choice of a space heater from Staples (up to $100 max)!!!!!
[email protected]
to your trusted email filter. If original winner does not claim their prize within 48 hrs, it is forfeit and a new winner will be selected promptly.