Introducing the versatile and succulent lamb shoulder chops, this article presents 15 delectable recipes to elevate your culinary adventures.
From hearty stews to aromatic grills, these dishes showcase the rich flavors and tender texture of this cut.
Discover delightful and easy-to-follow recipes that will inspire your next lamb-infused meal.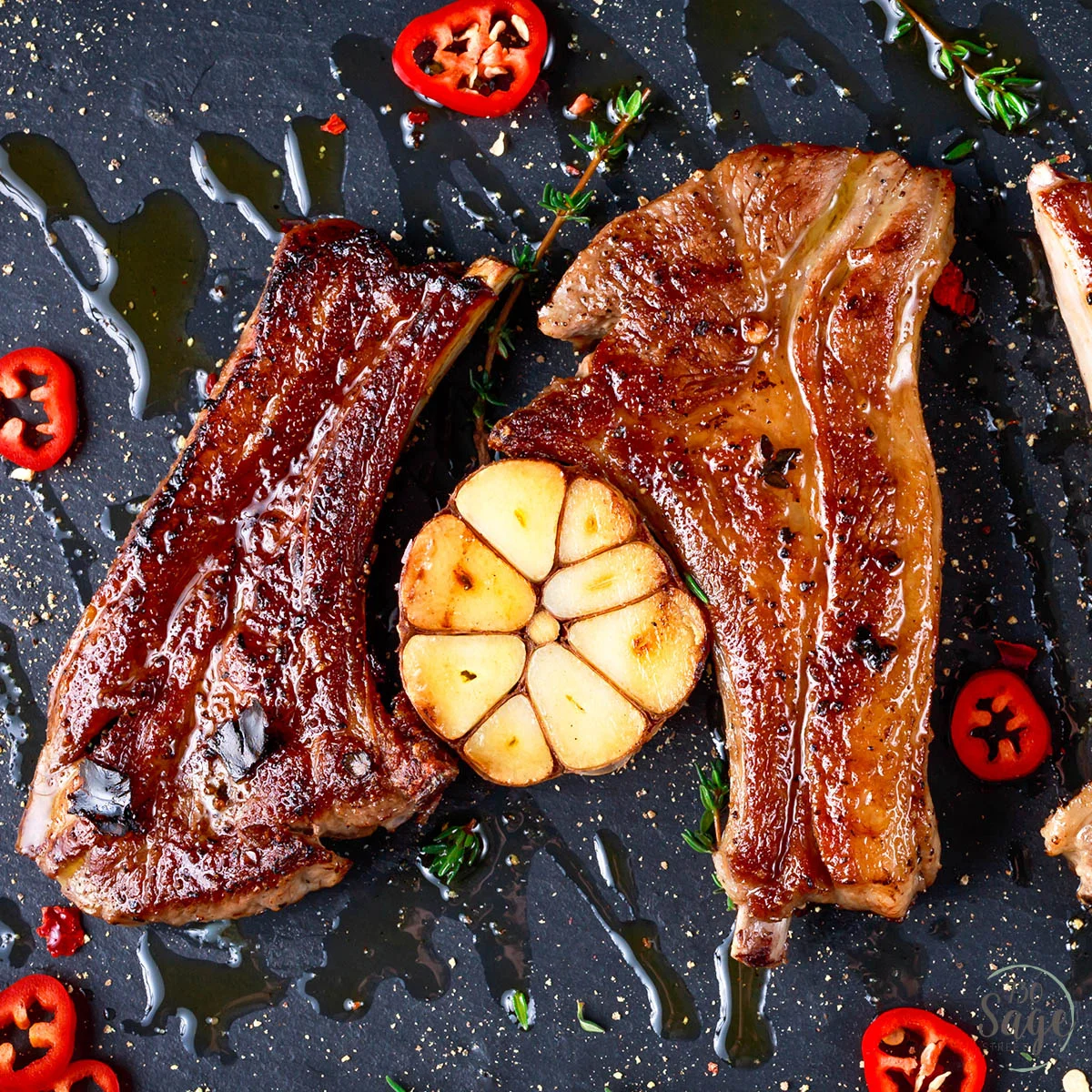 Explore an array of delectable dishes with "15 Recipes With Lamb Shoulder Chops." From succulent grills to savory stews, this collection promises to ignite your culinary creativity:
Feel the warm Mediterranean sun as you savor these succulent, braised lamb shoulder chops. The blend of fresh veggies, earthy herbs, and rich red wine will make your kitchen smell like a cozy Tuscan kitchen.
The lamb, cooked slowly until almost falling apart, is the star here, soaked in a lush sauce, it's a pleasure you can't miss. This dish is a testament to the simple joy of comfort food, providing a delightful dance of flavors and textures. Served over your favorite starch, it's the ultimate crowd-pleaser that keeps you coming back for more.
Take a culinary journey with this satisfying lamb shoulder chop recipe that makes you feel as though you've been personally invited to a feast in a quaint countryside kitchen.
There's a beautiful balance between the spiced, tender lamb and the fluffy, flavor-infused rice that promises to be a delightful adventure in every bite. You'll love the contrasting textures, with the tenderness of the lamb paired with the perfect crunch of fresh mint, parsley, and lemon for a refreshing garnish. A dish that brings homey comfort to your table with a dash of exotic flair.
Fire up your grill and transport yourself to a lively summer barbecue with these tender, juicy lamb shoulder chops. The rich, smoky flavors from the grill complement the succulent lamb, while the homemade herb aioli adds a creamy, zesty punch that pulls it all together.
The freshness of the chives, parsley, and rosemary in the aioli sings against the robust meatiness of the lamb. Topped off with a squeeze of fresh lemon for a tangy finish, it's a dish that celebrates the joys of outdoor cooking and communal eating.
Welcome to a classic feast, featuring succulent lamb chops crusted with garlic and herbs, promising a symphony of flavors in each bite. The boldness of garlic, the earthiness of parsley and thyme, and the subtle heat from the Tabasco sauce marry beautifully with the rich lamb, creating a dish that's packed full of flavor.
You'll adore the added depth from the garlic butter sauce, a deliciously indulgent touch. Perfectly balanced and wonderfully comforting, it's the kind of meal you'll want to gather your loved ones around.
Take the stress out of meal prep with these tantalizing slow-cooker lamb chops. Let the gentle hum of your slow cooker create a comforting aroma of slow-cooked lamb chops seasoned with a heady blend of garlic, juniper berries, and rosemary.
The result? Juicy, tender lamb chops with an irresistible, mouth-watering flavor that will make your home feel like a gourmet kitchen. Enjoy the velvety onions and delight in every bite, knowing you've treated yourself to a slow-cooked delight that is as comforting as it is delicious.
Oh, the joy of a well-marinated lamb chop! This simple but flavorful marinade, featuring avocado oil, fresh rosemary, and a hint of lemon zest, perfectly compliments the succulent lamb chops. It's all about infusing these chops with a refreshing, herby aroma, with a zesty kick from the lemon.
It doesn't take much time to put together, but the real magic happens as you let it sit and allow those flavors to mingle. Whether you choose to pan-sear or grill them, these lamb chops will be bursting with flavor!
Say bonjour to this French-inspired lamb shoulder chop recipe! A savory marinade coupled with the rich taste of high-fat European butter and fresh herbs make this a decadent feast for the senses.
It's all about achieving that golden-brown crust on the lamb chops, revealing tender, juicy meat underneath. Basting the chops in butter, a process known as 'arroser', lends extra richness to the dish. Let it rest, and then it's time to dive into a taste of France in your own kitchen.
Summertime and barbecuing are a match made in culinary heaven, and this recipe is no exception. This unique combination of flavors brings together the robustness of lamb shoulder chops with the warm, aromatic notes of paprika, rosemary, and thyme.
Add a twist of fresh lemon juice and the tanginess of Dijon mustard to round out this grilling adventure. Imagine yourself at a summer barbecue, as the aroma of these chops sizzling on the grill fills the air.
An adventure in flavor awaits with this enticing recipe that highlights the warmth of cumin, coriander, and garam masala. Each chop is braised to perfection in a blend of red wine, stock, and aromatic spices, yielding a melt-in-your-mouth texture.
The side of roasted cauliflower, seasoned with the same blend of spices, and fluffy, mint-infused couscous complements the main course beautifully. Enjoy the celebration of flavors as you savor each bite.
Calling all fans of a good pan-sear, this one's for you! The beautifully browned lamb chops in this recipe, brought to life with a tangy mustard-thyme sauce, make a stunning centerpiece to any meal.
The vibrant, fresh thyme and the sharpness of the Dijon mustard offer a delightful contrast to the richness of the lamb. Add a splash of heavy cream for an extra touch of indulgence, and you've got a dish that's just begging to be savored.
Let's dive into a culinary journey to the heart of Mediterranean cuisine. These succulent lamb shoulder chops, infused with the richness of dry red wine and the tangy delight of tomatoes, bring forth a symphony of flavors in every bite.
Enhanced with the subtle yet distinct aroma of fresh parsley leaves, this dish is a testament to the art of slow cooking. Served with a generous spoonful of braising liquid, these chops offer a delightful mix of tenderness and taste.
Transport your senses to a rustic countryside kitchen with this heart-warming dish. Slow-cooked to perfection, these lamb chops burst with succulent flavors, harmoniously balanced with earthy spices and wholesome vegetables.
The rich, hearty tones of butternut squash and onions are brilliantly highlighted by the exotic blend of cumin, cinnamon, and allspice. Finished off with a dash of fresh parsley, this aromatic feast is best served with your favorite sides.
Be transported to the vibrant landscapes of Australia with this simple yet flavorful dish. Grassy notes from Aussie grass-fed lamb shoulder chops mingle with smoky paprika and earthy turmeric, crafting a dish that sings of spring.
The roasted veggies offer a comforting balance, with turnips bringing a potato-like feel to this keto meal. A light drizzle of avocado oil seals in the savory harmony, making this an absolute must-try!
Embark on a culinary journey to West Africa with this enticing Dibi-style lamb shoulder. The lamb, seasoned with a bold blend of spices, is slow-roasted to create a beautifully tender texture that pairs impeccably with the spicy brown mustard and ginger notes.
The intriguing scotch bonnet pepper brings an unexpected kick, turning this dish into an unforgettable culinary experience.
Let your senses revel in the delightful fusion of Mediterranean and Middle Eastern cuisines with this recipe. The lamb shoulder chops, generously seasoned with smoked paprika, cumin, and a hint of cinnamon, are perfectly complemented by the freshness of a tangy green bean salad.
A dollop of full-fat Greek yogurt dressing, infused with lemon zest and freshly chopped dill, elevates this dish to a sublime medley of flavors and textures. Whether you're looking to impress your guests or simply treat yourself, this is a dish that promises satisfaction in every bite.
What are the best side dishes to serve with lamb shoulder chops?
Pairing the succulent flavors of lamb shoulder chops with the right side dishes can elevate your dining experience. Here are six versatile options to complement the rich taste of the meat.
Roasted Root Vegetables: Earthy and caramelized, these veggies bring a comforting sweetness that balances the robustness of lamb. Their fiber-rich goodness promotes digestion, but be cautious of their longer cooking time.
Minted Peas: These vibrant green peas add a burst of freshness to each bite. Their subtle sweetness and herbaceous flavor provide a refreshing contrast to the richness of the lamb. However, their soft texture might not provide a significant contrast in mouthfeel.
Creamy Polenta: Smooth and creamy, polenta offers a velvety texture that beautifully contrasts with the tender lamb. Its neutral taste serves as a perfect canvas for absorbing the lamb's flavorful juices, but it might feel heavy for some.
Mediterranean Couscous Salad: Light and zesty, this salad combines fluffy couscous with vibrant vegetables, herbs, and tangy dressing. Its refreshing nature balances the richness of the lamb, but be aware of its carb content for those watching their intake.
Grilled Asparagus: With its smoky char and crisp texture, grilled asparagus adds a delightful crunch to each bite. Its slightly bitter notes harmonize well with the lamb's richness, but take care not to overcook it, as it can become limp.
Warm Quinoa Salad: Nutty and protein-packed, quinoa offers a wholesome base for a satisfying salad. Combined with roasted vegetables and a tangy dressing, it brings a pleasant chewiness to the plate. However, its earthy flavor might not be everyone's preference.