Back in December of 2013 I participated in a Google+ hangout that was a roundtable discussion with the National Dairy Council. The conversation was led by Karen Kafer, a registered dietitian with the National Dairy Council. Bob Murray, a pediatric gastroenterologist, was also in attendance to answer questions. Dr. Murray has a background in Geriatric GI and nutrition and discussed the symptoms and common misconceptions of lactose intolerance.
There were also 4 other parenting bloggers who joined in the conversation: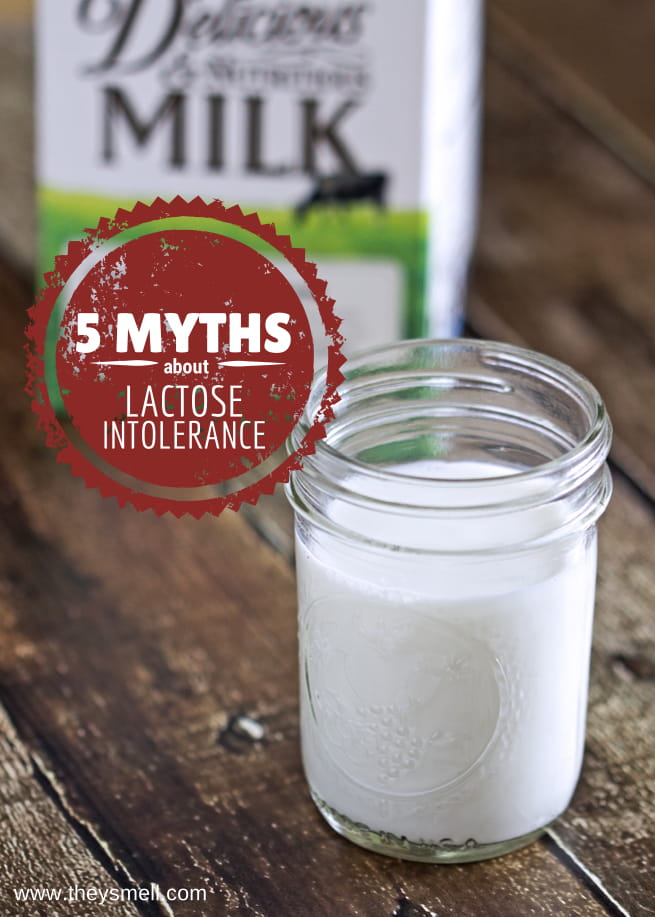 February was Lactose Intolerance Awareness Month so this is the perfect wrap-up for you and will hopefully clear up some misconceptions people have about lactose intolerance.
There is a lot of misunderstanding when it comes to lactose intolerance, and I learned so much from our "hangout" and I wanted to share it with you in a way that was easy to understand and absorb. So I put together a list of 5 myths about lactose intolerance.
5 Myths About Lactose Intolerance
Myth #1: Lactose intolerance is a milk allergy
Myth #2: Lactose intolerance is something you are born with
Myth #3: There is no medical test for lactose intolerance
Myth #4: There is nothing you can do to reduce the effects of lactose intolerance
Myth #5: If you are lactose intolerance dairy is off limits
I explain these in greater detail below:
Myth #1: Lactose intolerance is a milk allergy
Lactose intolerance is a sensitivity to lactose, the sugar in milk. Lactose intolerance is caused by a deficiency of the lactase enzyme, which normally breaks down lactose during digestion.

Lactose is not a milk allergy, which is a reaction to milk protein trigged by the immune system. Another way in which lactose intolerance differs from an allergy is that lactose intolerance is a dose effect: a milk allergy will manifest if any milk is introduced, and can be life-threatening; whereas lactose intolerant individuals can usually tolerate the equivalent of up to one glass of milk with no or minor symptoms.
Myth #2: Lactose intolerance is something you are born with
All people are born with the lactase enzyme and successfully digest lactose provided by human milk or by infant formulas. However, sometime after weaning, in the majority of the world's children, there is a genetically programmed decrease in lactase. This decrease in lactase affects a high but variable proportion of diverse populations in the United States, including Asian Americans, African Americans, Hispanic Americans, Native Americans, Alaska Natives, and Pacific Islanders.
Myth #3: There is no medical test for lactose intolerance
The breath hydrogen test is used to diagnose lactose intolerance. When lactose is not broken down by lactase, it passes into the colon where bacteria break it down and produce hydrogen gas, which may cause the cramping and discomfort that is symptomatic of lactose intolerance.

Some of the hydrogen gas is absorbed into the bloodstream, and we breathe it out along with CO2 in our breath. Elevated levels of hydrogen on our breath, along with the milk-related symptoms can provide a clear diagnosis of lactose intolerance.
Myth #4: There is nothing you can do to reduce the effects of lactose intolerance
This was a question I had asked Dr. Murray during the hangout. I wanted to know if you were simply stuck with a diagnosis of lactose intolerance or if there were things that you could do to possibly reduce the sensitivity.
Question: Kim:
Beyond lactose-free dairy products and supplements, are there other, more natural diet solutions for those who are lactose intolerant, such as probiotics?
Answer: Bob:
The literature is a little mixed as to the effectiveness of probiotics, but some of the studies seem to indicate, particularly in adults, that taking something that promotes lactose digestion like lactobacillus (one example of an organism found in some probiotics) on a regular basis, may put enough lactobacillus in the colon that it can handle normal digestion of lactose and may help with the symptoms of lactose intolerance.

A cheaper and easier way for families to manage the symptoms of lactose intolerance is to consume smaller amounts of milk (a cup or less at a time) periodically throughout the day. Individuals nine years and older can also consume a greater variety of dairy, getting their recommended three daily servings from low-fat or fat-free fluid milk, cheese and yogurt as part of a meal. This will help to cultivate a bacterial population in the colon that knows how to break down that lactose and prevent the symptoms of lactose intolerance.

It's especially important for African-American, Hispanic and Asian families, that their children are consistently exposed to small doses of lactose at a time, which will help them to tolerate it.
Myth #5: If you are lactose intolerance dairy is off limits
For some children who experience discomfort, it may be because they are consuming large amounts of liquid milk. If liquid milk is a staple in your family's diet, consider serving smaller quantities of milk per feeding or serve milk with other foods, such as soup or cereal, to help slow digestion and allow the body more time to digest lactose.

Yogurt is one option that many lactose intolerant people may tolerate because of live active cultures in the yogurt that help to digest lactose.  Natural hard cheeses, like cheddar, Colby and Swiss are lactose intolerant-friendly, containing less than .01 grams of lactose per serving.

Lactose intolerant individuals can also use enzyme treated dairy milk or pre-digested milk, which do not contain lactose. Today, there are products like lactose-free cottage cheeses and lactose-free ice cream as well.
During the discussion I had also asked Dr. Murray if lactose intolerance was something new brought about by the increased use of chemicals and processed foods. He responded that historically humans have always experienced a reduction in lactase in their bodies as they got older, and that it doesn't appear to be a "modern" problem.
There was so much great information shared during our hangout and I believe that it can help if you are suffering, or think you suffer from lactose intolerance. The session was recorded and below are just 2 great videos that can help shed some light on this confusing topic.
Hydrogen Breath Test: Testing for Lactose Intolerance
National Dairy Council Management Strategies for Lactose Intolerance
I was really interested in this topic because my daughter actually suffered from what was diagnosed as a milk protein allergy not long after her birth. We never really understood the difference between that allergy and lactose intolerance – or even knew if they were the same thing. All we knew is that we avoided dairy with her completely until she was around 2 years old and we began to reintroduce it. Today she doesn't actually have much of a desire for dairy, but we manage to use things like organic chocolate milk and homemade mac and cheese to get the important nutrients into her diet. She does seem to tolerate them quite well.
If you believe that you are lactose intolerance, the National Dairy Council encourages you to talk to your doctor and get tested. Dairy is so full of vitamins and nutrients your body needs and depending upon the quality of your diet, you just can't afford to give up such a nutrient dense food source. By working with your doctor and finding the products that work best for you, you can alleviate the symptoms without losing such an important source of dietary nutrients.
For more information about lactose intolerance visit the National Dairy Council at nationaldairycouncil.org.
Are you or a family member lactose intolerant or believe that you or they might be? What solutions do you have for incorporating dairy into a lactose intolerant lifestyle?
Join our newsletter!
Subscribe to get updates and great stuff via email including subscriber-only goodies like free printables and giveaways.

This article is part of a sponsored campaign with the National Dairy council.