Hold onto your chef's hat and get ready for a fiery Korean culinary adventure with these 15 Tofu recipes straight from the streets of Seoul.
These dishes will have you flipping tables like Gordon Ramsay with their rich flavors and vibrant colors.
From the sweet and crunchy Dubu-gangjeong to the savory Dubu salad, this list has something to satisfy everyone's taste buds.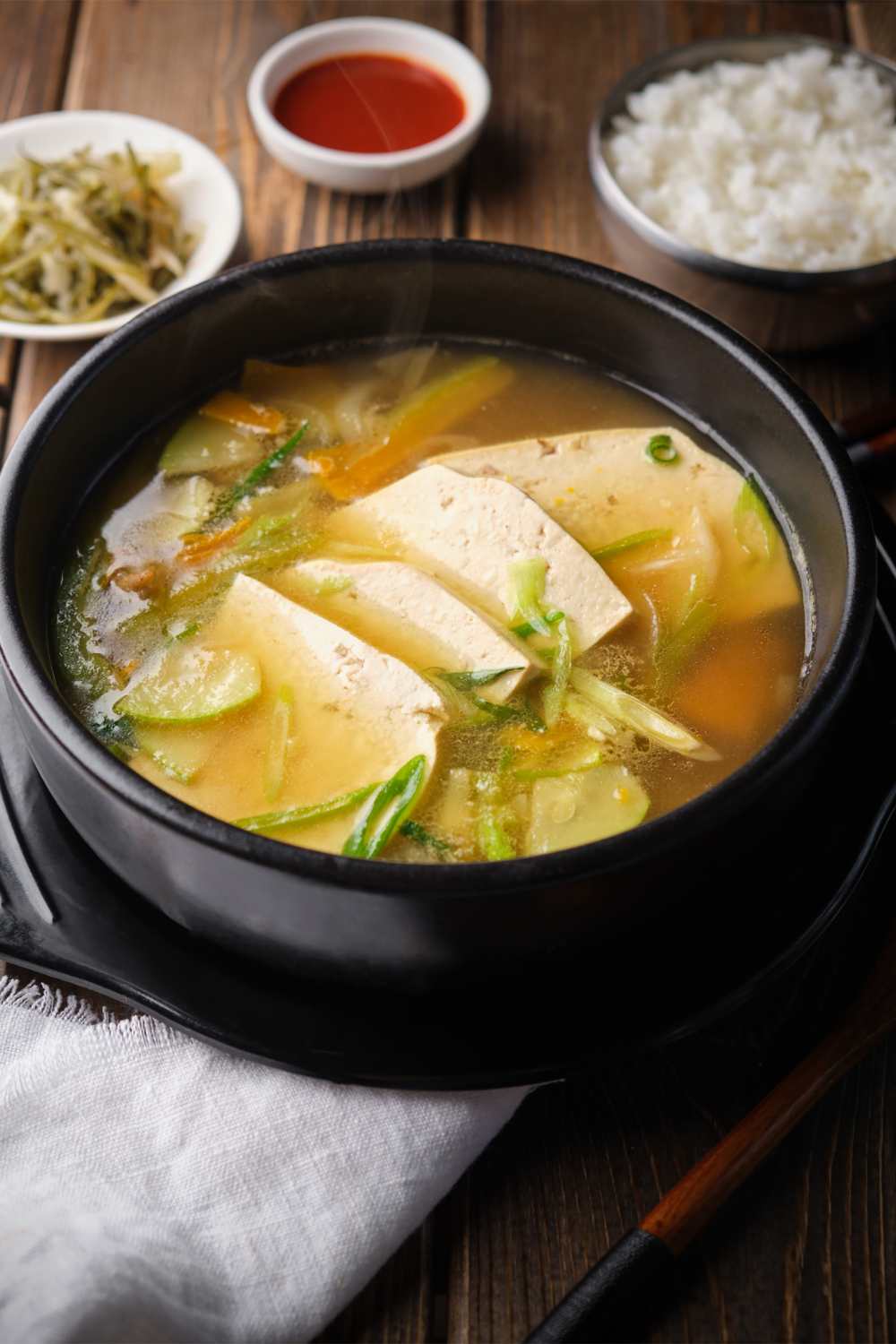 Can I Use Any Type Of Tofu For These Recipes?
Absolutely! The Korean recipes with tofu can be made with any type of tofu, be it firm, extra firm, soft or silken. The texture and consistency of the tofu used may alter the final taste and feel of the dish, but all variations of tofu are a healthy substitute for meat.
Can I Use Tofu Substitutes In These Recipes?
While tofu is a great source of protein, other plant-based protein substitutes like tempeh, seitan, or even legumes can be used in these Korean recipes to add a healthy, meat-free twist. However, keep in mind that this may alter the taste and texture of the dish.
15 Korean Recipes With Tofu
These 15 Korean Tofu dishes will bring a welcome change to your weekly menu, and they range from crunchy to creamy without sacrificing flavor:
Introducing Soondubu Jjigae, a heartwarming Spicy Korean Soft Tofu Soup that'll whisk you away to the bustling streets of Seoul! Prepared with silky soft tofu, flavorful mushrooms, and a delightful medley of kimchi, onions, and garlic, this soup is a true comfort food.
Customize your adventure by adding your favorite protein and savor the fragrant harmony of sesame oil and red pepper flakes. Top it off with a delicate egg and scallions for an unforgettable culinary experience that's perfect for cozy nights.
After delighting in the comforting warmth of Soondubu Jjigae, let's continue our Korean tofu journey with Pan-Fried Sesame Garlic Tofu. This crispy, flavorful dish features extra-firm tofu coated in cornstarch and pan-fried to golden perfection.
The magic lies in its tantalizing sauce, a blend of soy sauce, honey, sambal oelek, and garlic paste, that adds a touch of sweet, spicy, and garlicky notes. Drizzle the thickened sauce over the crispy tofu for an enchanting taste that'll leave you craving more from our tofu-based Korean adventure.
As we explore the delightful world of Korean tofu dishes, let's dive into a cozy, flavor-packed Kimchi Stew with Pork and Tofu. This scrumptious recipe unites tender pork belly and firm tofu in a rich, spicy broth infused with kimchi and its tangy brine.
The addition of gochujang brings a touch of heat, while sugar balances out the bold flavors. Crowned with scallions and a dash of sesame oil, this satisfying stew pairs perfectly with rice for a meal that connects you with the heart of Korean home cooking, right alongside our previous tofu dishes.
Continuing our mouthwatering exploration of Korean tofu recipes, let's savor the rich and satisfying flavors of Easy Korean Braised Tofu (Dubu Jorim). This delectable dish showcases golden-brown, pan-fried tofu slices bathed in a savory, spicy sauce made from soy sauce, mirin, sugar, and gochugaru.
A medley of garlic, onion, and green onion, with an optional kick of chili pepper, adds depth to the dish. Garnished with a drizzle of sesame oil and a sprinkling of toasted sesame seeds, this delicious braised tofu pairs beautifully with rice or noodles, further enriching our Korean tofu escapade.
Next up on our flavorful Korean tofu adventure is the irresistible Gochujang Tofu, a dish that promises a delightful fusion of sweet, spicy, and tangy flavors. Golden, crispy pan-fried tofu is paired with earthy mushrooms, aromatic onions, and garlic to create a taste sensation that won't be forgotten.
The star of the show, the gochujang sauce, is a vibrant blend of Korean red pepper paste, ketchup, sesame oil, and rice vinegar, which envelops the tofu and mushrooms in a luscious, flavor-packed coating. Garnished with sesame seeds and green onions, this dish is best enjoyed hot with a side of steamed rice, adding another delicious chapter to our Korean tofu story.
Our enchanting Korean tofu journey brings us to the earthy, umami-rich Doenjang Jjigae, a comforting Korean Soybean Paste Stew that warms the soul. This hearty dish features a savory soup base made from fragrant garlic, stock, and a delightful medley of potatoes, onions, and your choice of protein.
The stew's unique, robust flavor comes from doenjang paste, which is beautifully complemented by the addition of tender zucchini, mushrooms, and tofu. A touch of Korean red pepper flakes adds a hint of warmth, making this stew a perfect companion to the other tofu creations we've explored together.
We now turn to a simple yet elegant recipe, the 5-Minute Silken Tofu. This delicate dish highlights the velvety texture of silken tofu, topped with a flavorful sauce that harmonizes soy sauce, sugar, sesame oil, and minced garlic.
A sprinkling of toasted sesame seeds, gochugaru, green onion, and optional chili pepper adds a touch of color and depth to the dish. This effortless, light and tasty creation is perfect for those moments when you crave the comfort of Korean tofu dishes but need something quick and refreshing.
Wanja-jeon, or pan-fried meat and tofu patties, is a delightful Korean dish that brings a fusion of flavors to your table. These savory, juicy patties boast a delectable meaty texture and are a popular choice in Korean lunch boxes and festive gatherings alike.
With just a handful of affordable ingredients like ground beef, tofu, and veggies, you can whip up a sizeable batch perfect for sharing. The beauty of these golden patties lies in their versatility—serve them hot or at room temperature, and freeze the leftovers for a scrumptious meal later on.
With its marinated tofu, crisp vegetables, and tangy pickled radish, this recipe for Vegetable Vegan Kimbap is a veritable taste party that will have you daydreaming about the streets of Seoul.
Short-grain rice acts as a binder, and sesame oil gives the dish a nutty flavor with just a hint of nuttiness. A bamboo mat and some skill make quick work of rolling these exquisite treats. Enjoy the process of making your own vegan kimbap and the delectable results.
Imagine twirling your fork around silky, chewy sweet potato glass noodles in a lively Japchae dish. This popular Korean Glass Noodle Stir Fry combines tender strips of beef or pork, a medley of colorful veggies, and a delicate egg crepe to create a symphony of flavors.
The homemade japchae sauce, with its savory soy sauce, honey, and toasted sesame oil, brings everything together in perfect harmony. Enjoy this delightful dish hot, warm, or slightly chilled – it's versatile and simply irresistible.
Embrace the delicate flavors and textures of this Steamed Tofu with Mushrooms and Vegetable dish. Silken tofu is gently steamed and topped with seared mushrooms, broccoli, onions, and carrots.
The tofu's subtle taste perfectly balances the savory oyster and soy sauce, creating a delectable sauce that brings this dish together. A touch of sesame oil adds that extra hint of nuttiness. Enjoy a warm and comforting bowl, knowing you're indulging in a healthy, nourishing meal that'll make you feel like you're cozied up in a Korean home kitchen.
If you're a fan of savory and nutty flavors, you'll love this Pan Fried Tofu in Garlic Soy Sesame Sauce. Korean firm tofu is sliced into bite-sized pieces and pan-fried until crispy and golden brown.
The garlic soy sesame sauce adds a depth of flavor that perfectly complements the tofu. Raw sugar balances out the saltiness of the soy sauce, while toasted sesame seeds and sesame oil provide a nutty and aromatic finish. Top it off with some thinly sliced green onions for a pop of freshness.
This vegan Hakka-style stuffed tofu recipe is a delicious and flavorful way to enjoy tofu. The dish features tofu that is carefully marked and hollowed out, then filled with a savory mixture of crumbled tofu, mushrooms, carrots, garlic, and soy sauce.
The tofu is then pan-fried until golden brown and crispy and served with a homemade sauce made with soy sauce, sugar, and cornstarch. Garnish with chopped green onions and chili garlic sauce, and serve hot with rice or noodles for a satisfying meal.
Dubu-gangjeong is a sweet, spicy, and crispy tofu dish that you must eat. Vegetarians and aficionados of spicy fried chicken both will enjoy this staple of Korean Buddhist temple fare. Tofu, cut into bite-size pieces, is coated with potato starch and then fried in oil until crisp.
The fried tofu is then slathered in a savory sauce flavored with ketchup, rice syrup, and gochujang (Korean hot pepper paste). For additional crunch, you may sprinkle pumpkin seeds on top once the tofu has been double-fried.
Dubu Salad, a Korean Tofu Salad, is a great choice if you're looking for a light and flavorful salad that will keep you full all day, especially on hot summer days. Soy sauce, vinegar, sesame oil, and Korean red chili pepper flakes form the savory sauce that is poured over a bed of crisp spring salad mix and topped with layers of boiled and sliced tofu.
Sesame seeds are sprinkled on top as a garnish, giving the meal a nutty crunch with every bite. This salad is a wonderful and filling option for vegetarians or anybody else searching for a lighter lunch.