Delicious pork belly is the star of these 20 recipes, which range from traditional Korean meals like samgyupsal and bossam to creative new takes on old standards.
The following are some recipes for tasty and healthful pork belly that will help you take your cooking to the next level.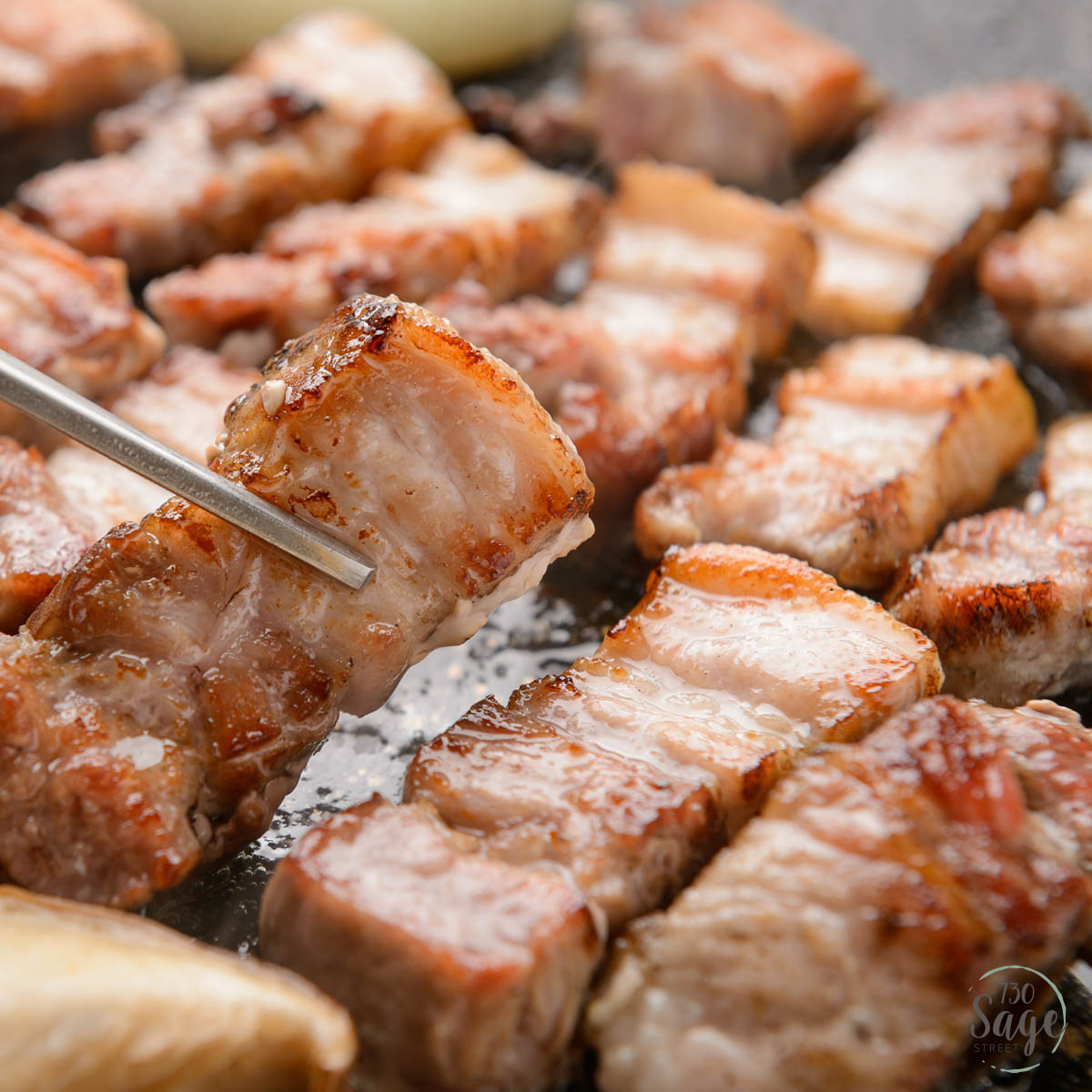 How Is Pork Belly Different From Bacon?
Pork belly and bacon both come from the same cut of meat. The main difference between them is that pork belly is uncured and unsmoked, while bacon is cured and smoked.
Pork belly is usually used in savory dishes, whereas bacon is used as a breakfast food or a topping for sandwiches and salads. When cooked properly, pork belly can be a healthy and delicious addition to your diet.
Can I Use Pork Belly In Place Of Other Cuts Of Pork?
Pork belly is a versatile cut of meat that can be used in a variety of dishes. It has a rich, fatty flavor that makes it an excellent choice for dishes that require slow cooking or braising. Pork belly can be used in place of other cuts of pork, such as pork shoulder or pork loin, in recipes like stir-fries, stews, and roasts.
However, keep in mind that pork belly is higher in fat content than other cuts of pork, so it should be enjoyed in moderation as part of a healthy and balanced diet.
20 Korean Recipes With Pork Belly
These are 20 of Korea's most popular pork belly meals, ranging from quick stir-fries to hearty stews that are guaranteed to please any appetite:
Unleash your inner chef and transport your senses to Korea with this mouthwatering Korean BBQ Grilled Pork Belly recipe, also known as Samgyeopsal-gui. It's time to fire up the grill or stovetop and let the enticing aroma of tender, juicy pork belly dipped in a scrumptious sesame oil sauce fill your home.
In just 15 minutes, you'll have a classic Korean BBQ dish that's sure to be a hit with friends and family. Don't forget to sprinkle some chopped green onions and toasted sesame seeds for that extra burst of flavor. Happy grilling!
It's time to dive into another scrumptious Korean pork belly experience: Bossam! This delightful dish features a tender boiled pork belly wrapped in salted napa cabbage or lettuce leaves, accompanied by a zesty radish salad (musaengchae) and savory saewujeot.
Cooked with a unique blend of ingredients like doenjang, coffee, and ginger, the pork becomes incredibly tender and flavorful. Assemble your wraps and relish the harmony of tastes and textures that make Bossam a must-try Korean dish.
Continuing our delicious journey through Korean pork belly dishes, let's explore the vibrant world of Daeji Jumulleok, a Korean spicy pork stir-fry that packs a flavorful punch.
This delectable recipe combines tender pork with onions, peppers, and green onions, all coated in a rich sauce featuring gochujang, soy sauce, and maesil. As you sizzle your stir-fry to perfection, the flavors meld into a symphony of spicy and savory goodness. Enjoy this dish with hot rice and wrap the meat in perilla leaves or lettuce for an extra layer of delight.
it's time to warm up with a comforting bowl of Kimchi Jjigae, a hearty kimchi stew. This soul-soothing dish combines tender pork shoulder or belly, tofu, and the tangy goodness of kimchi, all simmered to perfection in a rich, homemade anchovy stock.
The addition of gochugaru, gochujang, and sesame oil creates a depth of flavor that'll make you feel right at home in a Korean kitchen. Enjoy this cozy stew with a side of steaming hot rice, and let the connection between these scrumptious pork dishes bring warmth and delight to your culinary adventure.
As we continue our exploration of Korean cuisine, we arrive at a meal that is both quick and delicious: Dwaeji Bulgogi, or Pork Belly Stew, in 15 Minutes. For those who need a quick and easy meal with a lot of taste but are pressed for time, try this spicy pork dish.
Thinly sliced pork shoulder or belly is marinated in a delectable blend of gochugaru, soy sauce, mirin, and extra spicy gochujang, ensuring every bite is packed with bold flavors. Cook the pork to perfection, garnish with sesame seeds and green onions and serve with red leaf lettuce, perilla leaves, jalapeños, and ssamjang for an unforgettable lettuce wrap experience.
Let's bring the flavors of Japan and Korea together with this delightful fusion dish, the Korean-style Tokachi Butadon. Succulent pork belly slices are coated in a sweet and savory sauce made with gochujang, mirin, soy sauce, and honey, before being skillfully fried to perfection.
Served atop a bed of fluffy white rice, add a touch of elegance by garnishing with chopped spring onion and green peas or edamame. This dish marries the best of both culinary worlds, creating a delicious harmony that takes your palate on a mouthwatering journey between two Asian cuisines. Savor each bite as you uncover the secrets of this Korean-inspired Tokachi Butadon!
In this delicious Instant Pot Bossam recipe, Korean Boiled Pork Belly is combined with Oyster Radish Kimchi to create a savory and flavorful dish. The pork belly is tenderized in the Instant Pot using doenjang, coffee, ginger, garlic, onion, and various seasonings.
Meanwhile, the Radish Kimchi with Oysters is prepared using Korean radish or daikon, oysters, fish sauce, garlic, green onions, gochukaru, and sugar. This dish brings together succulent pork and tangy kimchi, offering a delightful contrast of textures and flavors. It's a perfect meal to share with friends or family, served alongside lettuce or perilla leaves and rice.
Pork Belly, Tofu, and Kimchi Stew is a delightful Korean dish that combines tender pork belly, soft tofu, and flavorful kimchi in a spicy and savory broth. This comforting and satisfying meal is perfect for enjoying on a cold day or when you're craving a taste of Korean cuisine.
Rich and complex flavors meld together in this dish, making it an excellent choice for sharing with family and friends. Served with a bowl of warm rice and garnished with sliced green onions, this stew will leave you feeling full and content, having enjoyed a truly delicious Korean meal.
After savoring the warmth of the Pork Belly, Tofu, and Kimchi Stew, we're thrilled to introduce you to another delightful Korean creation: Braised Pork Belly. This recipe elevates tender pork belly to new heights with the perfect blend of Chinese rice wine, soy sauce, and ginger.
As you transition from the comforting heat of the stew to the rich, glistening sauce of this dish, you'll appreciate the seamless harmony of flavors.
Let's take our culinary journey further by exploring this exciting Pork Belly Onigiri recipe. The sushi rice is delightfully seasoned and filled with tender pork belly, then fried to a golden crispiness.
The dish is garnished with refreshing pickles and cilantro, while tamari provides the perfect dipping accompaniment. Your senses will come alive as you embark on this delectable adventure, offering a new way to enjoy pork belly in a playful, bite-sized package.
And now, the delectable Spicy Korean Pork Bulgogi recipe: thinly sliced pork belly is marinated in a spicy and savory mixture, then pan-fried till crisp and golden.
With green onions adding a touch of freshness, this dish can be enjoyed in various ways. Serve it over steaming white rice, wrapped in lettuce leaves for a healthier twist, or even as the star protein in your next taco night. Spice up your mealtime with this versatile and fiery Korean delight!
We can't let this delicious Soy Sauce Braised Instant Pot Pork Belly recipe slip by as we explore our library of pork belly recipes. This dish features a tender, succulent pork belly infused with the rich flavors of ginger, scallions, and star anise. Paired with a fragrant rose-flavored rice wine, this recipe makes for a truly memorable dining experience.
Effortlessly cooked in an Instant Pot, this melt-in-your-mouth pork belly can be served over rice with a side of stir-fried greens. Savor the symphony of flavors and aromas in every bite!
Imagine the tempting scent of pork belly slow-cooked to perfection, seasoned with a combination of garlic, ginger, doenjang, and black pepper, as we continue our culinary journey by bringing you the flavors of Korea with this Slow Cooker Pork Belly (Samgyupsal) dish.
Tender and delicious, this dish becomes irresistible when seared in a mouth-watering sauce made of soy sauce, rice wine, and sugar. Serve this Samgyupsal with thinly sliced scallions, radish sprouts, and lettuce for a delightful meal that will have you dreaming of Korea's vibrant food culture.
If you've never eaten pork belly and bean sprouts together, you're in for a treat with this Korean stir-fry. Spicy, high-heat tango of thinly sliced pork belly, bean sprouts, onions, garlic, and scallions (or garlic chives).
This Samgyupsal Sukju Bokkeum dish is an irresistible crunch-and-savor treat, thanks to the addition of soy sauce, oyster sauce, and a touch of sugar. Having this dish with a bowl of steamed rice is like being whisked away to the hustling streets of Seoul.
This Korean grilled pork belly dish is a popular choice for barbecues and gatherings, and it's easy to see why. Succulent pork belly slices are grilled to perfection alongside garlic, chili peppers, scallions, and mushrooms, creating a mouthwatering dish that's impossible to resist.
Paired with lettuce, perilla leaves, and a blend of Korean soybean paste, red chili pepper paste, sesame oil, and other seasonings, Samgyupsal Gui offers a tasty and interactive dining experience. Simply wrap the grilled pork and vegetables in lettuce or perilla leaves, dip them in the flavorful sauce, and enjoy a bite-sized taste of Korea's finest cuisine.
This spicy Korean pork dish is packed with flavor and perfect for those who enjoy a little heat in their meals. Thinly sliced pork shoulder or butt, combined with onions and scallions, is marinated in a mixture of gochujang, gochugaru, soy sauce, rice wine, sugar, honey, sesame oil, garlic, ginger, and grated apple.
The marinated meat is then grilled or pan-fried until slightly caramelized, infusing the pork with the rich, spicy flavors of the marinade. Jeyuk Bokkeum is a fantastic way to spice up your mealtime with bold Korean flavors, especially when enjoyed alongside the previous dish, Samgyupsal Gui, for a delightful contrast in taste and texture.
Dooboo Kimchi (Tofu with Stir-fried Kimchi and Pork) is the next stop on our tour of wonderful Korean pork dishes. This dish mixes medium-firm tofu with a flavor-packed stir-fry of kimchi and thinly sliced pork.
It's a delightful blend of textures and tastes, perfect for those who love a little heat in their meals. The addition of green onions and sesame seeds as garnish further elevates the flavors, making it a must-try dish for anyone interested in Korean cuisine.
After savoring the flavorful Dooboo Kimchi dish, let's shift gears to a more portable and customizable Korean favorite: Folded Kimbap (or Gimbap). This ingenious snack or light meal combines seasoned rice, seaweed, and various fillings such as Spam, tuna, fried egg, veggies, and even thinly sliced pork belly.
The unique folding technique makes it easy to assemble, and you can mix and match ingredients to suit your taste preferences. This versatile dish allows you to enjoy the flavors of Korean cuisine on the go, perfect for picnics or lunchboxes.
If you're seeking a quicker and healthier way to enjoy delicious pork belly, look no further than the Air Fryer Korean Pork Belly recipe. This dish utilizes the convenience and efficiency of an air fryer to cook the pork belly to perfection without the need for excessive oil.
By simply combining yellow mustard, sea salt, and skinless pork belly, you'll have a flavorful and easy-to-make dish that pairs beautifully with lettuce, Korean BBQ dipping sauce (ssamjang), rice, and kimchi. This recipe demonstrates that you can continue to indulge in the rich taste of pork belly while cutting down on cooking time and oil, making it a great option for those who want to maintain a balance between flavor and health.
Finally, for a simple yet flavorful dish that highlights the rich taste of pork belly, try the Pork Belly Cooked with Onions recipe. This method requires minimal ingredients and preparation, as you'll only need pork belly, onions, and Korean green onions or scallions. The onions create a delicious bed on which the pork belly cooks, while the green onions add a fresh, aromatic flavor to the dish.
The cooking process is straightforward, with no need for added water or oil, as the pork belly will render its own fat. Once cooked, the pork belly can be enjoyed with various condiments such as soy sauce and vinegar, ssam-jang, kimchi, or sae-woo-jeot (salted and fermented tiny shrimps).