Explore the delightful combination of savory kielbasa and comforting potatoes in our compilation of 15 mouthwatering Kielbasa Recipes With Potatoes.
Bursting with hearty flavors, these recipes showcase the versatility of this popular sausage alongside the humble potato.
From skillet meals to casseroles, embark on a culinary journey filled with easy-to-make and satisfying dishes that will elevate your dining experience.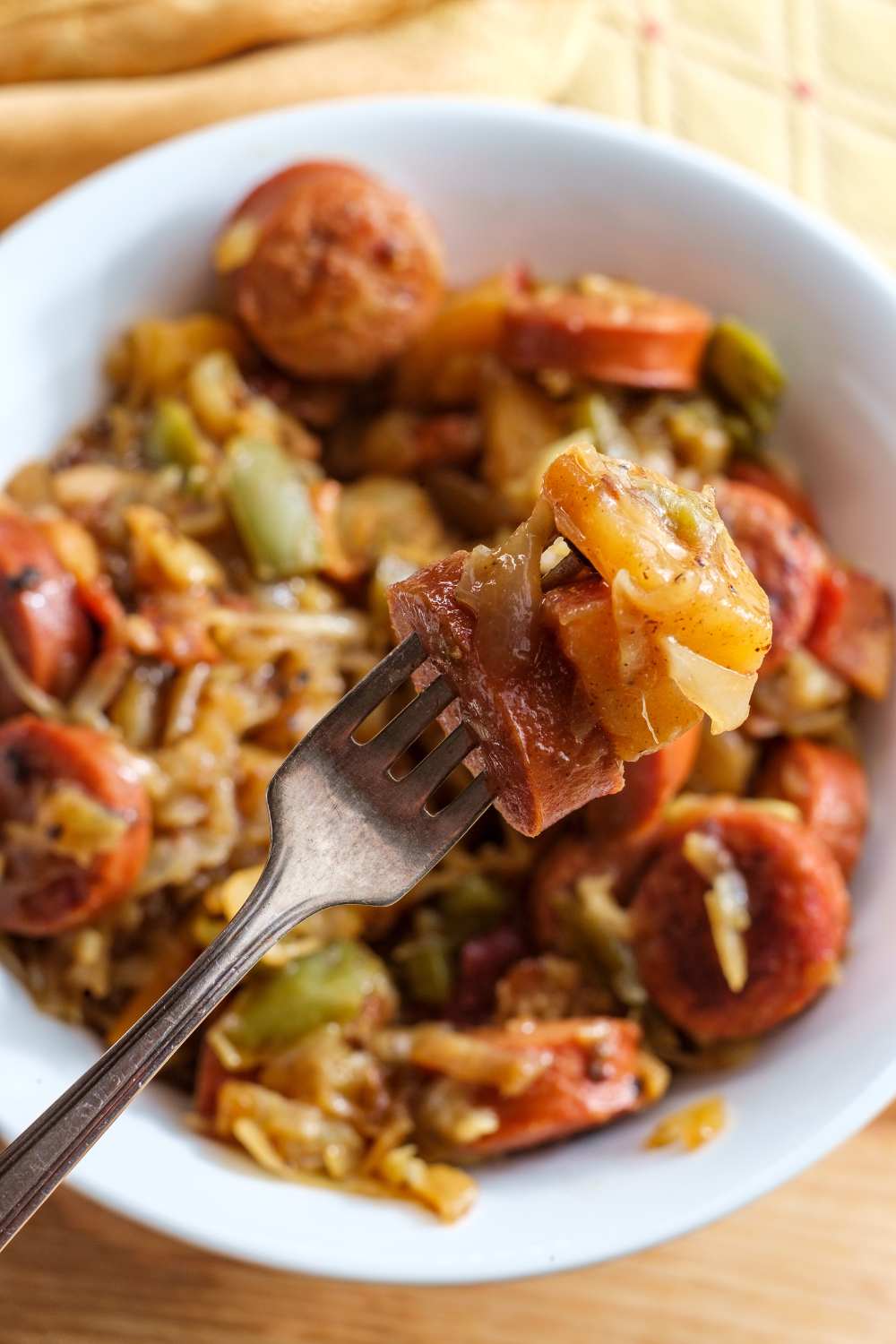 Let's dive into this sensational collection and discover these 15 perfect pairings of kielbasa and potatoes:
Kielbasa & Potatoes in Cheese Sauce brings together a harmonious blend of hearty kielbasa and potatoes, enveloped in a tantalizing cheese sauce. Requiring 30 minutes, this recipe gives you a deliciously comforting meal, which makes 4 servings.
The mellow flavor of the sautéed onions intertwines with the smoked sausage and the golden brown potatoes, while the duo of cheeses adds a creamy richness that ties everything together. Finished with a dash of salt and pepper, it's a warm, hearty treat for any day of the week.
Dive into the depths of this Kielbasa Potato Soup and discover the warmth it brings. In approximately 40 minutes, you will yield 5 generous servings. A vibrant symphony of kielbasa sausages, tender potatoes, and aromatic vegetables like carrots and onions simmered together, this soup is a savory delight.
The full-fat milk and cheddar cheese lend a creamy note, and a sprinkle of red chili flakes imparts a subtle heat. Finished with fresh parsley, it's a comforting, satisfying meal, perfect to warm up a chilly evening.
Feast on a simple yet fulfilling Kielbasa Potato Bake. This one-pan delight, which serves 4, is a medley of hearty kielbasa sausage and cubed potatoes, all wonderfully seasoned and baked to golden-brown perfection in just about 50 minutes.
The olive oil brings a hint of Mediterranean flair, while garlic and paprika add depth to the dish. The crowning glory is the melted sharp cheddar cheese on top, creating a layer of creamy, gooey goodness. This dish offers an enticing combination of crispy, tender, and cheesy that's sure to satisfy.
Delight in a hearty breakfast or brunch with this Kielbasa, Potato, and Onion Scramble. A gorgeous marriage of diced potatoes, fragrant onions, and succulent kielbasa sausage, all combined in a fluffy egg mixture and topped with peppery Jack cheese. Ready in 30 minutes, it makes 4 generous servings.
The finishing touch of fresh flat-leaf parsley not only adds a splash of color but also a fresh, herby contrast to the rich, creamy scramble. This dish is a brilliant start to any day.
The Slow Cooker Scalloped Potatoes and Kielbasa is a dish that lets you set it and forget it. In 15 minutes of prep time and about 7 hours in a slow cooker, you'll have a hearty meal that serves up to 6 people.
A gorgeous medley of thinly sliced potatoes, fragrant garlic, and onions, and hearty kielbasa sausage, all nestled in a creamy mushroom soup sauce. Topped with shredded cheddar cheese, the slow cooking brings out the rich flavors and textures, creating a heartwarming dish for a cozy night in.
This soup recipe combines the succulent, smoky flavors of kielbasa with the earthiness of leeks and potatoes. In just about 70 minutes, you'll have a rich, aromatic soup that yields 8-10 hearty servings.
The light crunch of green cabbage and the savory broth mingle perfectly with the tender bites of kielbasa. Sprinkling fresh parsley at the end elevates the taste and provides a delightful color contrast. It's a meal that's warm, filling, and perfect for a cold day.
Savor the charm of this potato hash recipe where the golden brown kielbasa and caramelized onions meet crispy red potatoes. Cooked in just 30 minutes, it's a dish that beautifully incorporates dijon mustard, apple cider vinegar, and maple syrup to create a sweet and tangy dressing.
The baby spinach slightly wilts under the warm mix, adding a splash of color and nutrition. This recipe delivers about 4 servings, each packed with a satisfying combination of flavors and textures.
Experience a morning delight with this Kielbasa Frittata recipe. It's a symphony of flavors where the smoky Polish sausage, onions, and potatoes come together under a fluffy layer of eggs.
Infused with the warm aroma of thyme and parsley, this dish takes just 30 minutes to prepare and yields 4-6 servings. Baked to a perfect golden brown finish, it's a substantial and nutrition-packed breakfast choice that's sure to start your day off right.
This creamy and hearty soup showcases the robust flavor of kielbasa alongside tender potatoes and kale. With a cooking time of about 40 minutes, you can expect a rich blend of flavors enhanced by the tangy dijon mustard and Worcestershire sauce.
The all-purpose flour and half-and-half lend a creaminess that balances out the smoky kielbasa and fresh kale. Yielding 6-8 servings, this soup offers both comfort and nutrition in every bowl.
Delight in the smoky kielbasa, tender potatoes, and crisp onions in this fuss-free, easy-to-clean foil packet recipe. In just 40 minutes, you'll have 4 flavorful servings where each ingredient has been perfectly steamed in its juices, accented by a hint of sea salt and garlic powder.
The kick from the spicy mustard, sweetness from honey, and tang from apple cider vinegar creates a harmonious sauce that coats every bite. It's a fantastic choice for an outdoor BBQ or a simple weeknight dinner.
A heartwarming fusion of diced potatoes and kielbasa, with an additional kick from a spicy blend of onion, bell pepper, and creamy cheddar cheese. After a slow cook of 5-6 hours, you'll find yourself with a thick, cheesy delight that effortlessly melts in your mouth, serving up to six.
A harmonious blend of textures and flavors, with the delicate softness of potatoes complementing the sharpness of cheese and kielbasa.
A hearty soup, boasting a robust medley of onion, carrots, and celery, further enriched with kielbasa and cabbage. A simmer time of 25-30 minutes infuses a smoky flavor into the potatoes, yielding 8 servings.
With a subtle cider vinegar hint, it's a nostalgic dish, ideal for a cold day, that marries the sweetness of vegetables with the tang of tomatoes.
This recipe promises a bold and meaty feast. Starting with browning turkey, it's later combined with chili beans, green chilies, and corn, adding a diverse texture to your dish.
The addition of red potatoes and kielbasa contributes a pleasing, slightly smoky note. After cooking on low for 8 hours, this dish yields a rustic, comforting meal for 6 people.
With a delightful harmony of smoked sausage and russet potatoes, this recipe offers a warm, cheesy explosion of flavors.
With an hour's bake time, the dish transforms into a bubbly, golden spectacle, delivering a dish that serves 6. The creamy cheese and tender potatoes form an irresistible duo, accented by a hint of parsley.
This dish wraps smoked sausage and diced russet potatoes in a velvety blanket of Velveeta and sharp cheddar cheese.
After 30 minutes in the oven, it results in a bubbling, golden masterpiece that serves 6. The cheddar crust adds a gratifying crunch, contrasting the creamy potatoes and sausage beneath.
Can I substitute regular potatoes with sweet potatoes in these kielbasa recipes?
Certainly! Sweet potatoes can be a delicious and nutritious alternative to regular potatoes in kielbasa recipes. Their natural sweetness adds a unique flavor profile to the dish, complementing the savory notes of the kielbasa. Sweet potatoes also offer vibrant color and a slightly softer texture when cooked, providing a delightful contrast to the sausage. Whether roasted, mashed, or diced, incorporating sweet potatoes into these recipes brings a delightful twist to the classic combination of kielbasa and potatoes.
Can I use different types of sausage instead of kielbasa in these recipes?
Absolutely! While kielbasa is traditionally used in these recipes, you can explore a variety of sausages to switch up the flavors. Try substituting with smoked sausage, chorizo, or Italian sausage to infuse a different taste into your kielbasa and potato dishes. Each sausage brings its own unique blend of spices and seasonings, adding a distinct twist to the overall flavor profile. Feel free to experiment and discover new combinations that suit your taste preferences.