Nothing beats a hearty bowl of pasta, especially when combined with the smoky flavor of kielbasa.
From classic carbonara to creamy alfredo, there are endless ways to incorporate this delicious sausage into your pasta dishes.
In this round-up, we've gathered 15 mouthwatering kielbasa and pasta recipes that are sure to satisfy any craving.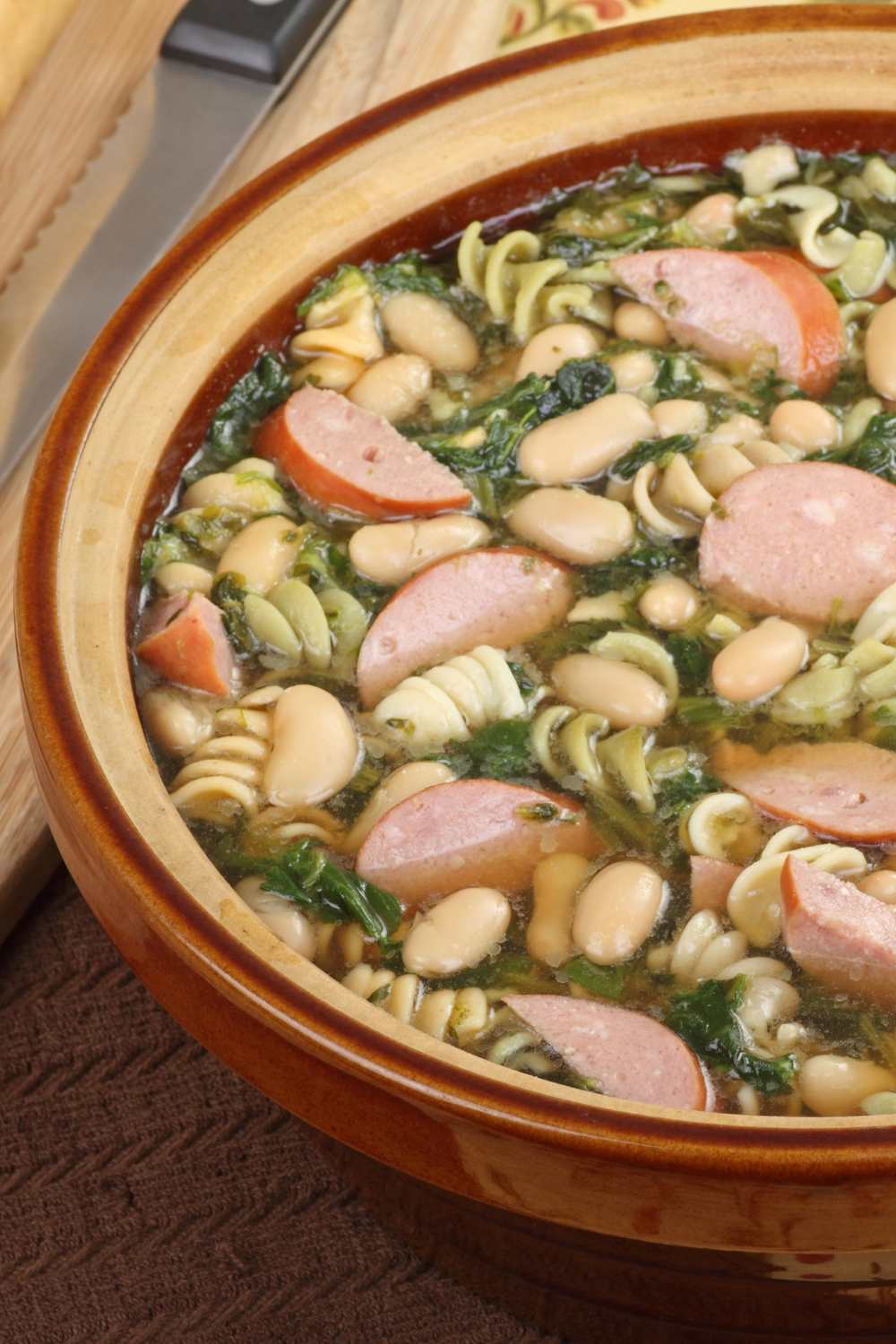 What Is Kielbasa And Where Does It Come From?
Kielbasa is a type of Polish sausage that is typically made from pork or a mixture of pork and beef. It is known for its smoky flavor and coarse texture. It has been around since the Middle Ages and is often associated with traditional Polish cuisine.
While kielbasa may not be the healthiest food option, it can be enjoyed in moderation as part of a balanced diet.
Can I Substitute Kielbasa With Another Type Of Sausage In These Recipes?
Yes, you can substitute kielbasa with another type of sausage in these recipes. When choosing a substitute, look for a sausage that has a similar flavor and texture to kielbasa.
Some good options include smoked sausage, andouille sausage, or chorizo. Keep in mind that these sausages may have different levels of fat and salt, so be mindful of portion sizes to maintain a healthy diet.
15 Kielbasa Recipes With Pasta
Check out these 15 kielbasa recipes with pasta that are sure to become instant classics in your home kitchen:
This delicious Polish Sausage and Tomato Pasta dish is sure to impress! Sliced Klement's Polish Sausage is sautéed with onions and garlic until the sausage is browned and the onions are soft.
Fire-roasted tomatoes, uncooked pasta, chicken stock, and milk are then added to the mix and brought to a boil. Cover and simmer until the pasta is cooked through, and then stir in shredded cheddar cheese until melted. Serve with a sprinkle of green onions on top for added flavor and color. Perfect for a cozy weeknight dinner!
Enjoy a warm and comforting bowl of Smoked Kielbasa Pasta with this simple recipe. Begin by frying sliced kielbasa and onions until browned in a saute pan with olive oil. Garlic, chicken broth, diced tomatoes, dry pasta, and seasonings are then added, and the mixture is simmered until the pasta is tender. Remove the skillet from heat, and stir in shredded cheddar cheese until melted.
Top with more cheese and sliced scallions, then cover until the cheese is melted, spotty brown, and bubbly. This recipe yields four servings, but feel free to double it for larger groups or leftovers.
Treat yourself to this delicious Turkey Kielbasa Penne Bake! Melt butter in a skillet and sauté onions until soft and translucent. Add garlic, Italian seasoning, salt, and pepper, and cook for 1 minute before stirring in the flour. Whisk in milk and broth and cook until thickened. Meanwhile, cook penne pasta until al dente and combine it with the sauce and sliced kielbasa in a baking dish.
Top with shredded mozzarella cheese and bake until bubbly and golden brown. This recipe can also be prepared ahead of time and refrigerated or frozen for future meals.
Enjoy a hearty and flavorful bowl of Kielbasa and Ditalini Pasta with this easy recipe. Begin by sautéing shredded carrots and diced kielbasa in olive oil until tender and slightly browned. Add ditalini pasta, chicken stock, frozen peas, and bay leaves, and simmer until the liquid has almost evaporated, and the pasta is cooked through. Finish with chopped parsley and serve with grated Parmesan cheese for a delicious and satisfying meal.
This recipe is perfect for a quick lunch or dinner, and the leftovers make for a great next-day lunch. Same as the recipe before, it's perfect for a quick and easy meal.
This creamy Kielbasa pasta recipe is a crowd-pleaser that combines the bold flavors of kielbasa sausage with the creaminess of a mustard and Parmesan cheese sauce.
The sauce is made with heavy cream, butter, Dijon mustard, and Parmesan cheese which gives the pasta a velvety texture. The addition of thyme, white wine, and red onions add depth and complexity of flavors to the dish. This hearty and comforting pasta dish is perfect for a weeknight dinner or a cozy gathering with friends and family.
This recipe is not for the faint of heart. Get ready to indulge in a creamy, rich, and downright delicious kielbasa pasta dish that's perfect for any occasion. The combination of smoky sausage, buttery garlic, and parmesan cheese creates a symphony of flavors in every bite.
And don't worry, the touch of red pepper flakes won't overwhelm your taste buds - it's just the right amount of heat to take this dish to the next level. Whip this up when you're feeling fancy or just want to treat yourself to something special.
Kielbasa pasta dish is the perfect balance of comfort and freshness. The juicy slices of kielbasa are cooked to perfection alongside tender bow-tie pasta, and baby broccoli for a satisfying crunch. And let's not forget about the spinach and lemon juice that adds a pop of color and zest to the dish.
The pecorino romano cheese brings it all together, giving it a rich and cheesy flavor that will make your mouth water. This recipe is quick, easy, and packed with flavor, making it perfect for busy weeknights or lazy weekends.
Spice up your pasta game with this Cajun-inspired kielbasa recipe that will leave you feeling satisfied and ready for seconds. The juicy turkey sausage slices are seared to perfection, and the Cajun seasoning brings a bold and flavorful kick to the dish.
The creamy sauce made with heavy cream and parmesan cheese makes this recipe extra indulgent, creating a perfect balance of spicy and creamy. Serve this dish for a cozy night in or when you need a quick and easy meal that packs a punch of flavor.
This kielbasa and cabbage pasta recipe is the ultimate comfort food that's perfect for chilly evenings. The buttery egg noodles are tossed with perfectly seared kielbasa and a generous amount of sautéed onions, garlic, and tender cabbage. The addition of red wine vinegar adds a tangy note that cuts through the richness of the dish, making it a balanced and flavorful meal.
This recipe is quick and easy to make, and the perfect way to get your daily dose of veggies. Serve it up for dinner tonight and enjoy the heartwarming flavors!
If you're in the mood for a delicious and flavorful kielbasa pasta dish, then this recipe is for you. The combination of sautéed green peppers, onions, and garlic with juicy kielbasa and tangy diced tomatoes creates a symphony of flavors that will make your taste buds dance.
The Italian seasoning brings it all together, adding an extra layer of depth to this dish. And don't forget about the buttery and cheesy pasta - it's the perfect vehicle for this hearty mix. Whether you're cooking for a crowd or just for yourself, this recipe is sure to impress. So, what are you waiting for? Grab your ingredients and get cooking!
Kielbasa and mushroom pasta dish is a perfect choice for a comforting meal that's sure to please everyone around the table. The combination of tender mushrooms, savory kielbasa, and sautéed onions creates a wonderful depth of flavor that pairs beautifully with the rich and creamy sauce made with heavy cream and fresh dill.
This dish is simple to prepare and comes together in a matter of minutes, making it an ideal weeknight meal. Finish it off with a generous sprinkle of freshly grated Parmesan cheese and enjoy the indulgent flavors and textures of this hearty pasta dish.
This shrimp and sausage pasta is a flavor-packed dish that's sure to satisfy. Juicy shrimp are seasoned with Cajun and oregano, while smoky andouille sausage adds depth of flavor. Red bell pepper and onion provide a touch of sweetness that balances the spices perfectly. The sauce, made with crushed tomatoes, chicken broth, and heavy cream, is rich and indulgent, with grated Parmesan cheese adding a nutty note.
Served over fettuccine pasta, it's a true feast for the senses that are both satisfying and delicious. So, grab a fork and dig into this irresistible dish!
This penne with smoked sausage and sun-dried tomatoes is a pasta dish that's simple, but oh-so-delicious. The smokiness of the sausage pairs perfectly with the sweetness of the sun-dried tomatoes, and garlic adds a welcome punch of flavor.
The sauce is made with creamy half-and-half and melty mozzarella cheese, resulting in a velvety texture that coats every bite of penne. Top it all off with a pinch of red pepper flakes for a little bit of heat.
This dish is an absolute flavor explosion! The combination of savory smoked sausage, fresh asparagus, and tangy diced tomatoes all come together to create a dish that is sure to warm you up on a chilly evening. The creamy sauce, made with chicken broth, heavy cream, and just a touch of flour, perfectly coats each and every bite of tender pasta.
And let's not forget the finishing touch - a sprinkle of grated Parmesan cheese for a bit of salty goodness.
Cajun-style pasta dish packs a flavor punch with juicy andouille sausage, tender chicken, and plump shrimp cooked in a creamy, tomato-based sauce. The Cajun seasoning mix brings a spicy and smoky kick, while the combination of linguine and vegetables creates a satisfying texture.
The dish is finished with a generous sprinkle of fresh Italian parsley, making it a vibrant and colorful addition to any table. This warm and hearty meal is perfect for a cozy dinner with loved ones or a comforting weeknight meal after a long day.