This is a Sponsored post written by me on behalf of Sam's Club. All opinions are 100% mine.
I'm a worrier.
I think most moms are.
Once that first child is born, the worry switch is flipped and the littlest things become cause for concern or fear.
Most of the time these fears are unfounded and even irrational.
But still we worry, especially when our kids were sick.
When my son was 5 he had such a high temperature we had to call 911 and he was in the hospital for a couple of days with a fluctuating temperature that they never could determine the cause of. A lot of worry happened during that time but he ended up recovering just fine.
When it comes to having kids, a couple of things come with the territory. First, that they will get sick, and second that you will worry about them.
But there as app that can help make your life a little easier. It may not alleviate the worry, but it can help make it easier for you to give 100% focus to your child and feel in control managing their health.
Kid's Wellness Tracker App
Your child's health at your fingertips

This FREE all-in-one app brings together the tools you need to help manage your children's health more easily.

Build your children's custom profiles — You'll have their health histories right at your fingertips to review with your pediatrician.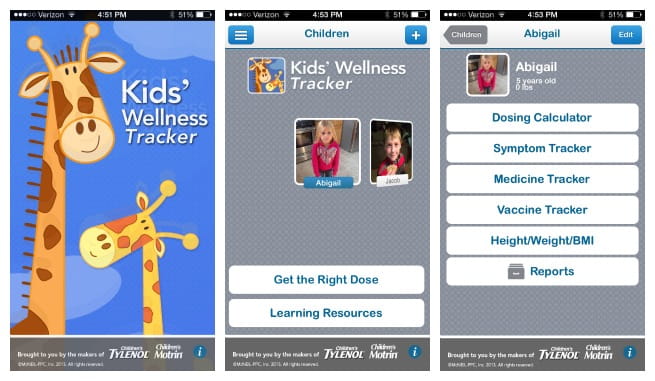 The app includes:
Height, Weight, & BMI (Body Mass Index) Tracker
Track your children's progress as they grow (without marking up the kitchen wall)
Medicine Tracker
Symptom Tracker & Reminder
Record temperature and symptoms to build your children's health history and set reminders to help track fever,
temperature, and symptoms
Dosing Calculator for Pediatric TYLENOL® & Pediatric MOTRIN® Products
Learning Resources
Create reports based on the information that you've saved in your children's trackers.
And more.
This app is pretty fantastic. You can track so many things related to your child's health and always have it at your fingertips. At any time you can quickly access a PDF report on your child showing the history you had tracked. It also gives you proper dosing for Children's TYLENOL® and Children's MOTRIN® based upon your child's height and weight.
The Children's Wellness App is FREE and is available in the App Store and on Google Play.
Did you have a health scare with your children where this app would have come in handy?
Join our newsletter!
Subscribe to get updates and great stuff via email including subscriber-only goodies like free printables and giveaways.