Best Keto pancakes, whaaaat? You mean there is more to eat than eggs for breakfast on a keto diet? There sure is and they don't taste like cardboard either. With this easy keto pancakes recipe, you can make fluffy pancakes perfect for a ketogenic diet.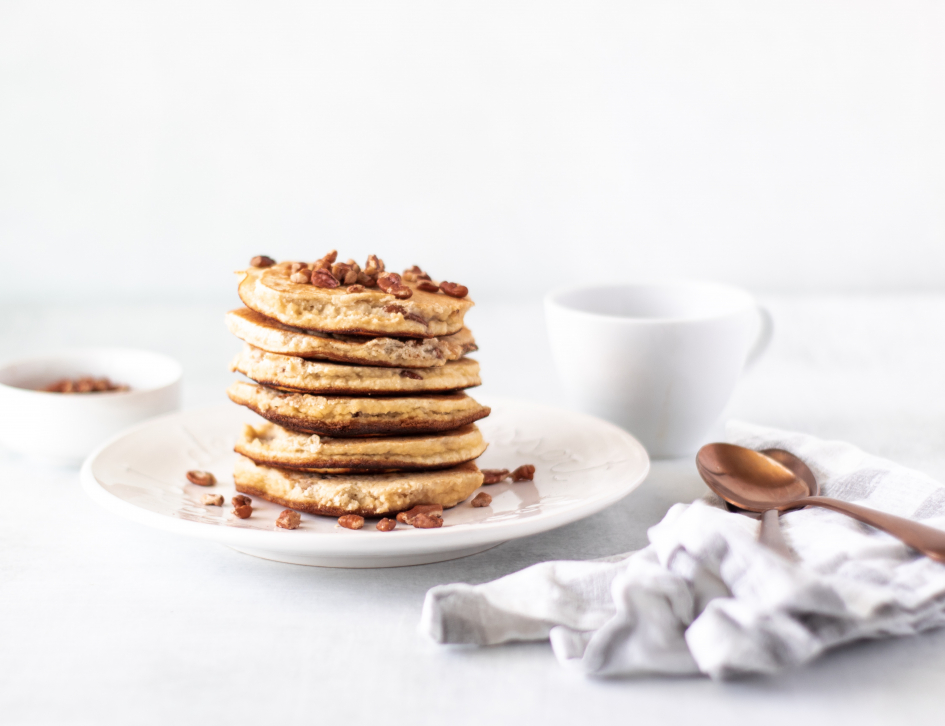 Contents
If you follow a low carb or keto friendly diet, try one of our Iconic dinner ideas for your next meal.
Keto pancakes with almond flour
We all know that diets are hard.  There is no question that we all crave unhealthy treats daily. Cookies, cakes, donuts, you name it. So any time I can find a way to imitate these delicious treats with fewer net carbs, you best believe I'm all over it.
Now, don't get me wrong. I love eggs, and I have plenty of low-carb count, keto recipes that are really, really good. But sometimes, I just can't curb that craving for fluffy keto pancakes. I call them carbish, which is a word I made up.
So when I want to give in to those cravings, I beat them by eating keto recipe versions of my favorite foods. And one of my favorites to do this with is pancakes. Specifically, I use a recipe for Keto Pancakes with Almond or Coconut flour.
The first reaction I usually get when I tell people about Keto Pancakes is generally something along the lines of; "Wait, what? You mean there are more options besides eggs for my low-carbohydrate breakfast diet?"
There sure is! These Keto pancakes are gluten-free, sugar-free, and they taste so good, even the kids can't complain. How's that for nutrition facts?
What do you need
First off, you can avoid most of this process by grabbing a bag of Birch Benders Keto Pancake Mix. I've tried it, and I can confidently say that it's pretty good. Not as fluffy as my keto pancakes we'll be making with this recipe. But it's a quick and easy alternative flour option, and it still tastes great!
Better yet, if you happen to have a few extra minutes and the ingredients you need for the recipe, you can't lose! It's worth your while making these delicious keto pancakes from scratch.
Equipment
Nothing state of the art required here. Just regular kitchen appliances will suffice for our purpose today.
Mixing bowl
Blender/Whisk. A food processor will also work if you have it.
Skillet, preferably non-stick for easy removal of the pancakes
English Muffin mold to shape the ricotta pancakes (optional)
Stove with variable heat
Ingredients
You can enjoy these pancakes on a low carb diet! These fluffy keto pancakes are easy to make and melt-in-your-mouth delicious —only 3 grams net carbs per serving.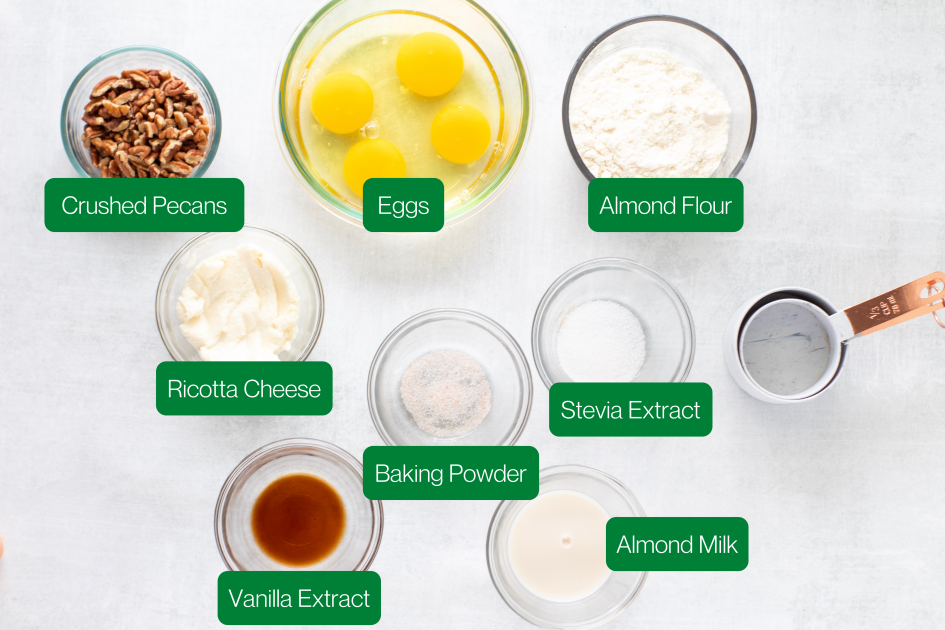 ½ cup almond flour or coconut flour
half a teaspoon stevia extract powder
½ teaspoon baking powder
a pinch of salt
4 large eggs
a quarter cup of ricotta cheese, cottage cheese or cream cheese may also work
⅓ cup unsweetened almond milk
1 teaspoon vanilla extract
a quarter cup crushed pecans
splash of coconut oil or avocado oil
Cook Time
Servings: 6
Serving size: 1 pancake
Prep time: 3 minutes
Cook time 6 minutes
Total time: 9 minutes
Nutritional Information
Calories: 163
Fat: 11g
Carbs: 7g
Fiber: 4g
Net Carbs: 3g
Protein: 8g
How to Make
The beauty of this keto friendly recipe lies in the fact that it is gluten free, sugar free, and contains only three grams of net carbs in each serving, though other similar recipes may contain more. Combined with fact you can make this in 10-15 min you have the perfect keto pancake recipe!
Combine all ingredients other than the pecans and mix them in the mixing bowl or toss them in your blender. Some people only use the egg whites, but I prefer the entire egg.
Whisk or blend the ingredients till you have a nice, smooth batter ready. Make sure the ricotta is well mixed in. This procedure should only take a minute or two. Be sure to scrape the sides to ensure that everything gets mixed in properly, so that the amounts in the recipe are used properly. If you used a food processor, transfer the batter into a bowl and leave it for the next step.
Add in the crushed pecans and any other ingredients of similar consistency into the batter.
Use a spatula to mix it in.
Put your skillet on the burner at this point, and let it warm up for a minute or two with the coconut oil lightly slathered evenly in it. A large-sized skillet on medium high heat will serve you much better in this case. When it's sufficiently heated up, you can move on to the next stage. Remember to avoid excessive heat.
If you're using a muffin mold or any other sort of guide, you'll want to place it on the skillet carefully. Carefully pour the mixture onto the skillet, sizing it to your liking. A general guide would be to use about a third of a cup per pancake, and to make sure there's enough space on the skillet to flip them. Your ricotta pancakes should be able to fit into one or two batches.
Let the pancake cook like this for about 3 minutes, till it forms a proper edge and takes its shape. Then flip it over and cook it for about 3 minutes as well. Make sure both sides are done browned to your preferred level, then take the keto pancakes off the skillet.
Announce 'breakfast is ready' and serve a a nice stack of keto pancakes with pancake toppings like sugar free syrup or maple syrup for the perfect breakfast treat. This is possibly one of the best keto pancake recipes going.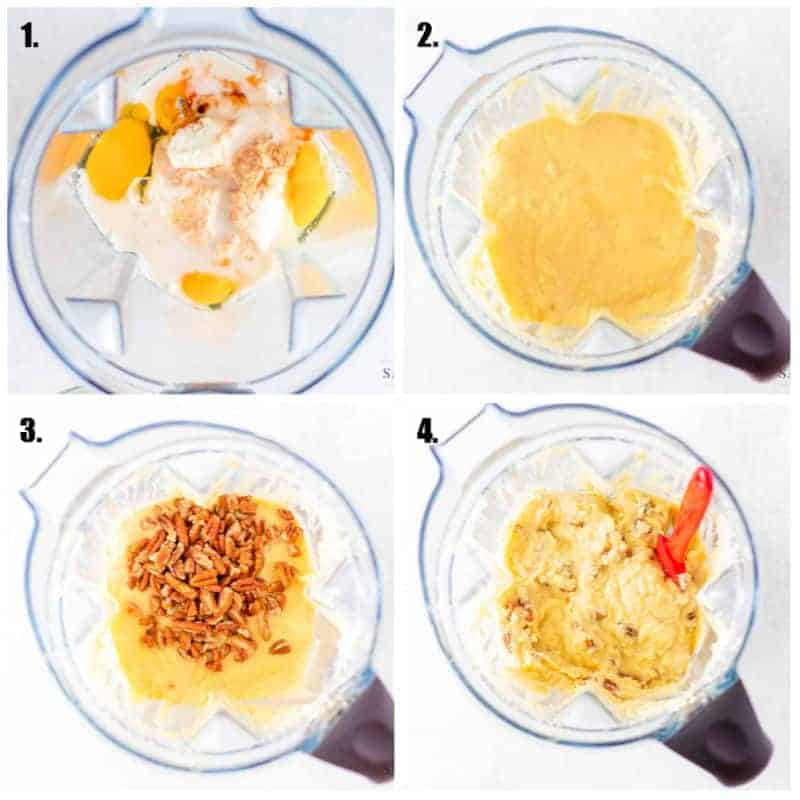 Baking soda substitute
Remember, baking soda and baking powder aren't the same. If you're using baking soda instead, take note. The conversion scale for baking soda to baking powder is about 4. That is, you need 4 times the amount of baking powder to equal any stated amount of baking soda in recipes.
Almond flour substitute
A popular alternative to almond flour is coconut flour ricotta pancakes. It's the same ingredients as ours, but with coconut flour instead of almond flour. I personally prefer almond flour to coconut flour due to coconut allergies. While there are several recipes where this might be advantageous, I feel like the almond flour works better for low carb pancakes.
Vanilla extract vs. almond extract
Since I already use almond flour I prefer to use vanilla extract to help balance out our keto pancakes. Vanilla extract also helps give a natural sweet taste to recipes that my family enjoys. However, you may want to avoid nut flour like almond flour for the same reason I stay away from coconut flour.
Ricotta Cheese substitute
Though full ricotta will get you better texture and a slightly sweeter taste. Some people also opt for cream cheese, but I like to reserve the cream cheese for use as a spread.
How to store
Store leftover keto pancakes in an airtight container. They'll be good in the refrigerator for 2-3 days, or you can freeze for up to 3 months. Just microwave an serve!
Best Keto Pancakes
You really can't go wrong with these Keto Pancakes! They are easy to make, budget friendly, and super delicious. On top of that they only have 3 grams of carbs per serving, are gluten-free, and sugar-free. Ditch the carbs and enjoy the best keto pancakes recipes online!
📋 Recipe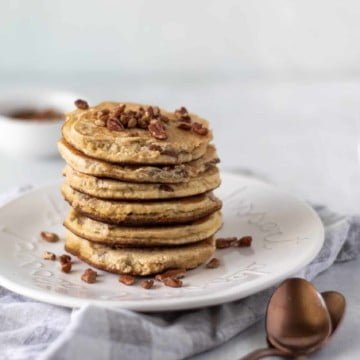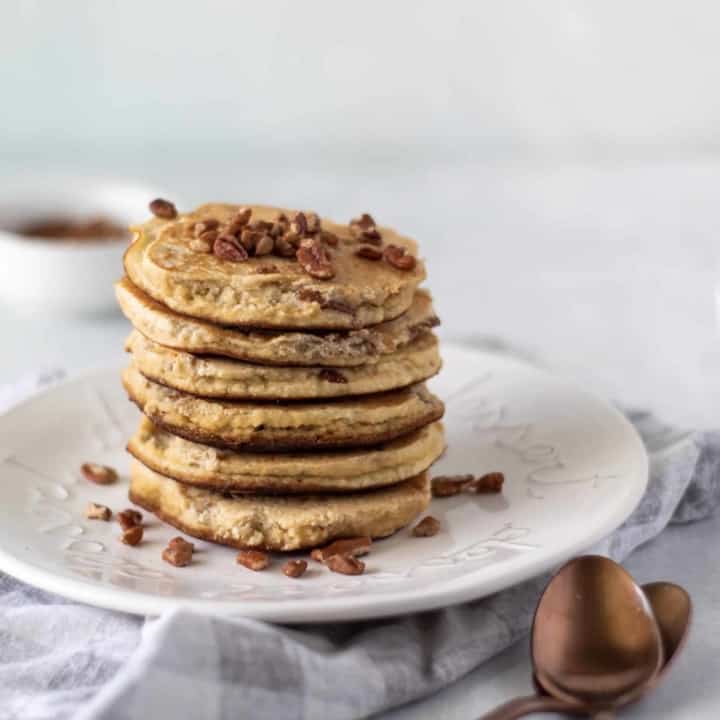 Keto Pancakes Recipe
Best Keto pancakes, whaaaat? You mean there is more to eat than eggs for breakfast on a keto diet? There sure is and they don't taste like cardboard either. With this easy keto pancakes recipe, you can make fluffy pancakes perfect for a ketogenic diet.
Print
Pin
Rate
Share
Ingredients 
4

eggs

-

large

½

cup

almond flour -

or coconut flour

½

teaspoon

stevia extract powder

½

teaspoon

baking powder

Pinch

salt

¼

cup

ricotta

⅓

cup

unsweetened almond milk

1

teaspoon

vanilla extract

¼

cup

crushed pecans
Instructions
Add all of the ingredients except the crushed pecans to a blender.

Blend on low until smooth and combined

Add the crushed pecans and combine with a spatula or large spoon.

Heat a lightly oiled griddle on medium heat.

Pour or scoop the batter onto the griddle, using approximately ⅓ cup for each pancake. Should make approximately 6 pancakes.

Brown on each side until cooked through.
Nutrition
Calories:
135
kcal
|
Carbohydrates:
7
g
|
Protein:
7
g
|
Fat:
9
g
|
Saturated Fat:
3
g
|
Cholesterol:
114
mg
|
Sodium:
90
mg
|
Potassium:
110
mg
|
Fiber:
4
g
|
Sugar:
1
g
|
Vitamin A:
205
IU
|
Calcium:
75
mg
|
Iron:
1
mg