When we started changing our lifestyle to include more organic, fresh foods as opposed to processed foods, one of the problems we faced was that our side-by-side refrigerator just wasn't going to cut it anymore. It was always rather difficult to deal with but adding more fresh foods caused a lot of space issues and nothing seemed to fit anymore. It wasn't a small refrigerator by any means, measuring 26 cu. ft. of interior space, but the way it was laid out was a nightmare.
These are shots of our old refrigerator:
The old fridge never looked great in my kitchen either.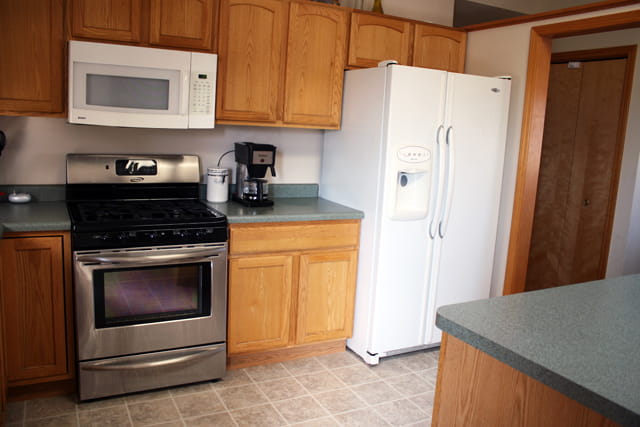 When I first saw the new Kenmore Grab-n-Go Refrigerator, it was truly love at first sight. Who wouldn't love a shiny silver beauty of a fridge with french doors, a bottom freezer that tilts out, a secondary door for easy access and the largest capacity available in a refrigerator?
I think I might have drooled a bit.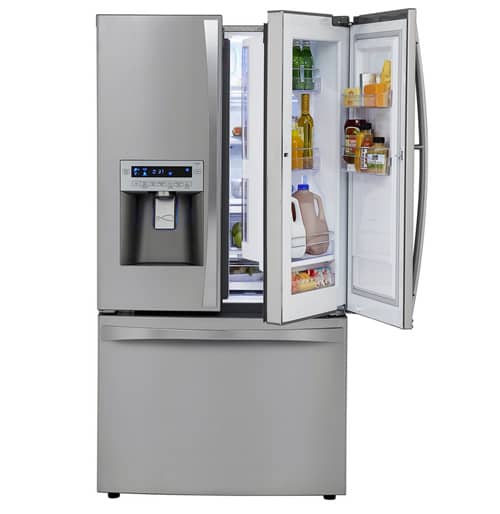 When I was invited to try out this stunning appliance, I literally was speechless. I felt this was going to help change our lives as we transitioned to more fresh foods, not to mention how great it would look in my kitchen.
And it does!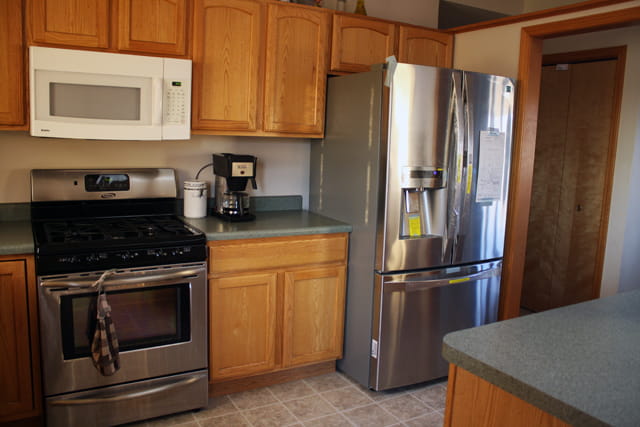 About the Kenmore Elite 31 cu.ft. Grab-n-Go Refrigerator
The Kenmore Elite 72063 French door refrigerator features the Grab-N-Go Door, which keeps often-used items easily accessible
Slim in-door icemaker provides more storage on the top shelf
Tall ice and water dispenser makes it easier to fill pitchers and tall containers
Tilt-N-Take freezer drawer gives easier access to frozen foods
3-tier freezer drawer makes it easier to find and organize food
Full-width, temperature-controlled gourmet pantry drawer stores party platters
Air-tight humidity-controlled crispers keep vegetables and fruit fresh longer
SlideAway Shelf adds versatility for storing tall items
GeniusCool™ with dual evaporators cools your refrigerator and freezer separately
CleanFlow™ Air Filter circulates air and keeps refrigerator smelling fresh
This refrigerator has so many great features that far outweigh the few complaints I have.
French door refrigerator with Grab-n-Go door:
The french doors make this fridge so easy to access. Everything is at arm level, there is no bending down to get things out of the fridge like our side-by-side. It is wide with adjustable shelves, and one of the shelves is collapsible (slide away shelf) to allow you to place taller items in front without completely losing space. There are 3 drawers inside, one that is full width and 2 half drawers that are humidity controlled, providing more than enough room for produce, cheese and deli meat. The full width drawer is temperature controlled and it is big enough to fit platters and other large, flat trays.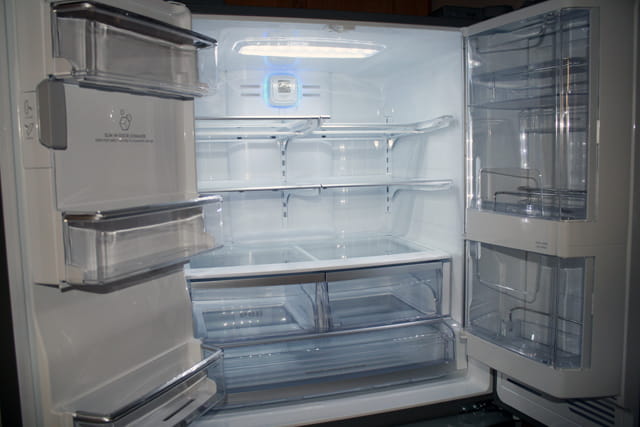 The left door has the ice maker in it. This is great from an interior storage perspective but it makes the shelves on that door very shallow. We tend to put condiments there. The right door has enough depth for a gallon of milk and can hold additional bottles of juice and other items. It can be accessed from inside the fridge or by using the "Grab-n-Go" feature with the touch of a button to open the smaller door. This saves energy by not requiring you to open the entire fridge to access your most frequently used items (see photo of entire fridge above).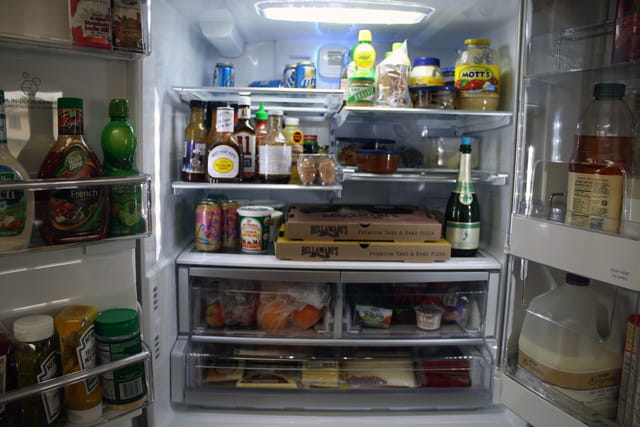 Slim in-door ice maker
Most of my issues with this fridge has to do with the ice maker. It just doesn't produce enough ice to keep up with our family. We run out of ice by noon and have resorted to buying bags of ice to fill the ice bin located below in the freezer.
3-tier freezer drawer
This drawer was invented by a genius. Probably a mom. Nothing gets buried in this freezer because of the sliding drawers, and the tilt-out feature makes it easy to access everything without straining. So much thought was put into this design, and we use it to it's full capacity yet we can always find what we are looking for very easily.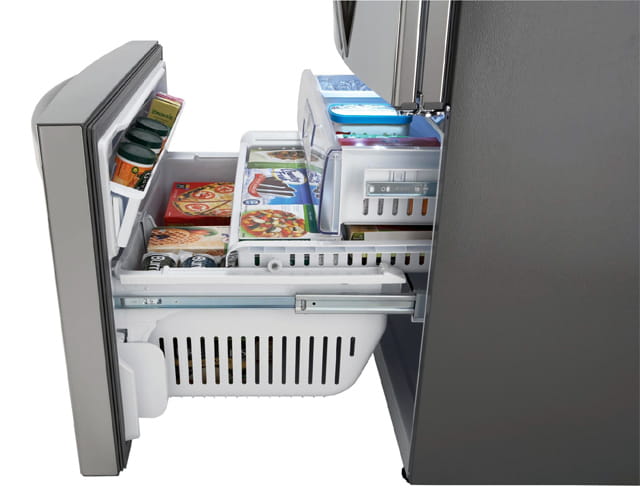 Overall this fridge is a perfect fit for our kitchen and our lifestyle. We managed to  solve our ice issue with a portable ice make that sits on the other side of our kitchen. The only other stand-out issue that comes with this fridge is that it is not overly great at the end of a cabinet with a wall on the other side as you see my kitchen is laid out. In order to open the french doors all the way and not have them close on you, the fridge has to be pulled way out. This is because of how thick the fridge doors are. It's sort of one of those "price you pay" situations for such a great fridge.
As for our lifestyle, now-a-days our fridge is filled with fresh fruits, veggies, cheese, eggs, meat and leftovers. We have very few prepackaged items and this fridge really does help us keep track of everything and keep it from spoiling.
For more information on this fridge, visit Sears.com.
Note: I received the product shown to facilitate my review. Opinions expressed are my own.
Join our newsletter!
Subscribe to get updates and great stuff via email including subscriber-only goodies like free printables and giveaways.