The products in this article were provided by Kenmore to facilitate my review.
A few years ago, when front-load washers were all the rage, I got a bright, shiny, red washer and dryer set. I was so excited by that new front loader and it's mate that I used it for a long time before realizing the down-falls it had. That front loader had a very small capacity, laundry would fall on the floor when I would move it to the dryer, and it seemed to take forever to do our weekly laundry. The dryer had a bit larger capacity but that doesn't help much when the washer really is sized for a family of 2, not a family of 4 with growing children.
So, after making that change, I had been secretly longing for my top loader back.
But top load washing machines have come a long way since my old, reliable, white set with the center agitator. They really have gone beyond my expectations and from my perspective, are far superior than the front loading machines.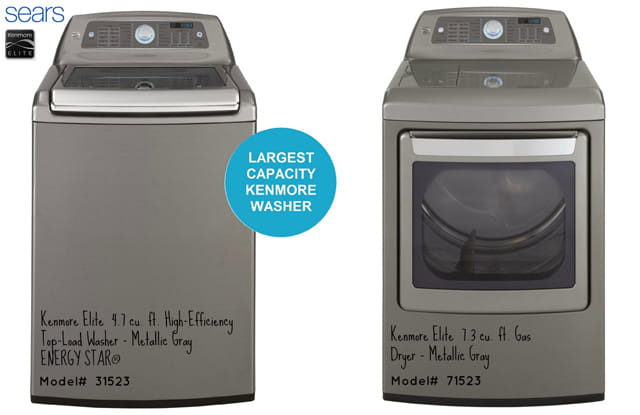 About the Kenmore Elite  4.7 cu. ft. High-Efficiency Top-Load Washer – Metallic Gray
The Kenmore 4.7 Cu. Ft. High-Efficiency Washer Washes Clothes The Smart Way

The Kenmore Elite 4.7 cubic-foot-capacity top-load washer features Smart Motion™ Technology, which creates a wonderful selection of cycles to provide the ultimate in customized care and cleaning. And a built-in heater automatically warms water for even better cleaning performance.

The innovative Kenmore 3152 top-load washing machine also answers on call! Push a button, and the Kenmore Connect™ System sends data from the appliance directly to the Kenmore tech team via the phone. This data may be all the team need to handle questions on the spot, without a service call.

The ultra-large Gray Kenmore Elite 4.7 Cu. Ft. Top Load Washer is great for bulky items
SmartMotion Technology cleans thoroughly while protecting clothes
This ENERGY STARR qualified, CEE Tier III rated washer uses 60% less water and 50% less energy compared to a pre-2004 standard top loader.
Built-in heater automatically warms wash water to the right temperature to assist cleaning performance
14 cycles and 5 temperatures let you customize the settings for each load
Soft Close Lid gently and quietly closes without slamming
Direct Drive Motor
Kenmore Connect sends information over the phone for quick troubleshooting
About the Kenmore Elite  7.3 cu. ft. Gas Dryer – Metallic Gray
High-Tech Drying with the Metallic Kenmore Elite 7.3 Cu. Ft. Gas Dryer

The Kenmore Elite 6152 7.3 cubic-foot steam gas dryer uses steam to remove odors from garments and reduce wrinkling, so you iron less. The extra-large dryer capacity dries more garments in each load, so you do fewer loads and handles bulky items, like comforters and rugs. The sanitize feature kills many kinds of germs and lets you sanitize pillows and stuffed toys without washing them.

The Kenmore Elite 6152 dryer in metallic gray features the Kenmore Connect™ System, which sends data from the appliance directly to the Kenmore tech team over the phone. The team can handle some questions on the spot, without a service call.

The Kenmore 7152 gas dryer's ultra-large 7.3 cubic foot capacity lets you dry large, bulky items like small rugs and comforters
Steam Refresh™ reduces odors and relaxes wrinkles for less ironing
Sensor Dry Technology automatically detects the moisture content in clothes, then determines the right drying temperature and time to prevent overdrying
The NSF®-certified* Sanitize cycle eliminates 99.9% of certain bacteria, so you can sanitize items like pillows and teddy bears without washing them, as well as garments and bedding
My laundry room is nowhere near ready for a public viewing, but below you will find it in all it's crazy, unfinished glory. I have dreams of having it finished one day, but one must have priorities, and the more public areas took precedence this year. Anyhow, the first photo is my laundry system. Each basket has a label on it for the type of clothing it contains. The two very full baskets are the towels and the general laundry of pajamas, shirts, etc. That is not even a week's worth of laundry.  The second photo shows my new Kenmore Elite machines in their new home. It's messy but all ours.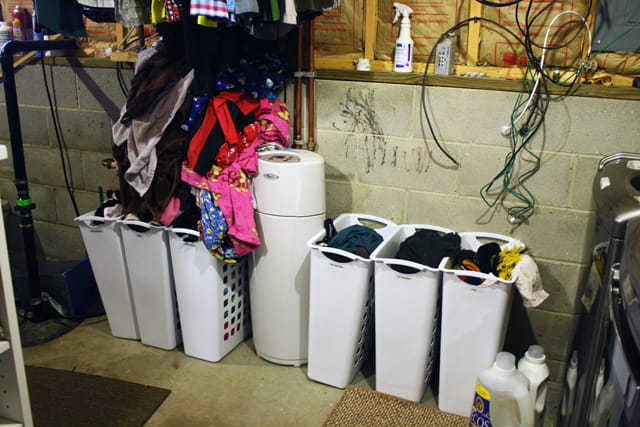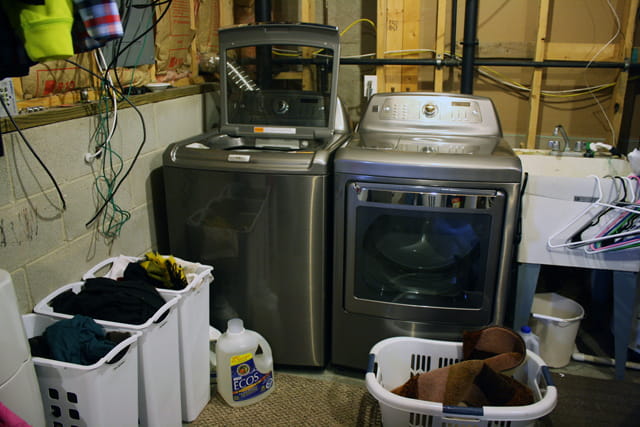 How laundry SHOULD be done
My old washing machine often took 3 loads just to handle one basket of laundry you see above. Those over-full baskets of towels and general laundry. It was such a chore to do the laundry. I dreaded it and it often took as long as 3 days for me to get it all done. With my Kenmore Elite, I can do one of those too-full baskets in a SINGLE LOAD. The Kenmore Elite top loader can be filled to the top so long as everything is placed loosely. And because it doesn't have an agitator, there is nothing for laundry to get wrapped around and tangled.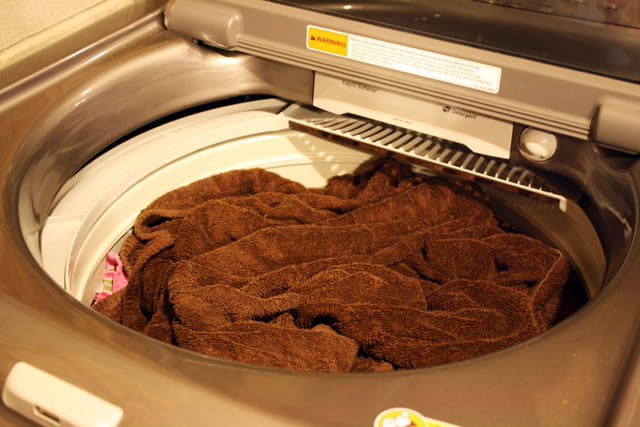 It takes me 1/3 of the time to tackle every basket of laundry, that is an incredible time savings for a busy mom. Now, If I could only figure out how to get the machines to fold for me….
The cycles of these machines seem to sync up to each other very closely, which means when the washer stops, the dryer isn't too far behind it. This also makes doing laundry more streamlined because nothing sits waiting. It also keeps wet laundry from sitting too long in a stopped dryer which can start to smell.
These machines have every setting you could ever want for your different laundry needs.
Wash Cycles
The wash cycles consist of a Whites Cycle, Normal Wash Cycle, Handwash Cycle, Rinse & Spin Cycle, Light Wash Cycle, Speed Wash Cycle, Specialty Cycle and Wool Cycle. There are also different options and modifiers you can use for each cycle.  From your husband's roughest work pants to your most delicate, um, unmentionables, there is a wash cycle that can handle it.
Dry Cycles
The dry cycles consist of Permanent Press Dry Cycle, Cool Down Cycle, Air Dry Cycle, Speed / Quick Dry Cycle, Normal Dry Cycle, Steam Cycle, Delicate Dry Cycle, Anti-Bacterical/Sanitize Cycle, Damp Dry Cycle and a Heavy Duty Dry Cycle with options and modifiers for each cycle. The steam cycle is my favorite! I admit I sometimes leave dried laundry in the machine a bit too long and the steam refresh allows me to freshen them up and take out the wrinkles before pulling them out. This dryer senses moisture content and adjusts the drying temperature to prevent over-drying. My old machine seemed like it would burn clothes, the Kenmore Elite gets everything just the right temperature and it never gets too hot.
Both the washer and dryer also have a sanitize cycle which is imperative when you have kids and pets. We use that cycle a lot and it does a great job at removing all stains and odors. They are also very easy to use, simply turn the knob to your desired cycle, adjust the options and modifiers and away you go.
Oh, and they sing to you.
A couple of other features I like are the locking lid, and the dryer lint filter. You wouldn't think a lint filter would be very exciting, but my previous lint filter had such a fine mesh that simply pulling the lint off it wasn't enough, the lint would get clogged in the mesh and had to be scrubbed. This lint filter in the Kenmore Elite does not get clogged and makes it very easy to remove the lint.
We have washed and dried king-sized comforters in the Kenmore Elite machines and they fit with room to spare, and the washer uses 60% less water and 50% less energy than older top loading machines.
I don't have a single bad thing to say about these machines.  They have literally changed the way I do laundry, have saved me time, and take great care of our clothing, linens and other laundry items. Capacity, features, cleaning power, flexibility and energy savings – what more could I ask for?
Well, maybe that folding feature….
Learn more about these fantastic laundry machines here:
Kenmore Elite  4.7 cu. ft. High-Efficiency Top-Load Washer – Metallic Gray
Kenmore Elite  7.3 cu. ft. Gas Dryer – Metallic Gray
Do you prefer a front load or top load washing machine?