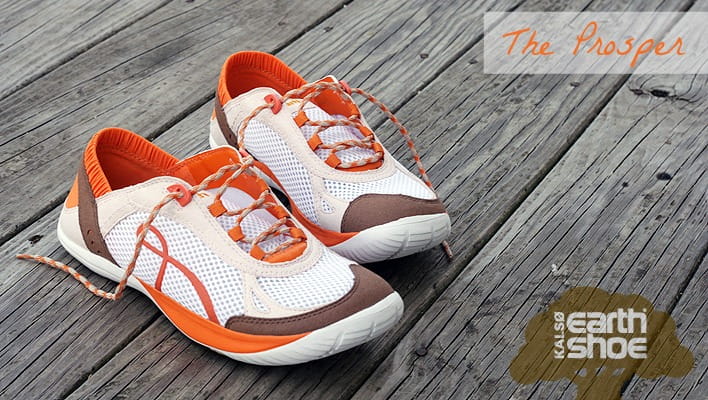 I'm not a big fan of shoes. I'd rather walk around barefoot or in slippers. Shoes are restricting. They make my feet feel less than free. And frankly I think sometimes shoes can affect the stress on your joints and make them hurt.
Which is why I was interested in Kalso Earth Shoes.

About Kalso Earth Shoes:
What started in Denmark in the late 60's set off a global frenzy in early 1970 – the introduction of a line of comfortable shoes based on the simple principles of everyday, whole-body wellness. Shoes developed by a then-little-known Danish yoga instructor, Anne Kalso, that would trigger the emergence of the euro-comfort movement in the United States. Shoes with a negative heel based on the popular yoga "Mountain" pose, and designed to mimic walking barefoot in the sand by naturally positioning the body over the frame. Shoes that improved posture and reduced joint stress. Launching on April 1st – the first "Earth Day" – "Kalso Earth Shoes" would signal the humble beginnings of wellness footwear as we know it today. It would further serve as the seeds behind an entire portfolio of wellness-oriented comfortable shoes – including the original Kalso Earth Shoes, Earth, and Earthies – all of which are designed and developed by Earth, Inc. for the greater marketplace today.
The shoe I tested is The Prosper which is a vegan-friendly style.
About The Prosper: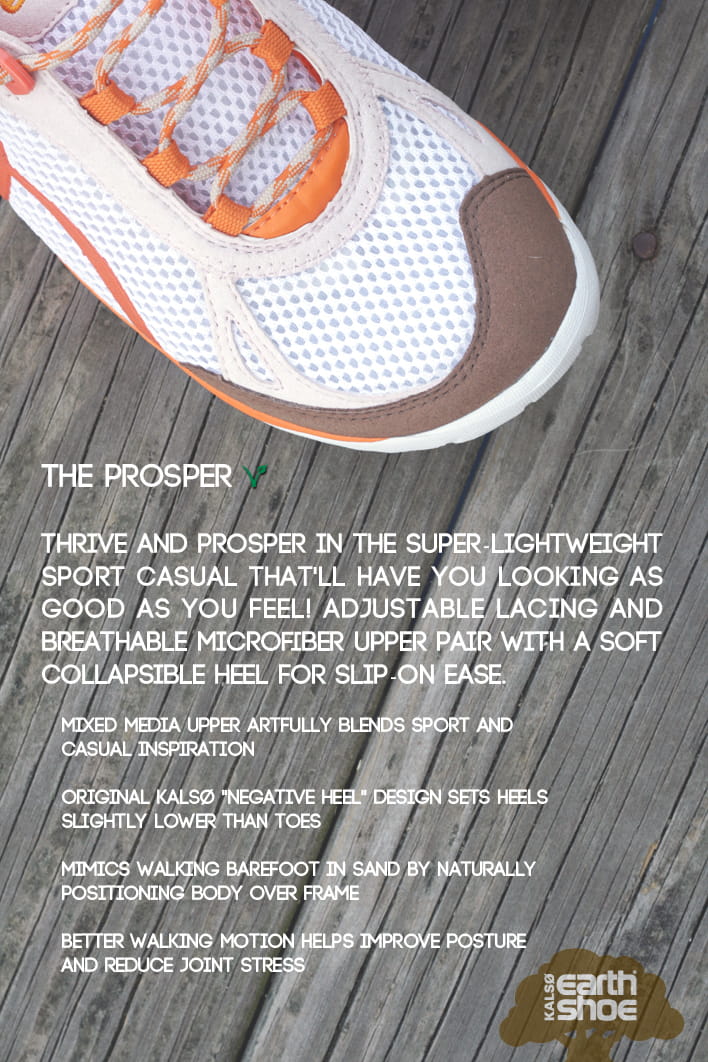 The first thing you notice is about these shoes is how they look. Even my son said when I opened the box "those are cool" and they really are. The colors and style work well together and they definitely catch your eye. You WANT to try these shoes on. I was a bit concerned at first after putting them on because they felt sort of constricting and weird. I had read about the Kalso "negative heel" where the toes are slightly higher than the heel but you don't know what to except until you put them on. Years of wearing shoes with an unnatural body position means an adjustment period.
So I wore them around the house (we don't wear shoes in the house by-the-way) and what started as "these feel weird" and "I want to take these off" turned into "oh, I forgot I had these on." It didn't take long to adjust to the negative heel and I found that I fell in love with the elastic piece at the top of the heel. I have narrow feet and my heels always slip. Not with The Prosper.
The other thing I like about these shoes is that they are lightweight and not bulky. The fabric is light and airy and they really do feel like I have nothing on!
For more information about Kalso Earth Shoe's negative heel design visit: Yoga-Inspiration.
You can purchase The Prosper and a wide range of other great styles right on the Kalso website: Kalso Earth Shoe or from Amazon.com.
ENTER TO WIN A PAIR OF KALSO EARTH SHOES
Winner to receive their choice of shoe style/color/sized based upon in-stock availability.
a Rafflecopter giveaway
*may contain affiliate links
Join our newsletter!
Subscribe to get updates and great stuff via email including subscriber-only goodies like free printables and giveaways.

This article features wellness-oriented shoes provided by Kalso Earth Shoe*.