Kale, a nutrient-dense dark green vegetable, goes well with a wide variety of preparations. From basic and cozy to complicated and elevated, these 15 kale pasta recipes are suitable for any weekday supper or special occasion and are guaranteed to please even the pickiest of eaters.
Get ready for a taste sensation as you indulge in the complementary tastes of kale and spaghetti.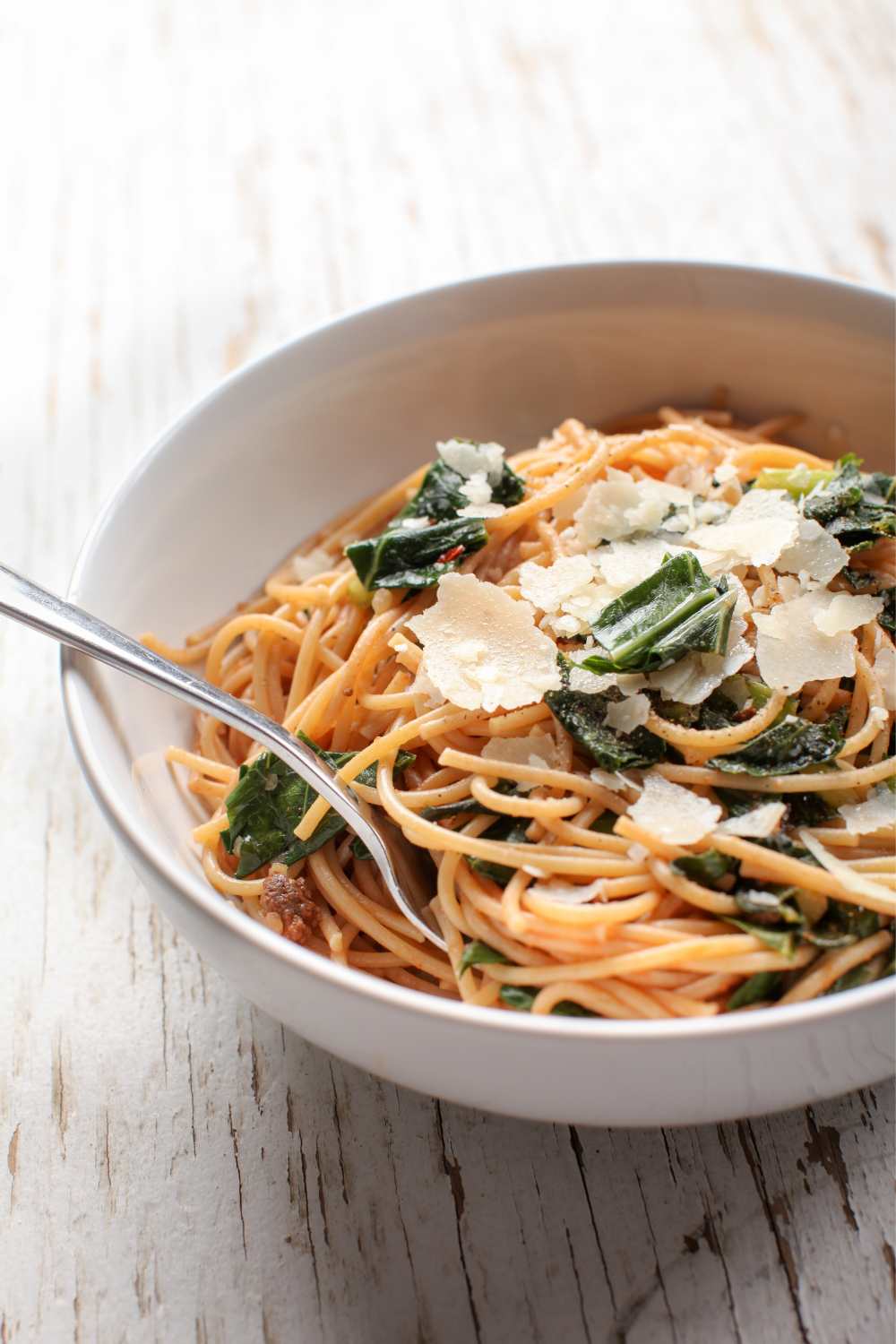 Can I Use Frozen Kale In Pasta Dishes?
Yes, you can use frozen kale in pasta dishes, but keep in mind that it may not have the same texture as fresh kale. It's important to thaw and drain the kale before using it in your pasta dish to prevent excess water from affecting the consistency of the dish. Fresh kale is always the healthier option, but frozen kale is a good alternative if fresh is not available.
How Do I Properly Prepare Kale For Pasta Dishes?
To prepare kale for pasta dishes, first, rinse the kale leaves and remove the tough stems. Cut the kale into thin strips or bite-sized pieces, depending on your preference. Then, blanch the kale in boiling water for 2-3 minutes until it becomes bright green and tender.
Drain the kale and rinse it under cold water to stop the cooking process. Pat the kale dry with paper towels to remove excess moisture. From here, you can sauté the kale with garlic and olive oil, or add it to your pasta dish for a healthy and flavorful addition.
15 Kale Recipes With Pasta
These 15 dishes illustrate how tasty and healthful kale and pasta can be, from heavy and warming to light and refreshing:
This Weeknight Creamy Mushroom Kale Pasta is the perfect comfort food for any night of the week. The dish is made with whole-wheat spaghetti, fresh mushrooms, and kale, all sautéed to perfection in garlic and butter.
The creamy sauce is made with flour, herbs de Provence, and milk, creating a rich and flavorful base for the dish. The addition of parmesan crumbs and fresh parsley adds a touch of freshness and texture to the dish. This pasta is warm, comforting, and full of flavor, making it the perfect meal for any night of the week.
This Italian Sausage and Kale Pasta Bake is a hearty and comforting dish that is perfect for a cozy night in. The savory flavors of ground Italian sausage and garlic blend perfectly with the sweetness of the tomatoes, while the red pepper flakes add a subtle kick of heat.
The kale leaves are a nutritious addition to the dish, providing a slightly crunchy texture that contrasts nicely with the soft penne pasta. Topped with melted mozzarella cheese, this dish is a crowd-pleaser that will leave everyone asking for seconds.
Our next stop will be a delightful Lemon Garlic Pasta with Kale. This dish combines the zingy flavors of lemon, the earthiness of kale, and the nuttiness of toasted pine nuts, all brought together with a kick of garlic and black pepper. The al dente spaghetti pairs perfectly with the sautéed kale, while the parsley and grated vegetarian parmesan cheese provide a delicious herbaceous and cheesy flavor.
The lemon juice and zest bring a bright, fresh taste that lifts the whole dish to new heights. This recipe is a must-try for any pasta lover looking for a unique and delicious flavor profile.
Up next, we have a decadent Creamy Bacon and Kale Pasta that is sure to be a hit at any dinner table. This dish features perfectly cooked bacon that is crispy on the outside and tender on the inside, combined with curly kale and garlic, for a savory and earthy flavor profile.
The addition of creme fraiche lends a rich creaminess that perfectly complements the bacon and kale. Fresh tagliatelle pasta is the perfect vehicle for this delicious sauce, and the addition of pasta water helps to create a silky texture. This dish is easy to prepare and ready in no time, making it perfect for busy weeknights when you want something comforting and delicious.
Our culinary journey continues with a zesty Whole-Wheat Pasta with Spicy Chorizo and Kale. This dish packs a flavorful punch, thanks to the addition of spicy chorizo and chile flakes. The whole-wheat penne pasta provides a nutty flavor and a hearty texture that pairs perfectly with the wilted kale.
The onion and garlic add depth and aroma to the dish, while the sea salt and freshly ground pepper bring everything together in perfect harmony. This recipe is a great option for a quick and satisfying weeknight dinner that doesn't compromise on flavor.
The next stop on our culinary journey is a dish of Pesto Pasta with Ground Turkey and Kale. This dish features whole wheat rotini pasta that is perfectly cooked and combined with ground turkey that is seasoned with garlic powder, salt, and pepper for a burst of flavor.
The chopped kale adds a healthy and nutrient-rich element to the dish, while the prepared pesto provides a delicious herbaceous flavor that brings everything together. The crumbled feta cheese adds a creamy and salty element to the dish that perfectly balances the pesto. This dish is easy to prepare and a great option for a quick and satisfying weeknight dinner that is full of flavor.
Next up, we have a delicious recipe for Kale and Ricotta Stuffed Shells. This dish is a hearty and flavorful twist on traditional stuffed shells. The jumbo pasta shells are filled with a mixture of ricotta cheese, Parmesan cheese, egg, and a generous amount of chopped kale.
The shells are then baked in a tomato sauce until heated through and the cheese is melted and bubbly. This dish is perfect for a cozy family dinner or for meal prep for the week. Let's dive into the recipe!
Our journey through these delicious kale pasta recipes continues with Herby Kale Pesto Pasta with Buttery Walnuts. This dish bursts with the fresh flavors of Tuscan kale, basil, and lemon, perfectly balanced with the creamy goodness of burrata cheese.
The pesto sauce is infused with crushed red pepper and grated parmesan cheese, and the buttery walnuts add a nutty crunch to each bite. This pasta is warm, comforting, and perfect for a cozy night in or a dinner party with friends.
Moving right along, our next dish is the Creamy Sun-Dried Tomato & Kale Pasta. This savory and satisfying pasta is perfect for a cozy night in. The sun-dried tomatoes bring a tangy sweetness, while the kale adds a pop of color and nutrition.
The creamy sauce is made with a combination of low-sodium veggie broth, unsweetened almond milk, and nutritional yeast. A sprinkle of crushed red pepper flakes on top gives a nice little kick for those who like a bit of heat. Enjoy this delicious, plant-based meal for dinner tonight!
Following is a recipe for a flavorful spaghetti dish that can be made in a single pot and served immediately, making it ideal for weeknights when time is of the essence. Frozen chopped spinach or kale adds an extra boost of nutrients to this dish.
The secret to this recipe is boiling the pasta right in the skillet with the other ingredients, resulting in an easy, fuss-free meal that's ready in no time. With minimal prep and maximum flavor, this one-pot spaghetti with tomatoes and kale is a crowd-pleasing option that everyone will love.
Let's move on to the next recipe, which is a creamy and delicious dish of Sausage and Kale Pasta. Juicy pork sausages and nutrient-rich kale add depth and flavor to the creamy sauce made with shallots, garlic, white wine, tomato paste, and double cream.
This mouth-watering dish is served over al dente rigatoni or penne pasta and is topped with grated Parmesan cheese and a sprinkle of red pepper flakes for a touch of heat. The flavors of this recipe are warm and comforting, making it the perfect meal for a cozy night in.
Continuing our culinary exploration, we have a delicious recipe for a one-pot rigatoni alfredo with chicken and kale. This comforting and creamy dish is perfect for a cozy weeknight dinner or a quick and easy meal. The rigatoni pasta is cooked in a homemade chicken stock and milk mixture, then combined with tender chicken pieces and nutrient-rich kale.
The dish is finished off with a generous sprinkle of parmesan cheese and chopped parsley, adding a touch of freshness and depth to the flavor. This one-pot wonder is sure to become a favorite in your household, with its irresistible combination of creamy, cheesy, and savory flavors. Let's get cooking!
Tuscan White Bean Pasta is next on the menu, and it's the perfect dish for a speedy weeknight meal thanks to its al dente fusilli pasta, cannellini beans, sun-dried tomatoes, and mini mozzarella balls, all of which are tossed in a rich tomato sauce seasoned with Italian herbs and red chili flakes.
Baby spinach ups the dish's nutritional value, while fresh basil leaves amp up the aroma and taste. Don't throw away the pasta water; you'll need it to thicken the sauce to the right consistency. If you're looking for a hearty and filling dish, go no further than this Tuscan White Bean Pasta.
Now for the next recipe, a vegan pasta meal with fresh cherry tomatoes, kale, artichokes, and white wine and dried basil sauce that is really amazing. Pasta is mixed with sauce, capers, and a squirt of lemon for a tangy finish after being cooked to al dente.
To ensure that the kale wilts nicely in the pan, it is rubbed with a little amount of oil. Red chili flakes may be sprinkled over top for extra spice. This flavorful recipe can be prepared in a flash, making it ideal for a busy weekday.
Let's round up our culinary adventure with a satisfying vegetable pasta bake; roasted butternut squash and garlic provide a flavorful sauce base, while kale adds a pop of color and some much-needed vitamins. Once the squash and garlic have finished roasting, they are added to the pasta along with crushed tomatoes, whole milk cottage cheese, and boiled pasta cooked to al dente.
This spaghetti dish is finished up in the oven with a layer of fresh broken mozzarella and a sage spice. Grate some fresh Parmesan and sprinkle it over top before serving. You may eat this meal as a main course or as a side dish alongside your favorite protein.