This giveaway has ended and comments are closed.
Your Winner

Author: Annmarie W.
Comment: I'm a Just Jen facebook fan! (Annmarie Dipasqua Weeks) -#3
I am a big fan of seasonal decorated shirts and tops such as Christmas t-shirts, and when I discovered Just Jen's rhinestone shirts, I knew I had to have one to wear during the Christmas season this year.  Just Jen is an online shop that specializes in custom rhinestone fashions for women and girls.  They have shirts, sweats, hoodies, caps and even aprons.  You can order a stock design, or make your own custom design from Just Jen's available fonts, colors and symbols.  They will even create rhinestone designs from a company logo!
There are so many possibilities with a Just Jen shirt, but I was drawn to the "Naughty or Nice" T-Shirt.  I could have gotten my blog name or a Halloween shirt but I felt like adding to my collection of Christmas shirts.  And considering I've lost weight, I needed one that actually fits and isn't too big and baggy like all of my old ones.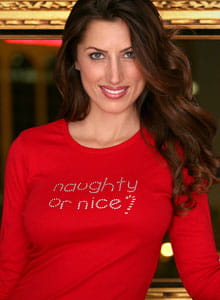 Have you been Naughty or Nice this year?  Our Naughty or Nice t shirt has a fanciful type style with a candy cane for the question mark.  Choose any rhinestone color for the words, the candy cane comes in light siam and crystal.
Ok so that is not me ——————————————————->
But this is:
I picked the Cotton-Spandex Long-Sleeve style shirt.  I really like the longer sleeves and longer length as long as the bottom is tight enough that it's not baggy.  This shirt is PERFECT.  They recommend that you order 1 size larger than your normal size because it is fitted.  I ordered an XL but thought I might have been ok with an L because it stretches (I wear M or L depending), but I'm glad I got the XL because it is not pre-shrunk.
Right out of the package, the material felt thinner than I expected, but once I tried it on and felt how soft and comfortable it was, I realized that the spandex and cotton combo makes this my new favorite shirt.  The sleeves are the perfect length…a little too long, but because they are fitted they sit just right.  I hate the feeling of long sleeves that are too short.  The length of the shirt is great too, it is snug (yet stretchy) but goes down over my hips slightly.   The neck is great too, I don't like shirts with too big of a neck.  I also don't like it when I put on a shirt that fits perfect in the morning but that stretches out as you wear it.  The spandex in this shirt kept it fitting all over, the same as it did when I first put it on.
The rhinestone are petite and very pretty.  I was afraid they would add weight or feel weird through the shirt but I don't even notice them.  Plus, my daughter briefly tried to remove a few of them without success, so however they have attached them, it is done very well.
ENTER TO WIN A CUSTOM RHINESTONE T-SHIRT FROM JUST JEN
One winner will receive their choice of a custom rhinestone t-shirt (winner's choice of shirt style, font, phrase, colors and symbol or choose a stock design).
HOW TO ENTER (mandatory):

To enter, visit Just Jen and tell me what design you would pick if you won (if custom, tell me what you would put on it).
EARN EXTRA ENTRIES (optional):

Must complete required entry in order to qualify for extra entries.

Tweet the following or something similar (leave the link to each new Tweet each day) – 1 EXTRA PER DAY

Enter to win a Custom Rhinestone Shirt from @JustJenShop & @WhatsThatSmell http://wp.me/pfNov-645
Add our button to your sidebar – 3 EXTRA
Like my Free Paid Surveys page on Facebook – 3 EXTRA
Share this giveaway on your Facebook wall – 1 EXTRA PER DAY
Leave a comment on any other NON-GIVEAWAY post on my site – 1 EXTRA per post commented on (indicate which post in comment)
Please leave a separate comment for EACH extra entry.  Provide links to Tweets, Facebook wall, blog posts, etc. as required for the entry.
Giveaway is open to the USA and ends on October 18, 2010 at noon CST. Winner will be selected at random from all eligible entries and will be contacted by email. Winner will have 48 hrs to respond.  Please add kim@accidentalmommies.com to your trusted email filter.  If original winner does not claim their prize within 48 hrs, it is forfeit and a new winner will be selected promptly.
Note: I received a Just Jen rhinestone shirt for review and Just Jen is also providing the custom shirt for the giveaway.  Opinions expressed are my own.

Join our newsletter!
Subscribe to get updates and great stuff via email including subscriber-only goodies like free printables and giveaways.