I don't think kids grow out of their bedtime stalling until well into their teens. Well maybe even then they'll fight for a later bed time. Then they are the munchkins. The little tiny children who are just so adorable and tug at your heart strings all day long with their absolute cuteness. What's not cute though, is their bed time stalling!
I would love to know how they come up with half the stuff that comes out of their mouths. I mean really – "My eyelids hurt?" Who even says that! Check out the graphic below and see if your kid falls into one or all of those categories!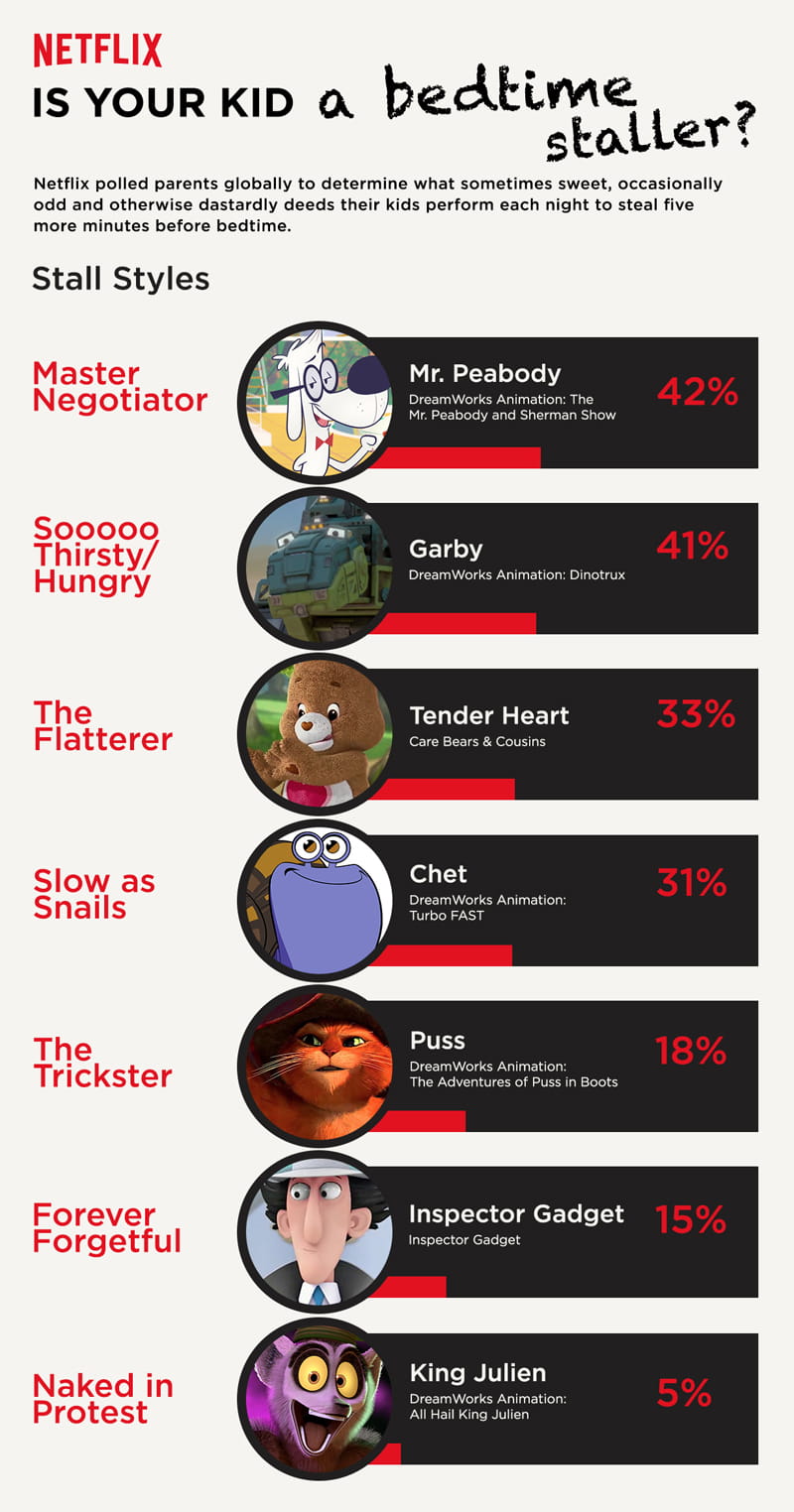 Here are the top 10 things I've heard over the past few years:
My eyelids hurt, can you kiss them better?
Oh I forgot to show you my socks, wait I don't have any socks, Mooooom can you get me my socks?
Can you read me another story?
Hey Mom, quick get dad, he forgot to practice the guitar tonight before bed.
Can I call Ganna? I need to talk to Ganna – it's important.
Can you change my blanket, it doesn't smell like me. – Uhm what?
Mom the monster is back – HELP!
One more episode, Please!
My throat has sand in it from the beach – one more glass of water please?
Mom, it's time we have the talk. Tell me more about how YOU and DAD are the Tooth Fairy, Santa, and the Easter bunny! (picture this with tears running down their face and sobbing so hard they almost can't breathe!)
Of course there's plenty more where this came from, and if you're still looking for that win, then you need to head on over to Netflix. Seriously! You can give them that extra five minutes they're begging for and then send them right off to bed. Mom -1, Kids – 0!
How?
Simple with the new Dinotrux 5 minute favorites! An entire episode summed up in 5 minutes!
DinoTrux Tarpit Rescue:
DinoTrux Tortool's Surprise:
DinoTrux Big Build:
Really, you're not alone with the bedtime stalls – not at all. The video below will show you what other parents are going through too!
Now tell me, does your kid(s) stall at bedtime?
This post is part of my participation as a Netflix #StreamTeam ambassador.