I have some exciting news! It's time for another #WOW Week of Wellness from Sampler where you will have a chance to get samples from some amazing wellness brands.  If you RSVP right NOW, you will also have a chance to win a gift basket filled with all of them! Keep reading for information on how it all works.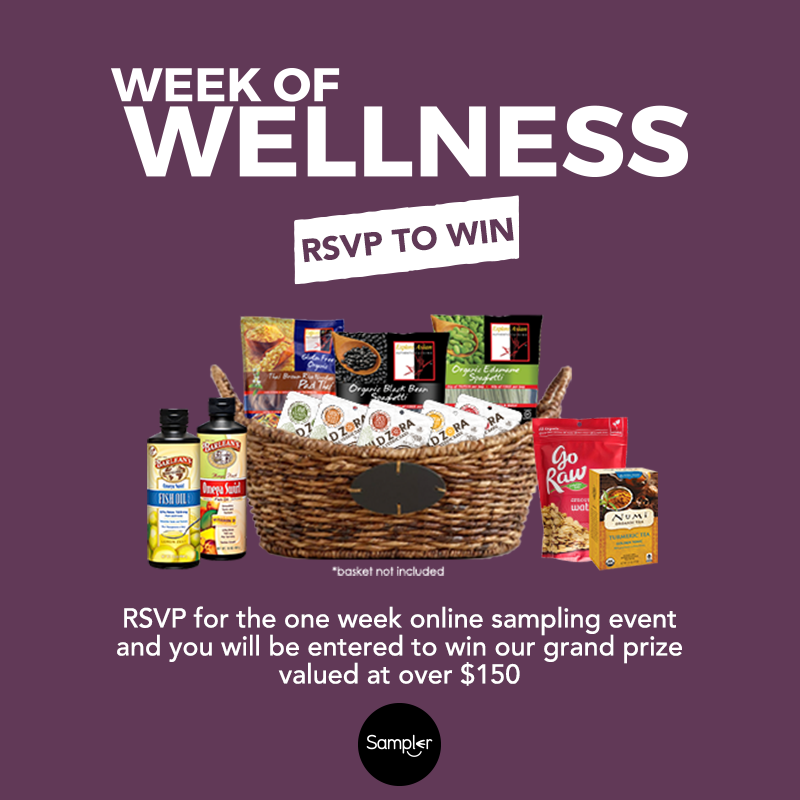 What is a sampling event?
The Week of Wellness is a one week online event where you have the opportunity to discover and experience amazing brands and products. There are thousands of products in the sampling events, and 5 Flash Giveaways to be claimed. HINT: To participate in the sampling events you need to be ready and FAST!
Before a sampling event starts I highly recommend that you "wish for" the sample. This lets your friends and family know that you'd really like to receive this product! Once the event begins, your friends will need to be on the right Week of Wellness tab to "send you" the sample. I recommend teaming up with a friend so you can make sure to grant each other's wishes for the sampler.
How do you participate?
There are four steps to take to participate in the Week of Wellness!
1. RSVP to win a gift basket
First you need to RSVP. This RSVP will enter you to into a giveaway to win a gift basket filled with prizes from the sponsors of the event and give you access to the Sampler calendar so you know exactly when your favorite brands are holding their sampler event and at what time each day.

2. Wish For It
Once you RSVP for the event, you will want to share with your friends and family that you want certain samples by "wishing" for them. This way you can team up and help each other get the samples you want.
3. Daily Sampling events
There are multiple events each day, at the time and place listed on the calendar (which you access by RSVPing as indicated above). When the event starts, you will want to click through IMMEDIATELY when it goes live. Samples go fast so you have the best chance if you are on the app right when it goes live. For example: if an event goes live at 1pm, try to be there the second it turns 1 o'clock.
What's special about Sampler, is that you can only send  product samples to Facebook friends. So if you want a sample, a friend will have to send it to you! I really recommend teaming up with a buddy ahead of time so you can both make sure you get the samples you want! That's why the "Wish For it" period before the event is so important! To let a buddy know how they can send you a sample! You help each other get the samples you want.
4. Daily Flash giveaways
In addition to the sampling events, there will be a flash giveaway each day hosted on a participating blogger's Facebook page. These will also go live at the time listed on the calendar that you get access to when you RSVP.
What brands are participating?
Barlean's Swirls Fish Oils contain the essential Omega-3s your body needs but without the fishy taste. Barlean's Swirls taste like a fruit smoothie. I'm not kidding. Actually I thought the lemon one tasted like cake. Yum! This is one fish oil you will look forward to taking every day. Omega-3s support heart health, joint mobility, bone density, energy, endurance, skin, hair and nail health and so much more. It's awesome to not experience those fishy burps.
Explore Asian is a brand with a huge variety of gluten-free pastas for every lifestyle. Their products are also vegan, organic and kosher. They taste great too which is clearly important when selecting a pasta, especially a gluten-free pasta. Explore Asian's bean pastas are made from 100% organic beans and water and nothing else. No preservatives. No fillers. No junk. I love the variety and the textures. They are high in protein and fiber and are low in carbs and sodium. They are definitely an ideal solution for a healthy diet. Explore Asian also has some ready to eat products as well.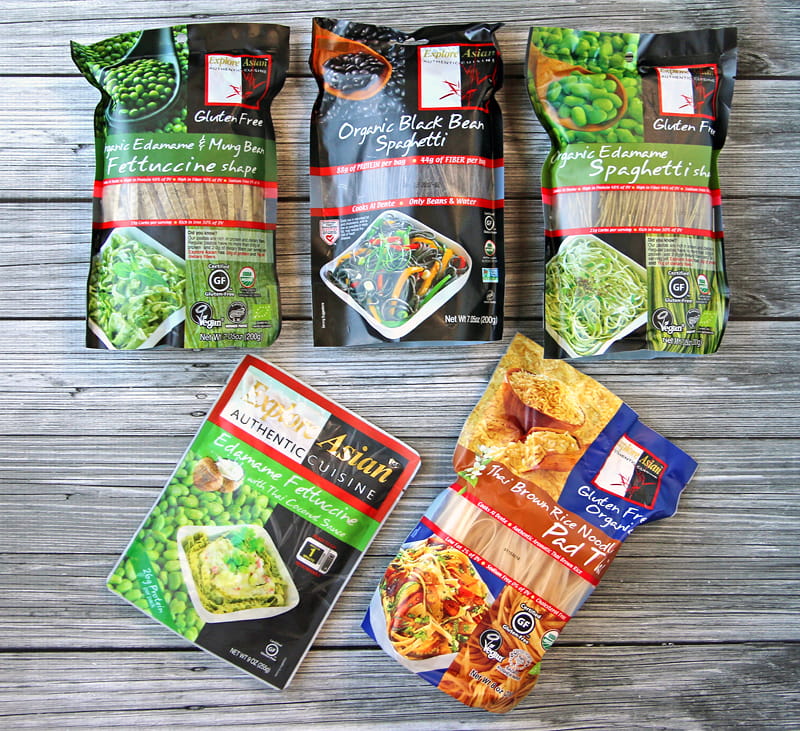 Go Raw is one of my all-time favorite brands. Their products are delicious and 100% junk-free food! Their products are non-GMO, soy-free, gluten-free, nut-free and vegan. Go Raw products are sprouted and gently dried, they are never cooked, a process which unlocks and preserves the powerful nutrients packed inside. My son loves the sweet spirulina and my daughter can't get enough of the sprouted watermelon seeds. They are all SO GOOD. I love their new look too.

Ah, Numi Tea. I am a huge fan of this brand and I can't tell you how excited I was to try their Turmeric Tea. Numi Tea contains 100% real ingredients. They don't add "natural" flavoring or fragrances, only real fruits, flowers and spices. Their teas are gluten-free and non-GMO. This tea is amazing. I can't imagine a fresher more real tasting tea. The flavor is exotic and has a great depth. Combined with the health benefits of turmeric, these teas will revitalize, enrich, and restore you every day.

Wild Zora is a meat and veggie bar made from 100% grass-fed beef, free-range turkey and 100% natural lamb. It's a healthy snack made without grains, gluten, soy or added sugar. Combining the meat and the veggies makes for a more tender "jerky" but without all of the nitrates and MSG found in traditional jerky. There is nothing artificial in Wild Zora bars and they really do taste great. My son adores jerky and I love putting this in his lunch now instead of the other stuff. It's real food and we both love it.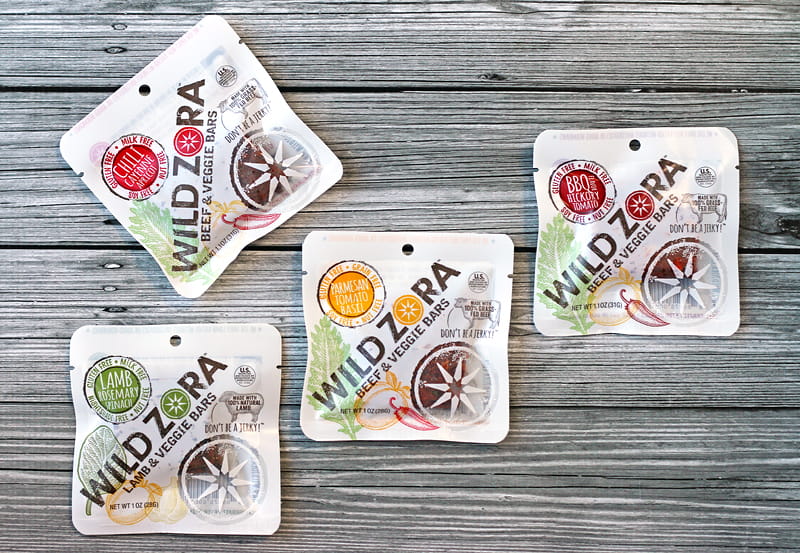 Which brand are you most excited about sampling?
Don't forget to RSVP so you can be entered to win a gift basket filled with all of these great brands and get access to the sampling calender so you don't miss out on any of the great samples. Don't forget to find a sampler buddy to help grant you the samples you wished for.

Join our newsletter!
Subscribe to get updates and great stuff via email including subscriber-only goodies like free printables and giveaways.