This is a sponsored post with James Hardie Siding, opinions are my own.
When we moved into our neighborhood 10 years ago, it was very new. Most of the homes were only 1-2 years old. We liked the area. It was a stereotypical cookie cutter subdivision, but we loved the idea that our kids would grow up with big green lawns in a neighborhood full of friends where people looked out for each other and took pride in their homes.
But every house was either tan, white or yellow. As you looked down the street you pretty much just saw a sea of beige. They were cute, but all the same. We figured that we could change it down the road.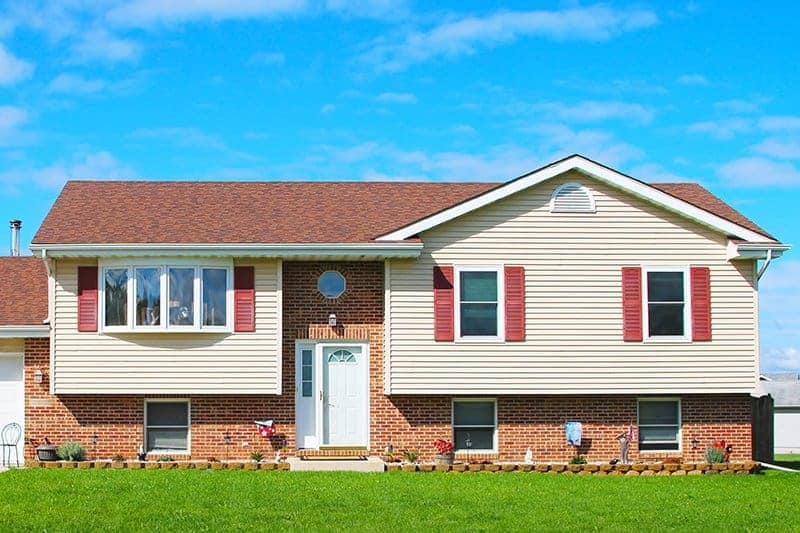 While we cared that it looked like every other house on the block, except maybe for the color of the shutters, it was perfect for our growing family.
About 7 years after we moved in, we were finally able to do something about the exterior of our home. We wanted something striking. Something different. Something that would make our home reflect our personal style and the character we wanted it to display.
We chose a blue grey siding with new shutters and new light fixtures that have a sort of nautical feel. Our home no longer looks like every other home on the block! We do have plans to cover the brick with a stone product, replace the roof with a grey shingle, replace the front door, and change out the landscape blocks. But even if we don't ever get to do any of those things, we love the way it turned out and get compliments on it all the time.
New siding can completely change the look of your home.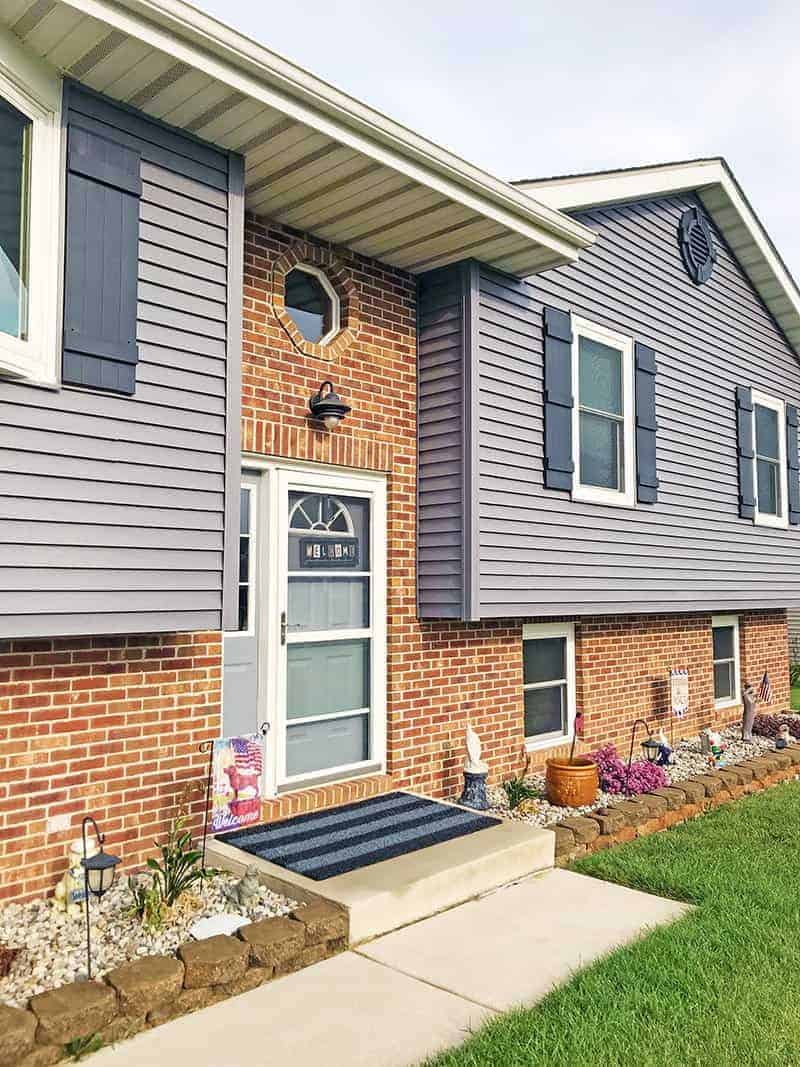 When you choose to replace the siding on your house, there are several factors that go into the decision.
What type of siding material?
Vinyl siding
Fiber cement siding
Wood siding
Your choice of material will depend upon your climate, your budget, the economic level of your neighborhood, the style of your home, the character you are looking for and even how long you plan to stay in your home. You also need to keep the overall style of your neighborhood in mind. You want your home to stand out because it has beautiful details, not because it's so different that it's weird.
In most cases you will want to choose a low maintenance siding that will stay beautiful for years to come, provided you don't have community guidelines or a historic home preventing you from choosing a low maintenance product.
What style of siding?
Do you want horizontal siding or vertical siding? Do you want siding that looks like shingles?
You will also need to consider the rest of the elements of your home. You will want your siding choice to look great with any existing colors or materials that you aren't replacing, even if you plan on replacing it down the road.
What color siding?
Color is tough. It is probably the most difficult decision that you will face when choosing new siding for your home. Some tips for choosing the right color:
Get actual samples – looking at photos of siding in books or online only gives you a general idea of the color family. Don't make any decisions without seeing an actual sample.
View samples outside – look at color samples outside in both sunlight and in the shade to get a better idea of what they look like. They often look much different indoors.
Get inspiration – Pinterest is a great resource for color ideas. Search for "home exteriors" or "home exterior colors" and create a vision board of what you like. Then look at your color options for the siding you chose and find one that comes close to meeting your vision. Then see how your choice will work on your existing home.
How to add Character to Your Home with James Hardie Siding
James Hardie is the perfect product for re-siding your home to showcase your personality and bring out your home's true character.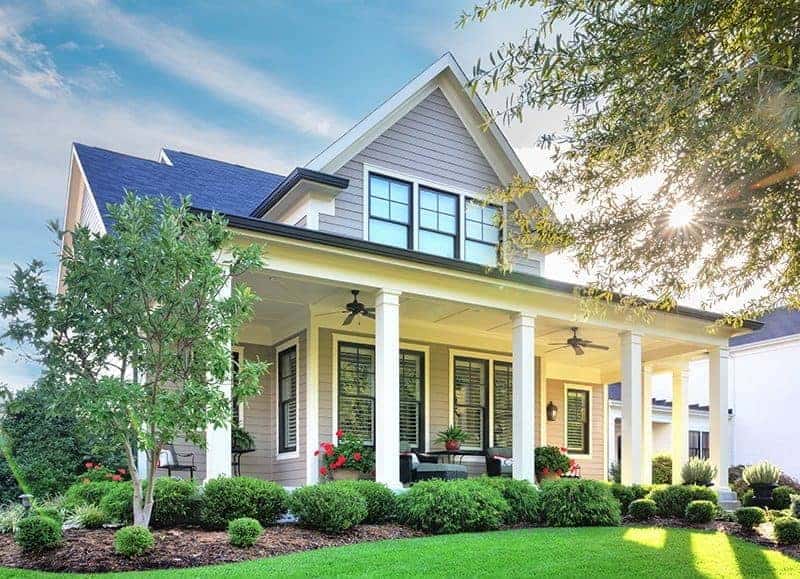 Benefits of James Hardie products
Tougher than the elements – stands up to harsh weather.
James Hardie® fiber cement products are Engineered for Climate® and resist shrinking, swelling and cracking even in the most extreme conditions (hot and cold).
James Hardie ColorPlus® Technology is a factory finish with multiple coats of color baked into the boards for color consistency and a high-quality finish that resists fading.
Design versatility with HardiePlank® lap siding, HardieShingle® siding and HardiePanel® vertical siding that allows you to mix and match to achieve the perfect character for your home.
Water, mold and fire resistant.
Low maintenance.
Exceptional non-prorated warranty: 30-year warranty on siding and 15-year warranty on trim. ColorPlus® Technology has a 15-year limited finish warranty.
No matter what your style, James Hardie products can take your home to the next level. This porch takes simple grey and white and uses soffit textures and trim details to create a crisp, clean, comfortable, coastal feel.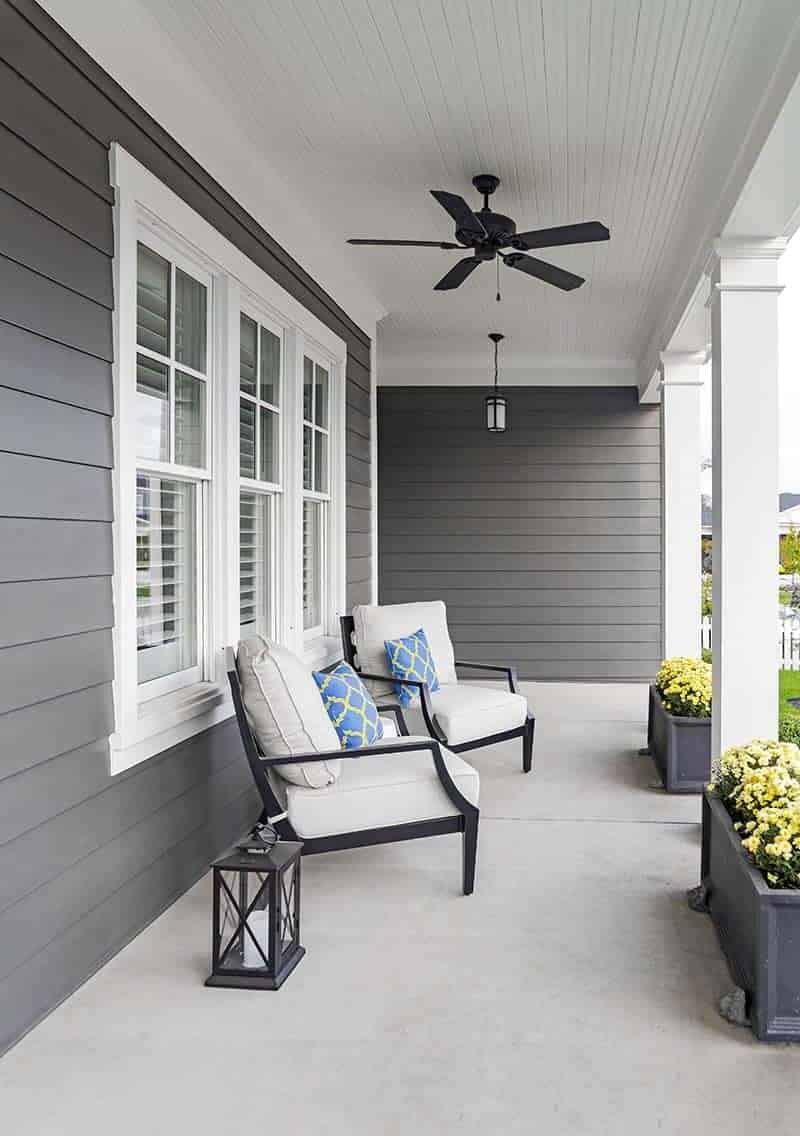 Colors, textures and trim details combine on this traditional style porch to create something truly unique.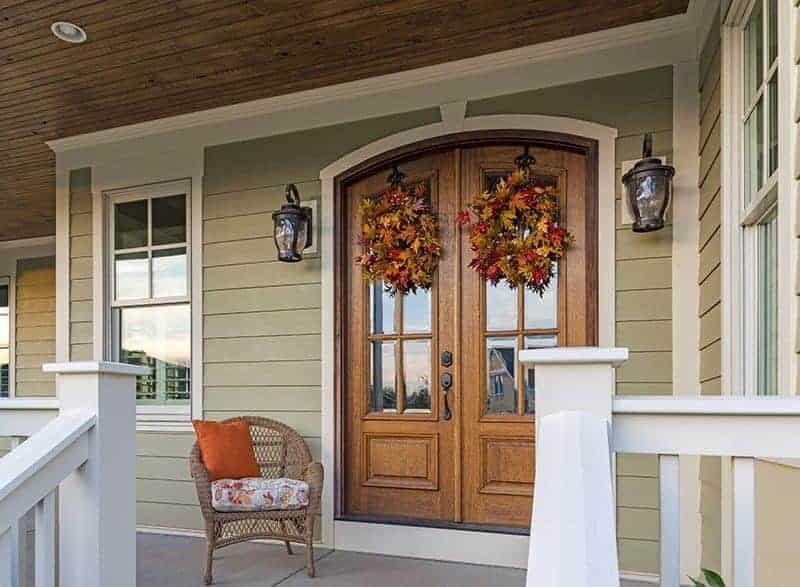 I love how this house uses different siding styles on the gable ends to create character. The addition of contrasting embellishments and textured soffits add interest and uniqueness. Totally one-of-a-kind!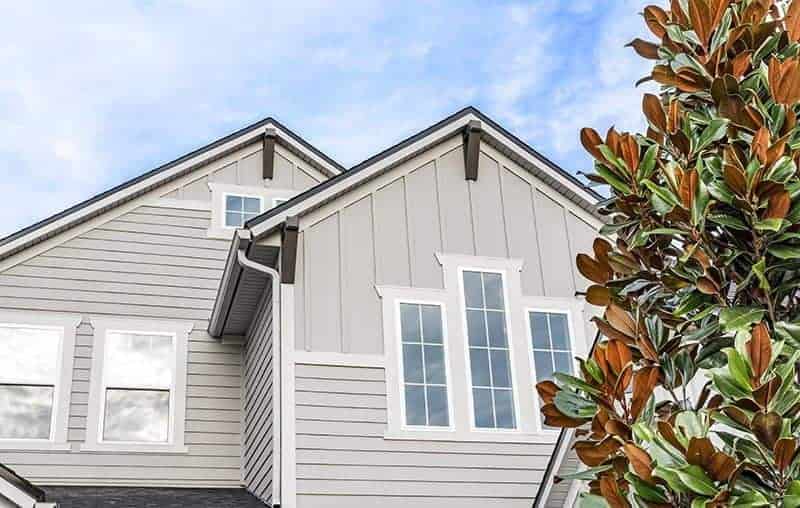 For more information about how James Hardie Siding can help you transform your home to reflect your personal character visit: James Hardie products.
Request samples here: James Hardie samples.
And make sure you Pin this on Pinterest for later!