My husband hasn't worn sandals in years. He is very particular about the way sandals look and is next to impossible trying to find ones that fit.
So instead he spends most of his time in boat shoes, which aren't always the most practical shoes for every situation.
We have ordered shoes.
Sent him from store-to-store trying them on.
Nothing.
Nada.
Boat shoes.
But not anymore. It was "shock and awe" when he tried on the Jambu Outrider!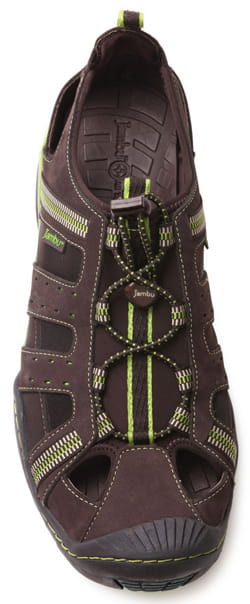 About Jambu Outrider
The Outrider compliments an adventure seekers active lifestyle. This slip-on trail-ready shoe is great for outdoor trails or backyard living.

Bungee strap provides easy adjustability
Mesh material offers exceptional breathability
Memory Foam Footbed conforms to the unique contours of your feet for all day comfort
Eco-friendly All Terra Traction outsoles provide superior grip and durability

MSRP: $99.00

Colors available:

Dark Brown/Spinach Green
Black/Neon Yellow
First Impressions
When my husband first put these sandals on he said the following:
"hmmmm"
"ok"
"oh"
"wow"
"wow"
Then he got up and walked around with them on and this very strange thing happened – HE KEPT THEM ON.
He not only kept them on in that moment, he kept them on all day.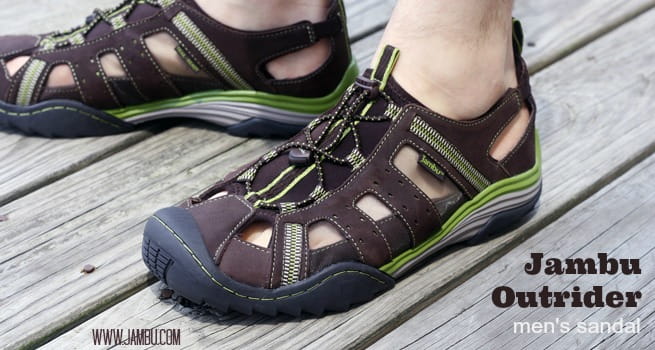 These very well might be magic sandals.
As a fan of Jambu, I am already familiar with the quality found in each and every pair of Jambu shoes and the men's Outrider is no exception. They are comfortable thanks to Jambu's signature All Terra Traction and memory foam footbed, breathable and durable.
Jambu believes in preserving our world for future generations and so Jambu shoes are made with partially recycled and re-usable compressed rubber. Jambu packaging is 100% recycled, recyclable and re-usable packaging.
And because these shoes were designed for everything the outdoors may throw at them, the Outrider is a "Water Ready Style" that uses quick drying materials or water repellent treatments to help combat the penetration of water.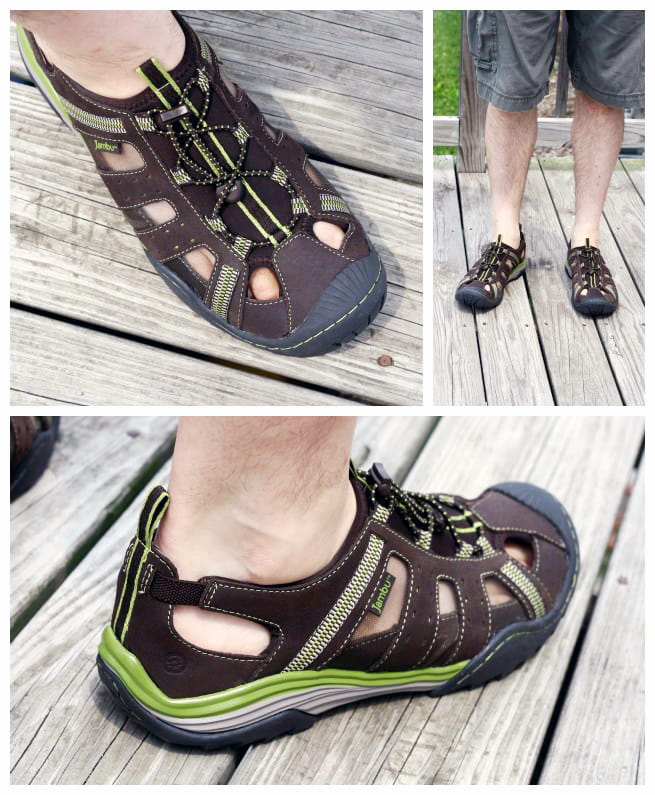 It's a huge relief to actually find good quality outdoor shoes for my husband that look great and fit so good they prompted a "wow" out of him the first time. I've spent years trying to find him sandals that he likes, but Jambu came to the rescue!
You can browse the entire Jambu line of shoes for men, women and children on Jambu.com. You can also begin your order and select your shoe model and size, and checkout to complete your purchase on PlanetShoes.com, a Jambu preferred retailer. Some Jambu shoes are also available at Zappos.com and Amazon.com.
Is your husband or another man in your life picky about his shoes?
Join our newsletter!
Subscribe to get updates and great stuff via email including subscriber-only goodies like free printables and giveaways.

Jambu provided my husband with "magic shoes" for review. Opinions expressed, and claims of their supernatural properties are my own.