Can you believe back-to-school is right around the corner?
I am actually looking forward to sending my kids off to school this year because this is the first year both of them will be in elementary school all day. Imagine all of the things I can get done during the day!
But even though this great milestone is looming, we are still spending our fair share of time outdoors and whether we are spending time with friends and family, watching the kids ride their bikes or weeding the garden we MUST have music playing.
Time outdoors around here is not complete with music.
Although my husband and I don't always share the same taste in music, I'm slowly finding him tolerating my country music selections. But our radio in the garage doesn't have an antenna so we usually resort to his CD collection which…um…let's just say is interesting. I really think he is trying to channel high school, the only thing missing is the black concert t-shirts from heavy metal concerts.
We will often try and listen to Spotify on my iPhone but the volume just is not enough for everyone to enjoy plus it meant being tethered to my phone no matter what I was doing. So we would endure my husband's eclectic taste in music.
But a heavy metal concert is not my idea of spending relaxing time outside.
Enter the Jabra Solemate portable bluetooth speaker!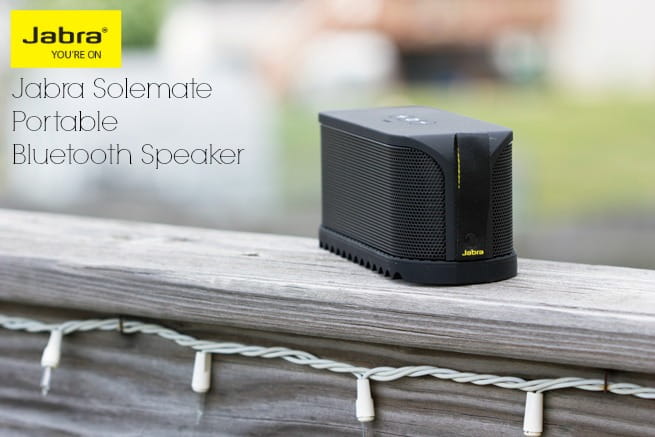 About the Jabra Solemate
Portable Size. Massive Sound.
Introducing the new Jabra Solemate™ – the go-anywhere, do-anything portable speaker with massive sound that lets you take your music everywhere.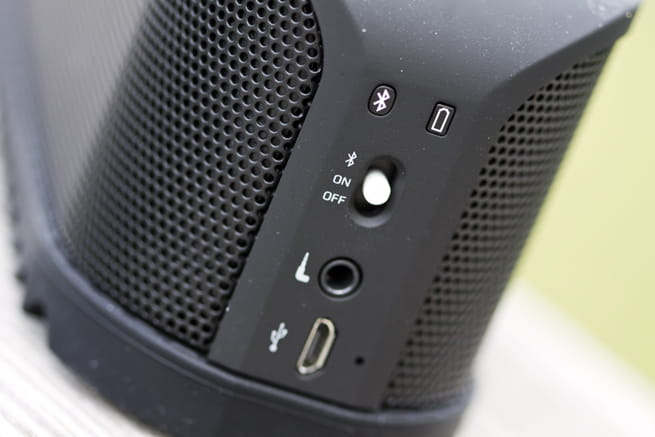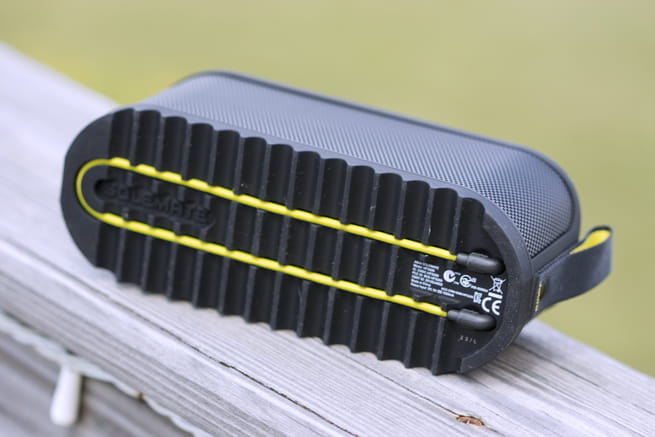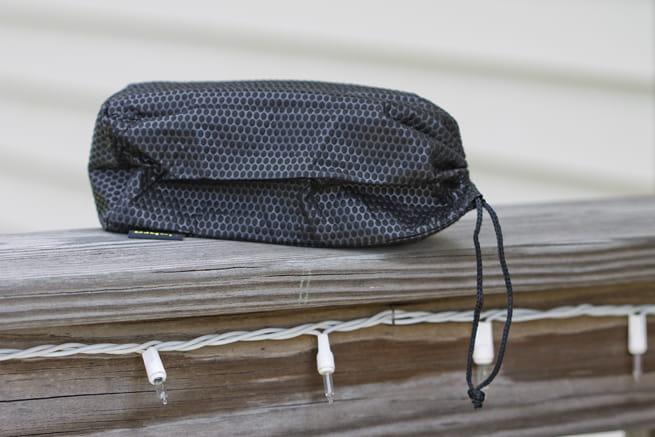 Key Features
Powerful sound.
Bluetooth connectivity up to 33 feet away for tablets, computers, MP3 players, etc.
Connect to almost any device using Bluetooth, USB or 3.5mm audio cable (built in to underside of speaker).
Speakerphone capability to allow you to take calls right from the Solemate.
Sweat, dust & splash resistant.
Voice guidance to help you connect and gives you connection and battery level status.
Rechargeable lithium ion battery built in.
Durable sound bag to protect against weather and environment.
Up to 8 hours of listening time per charge.
Setting up your Jabra Solemate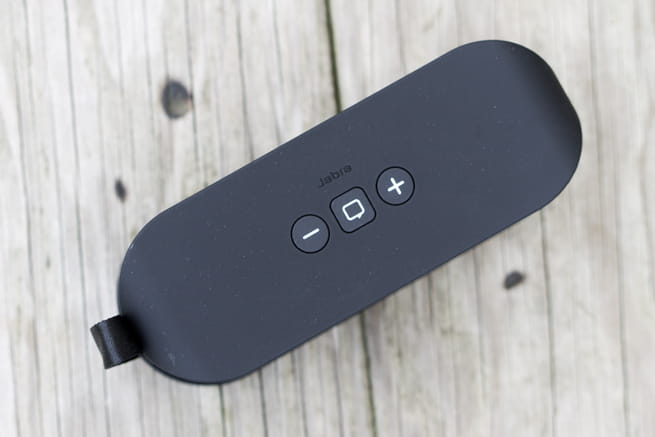 Setup of the Solemate is easy and straightforward. First you charge it with the included charging cable (takes roughly 2.5 hours to fully charge), then you simply pair it with your bluetooth enabled device. In order to pair it, you hold the power button UP until the voice-activated prompts tell you what to do to connect it. It is quick and easy to do.
From there the Solemate takes over and anything you use on your device that has sound comes out of the Solemate instead of out of the device. You can even answer phone calls with it!
Jabra Solemate performance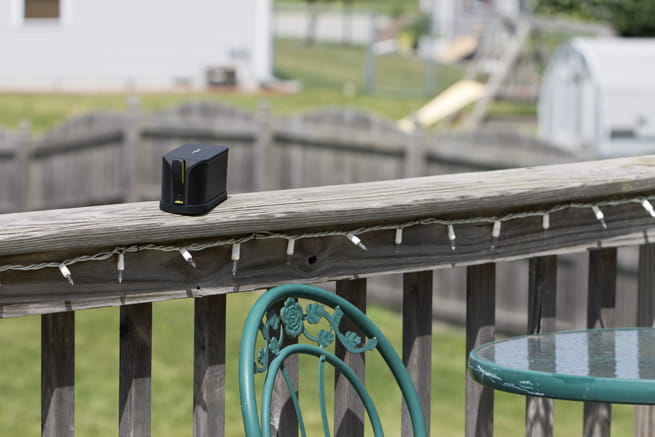 Inside or out the Jabra Solemate packs a powerful sound punch. My kids actually yell at me now for playing my music too loud! I was very impressed by not only the volume level of the sound but the quality of the sound. It makes the music sound so much better!
The size is perfect. Fits in one hand and the rubber bottom keeps the speaker from slipping and provides a durable feel. The unit is heavy but not too heavy. It feel sturdy but it's easy to carry around in a bag or purse until you need it.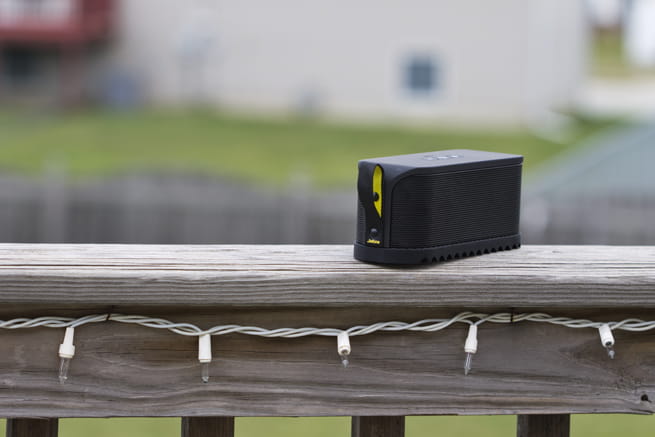 The weather-resistant bag included with the speaker is a great added touch. We don't have to worry about slight rain or those times when my husband creates storms of sawdust when building something.
The video below should give you some idea about the quality and quantity of sound you can get from your Jabra Solemate.
I can't believe that I went this long without this product! It filled a huge void for me and is now a daily part of my routine in addition to helping make our time spent outside more enjoyable. The other night, despite the cooler weather, we lit a fire in our fire pit and enjoyed the great quality of the Jabra Solemate in our driveway as the sun set.
Where to buy the Jabra Solemate
The Jabra Solemate retails for $199.99. You can purchase it at Jabra.com, BestBuy.com or on Amazon.com. Currently the price is $149.99 at both Amazon and Best Buy.
Jabra also has wireless headphones in case you need to keep your music to yourself but still want it to sound great. For more information check out:
Jabra REVO Wireless Headphones
.
How do you listen to music? Would a Jabra Solemate make your life a bit more….musical? Let me know for a chance to win one for yourself!
ENTER TO WIN YOUR CHOICE OF JABRA WIRELESS PRODUCTS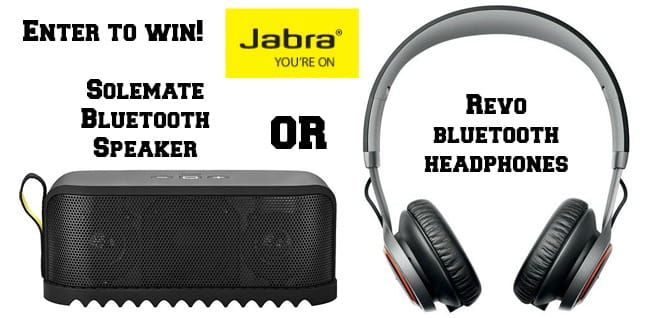 To enter, simply leave a comment telling me which product you would choose AND WHY if you won, then fill out the entry form below.
a Rafflecopter giveaway
Giveaway is open to the 48 U.S. contiguous states and ends on August  20, 2013 at 12:00 am CST. Winner will be selected at random from all eligible entries and will be contacted by email. Winner will have 48 hrs to respond. Please add kim@theysmell.com to your trusted email filter. If original winner does not claim their prize within 48 hrs, it is forfeit and a new winner will be selected promptly.
Join our newsletter!
Subscribe to get updates and great stuff via email including subscriber-only goodies like free printables and giveaways.