This is a sponsored post written by me on behalf of IZEA. All opinions are 100% mine.
Being a blogger is far from a 9-5 job. In fact, blogging is what happens in between doing everything else. It happens in the 15 minutes between making lunches and getting your kids on the bus. It happens while you are eating lunch. It happens while you are waiting for your son to finish baseball practice. It happens when you should be sleeping. It happens after the kids go to bed despite how tired you are. It happens while you are in the waiting room at your doctor's office. It happens on vacation.
As a blogger there are no warnings. No guarantees. When a a job offer comes in, it's important that you are available to respond to it or you may miss out on the opportunity because they gave it to someone who replied quicker. Because you just don't know where you next paycheck is coming from, every job offer is valuable and a priority in your work life. But as a mom and a blogger who relies on earning a living from my blog I am always looking for a way to be the best blogger I can be without compromising my time with my family or sacrificing the quality of that time. I'm always looking for balance. Sometimes balance comes in the 10 minutes while my daughter is picking out her clothes for the day. Sometimes balance comes while brushing my teeth. The bottom line is that I can't always be at my computer all of the time.
Smartphones have really been such a blessing to bloggers, making it easier for us to find that balance. Fitting in responding to emails while our kids are getting haircuts or are at sports practice. Smartphones add a level of portability to what we do and are a must-have tool for blogging success. Which is why it is only natural that one of my most favorite Influencer Networks, IZEA now has a brand new app that can help you take your blogging success to the next level.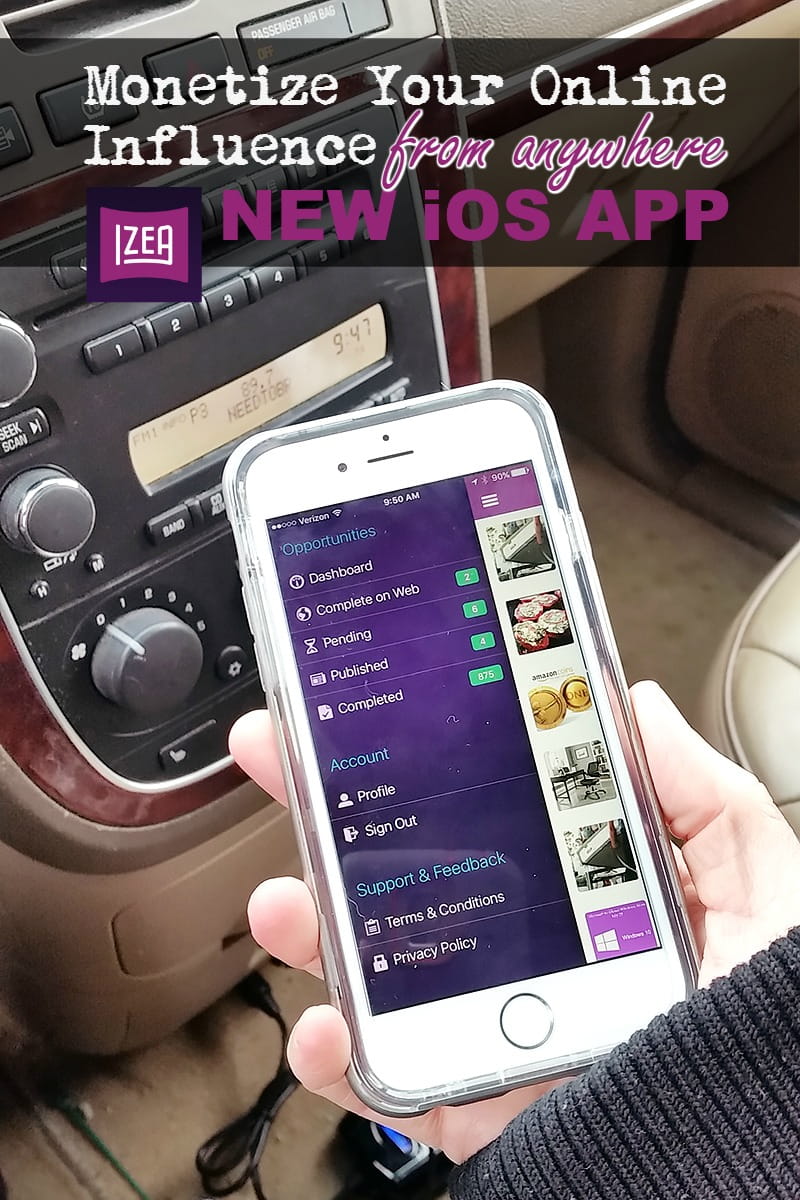 (Please note that I was not driving while using my phone, I was parked in a parking lot waiting for my son while he was at baseball camp. Never use your cell phone while driving. Ever.)
For many years now, IZEA has been a premier place for bloggers, Viners, Instagrammers, YouTubers and other online personalities to monetize their online efforts and influence. It has provided a platform for brands to connect with bloggers in a way that allowed bloggers to bid on sponsored campaigns based upon their interests and online influence. With IZEA, brands can vet bloggers through a reliable system with linked stats and social channels and bloggers can get seen by brands that they otherwise might not have been able to connect with. In 2015, IZEA was one of my top income earning networks, if not THE top network I earned money from last year.
The new IZEA iOS app makes it easy for me to find the balance I need. It allows me browse available opportunities, bid on them, negotiate offers and even Vine, Tweet, and submit an Instagram photo directly from the app. I can check on due dates, review campaign requirements and check on the status of pending bids and completed posts.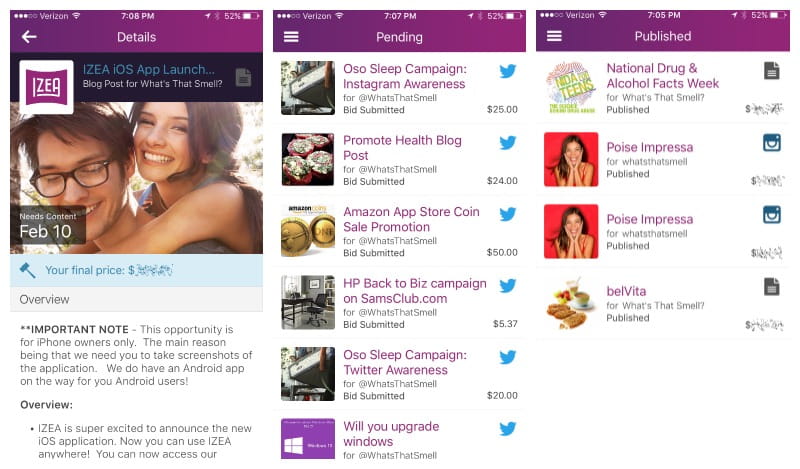 The new IZEA iOS App helps me feel like I have more control of my monetization efforts and helps me make sure I don't miss an opportunity or a deadline. Are you a blogger? Do you work with IZEA already? If not you can join here: Join IZEA. Once you join, make sure to download the IZEA iOS app!
Join our newsletter!
Subscribe to get updates and great stuff via email including subscriber-only goodies like free printables and giveaways.