Italian sausage, a beloved ingredient bursting with flavor, takes center stage in these 15 pasta recipes that will transport you to the vibrant streets of Italy.
Unleash your culinary creativity as you explore the delightful versatility of these dishes, featuring a medley of pasta shapes and luscious sauces.
Each recipe promises an unforgettable dining experience, perfect for satisfying cravings or exploring the rich culinary traditions of Italy from the comfort of your home.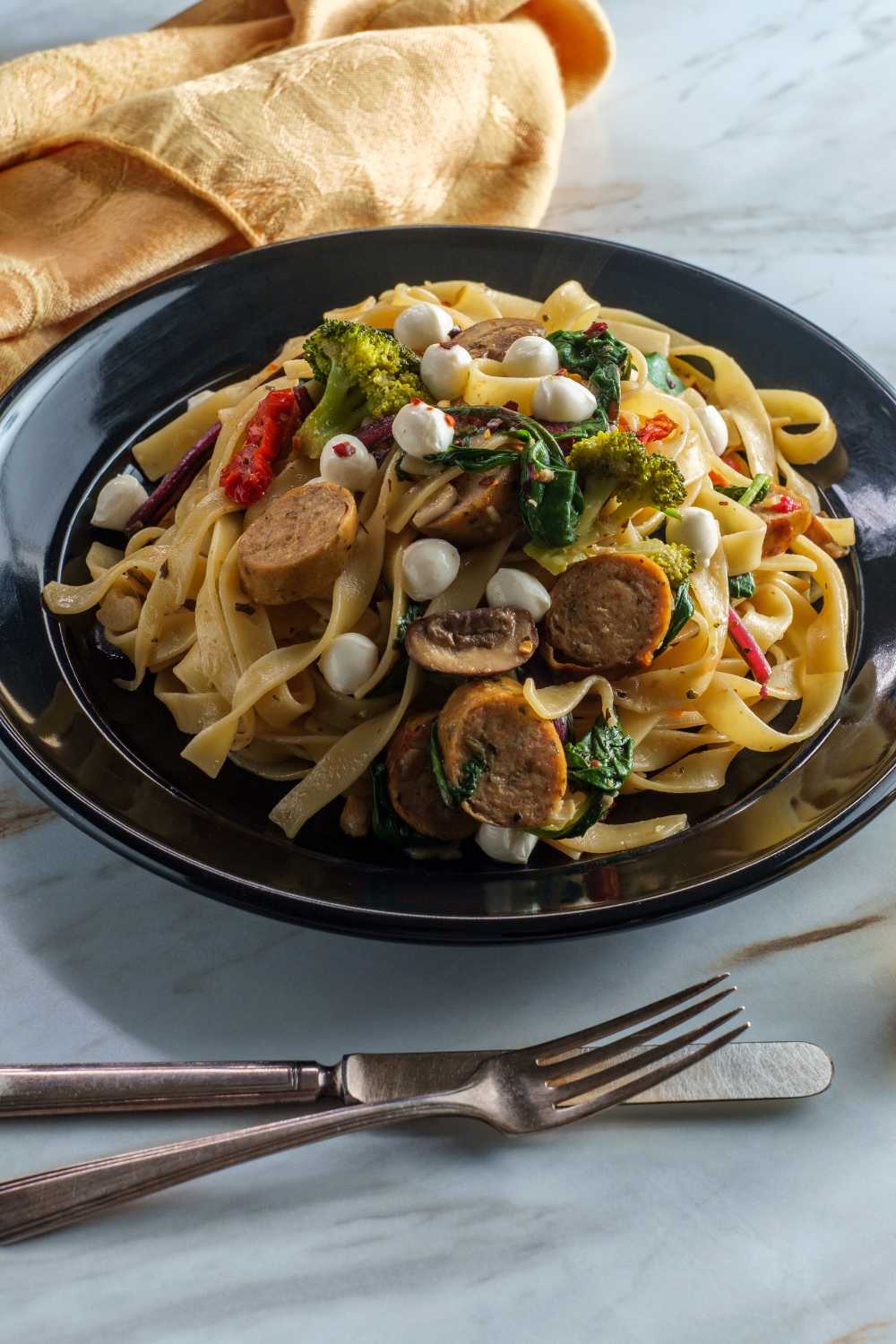 What's The Difference Between Sweet And Spicy Italian Sausage?
Sweet Italian sausage is a type of sausage that is made with fennel seeds, giving it a slightly sweet flavor. On the other hand, spicy Italian sausage is made with red pepper flakes, which gives it a hot and spicy kick. The choice between the two types of sausage largely depends on personal preference and the recipe you are making.
Can I Use A Different Type Of Sausage In These Recipes?
Yes, you can use a different type of sausage in these recipes. While Italian sausage is a popular choice, you can substitute it with other types of sausage such as chorizo, bratwurst, or kielbasa. Just make sure the sausage you choose complements the flavors of the dish you are making. For example, chorizo is a good substitute for spicy Italian sausage in recipes that call for a bit of heat.
15 Italian Sausage Recipes With Pasta
Get ready to twirl your fork with these 15 Italian sausage pasta recipes that are bursting with flavor, from classic to creative, perfect for a comforting weeknight dinner or weekend gathering with family and friends.
Transport yourself to the rolling hills of Tuscany with this delicious Tuscan Sausage Pasta recipe. Al dente pasta is tossed with crumbled Italian sausages, tangy sun-dried tomatoes, and a creamy sauce made with garlic, Dijon mustard, and heavy cream.
The addition of baby spinach and fresh basil gives it a healthy dose of greens, and a generous sprinkle of freshly grated parmesan cheese ties it all together. This pasta is perfect for a cozy weeknight dinner or a casual weekend gathering. So why not give it a try and indulge in the rich, savory flavors of Italy?
Get ready for a flavor explosion with this Sausage Peppers Pasta recipe! Sweet bell peppers, juicy Italian sausage, and aromatic garlic and onions come together in a luxuriously creamy béchamel sauce spiked with Gouda and Parmesan.
This sausage pasta recipe is also highly customizable and can be made with turkey sausage or your favorite vegetables and cheeses. Serve it with a side of Caesar Salad and Buttery Breadsticks to make it a five-star dining experience. And don't worry about leftovers - this dish reheats perfectly, making it a great option for meal prepping.
If you're looking for a hearty and indulgent pasta dish, look no further than this Creamy Sausage and Mushroom Rigatoni recipe. Juicy Italian sausage, tender mushrooms, and tangy Parmesan cheese come together in a rich and creamy sauce made with heavy whipping cream and chicken broth.
The addition of coarsely chopped baby spinach gives it a healthy touch, while the Dijon mustard adds a depth of flavor that sets this dish apart. Perfect for a cozy night in, this rigatoni pasta will warm you up and leave you feeling satisfied. Don't forget to sprinkle some Parmesan cheese, red pepper flakes, and fresh herbs on top for an extra pop of flavor.
This one-pan pasta with sausage and spinach is a delicious and easy weeknight meal. Italian sausage is sautéed with onions and garlic until browned, then cooked with penne pasta in a flavorful tomato-based sauce.
Cannellini beans and spinach add a healthy boost of protein and nutrients, while the addition of white wine gives the dish a subtle depth of flavor. Top with grated Parmesan cheese for a perfect finish. With its tender pasta, savory sausage, and bright spinach, this dish is sure to become a family favorite.
This recipe for spaghetti alla carbonara with sausage and peas is a mouthwatering combination of salty Italian sausage and savory Parmesan cheese with the sweetness of peas. Each mouthful of the pasta is drenched in a decadently thick sauce made with eggs.
A dash of parsley and some spicy chili flakes on top will take this recipe to the next level. Don't be scared of the carbonara sauce; all you have to do is whisk it swiftly and softly to get a velvety texture. If you want to wow your guests, prepare this dish and serve it with a salad and garlic bread.
You won't be able to resist the comforting and cheesy goodness of this Kale and Sausage Pasta. Perfectly cooked rigatoni noodles are tossed with savory Italian sausage, tender kale, and creamy ricotta and Italian cheese mix.
The dish is topped with even more cheese and broiled to perfection, creating a warm and comforting meal that's sure to please the whole family. With just the right amount of spice from the crushed red pepper flakes, this dish is a flavorful and hearty option that's perfect for any night of the week.
Imagine a day in the Italian countryside, with the sun shining and the scent of a good lunch wafting in the air as you take a leisurely walk.
With its substantial Italian sausage, delicious eggplant, and roasted red peppers in a delectable tomato sauce, this Sausage and Eggplant Penne dish is like a taste of Italy on your plate. It's the ideal recipe to take you to the heart of Italy with its al dente penne, creamy ricotta dollops, and freshly grated Parmesan cheese.
This Rigatoni with Sausage, Tomatoes, and Zucchini recipe is a burst of flavors in your mouth. The Italian sausage, zucchini, and grape tomatoes perfectly complement the dish's savory taste, while the garlic and basil add depth to the aroma.
Cooked in olive oil, the onion and sausage deliver a fantastic texture, giving the dish a warm and cozy feeling. The rigatoni is cooked until al dente and tossed with the sauce, creating a velvety coating around the pasta. Top it off with freshly grated Parmesan cheese for an added layer of indulgence.
A tasty and simple pasta dish, this Penne with Arugula, Asparagus, and Italian Sausage is ideal for any midweek meal. This dish is full of flavor because of the Italian sausage, arugula, asparagus, and lemon zest that give it a vibrant and zesty flavor.
The sausage and vegetable combination is mixed with penne that has been cooked to al dente. A mountain of freshly grated Parmesan cheese provides a decadent final touch to the meal. The zest and juice of lemon give this dish a zesty, tangy flavor that is excellent for warmer times.
If you're in the mood for an old favorite, this recipe for Stuffed Shells with Italian Sausage is a great choice. Creamy ricotta, mozzarella, parmesan cheese, eggs, oregano, garlic powder, and spinach fill the large pasta shells, making this meal appealing.
The Italian sausage is cooked to perfection and served over the dish for an extra flavorful punch. After being baked till bubbling and melted, the shells get a new hit of herbaceousness from the parsley that has been sprinkled on top. With the choice of a cheesy crust, this meal is certain to become a staple in your household.
Next up, let your taste buds revel in this heavenly One Skillet Butternut Squash Gnocchi with Italian Sausage! The sweet, tender butternut squash blends perfectly with the savory Italian turkey sausage, creating an unforgettable symphony of flavors.
The nutmeg and sage bring warmth and depth to the dish, while the Parmesan adds a lovely touch of saltiness. Don't forget to enjoy every velvety bite of gnocchi, as it soaks up the rich, buttery sauce. This heartwarming meal is perfect for cozy evenings at home, surrounded by family and friends.
Let's take a trip to the heart of Italy with this scrumptious Orecchiette with Sausage and Broccoli Rabe recipe! The little ear-shaped pasta, orecchiette, perfectly cradles the flavorsome mix of spicy Italian sausage and slightly bitter broccoli rabe.
A hint of chili flakes adds a touch of heat, while the Parmigiano-Reggiano and Pecorino Romano cheeses bring a delightful creaminess. As you indulge in this exquisite dish, imagine yourself seated at a family table in a picturesque Italian village, surrounded by the warmth of loved ones and the aroma of home-cooked meals.
Introducing Jennifer W. Yuen's delightful Pappardelle with Italian Sausage - a dish that transports you straight to a cozy Italian kitchen! The harmonious blend of Colavita Roasted Garlic Extra Virgin Olive Oil and spicy Italian sausage creates a rich, savory base.
The Colavita Diced Tomatoes and Parmigiano-Reggiano cheese add a luscious depth to the sauce, while the fresh basil leaves provide a refreshing touch. Cooking this dish is a breeze, and the result is a warm, comforting pasta meal perfect for a special dinner or a simple family night.
Get ready to swoon over this scrumptious Fettuccine with Sausage and Leeks recipe that effortlessly marries bold flavors and delicate textures. The spicy Italian sausage and earthy cremini mushrooms create a mouthwatering foundation, while the leeks and shallots lend a delicate, aromatic touch.
Enhanced by the richness of butter and white wine, the fire-roasted tomatoes bring a smoky twist to this delightful dish. As you twirl your fork around the perfectly cooked fettuccine, be prepared to fall in love with the glossy, well-coated pasta that's bursting with flavor.
Experience the comforting magic of Jamie Oliver's Easy Sausage Carbonara, a delightful twist on a classic Italian favorite. Imagine sinking your teeth into tender pasta coated in a creamy, velvety egg sauce, punctuated by savory bites of sweet Italian sausage meatballs rolled in a perfect blend of white and black pepper.
The warmth of this soul-soothing dish will make you feel like you're wrapped in a cozy embrace, while the chopped fresh parsley adds a pop of freshness that brightens each forkful. Enjoy this pasta creation for a memorable meal that is sure to leave a lasting impression on your heart and palate!