The devil is in the details.
When it comes to interior design and selecting accessories for your home, that statement couldn't be more true.
Especially in your kitchen.
Cabinet knobs.
Wall color.
Decorative accents.
Material finishes.
Light fixtures.
Window coverings.
Faucet design.
All of these elements work together to create your perfect kitchen.
Now, if you are like me, you don't have the means to completely gut your kitchen and start over. If I did, I certainly would take advantage of this and get the exact cabinets I wanted in the finishes I wanted and truly create my dream kitchen. But for now I have to use my existing cabinets, our stainless steel appliances and the sage green paint we applied to the walls not too long ago as a base for making a nice kitchen into something INSPIRED!
In my first post in this series, I learned that my style is considered "transitional" which essentially is a combination of modern and traditional. I like the sleek, shiny contrast of stainless steel against a rustic wood or a traditional white cabinet. I don't like a lot of lines and fine details but I also don't like a lack of detail either. I like a bright warm feel contrasted with a cool, shiny surface. I do think I lean towards the traditional side but do like modern touches.
Traditional Kitchen by Alpharetta Interior Designers & Decorators Great Spaces!
Traditional Kitchen by Scarborough Architects & Designers Gulfshore Design
Traditional Kitchen by Raleigh General Contractors Rufty Custom Built Homes and Remodeling
Traditional Kitchen by San Francisco Interior Designers & Decorators Fiorella Design
As you can see from some of the amazing photos about, simple changes can completely affect the look and feel of your kitchen. White cabinets take on a whole new character depending upon the other elements and accessories in the room.
And why not start with your faucet?
In my house our faucet is being turned on and off CONSTANTLY. Between the dogs needing water, the kids filling up water bottles, hands being washed, and cooking, our kitchen faucet is one of the most used items in the house.
A close second behind the toilet….
Because of how often it is used, it makes sense to let the faucet design inspire the rest of the details in your kitchen.
I've been creating my "Inspired Living" Pinterest Board to save ideas and inspiration for my dream kitchen, take a look!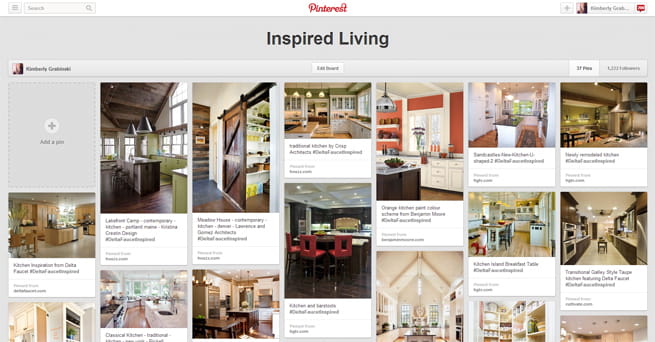 I look forward to showing you how my new Delta Faucet helped change the look of my kitchen. Below is a sneak peak of a couple of the existing design elements in my kitchen – my new wine rack and my rug.
I can't wait to show you how it all came together with my new Delta Faucet!
What do you envision as your dream kitchen? What color cabinets? What style? What finishes?
I'd love to know!
If you have an inspiration Pinterest Board for your kitchen, share it here so I can follow along!
Delta Touch2O Technology for your kitchen and bathroom is precisely in tune with your every touch. Take the quiz to learn which faucet style best describes you at deltafaucet.com.
Disclosure: Compensation was provided by Delta via Glam Media.  The opinions expressed herein are those of the author and are not indicative of the opinions or positions of Delta.
Join our newsletter!
Subscribe to get updates and great stuff via email including subscriber-only goodies like free printables and giveaways.