This week was TOUGH.
It was the first week of the 2nd month and all the workouts have the word MAX in front of them and are 10-15 minutes longer than the workouts in the first month. I had physical and mental obstacles this week. I tweaked my knee, presumably during a workout, but I don't know how I did it. The last few days it has just been sort of nagging at me and making a little pop when I go up the stairs. I borrowed my husband knee brace and will use that starting tomorrow.
Mentally, I think I'm at the point where there are only 3 weeks left and while I have seen results and am so happy about them, I still have a lot of work that I am not sure 3 weeks is going to be long enough to take care of. Also, MAX is seriously like going back to the first day, and it takes you from feeling strong and accomplished back down to feeling like you can't keep up. So there is a mental battle there where the lazy part of me says "what's the point?" The determined, not-a-quitter, part of me is winning, I just need to keep telling the lazy part of me to SHUT UP.
I am not alone with these struggles, though, I am part of a group on Facebook that all started Insanity on March 14th and last week a lot of us had very similar feelings. It's great to have the support of people who know EXACTLY, specifically what I am going through.
I did lose 1/4″ in my hips, thighs and my waist this week, not earth shattering but certainly still moving in the right direction.
My progress photo shows minor changes, my tummy is still tightening and my shorts continue to get looser in front.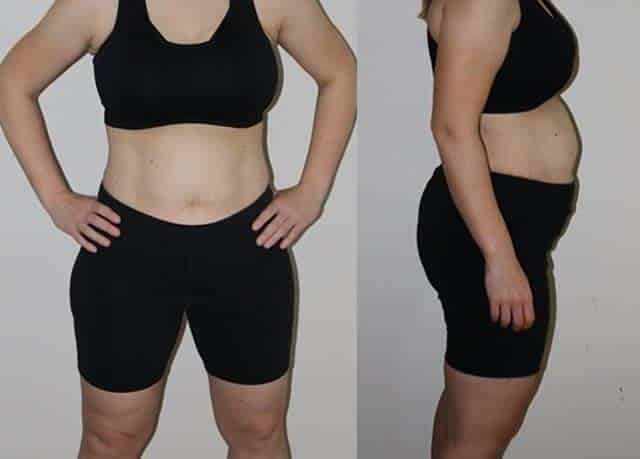 To see my entire series of progress photos, previous posts, fit test results and measurements chart, visit my INSANITY Results page.
As I come down to having 3 weeks left of Insanity, I've been struggling with where I go from here. I've come a long way from weighing 200 lbs and I feel like I am in great shape already. The tough part of me that loves a challenge wants to try the follow-up to Insanity called Asylum, and while it would make a fun 30 days of blog posts, as would P90X which also interests me, I'm not sure long-term is the next best step. I've built muscle with Insanity, but I still have fat to lose and toning to do. I really enjoy the fast pace of Insanity and I think I decided that TurboFire probably makes the most sense. Then I'll tackle P90X and Asylum after that, or repeat Insanity. Or ALL OF THE ABOVE!
In the coming week I plan on recording one of my Insanity workouts to give you a better feel for how INSANE the program really is!
Note: I was sent the INSANITY workout program to try and share my feedback on my blog. The sweat, and opinions produced during my use of the program are my own.