Okra may not be the most glamorous veggie on the block, but it's certainly one of the most flavorful.
Whether you're a fan of its slimy texture or not, there's no denying the magic it can bring to an Indian dish.
So let's take a journey through the world of okra and explore some delicious and unexpected ways to enjoy this underrated vegetable.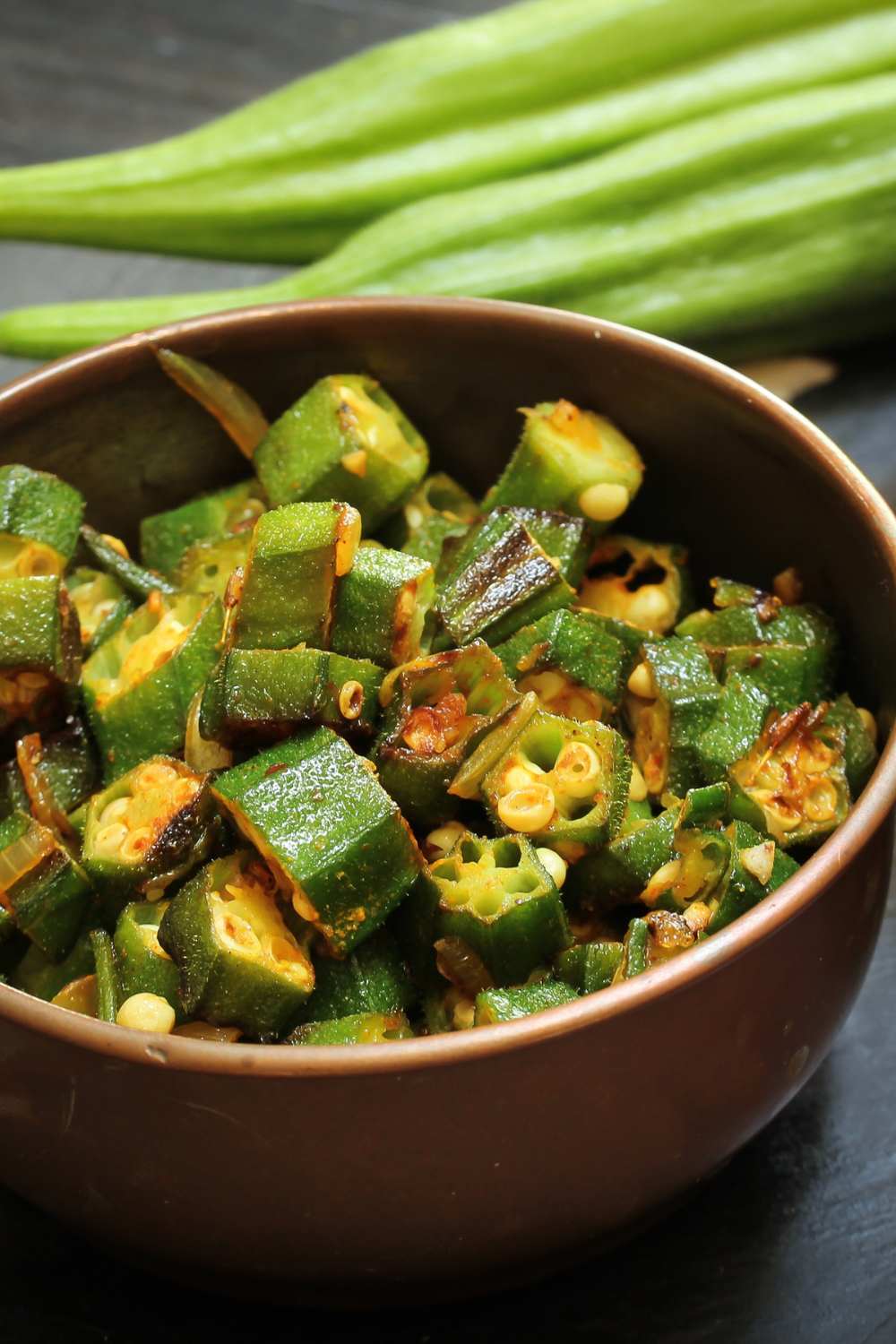 How Do I Select The Best Fresh Okra For These Recipes?
When selecting fresh okra for your recipes, look for small to medium-sized pods that are bright green, firm to the touch, and free from blemishes or soft spots.
Avoid pods that are too large or too woody, as they tend to be tough and fibrous. To maintain their crispness and nutrient content, store fresh okra in a paper bag in the refrigerator and use it within a few days.
Can I Use Frozen Okra In These Recipes?
Yes, you can use frozen okra in these Indian recipes with great results. Frozen okra is a convenient and time-saving option, especially when fresh okra is not in season or unavailable. To use frozen okra, thaw it completely and pat it dry with paper towels before adding it to the recipe.
Frozen okra may release more liquid than fresh okra during cooking, so adjust the cooking time and amount of liquid in the recipe accordingly. Frozen okra is just as healthy as fresh okra as it retains its nutritional value.
15 Indian Recipes With Okra
Here are 15 Indian dishes, ranging from crunchy appetizers to savory curries, that make use of the nutritious and adaptable okra:
Get whisked away on a culinary adventure with this Bhindi Masala recipe, an Indian Okra Stir Fry that will make your heart sing! Delight in the aromatic symphony of cumin seeds, ginger, and garlic as they create a delectable base for this dish. Savor the vibrant colors of turmeric and Kashmiri red chili powder as they blend with tomatoes, transforming into a mouthwatering symphony.
Rejoice as the crispy okra unites with the spices, elevating this dish to heavenly heights. Finally, let the tangy dry mango powder add that extra zing, making this Indian Okra Stir Fry an unforgettable experience.
Let's dive into the world of Bhindi Do Pyaza, a Stir Fried Onion Okra Curry that will surely win your heart. In this dish, the same fabulous okra from our previous recipe makes a glorious return, this time paired with not one, but two onion varieties, giving this dish its distinctive name. As the onions and okra sizzle in harmony, they're graced by the presence of ginger, green chilies, and a medley of aromatic spices.
The luxurious touch of yogurt whisked with chickpea flour creates a velvety texture that envelops the okra and onions, culminating in a flavorful, satisfying curry. This Bhindi Do Pyaza recipe is yet another must-try in our okra extravaganza!
Bharwa bhindi, also known as stuffed okra, is a deliciously spiced North Indian recipe that is perfect for a satisfying side dish. The okra is slit open and stuffed with a blend of aromatic spices, including coriander powder, Kashmiri red chili powder, and turmeric powder.
Slow-cooked until succulent, the spices penetrate the okra, creating a beautifully flavored dish that pairs well with roti, paratha, naan, or dal-rice. This vegan recipe is also made without onion and garlic, making it suitable for those following a strict vegetarian diet. Finish with a sprinkle of garam masala powder and crushed dry fenugreek leaves for an added punch of flavor.
Bhindi Kadhi is the next stop on our savory journey through the world of okra, and it's a dish that mixes the earthy flavor of chickpea flour with the smoothness of yogurt.
As our trusty okra returns, it first takes a quick sauté trip to remove any sliminess, preparing it for the grand union with the tangy, aromatic kadhi. The dish reaches its crescendo as we add a sizzling tempering of ghee, mustard seeds, and whole red chilies to the mix. This Bhindi Kadhi not only adds another layer of flavor to our collection, but it also connects our journey together, showcasing the versatility of okra in the enchanting world of Indian cuisine.
As we continue our adventure through the region of okra, we discover the tantalizing Dahi Bhindi recipe, a symphony of tastes and textures that combines soft okra, thick yogurt, and aromatic spices. You'll rediscover the many ways in which okra may be enjoyed as you sip this creamy treat and experience the kaleidoscopic effect of the spices.
Dahi Wali Bhindi is a lovely new addition to our collection of recipes, which together tell a tale of cultures, cuisines, and customs via the food they create. Warm up with a bowl of delicious okra curry made with yogurt and some roti or rice and remember how good it feels to be home.
Immerse yourself in the wonderful crunch of crispy okra, masterfully coated with a mesmerizing combination of spices, besan, and cornstarch, and let this magnificent Kurkuri Bhindi dish take you on a gastronomic journey.
Using these easy-to-follow directions as a guide, you can make a delicious snack or side dish that everyone will love. Add a dash of excitement that will make your heart sing with a dash of lemon juice and chaat masala at the end. Let's get the oil hot, throw in the ingredients, and start cooking!
Get excited for Bhindi Raita, a delightful fusion of crispy okra and spiced yogurt that's sure to leave you craving more! This refreshing dish brings together vibrant flavors like green chilies, roasted cumin, and chaat masala in a creamy yogurt base.
The real magic, though, comes from the tempering with its aromatic blend of mustard seeds, cumin seeds, asafetida, curry leaves, and dry red chilies. Remember to save some crispy okra and tempering for garnishing – presentation matters too!
Dive into the world of Aloo Bhindi Dry Sabzi, a flavorful Potato Okra Stir Fry that's bound to become your new favorite! This delectable dish combines crispy potatoes and okra with a medley of tantalizing spices like coriander, Kashmiri red chili, and garam masala. Don't forget the tangy touch of dry mango powder to really amp up the flavor profile.
As you prepare this mouth-watering meal, you'll find yourself eager to dig in and savor the aromatic blend of spices, potatoes, and okra. A perfect companion for your favorite flatbread or rice, this Aloo Bhindi Dry Sabzi will steal the spotlight at any mealtime!
Enjoy a burst of flavor with this Achari Dahi Bhindi, a delicious and simple Punjabi dish made with Indian spices. This recipe uses a unique blend of pickle masala to bring out the natural flavors of the okra, which is cooked until non-sticky and tender.
The dish is then combined with spices such as cumin, mustard, and coriander powder, along with ginger paste and tomatoes, which are sautéed until soft and mushy. Lastly, the dish is mixed with whisked yogurt and garnished with chopped coriander leaves for a refreshing twist. Enjoy this as a perfect side dish with roti, paratha, or dal rice.
This Kurkuri Bhindi recipe is the perfect crunchy and savory snack for any occasion. Crisp slices of okra are coated with a flavorful blend of besan, turmeric, red chili powder, and carom seeds, then deep-fried to perfection until crispy and golden brown. The addition of chaat masala and lime juice adds a tangy kick that perfectly complements the savory spices.
Serve with plain boiled rice or daal for a complete meal, or enjoy it as a tasty appetizer. Be sure to dry the okra thoroughly before frying to prevent it from becoming sticky and slimy.
Let's keep the okra love going with a mouthwatering Sweet Potato, Okra, and Chickpea Curry! This wholesome and heartwarming dish combines the goodness of sweet potatoes, okra, and chickpeas in a rich, tangy tomato base, seasoned with fragrant Madras curry paste.
The addition of kale adds an extra layer of nutrients, while Greek yogurt brings a creamy, cooling contrast to the vibrant flavors. Serve this comforting curry over steamed rice and garnish with fresh coriander and lemon wedges for an unforgettable mealtime experience.
Let's take our okra obsession to new heights with this delightful Sweet Potato, Okra, and Chickpea Curry! Packed with flavors and nutrition, this dish combines tender sweet potatoes, okra, and hearty chickpeas in a Madras curry-infused tomato sauce.
The vibrant kale and creamy Greek yogurt elevate the dish, making it a true feast for the senses. Enjoy this satisfying curry with steamed rice, fresh coriander, and a squeeze of lemon, bringing a harmonious touch to our okra recipe collection
Bhindi Masala Gravy Recipe will wrap you in a warm embrace of Indian spices as you savor the symphony of okra, cumin seeds, and a variety of fragrant spices in a rich tomato-based sauce.
Yogurt improves the dish's texture and adds a delightful tang, while garam masala, kasoori methi, and lime juice bring out the dish's full potential in terms of taste. Add some fresh coriander leaves as a garnish for that special touch. Experience the harmony of flavors with a side of rice or flatbread and savor every bite.
Following the delightful Bhindi Masala Gravy, we're bringing you another Indian-inspired treat with this Okra in Tomato Sauce and Olive Oil recipe. By adding a touch of Indian flair with spices like cumin and coriander, you can transform this Mediterranean classic into a subcontinental gem.
The tangy red wine vinegar, combined with velvety olive oil and a rich tomato sauce, creates a luxurious base for the fresh okra to absorb. The fragrant onion, garlic, and parsley add depth, while the Indian spices elevate it to new heights.
As the grand finale of our okra-centric Indian recipe collection, the Bhindi Sabzi or Okra Stir Fry is here to steal your heart. This simple yet scrumptious dish features fresh, tender okra that's been sliced lengthwise and stir-fried in a medley of warm spices like coriander, cumin, and Kashmiri chili powder.
The turmeric lends its golden hue, while the cilantro adds a fresh, aromatic finish. Relish this delightful Bhindi Sabzi straight off the skillet with a soft, warm roti, or pair it with comforting daal-chawal for a satisfying meal.