The long-grain, aromatic Basmati rice is native to the Indian subcontinent, and its distinctive taste and texture make it a staple in traditional Indian cooking.
The 20 mouthwatering Indian dishes included here all include fragrant and versatile basmati rice.
These recipes, from biryanis and pulaos to kheers and samosas, will bring the flavors of India into your home.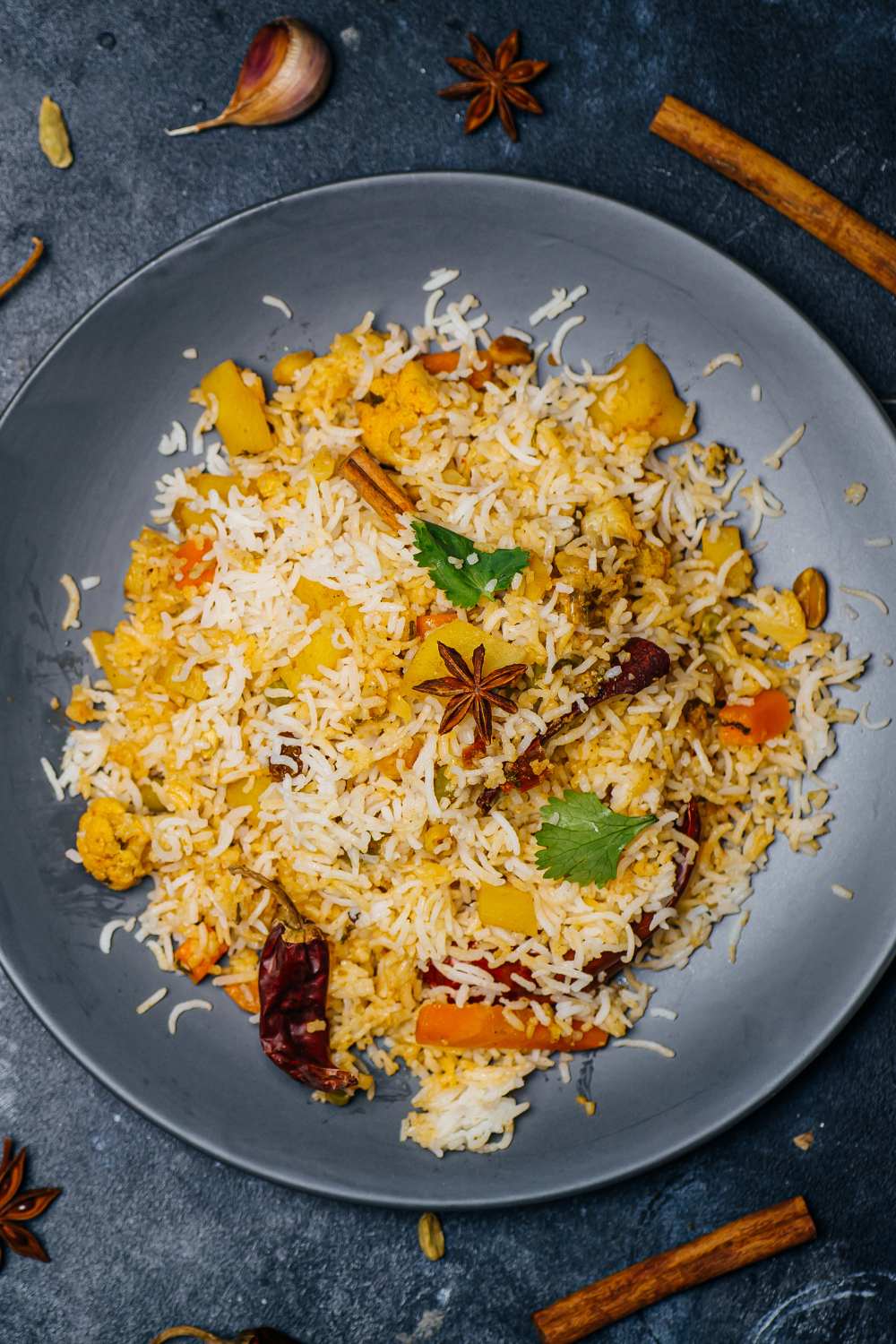 What Is Basmati Rice And Why Is It Popular In Indian Cuisine?
Basmati rice is a long-grain rice that is primarily grown in India and Pakistan. It is known for its distinct aroma and delicate, nutty flavor. Basmati rice is popular in Indian cuisine because it is versatile and can be used in a wide range of dishes, from biryanis to pilafs. It is also considered to be a healthy option, as it is low in fat and high in complex carbohydrates.
Can I Substitute Other Types Of Rice For Basmati In These Recipes?
While basmati rice is traditionally used in Indian cuisine, it is possible to substitute other types of rice in these recipes. However, keep in mind that the texture and flavor of the dish may be different. For example, short-grain rice will result in a stickier texture, while brown rice will have a nuttier flavor.
It's always best to use the type of rice specified in the recipe for the most authentic taste, but you can experiment with other types of rice for a healthier twist.
20 Indian Recipes With Basmati Rice
From traditional biryanis to savory pilafs, these 20 Indian rice recipes will liven up your meal plan:
Savor the zesty delight of South Indian Lemon Rice, where Basmati rice meets tangy lemon and lively spices! This Indian restaurant-style favorite will have you dancing in your kitchen as you roast peanuts and sizzle mustard seeds in avocado oil.
Get swept away by the aroma of curry leaves, Thai green chilies, and ground turmeric, and smile as you mix in lemon juice and zest for that citrusy kick. Top it off with roasted peanuts and fresh cilantro, and you've got a bright, flavorful dish that feels like a warm hug from your favorite South Indian eatery!
As you relish the refreshing tang of the South Indian Lemon Rice, why not let your senses explore the comforting warmth of Perfect Jeera Rice? This best Indian Basmati rice dish is infused with the earthy aroma of cumin seeds and a symphony of whole spices like bay leaf, cinnamon, and cloves.
The ghee-toasted grains create a tender, non-sticky texture that'll leave you craving more. Garnished with freshly chopped coriander, this Indian Cumin Rice will have you swaying to the rhythm of a memorable culinary journey, as it seamlessly complements the zestful flavors of the Lemon Rice.
Continuing the flavorful journey from the vibrant South Indian Lemon Rice and comforting Perfect Jeera Rice, you'll be delighted to discover this irresistible Restaurant Style Vegetable Biryani. This heavenly Basmati rice masterpiece is an aromatic wonder, brimming with exotic spices, saffron-infused milk, and colorful veggies. Layered to perfection, it's a feast for your eyes and your soul.
Once you taste this delightful Biryani, it'll be like the missing piece of the puzzle, joining the Lemon Rice and Jeera Rice to create a harmonious triad of mouthwatering Indian Basmati rice dishes that you can't wait to share with your loved ones.
Get ready to fall in love with this scrumptious Mushroom Biryani Recipe, another delightful vegetarian Basmati rice dish that you'll adore. Featuring tender, earthy mushrooms cooked in a fragrant medley of spices, this dish will captivate your senses. The perfect harmony of fried onions, cashew nuts, saffron milk, and fresh coriander elevates the flavor, making every bite a memorable experience.
As you continue exploring the delicious world of Basmati rice recipes, this Mushroom Biryani is sure to become a cherished favorite in your vegetarian repertoire.
Indulge in this mouthwatering Lamb Biryani, a show-stopping dish that combines tender, succulent lamb with layers of aromatic yellow basmati rice. The recipe includes a delightful mixture of spices, herbs, and fried onions that create an incredible depth of flavor.
This Lamb Biryani is not only visually stunning but also a feast for the senses. Serve it alongside Hyderabadi tomato egg curry, mirchi ka salan, or a refreshing yogurt salad for an unforgettable dining experience.
Experience the delightful flavors of Mumbai street food with this Tawa Pulao recipe, a delicious and colorful rice dish that brings together the best of Indian spices and veggies. With its mix of Pav Bhaji Masala, momos chutney, and an assortment of vegetables, this dish is perfect for a quick lunch or a satisfying dinner.
Enjoy the tangy and spicy flavors of Tawa Pulao served hot with a side of crunchy papad for a true taste of India right at home.
Get swept away on a culinary adventure to India with this irresistible Chicken Biryani recipe! With tender, marinated chicken thigh fillets, aromatic spices, and fluffy Basmati rice, this dish is sure to become your new favorite.
The saffron-infused milk adds a touch of luxury, while toasted almonds bring a delightful crunch. Don't forget the fried onions for that extra burst of flavor. Top it all off with a dollop of natural yogurt and freshly chopped coriander for a meal that's as stunning as it is scrumptious. Pro tip: marinate the chicken overnight for maximum flavor!
We've arrived at the beautiful region of Kashmir with its heavenly Kashmiri Pulao. This rice dish is an enchanting blend of Basmati rice, aromatic spices, saffron, and nuts. Each bite transports you to the lush valleys of Kashmir, while the caramelized onions and fried nuts add a touch of indulgence.
Balance this delightful meal with a side of raita, paneer curry, or dal-tadka. Don't forget to explore the versatility of this pulao by adding fresh fruit cubes like apple, pineapple, or pomegranate arils for a surprising twist!
This delectable dish stars Basmati rice and an array of colorful veggies, sautéed with fragrant spices and ghee. The ginger, garlic, and green chili paste add a punch of flavor that will make your heart sing. With the choice of cooking methods like a pressure cooker, Instant Pot, or stovetop, you can easily create this heartwarming dish anytime, anywhere.
Savor the delightful aroma as you garnish it with fresh mint and cilantro leaves, and serve warm for a meal that will surely brighten up your day.
Embark on a tropical escape with this delightful South Indian Coconut Rice, a perfect fusion of fragrant Basmati rice and freshly grated coconut. The symphony of mustard seeds, curry leaves, and a medley of dals create an aromatic experience that will awaken your senses.
Enjoy the crunch of cashews and the zing of ginger and green chili, which adds an exciting twist to the dish. This versatile coconut rice can be paired with a variety of curries, yogurt, or pickles to suit your mood. A bite of this tropical gem will transport you to the sun-kissed shores of South India.
Homestyle Mutton Biryani is a meal that combines soft marinated mutton, aromatic Basmati rice, and a variety of spices in an uncomplicated way. This biryani is an absolute feast for the taste buds, with its many layers of flavorful ingredients including fried onions, fresh green chilies, and herbs.
The addition of potatoes and milk flavored with saffron makes this dish even more decadent. Savour the perfect harmony of flavors in this home-style mutton biryani served with cold yogurt and pickled onions.
Egg Fried Rice, Indian Style is sure to please. Fluffy rice, scrambled eggs, and other fresh vegetables including red bell pepper, green beans, and carrots are the main ingredients in this dish. This meal has big, flavorful seasonings including soy sauce, white vinegar, and black pepper.
Other vegetables, such as maize or bean sprouts, or even meat, such as bacon or rotisserie chicken, may be added to make it more personal. This recipe can be prepared quickly and easily, making it ideal for both weekday meals and weekend brunches.
Whisk your senses away to the vibrant streets of India with this delightful Chana Pulao! This Chickpea Pilaf showcases a perfect medley of aromatic spices, fluffy basmati rice, and protein-packed chickpeas, all melding together in a comforting and nutritious meal.
The added kick from serrano pepper will bring a playful warmth to your plate, while the fragrant cilantro garnish adds a touch of freshness. Gather your loved ones and dive into a world of flavors as you share this delectable, heartwarming dish. It's time to make your kitchen the new hotspot for Indian cuisine!
We're turning up the heat with this vibrant Spicy Chicken Pulao, infused with aromatic spices and tender chicken, this dish promises a memorable dining experience. The well-seasoned chicken pairs exquisitely with the fluffy Basmati rice, as the zesty lime juice adds a tangy twist.
While the Veg Pulao bursts with colors, the Spicy Chicken Pulao is all about bold flavors that will have you craving more. A perfect choice for those who adore a little extra spice in their life!
Leaving the fiery flavors of Spicy Chicken Pulao behind, let's warm our hearts with the comforting Rajma Chawal. This classic North Indian dish showcases a tantalizing harmony between creamy kidney beans and perfectly cooked rice.
The melange of spices creates a rich, flavorful Rajma Masala that complements the simple yet satisfying Chawal. Sit back, relax, and let the comfort of Rajma Chawal embrace you like a warm hug!
As we continue our journey through the world of Indian Basmati rice dishes, we come across a delightful gem, the Corn Pulao. This light, yet flavorful recipe showcases the sweetness of corn, making it an absolute crowd-pleaser. The harmony of aromatic spices, tender corn, and colorful capsicum creates a visually stunning and delicious dish.
With each spoonful, you'll discover a celebration of flavors, bringing a sense of joy to your dining table. Share this vibrant meal with your loved ones, and let the magic of Sweet Corn Pulao make lasting memories.
This scrumptious dish brings the allure of the sea to your plate, combining succulent prawns with fragrant Basmati rice. Infused with a symphony of spices, this biryani is perfect for those who crave an extra kick of zest.
The mingling of yogurt, fried onions, and saffron creates a burst of flavor and aroma that will enchant your senses. Dive into this mouthwatering Prawn Biryani, and let the wave of flavors sweep you off your feet!
A delightful vegetarian take on the classic biryani, this paneer biryani recipe features tender cubes of paneer marinated in a spiced yogurt mixture, layered with fragrant basmati rice, and slow-cooked to perfection.
This dish is packed with flavors from aromatic spices, fresh herbs, and saffron-infused milk, which meld together in a symphony of taste that is sure to please your palate. Serve this mouthwatering veg paneer dum biryani with a side of cooling raita and slices of onion for a satisfying, flavorful meal.
Experience the magic of Kerala with this aromatic Neichoru Ghee Rice, a delightful blend of basmati or jeerakasala rice and fragrant spices. This dish brings warmth and comfort to your dining table, as it's lovingly infused with ghee, golden fried onions, and a delightful crunch of cashews and raisins.
So, gather your loved ones and let this simple yet exquisite recipe transport you to the lush, enchanting landscapes of Southern India, while savoring each tender, flavorful bite.
Prepare to be transported to India with this recipe for Spicy Chicken Tikka Biryani, which has layers of partly cooked rice flavored with bay leaves, cardamom, and cumin seeds, and layers of tender chicken thigh pieces marinated in a combination of yogurt, fragrant spices, and herbs.
Fresh coriander and mint leaves serve as a garnish, while sautéed onions, garlic, and ginger offer depth of flavor. This recipe for biryani will not disappoint, whether you're hosting a small family meal or a large celebration.