Back-to-school is on everyone's minds lately. Some kids have already gone back, like mine have, and some are gearing up to go back in the week or two. It's a hectic time getting back into the routine of a new schedule and it can be easy to make mistakes when it comes to being diligent about protecting our identity and the identity of our children.
According to LifeLock, children are an easy target for ID thieves because they have clean credit reports which often remain unchecked until the children become adults. LifeLock also reports that children are the fastest growing segment of ID theft victims.
When we send our children off to school each year, we are asked to provide certain potentially sensitive information to the schools.
Have you considered what information is legally required, despite if they are asking for it?
Have you considered who actually sees this information?
Have you considered what they do with it?
Have you considered the means by which the information is relayed?
I always talk about how protecting yourself against ID theft is in large part common sense, but it's easy to forget to ask the hard questions when something is  as innocent seeming as a required school form.
My friend Trisha and I put together 10 tips for how to help protect yourself and your kids from identity theft for back-to-school. Tips 1-5 can be found over on her blog (see below for link) and tips 6-10 you can learn about right here.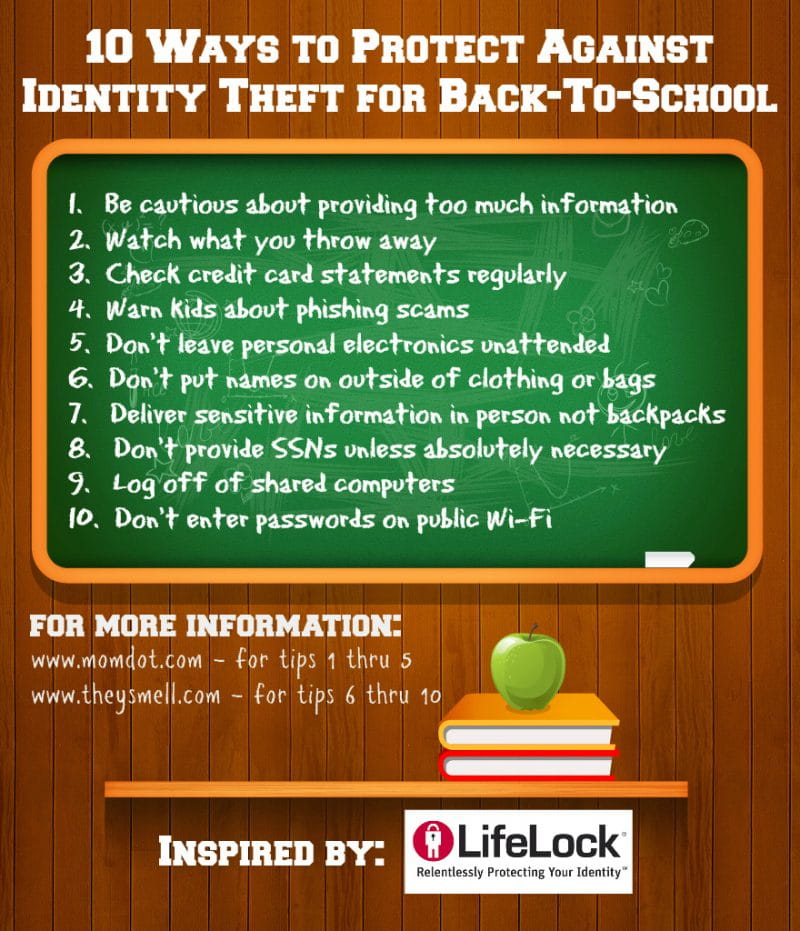 10 Ways to Protect Against Identity Theft for Back-To-School
Be cautious about providing too much information
Watch what you throw away
Check credit card statements regularly
Warn kids about phishing scams
Don't leave personal electronics unattended
Don't put names on outside of clothing or bags

You never know when a ID theft will strike, especially one targeting children. Imagine a thief who knows your last name because they have checked your mailbox. If your child has their name in public view and they know where you live, they now potentially have enough to exploit your child's ID. It's also good practice for "stranger danger" as well.

Deliver sensitive information in person not backpacks

Your child's backpack comes into contact with a lot of people each day. It gets opened and closed repeatedly. Sensitive documents can easily be lost or seen by the wrong people. Hand deliver paperwork containing personal identity information to your child's school.

Don't provide SSNs unless absolutely necessary

A social security number is a crucial aspect to your identity and providing it without question when asked is like opening a window to an ID thief. Just because people ask for it, doesn't mean you are required to provide it. The same goes for your birthdate too.

Log off shared computers

Just because you or your child are on a secure network doesn't mean someone can't steal your information, especially if you forget to log out of a shared computer at school. If you forget to logout of a website contining personal information, the next user might have full access to identity information that can help them open accounts in your name.

Don't enter passwords on public Wi-Fi

Public Wi-Fi is a haven for identity theft because none of the information you send over it is encrypted, so even hackers with minimal knowledge will be able to obtain your information
Lifelock can also help you protect your family from ID theft with their proactive monitoring. If someone opens an account using your information, LifeLock contacts you immediately. Lifelock has services for both kids and adults to help give you the peace of mine that you are doing everything possible to help protect against identity theft.
Right now LifeLock is offering a 30-day free trial of their monitoring services and you can get 15%.
You have nothing to lose, and can possibly gain a whole lot of peace of mind with LifeLock at work helping you monitor you identity.
Has your child's school ever asked for information that you thought was unnecessary? Did you provide it anyway?
Join our newsletter!
Subscribe to get updates and great stuff via email including subscriber-only goodies like free printables and giveaways.

This article was inspired by LifeLock as part of my participation in the LifeLock Ambassador Program, which is a compensated program.