When I was a kid I liked to read a lot, and I am so glad that my son has followed in my footsteps.
But I have to admit that I am totally jealous of the great books that he has available to him now. Not that there weren't some great books when I was a kid – those classics are classics for a reason, but today I think there is far more fun, creativity and uniqueness when it comes to books geared towards elementary and middle school.
The latest book from James Patterson is proof of that!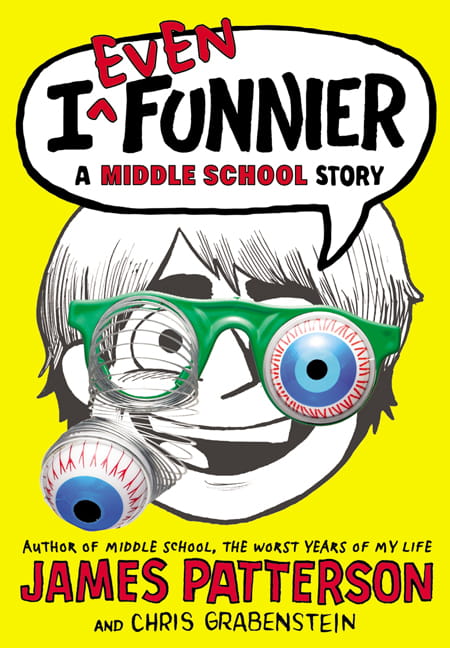 About the book
I Even Funnier is the side-splitting second installment in James Patterson's hilarious #1 New York Times bestselling series for kids!

Middle Schooler Jamie Grimm has big dreams of being a stand-up comic (even though he's wheelchair-bound) and he's not about to let anything get in his way of making his dreams come true! In this second book in the series, Jamie is off to the state finals in the Planet's Funniest Kid Comic Contest, but there's another kid who thinks he's a million times funnier than Jamie…who will win?

Filled with hilarious jokes and plenty of heart, this is the perfect book for boys and girls (psst…even those who don't like to read!)
We were sent a copy of I Even Funnier, and the first book I Funny to check out and my son was pretty excited. He is a big James Patterson fan!
I chatted with him about the books and he told gave me synopsis of them, talked about his favorite joke from the books and even mentioned his favorite scene.
It didn't make the cut in the video for some reason but he even speculated about a possible third book and how it would continue the story of main character Jamie Grimm.
I obviously don't have a reluctant reader but books like these are perfect for kids who love to read as well as kids who aren't as interested in reading. With the fun illustrations, humorous stories, and hilarious jokes, these books are engaging and memorable and leave them wanting to read more.
I Even Funnier would make a great stocking stuffer too!
More information about

I Even Funnier

by James Patterson:
In Stores December 9, 2013
For ages 7 and up
Visit the Official Site
#IEvenFunnier
Sample the book online!
Click here to read the few chapters of I Even Funnier for free!
Pre-order the book!
Right now you can pre-order I Even Funnier on Amazon.com for $7.94 in hardcover. It comes with a pre-order price guarantee and you should have it by Christmas since it is released on December 9th.
Note: This is a sponsored post for the product shown. Opinions are my own.