So, how can you determine whether a pineapple is ready to consume or not?
We will teach you how to accurately identify if a pineapple has ripened to perfection, and if not, how to ripen an unripe pineapple quickly. Let's get started!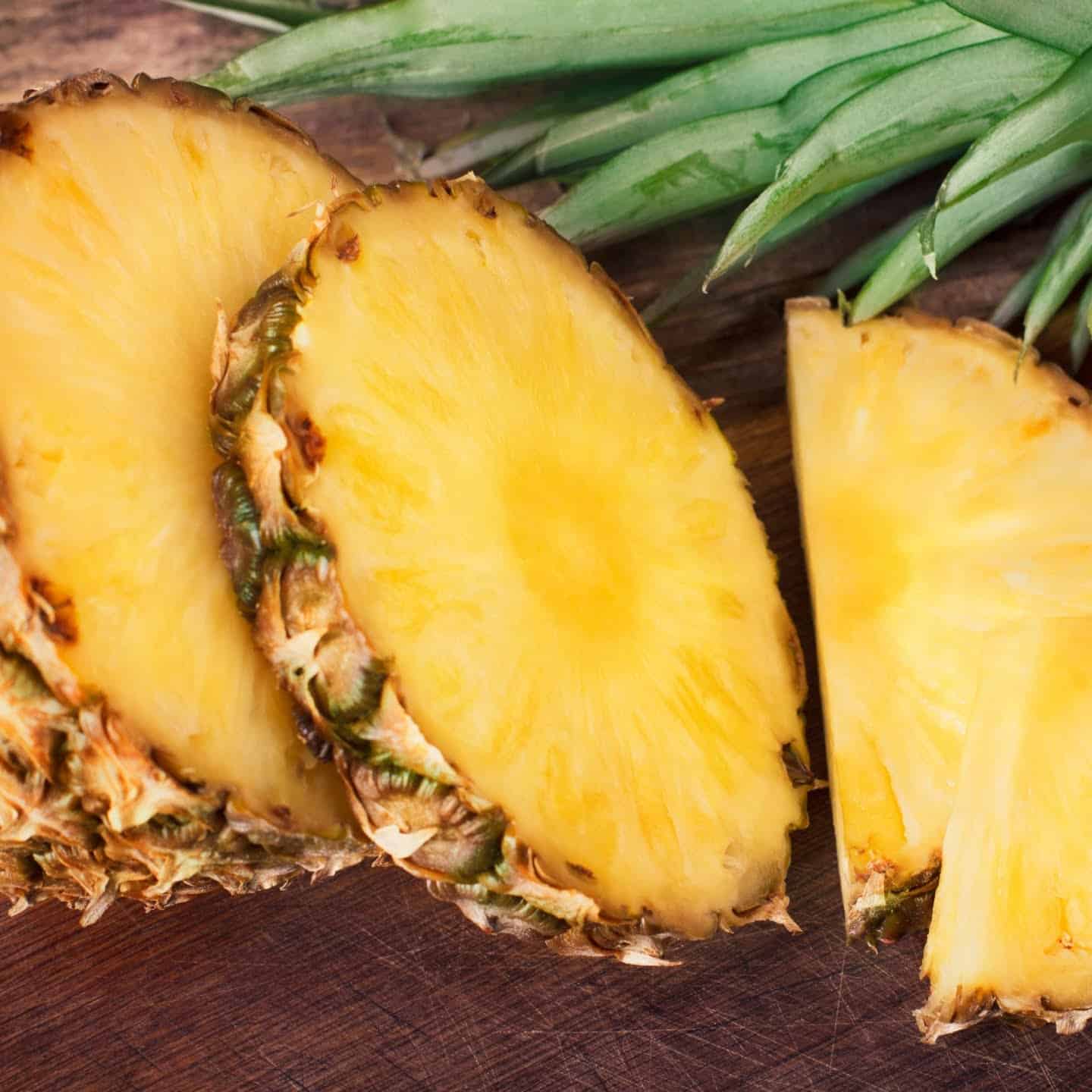 Contents
Pineapple is a wonderful, versatile fruit that can be eaten fresh, grilled, juiced, and in various other delicious ways.
This fruit's rough, spiky-from-top-to-bottom exterior conceals a tasty, juicy, plump interior. If you pick a fully ripe one, it's a golden yellow sweet fruit that will taste, smell, and feel like happiness bursting inside your mouth. Nothing beats the delicious, tropical flavors of a perfectly ripened pineapple.
However, pineapples that aren't fully ripe have a harsh, sour flavor, while they can have a mushy texture and a slightly acidic aftertaste if overripe. 
It is important to identify when this fruit tastes its best so that you can get the maximum pleasure while consuming it.
Check the Color of the Pineapple
The 'shell' of the pineapple (the exterior) should acquire a light or moderate golden yellow tint. On the other hand, a greenish skin does not always indicate that the pineapple is unripe; some pineapples are ripe while remaining a somewhat greenish color.
The shell should not be totally dark green or brown (unripe), nor should it be completely dark yellow or orange (overripe). Since the color will ascend from the bottom to the top, the fruit's base should be yellow. In addition, the leaves should be firm, fresh, and green.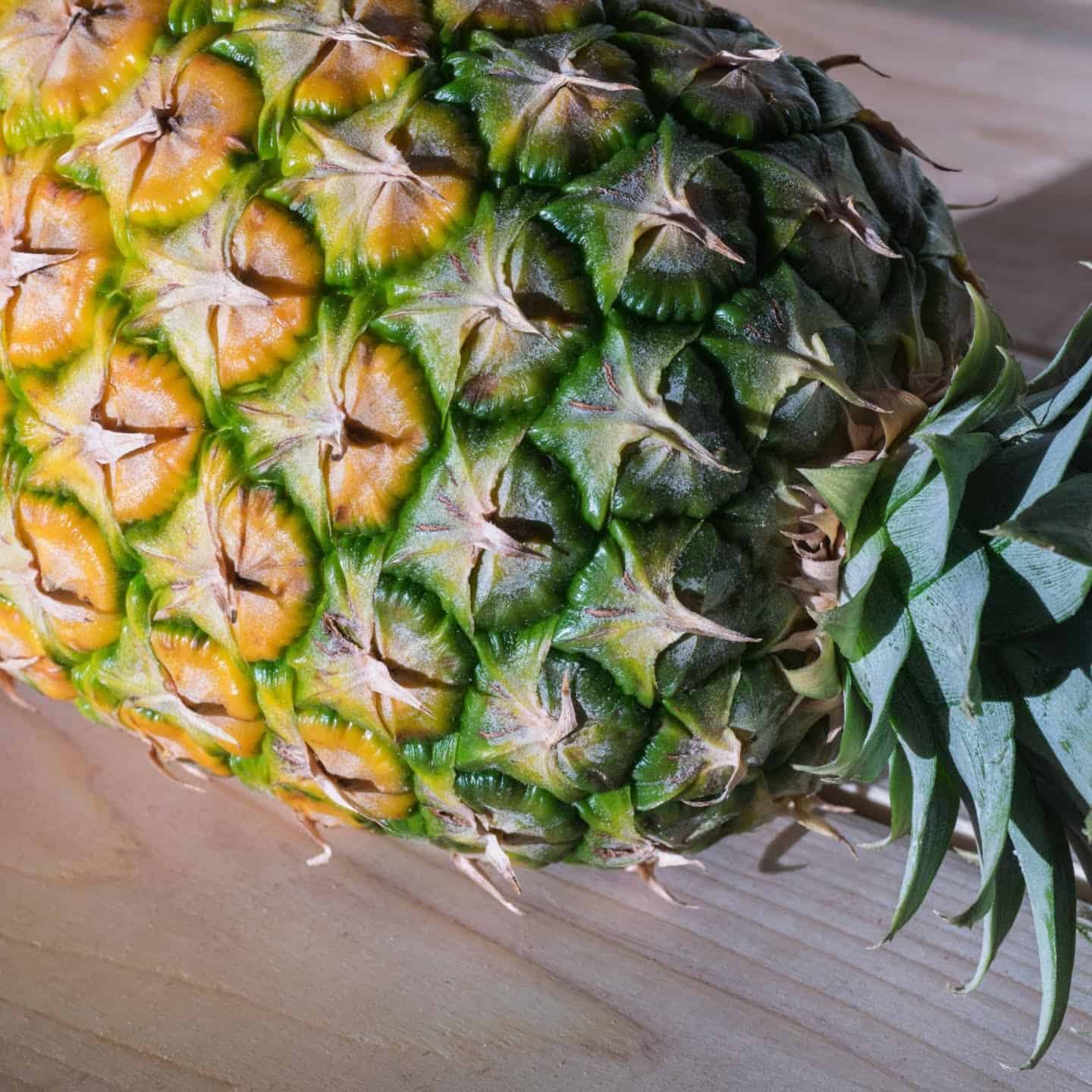 If you are not entirely convinced simply by checking out the color of the shell, take a look at the pineapple's base: the hue should offer you a rough indication of whether it has fully matured or not.
Check the Smell of the Pineapple
Picking up the fruit and sniffing the bottom would be another technique to check if it is fully ripe.
You can detect if the pineapple is fresh by smelling the foundation. Since chilled pineapples taken straight from the refrigerator do not have an instinctively noticeable fragrance, the fruit should be at room temperature before this assessment.
The pineapple's base should have a rich, fruity, fragrant aroma when perfectly ripe. It is likely underripe if there is no smell, and it may be overripe if it smells slightly alcoholic or vinegary: this will signal that the natural sugars have begun to ferment. The fruit is starting to decompose from the inside.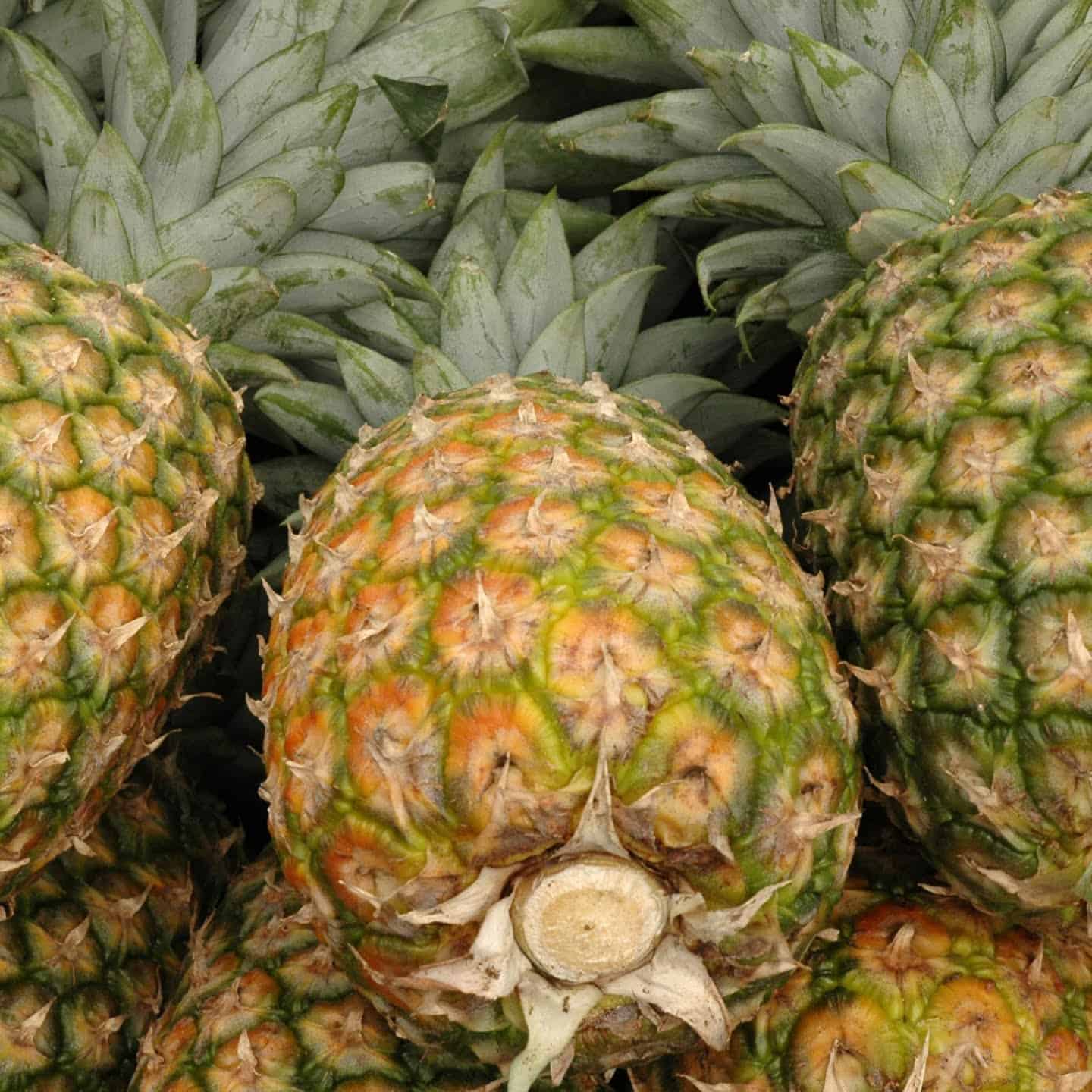 To check for maturity, you may also sniff the fruit from its sides, as the shell itself will have a scent all over, but the aroma is generally much sweeter towards the bottom. Therefore, you will be better off simply taking a whiff of the base of the pineapple.
Check the Texture of the Pineapple
Another way to tell if a pineapple is ripe is by holding it in both hands, feeling its weight. If it has fully matured, it should feel heavy for its size.
Compared to other pineapples of the same size, it should feel denser, as a heavier pineapple is more likely to be full and succulent.
It is also a good idea to squeeze the pineapple firmly, massaging it in your hands. When fully ripe, it should feel firm but will give a moderate touch. The fruit is likely overly ripe if it doesn't feel entirely rigid. 
It is undoubtedly underripe if it feels solid as stone: anything lesser is generally prepared to consume. It is generally easier to tell what you do not want the pineapple to feel like by handling it, getting a feel for the overall texture.
Check the Shape of the Pineapple
When determining the ripeness of a fruit, its general shape is also critical to assess.
The outer shell of the pineapple should have round edges and completely developed eyelets.
If fully ripe, the fruit's eyes should be geometric and have barbed cores, and should also be somewhat leveled out and have expanded outwards.
Check if the Fronds/Leaves Are Loose on the Pineapple
Lastly, the jagged green leaves on top of a pineapple, known as the fronds, may also be used to test for maturity.
You can assess if the fruit has ripened by delicately picking an inner frond from the pineapple's head. It is likely a fresh pineapple if the leaf can be pulled without much reluctance.
It is possible that the inner pineapple is decaying or has begun to rot if it can be plucked too effortlessly and feels too weak. The fruit is almost definitely rotten if it has dark red or brown wrinkly skin, fissures, mold, or wilting brown leaves. 
On the other hand, if the leaves are almost impossible to pull from the crown, likely, the pineapple is not entirely ripe yet.
Even though the fronds should be primarily green and vibrant, a few dried leaves will not cause too much damage. This method is a tried and tested way to determine whether a pineapple has become rotten and can be trusted.
How to Ripen a Pineapple That Isn't Perfectly Mature
So, if you have tried all the previous methods to check if your fruit is ready for consumption, only to discover that it is not fully ripe yet, there are a couple of things you could try to aid it along the way.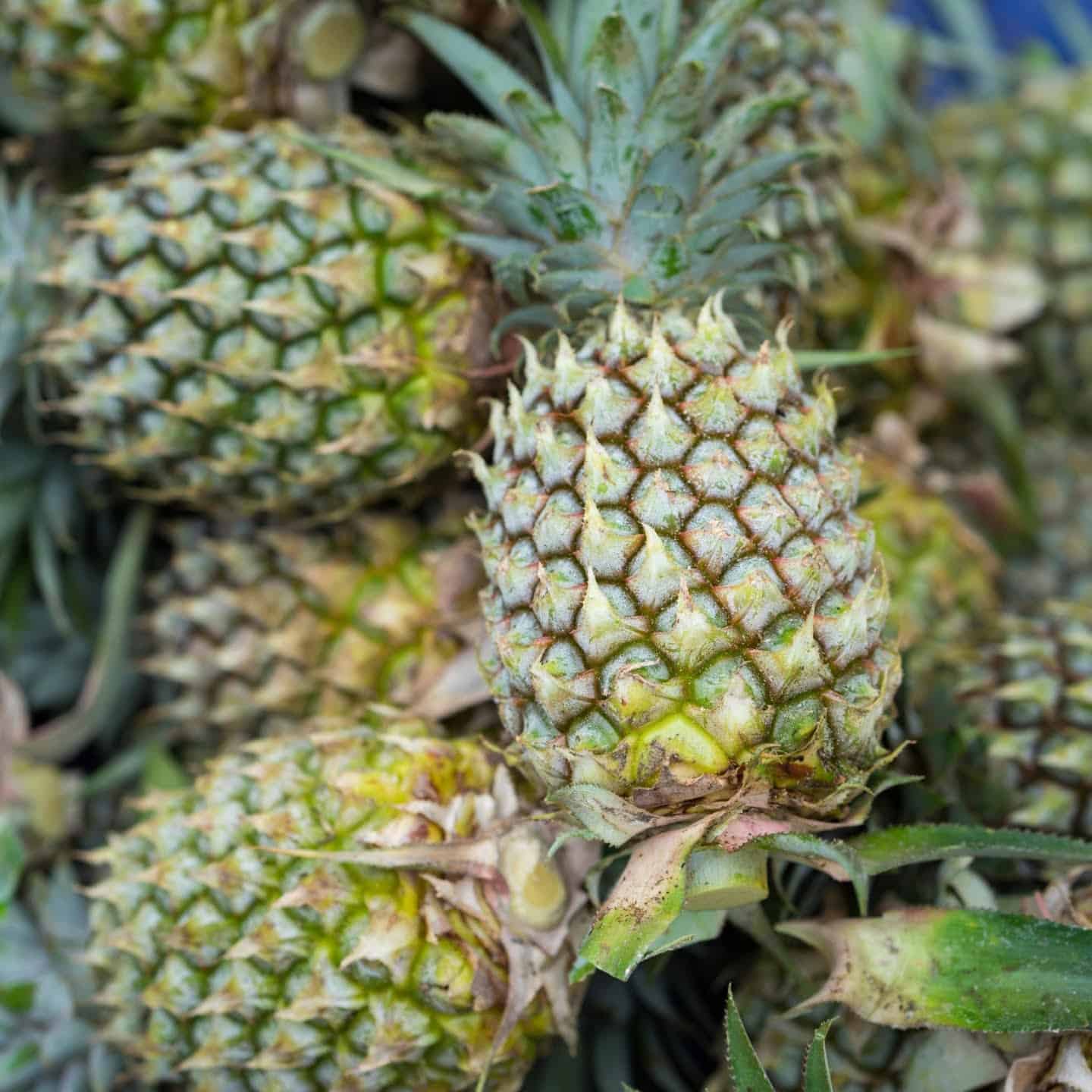 When pineapple is exposed to ethylene gas, it will ripen pretty quickly (compared to waiting for it to ripen naturally). Pick out pineapple with vibrant green fronds and a sweet-smelling yellow shell, then place it in a paper bag. 
Close the bag by folding the opening over, and keep it at room temperature for the whole day. It should be ripe enough to consume and enjoy when it has been opened after this time.
Allowing pineapple to sit at room temperature for a day or two without cutting it will also soften it and keep it healthy for a few days extra.
Another method is to store the pineapple upside down for a little while. Since starch is found at the bottom of the fruit, it may be turned into sugar if it is kept upside down.
You can also keep the fruit refrigerated to extend its shelf life if it has been uncut. In the refrigerator, an entire pineapple should last around two weeks. 
Chopped pineapple really shouldn't be left out at room temperature. Refrigerate it right away instead: sliced pineapple can be stored in the refrigerator chilled for up to a week, or it can be cut into chunks and frozen.
However, while pineapple can be frozen, it will experience a loss of its flavor. When thawed, the overall flavor and texture will be different. To preserve the flavor of the pineapple, try chopping it into larger portions.
Related Kitchen How tos
Do you love ingredients, delicious recipes and learning? Check out these fantastic kitchen how tos and always keep learning something new.
Final Thoughts
The five best ways to discover if a pineapple is ripe enough to consume is by checking the color, the smell, the texture, the shape, and the leaves: if the fruit passes all these tests, it should be good to go!