I am not really an early adopter for much of anything. I prefer to wait and let other people test and tinker before determining if something is worth my time. But a couple of weeks ago when bloggers began talking about a WordPress plugin/service called CoSchedule that helps you schedule social shares, I installed it, activated my free trial and tried it.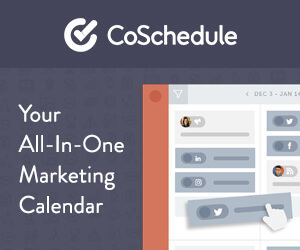 About CoSchedule: CoSchedule is a social media editorial calendar for WordPress.org blogs. It gives you the ability to schedule blog posts and social media shares with a drag and drop interface in a visual calendar. CoSchedule is a lightweight WordPress plugin so it won't slow down your blog and it also integrates team assignments and a task panels in an effort to be an all-in-one publishing solution.
Initially I wasn't impressed.
It honestly seemed to take just as much time to schedule the shares as it would be to just go into my blog each day and randomly share posts.
So I uninstalled it.
But bloggers kept raving about it, so I decided to try it again.
Yet again, this time already skeptical because of my first attempt, I couldn't find the value vs time saved and so I uninstalled it.
And then while doing some work for another blogger, I took a look at her CoSchedule calendar and all of a sudden I was engulfed in clarity. All of sudden I realized what I had been missing all along.
I realized that with just a couple of hours worth of time I could schedule out months worth of social shares to help promote my already existing content. Quality content that has gotten buried on my blog but deserves to be brought back! I also realized that for every new post I write, I can schedule an infinite number of social shares which is very helpful if I am participating in a PR campaign that requires social sharing as a part of my commitment.
How to Revitalize Old Blog Content with CoSchedule
CoSchedule allows you to schedule social sharing in a couple of different ways.
You can schedule social messages from the editor screen as you compose a new post.
You can schedule as many messages as you would like, as far into the future as you would like. You can select from CoSchedule's built-in options or select a custom date and time. With a single click, CoSchedule populates the message field with the post title and URL, all you need to do is select which social networks and edit the message to your liking. Within just a few minutes, as the post content is fresh in your mind, you can schedule months worth of sharing to help keep your valuable content being pushed out to new audiences.
If you have seasonal content, this is a great way to schedule future sharing for years down the road during the appropriate season. Imagine next Halloween how much time you will save not having to manually re-share all of your old seasonal content!
You can schedule social messages from the calendar view to promote existing posts.
This is where I schedule old posts into my calendar. You can schedule by using the pen icon on the upper right of your calendar and select the date and time you want the post to appear from there, or you can go to a date in the calendar and select a pen icon and then all you need to do is select the time of day you want to post to appear on your selected day. I have been scheduling older content to appear once a month and schedule around 3-4 months in advance with 3 post going out per day. So for 1-2 hours depending upon how quickly you can type your messages, you can fully schedule a couple of months worth of social sharing.
You can also schedule your previously published seasonal posts this way and get setup for a couple of years worth of sharing with just a few minutes of work for each post.
Social Networks Supported by CoSchedule
CoSchedule currently supports social sharing by Facebook, Twitter, LinkedIn and Google+. Facebook, LinkedIn & Twitter sharing is seamless and simple, Google+ is more complicated. Google+ requires a BufferApp account for sharing to your Google+ page (not your profile) and unless you have a paid account through Buffer, they limit the number of shares you can schedule at any given time. So I don't bother to use it. Pinterest was supported but CoSchedule was having trouble with the Pinterest API not always allowing the scheduled posts to publish so they have withdrawn Pinterest until they can find a more reliable scheduling method.
Suggested Improvements for CoSchedule
While I now find CoSchedule invaluable for promoting my blog content, there are a few things I would love to see changed or added.
Duplicate: First would be the ability to click on a past social share and "duplicate" it as a new share (fully editable in case you want to edit the message). There have been a few times where I realized I didn't schedule enough shares of an article, and had to click through a past share to grab the URL to create a new share. A "duplicate" button would save time.
Bookmarklet: Second would be the addition of a browser bookmarklet so that I can schedule sharing of other posts from across the web within my CoSchedule. I often want to share friends posts with my followers but don't necessarily want to share them all at the same time, and being able to schedule from my browser without opening up my dashboard would be quite useful.
Integrated public sharing buttons: Imagine going to another blog and included with their in-post social sharing buttons was a button to "add to CoSchedule". This would help the blogger encourage other people to schedule sharing of their posts and help in a similar way as the bookmarklet but allow it right from the blog post.
How to Get CoSchedule – Sign Up for a FREE 14-Day Trial
To get CoSchedule, you simply need to signup for a FREE trial account at CoSchedule.com. Then in your WordPress dashboard, installed the CoSchedule plugin, activate it, sign-in to your trial account and begin scheduling! The best way to get familiar with the interface is to just try it!
After your trial (which they will extend for another 7 days if you need more time to evaluate it), CoSchedule costs $10/mo or you can pay for a year up front and save $20.
Get a discount on CoSchedule
Another thing to love about CoSchedule is that it was designed for bloggers but they also understand the value of having bloggers help promote CoSchedule for them. By writing a blog review you will save 50% off your CoSchedule account for 1 year. Plus, CoSchedule also has an affiliate program and for everyone who signs up for CoSchedule with your affiliate link you will also save an additional 10%.
What are you waiting for?
Your old posts aren't going to magically share themselves, and even viral posts have a tendency to stop after a few days or weeks of activity. With CoSchedule you can schedule the marketing of old posts automatically and easily on the schedule you choose.
Note: this post contains affiliate links. I will also receive 50% off my
CoSchedule
fee for 1 year for writing this review.