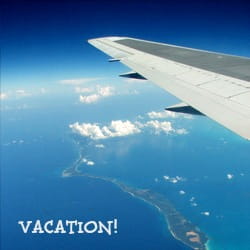 This article addresses the stress involved in traveling on vacation as it relates to identity theft and was inspired by Lifelock.
It wasn't until recently that I really can say that I travel a lot. And by "a lot" I mean a couple of times a year, which is a lot from someone who really never went anywhere before. Part of the reason it feels like I do travel quite a bit is that I am really a homebody. I like my routine, my schedule, and not having to worry about the stress related to leaving home.
One of the big stresses related to travel is the fear of protecting myself while on the road.
Next month I am traveling by plane to Florida. A trip I have actually made a few times in the past couple of years. I get so stressed out when I travel. My biggest fear is losing something that could cause someone to steal my identity.
My luggage.
My wallet.
My phone.
My computer.
All of those things could potentially present an opportunity for identity thieves.
And that is just me traveling alone. Imagine the stress of taking a family vacation and having to protect all the members of your family from the possibility of identity theft. Summer vacations should be fun, relaxing and a way to create life-long memories. Tragedy can surely create a memory that lasts forever, but who wants the statement from a stolen credit card in their vacation photo album?
I sure don't.
When I travel, I do a few things that help me prepare and be proactive. I can't prevent lost luggage if I check a bag, and I can't prevent physical theft necessarily in all situations, but I can do everything in my power to protect what I have and should thieves get a hold of my valuables, make it extremely difficult for them use my stuff to steal my identity.
My travel tips:
I don't put anything important in my suitcase. It all goes into a backpack I carry on the plane with me and never lose sight of  (or even let go of) while traveling.
I do not carry my wallet while traveling. I pull out my ID and a credit card and that's it.
I put my ID and credit card into a slim travel pouch that I carry around my neck close to my body.
I only carry a small amount of cash, enough for tips and small snacks.
I do not carry my check book with me.
I do not carry my Social Security Card with me.
I carry a copy of my travel documents in my travel pouch and a copy in my backpack just in case.
I avoid ATM machines at all cost.
If I leave my hotel room I put everything of value that I do not need in the room safe with a combination only I know.
I have a password on my phone and because it is an iPhone I have an app on it that can help me locate it via GPS if lost or stolen.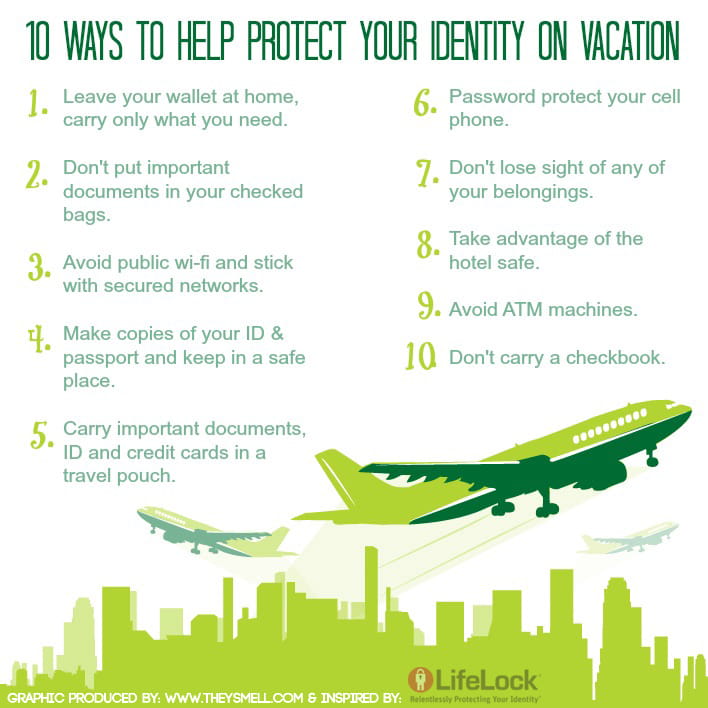 Some additional tips:
Don't put your full contact information on your luggage tags, limit info to name and phone number. An honest person will call you first anyway, putting your address on there informs thieves that you are not home and gives them more information with which to use to steal your identity.
Don't make it public that you are on vacation if it means your house was left empty. Your home is full of information thieves need and letting them know it is unattended is like leaving the front door open.
Protect airplane boarding passes, even when the flight is over. It contains personal information. Take it home and shred it.
Make two copies of your driver's license and passport (if applicable). Keep one copy with you and leave the other one with a trusted family member in case your originals go missing.
Travel doesn't have to be stressful, nor does it have to end in identity theft. There are things you can do to protect yourself with a little planning and some attention to detail. Your family should enjoy their vacation, not spend it worrying about the potential for something bad to happen.
For more tips and information visit: Lifelock Travel Tips.
Join our newsletter!
Subscribe to get updates and great stuff via email including subscriber-only goodies like free printables and giveaways.