This post was sponsored by Barnie's Coffee as part of an Influencer Activation for Influence Central and all opinions expressed in my post are my own.
It's that time of year again. You walk through the mall and notice that your favorite coffee shop already has their holiday flavors available and it's not even Thanksgiving yet. And even though drinking coffee at home costs roughly 1/10 of the price of one of these festive drinks, you buy one and promise yourself that you will indulge just this once. And so the next time you are shopping, you stare longingly at the coffee kiosk and feel sad and deprived.
But you don't have to feel sad and deprived anymore, because I have the solution to your holiday coffee deprivation doldrums – Santa's White Christmas® Coffee from Barnie's Coffee.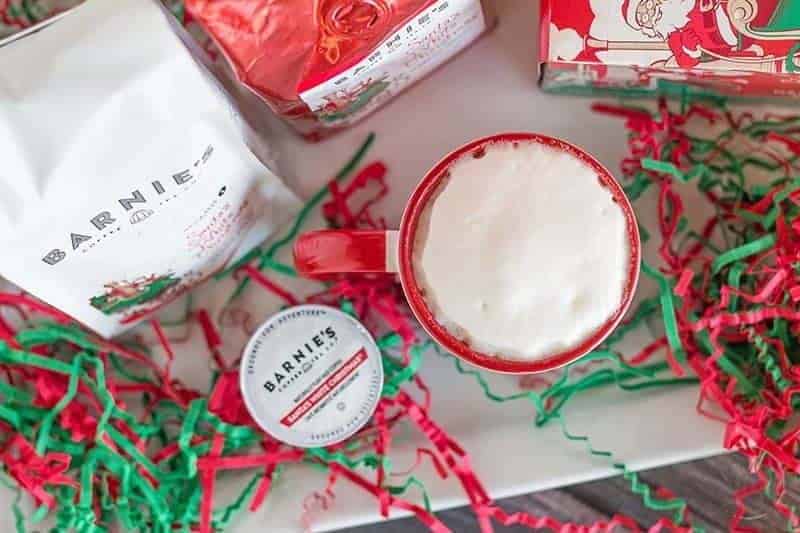 MY LATEST VIDEOS
Before I talk to you about Barnie's Coffee, let me tell you a few tips for making a latte at home. It really is quite easy and while you don't necessarily need any special tools, a hand-held milk frother does a great job with the foam.
How to make a quick and easy latte at home
What you need:
A small pot
A milk frother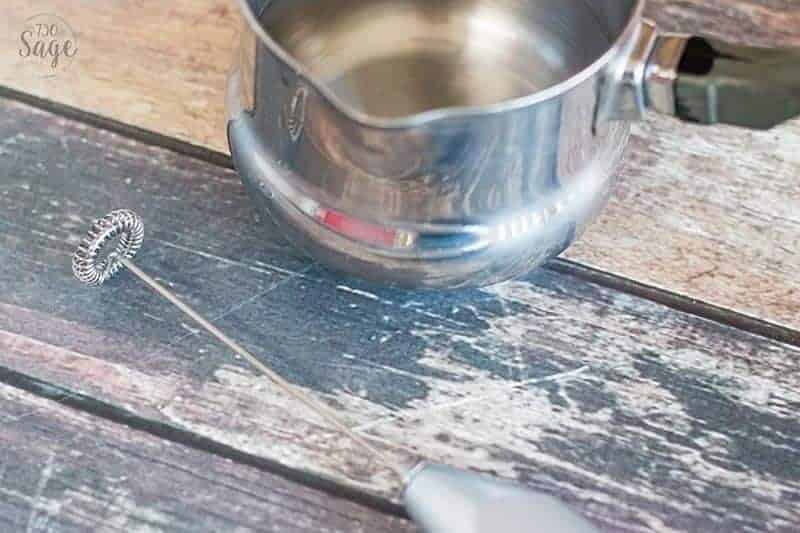 You can use a drip pot or a single serve coffee machine, you will want to brew your coffee stronger than normal so use extra grounds or the bold setting on your single serve machine. While coffee is brewing, pour 3 tbsp of half and half (for about 8 oz of coffee) into the small pot and heat on low until warm and bubbling but not boiling. You don't want film to form on top but you do want it as hot as possible. Using your milk frother, foam the cream until fluffy and somewhat stiff. Pour coffee into a mug, and pour the steamed milk on top.
Voila.
Easy latte right at home.
But, now you ask, how do I make it a holiday latte with delicious seasonal flavors?
That's where Barnie's Coffee comes in.
Barnie's Coffee Santa's White Christmas blend
Barnie's Coffee has been roasting coffee for over 35 years with one goal in mind – to provide great tasting coffee for everyone. Barnie's knows that people are passionate about delicious coffee, and they strive to provide you with the perfect cup at a reasonable price. They use high quality beans and unique flavor combinations to help make every cup an adventure.
Santa's White Christmas coffee debuted in 1995 and has become a year-round best-seller having an almost cult-like following of people who just can't get enough of it. It is flavored with coconut, caramel, and roasted nuts for the perfect holiday blend any time of year.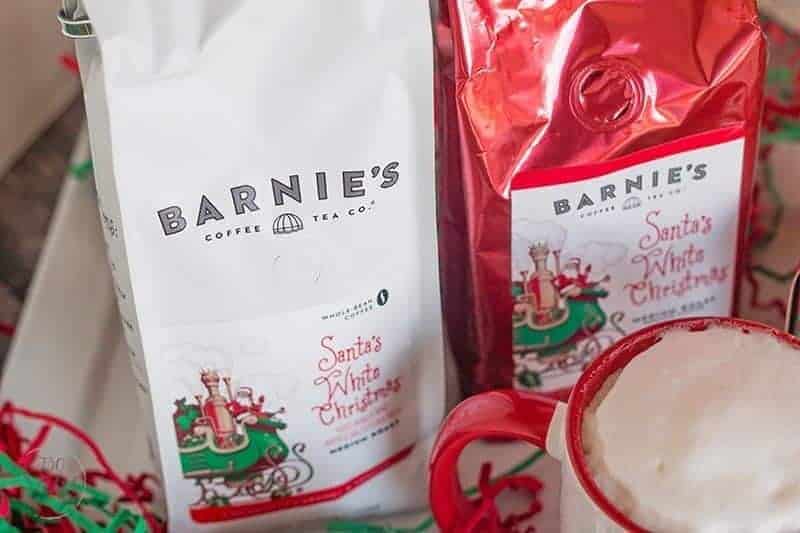 You can get Santa's White Christmas in whole bean, ground or single serve cups.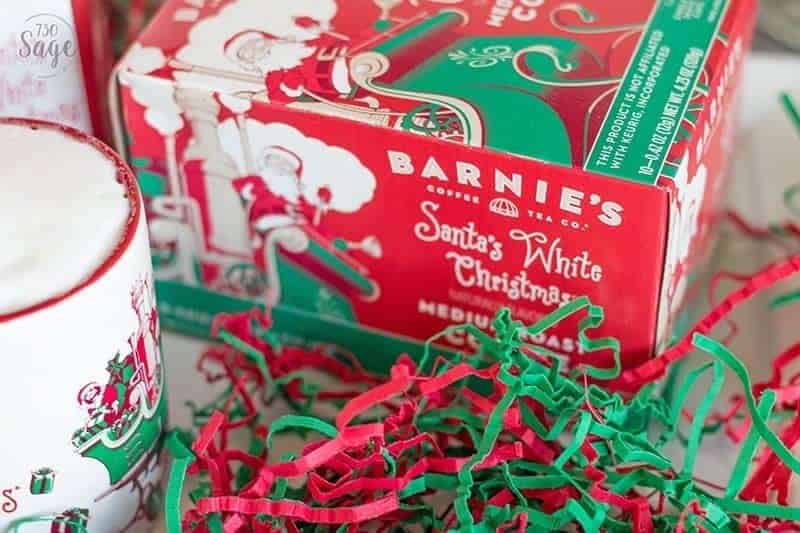 This coffee was delicious. I had a cup as an afternoon pick-me-up after a sleepless night and a super busy morning. It had just the right amount of creative holiday flavors, you won't even miss that store-bought latte! Of course, it's delicious enjoyed as a regular cup of coffee too if you don't want to make a latte or aren't a fan (you might be weird, though) of them.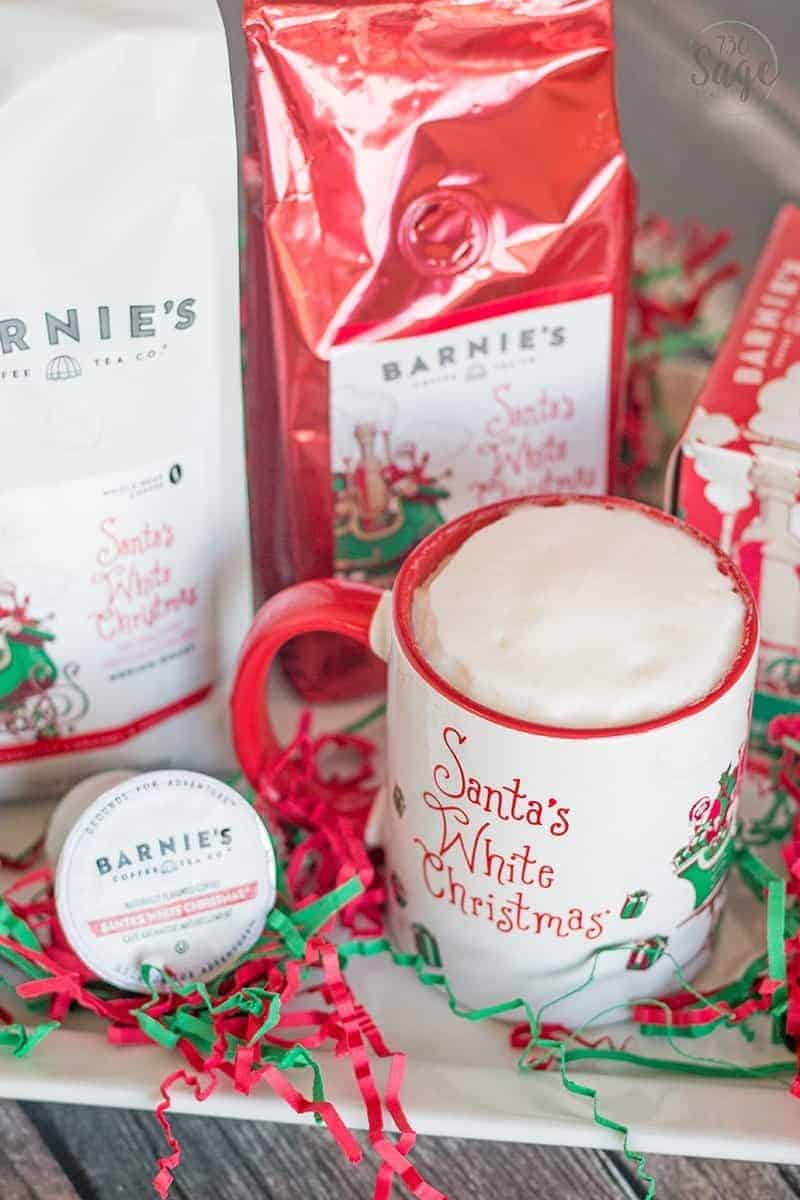 Santa's White Christmas coffee makes a great gift too, it's available online and in store.
Enjoy 30% your order
So, you probably want to try this yummy goodness now, right? Well, I have a surprise for you – 30% off your online order! That's a great savings and a great opportunity to try all of Barnie's Coffee delicious blends.
Use code 730SAGESTREET30 for 30% off your order.
After your purchase, Barnie's wants you to show off your favorite Barnie's coffee on your social media channels using the hashtag #ShowUsYourSanta.
For more information and to stay up to date with Barnie's coffee, make sure you check out their website and social media channels.