You don't have to part with your cherished memories! Learn how to declutter your home with a self storage unit from StorageMart.
This post is part of a sponsored campaign with StorageMart.
Do you have stuff?
I have stuff. And I'm pretty sure that my stuff has stuff.
But not hoarder type stuff like pizza boxes, old packages or empty containers. Meaningful stuff. Sentimental stuff. Seasonal stuff like clothing and decor. And consumable stuff like toilet paper that I buy in bulk to save money. Because you can never have too much toilet paper.
But still, it's stuff. And it takes up space even when I am not using it.
And combine my penchant for stuff with a hatred for clutter, and you have a recipe for a whole new level of obsessive-compulsive behavior.
My cabinets are organized. Everything has a place. My closets are filled with clear plastic containers with all of the stuff in complete order. Yet despite my organization, it's still too much stuff. organized chaos is still chaos, and it's not fun to live surrounded by it.
But I'm just not ready to part with my things. Tiny clothes from when my kids were babies. My wedding dress. Bins of photos from generations so far back, no one even knows who some of the people are. Thankfully, I don't have to make a choice between living comfortably or keeping my cherished memories. It turns out, there is a simple solution to the problem.
Self Storage.
How To Declutter Your Home with Self Storage and StorageMart
If you are looking to declutter, but not willing to part with your stuff, then self storage is a great solution. But not all self storage is created equal, and you need a plan in place to make it work it for you.
Make a Plan
The first thing you need to do when planning to declutter is to take a complete inventory of what you have and then decide what you would like to store away. Then you need to organize it based on when and how often you will need to access it.
As you inventory your clutter, you should end up with three categories of items.
Get rid of – these are items you really don't need so you will donate or discard them.
Keep but need to access regularly – these are items like seasonal clothing, outdoor items and decor that you rotate out a few times a year.
Keep but do not need to access frequently – these are items like sentimental things you are saving to pass down to your kids, collectibles you are hoping will increase in value or old photos that you haven't had time to put into albums.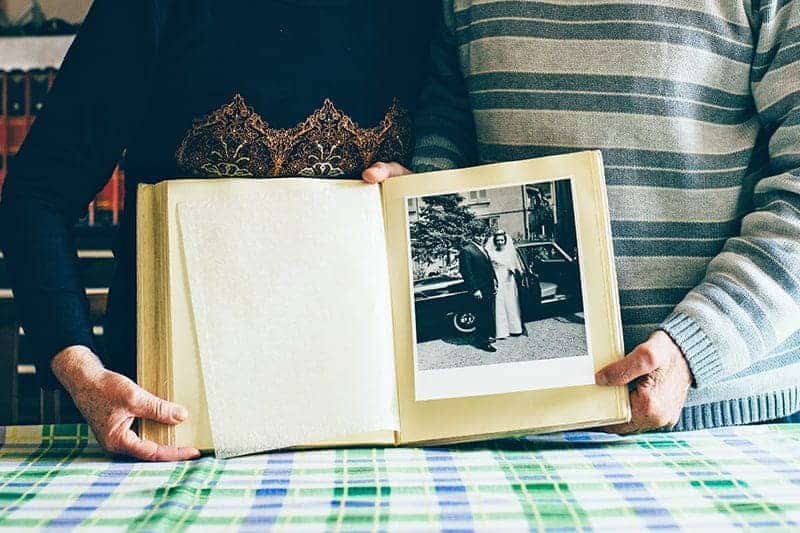 Next, you need storage containers. Plastic containers with tight lids are best, and if possible make them all the same to allow for easy stacking. You will also need a label maker or masking tape and a marker so you can clearly write on each container what is inside. i actually used sticky notes the last time I did it because I could actually write in detail what is in each box. I then used clear packing tape to tape the sticky note on the container for added protection.
Finally, you will need some graph paper and a crude sketch of your storage unit. Drawing up a plan that shows what you put where comes in super handy when you are looking for something specific. You don't have to be as nerdy as I am, but below is a sketch I did of the storage area under our stairs. In this case I did it right on the unfinished wall.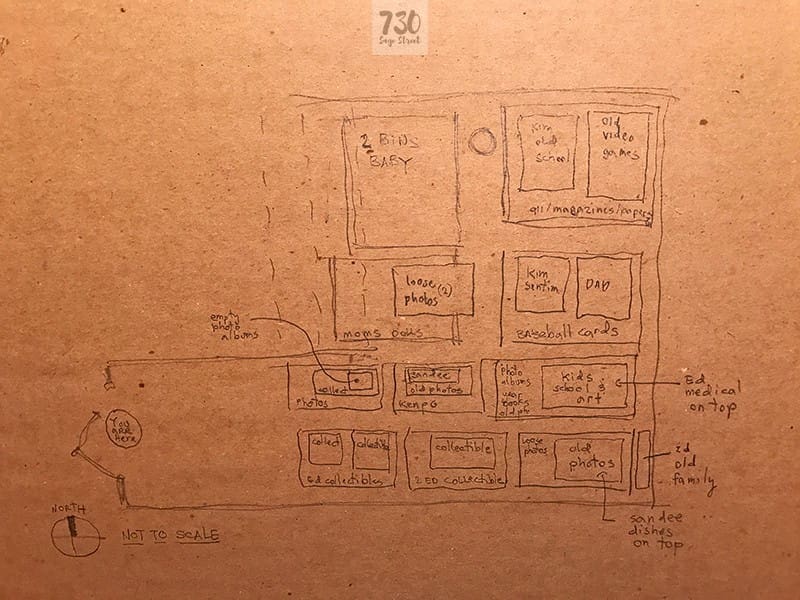 When planning how to store your stuff, you will want to place things that you don't access very often in the back or on the bottom. Things that you may access frequently, like seasonal clothing and decor, should be placed near the front.
Next you need to choose a self storage facility.
Choosing a Self Storage Company
There are a lot of things that you need to consider when choosing a self storage company. Especially if you are storing things that are valuable or sentimental.
Do you need climate control? Climate control is necessary if you have valuables that shouldn't get too hot or too cold.
Do you need a covered loading area? If you will be moving items to and from your storage unit in potentially round weather (snow in winter, rain in the spring), a covered loading area helps protect you and your stuff.
What kind of security do you need? Not only for valuables, but just in case you might need to access your unit after hours, you may want round-the-clock video surveillance, gates and key-pad entry.
How is the lighting? You need to be able to see what you are doing, especially if you visit your storage unit frequently to swap out seasonal items or go through your sentimental things.
Is it clean? You don't want to store the things that are important to you in a place that is dirty.
StorageMart has all of these important features, and more.
The Benefits of StorageMart
StorageMart is as close to storing your cherished stuff in your own home as you can get in a storage unit. Their facilities are warm and friendly and have the features that you didn't even know you needed. StorageMart understands that you are doing more that just storing stuff there. They know that your things are important to you and they strive to make their facilities an extension of your home.
Aside from being clean, bright and cheerful, StorageMart facilities offer the following benefits:
Climate Control
StorageMart has available climate controlled storage that is heated in the winter and cooled in the summer to maintain constant temperatures. Their climate controlled units also help keep your things cleaner and fresher by removing dust and foreign particles from the air.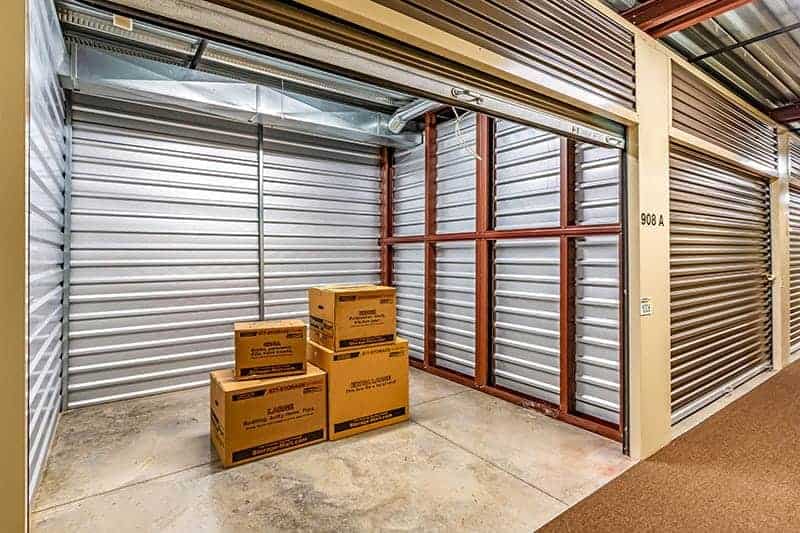 If you are storage things like family photos or sentimental heirlooms, climate control is critical.
Safety
You may not always need to access your storage unit during daylight hours when their is someone on staff at the facility. StorageMart facilities have 24 hour surveillance, bright lighting and security gates with keypads so that you feel safe no matter what hour of the day you decide you absolutely need to find that one precious photo of Aunt Glady when she fell asleep at the table on Thanksgiving.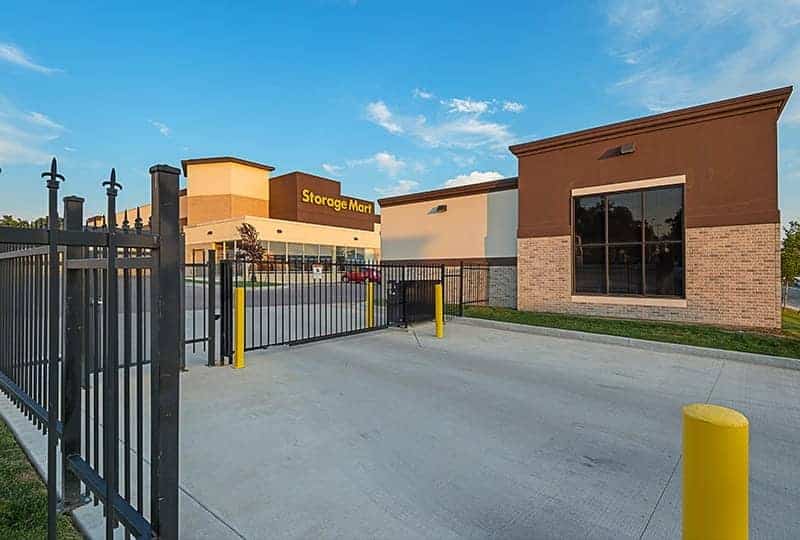 Covered Loading Areas
There is nothing worse that pulling up to your storage unit and trying to unload your stuff in the rain or snow. Here you are trying to protect your things and keep it clean, and it's getting all wet. StorageMart offers indoor loading, wide doorways and convenience items like handcarts and dollies to help make it easy to get your stuff put away.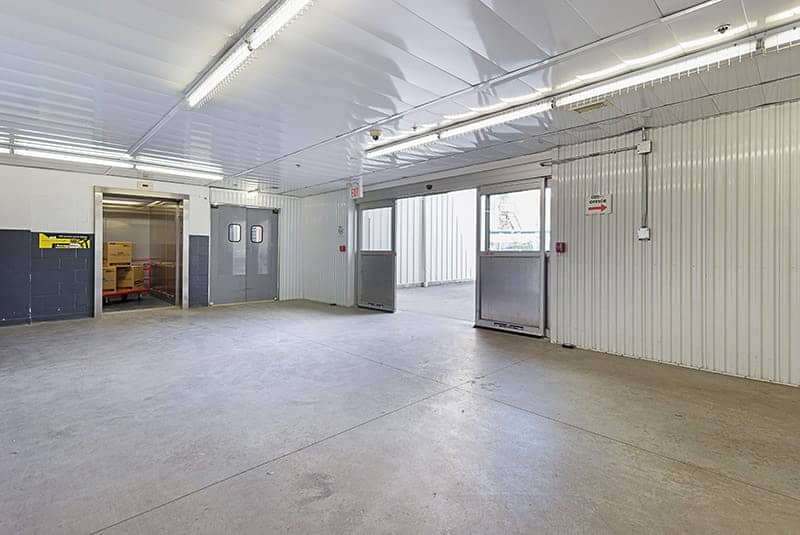 Easy
Renting a storage unit shouldn't be complicated. StorageMart makes it hassle-free and quick to rent a unit. They have a tool on their website to help you choose the right size, and you can rent a unit online making it completely stress-free.  StorageMart also has a Total Satisfaction Guarantee.
StorageMart also cares about your local community as well. They give back through their Store It Forward campaign that supports over 175 local non-profits like women's shelters, animal rescue programs and more.
StorageMart and Kathy Ireland
Recently, StorageMart CEO Cris Burnam was featured on Modern Living by Kathy Ireland. In the interview, Mr. Burnam talks about what sets StorageMart apart from the competition. You can watch the segment here: As Seen on Modern Living with Kathy Ireland.
StorageMart makes it easy for you to focus on what matters most – creating cherished memories with your family. You can enjoy the time you spend together in your beautiful clutter-free home knowing that your stuff is safe and sound in a StorageMart facility.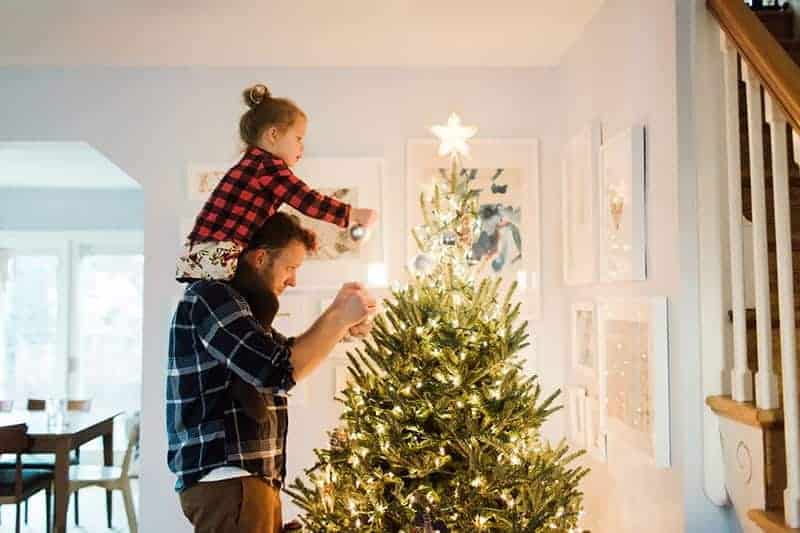 To find a storage unit near you visit: www.storage-mart.com