Do you improvise when it comes to chopping onions? You could be wasting onions, making your eyes water unnecessarily, and simply taking too much time on something that should take no longer than a minute or two!
If you want to chop onions like a pro chef, our step-by-step guide will teach you how to cut an onion in five simple steps.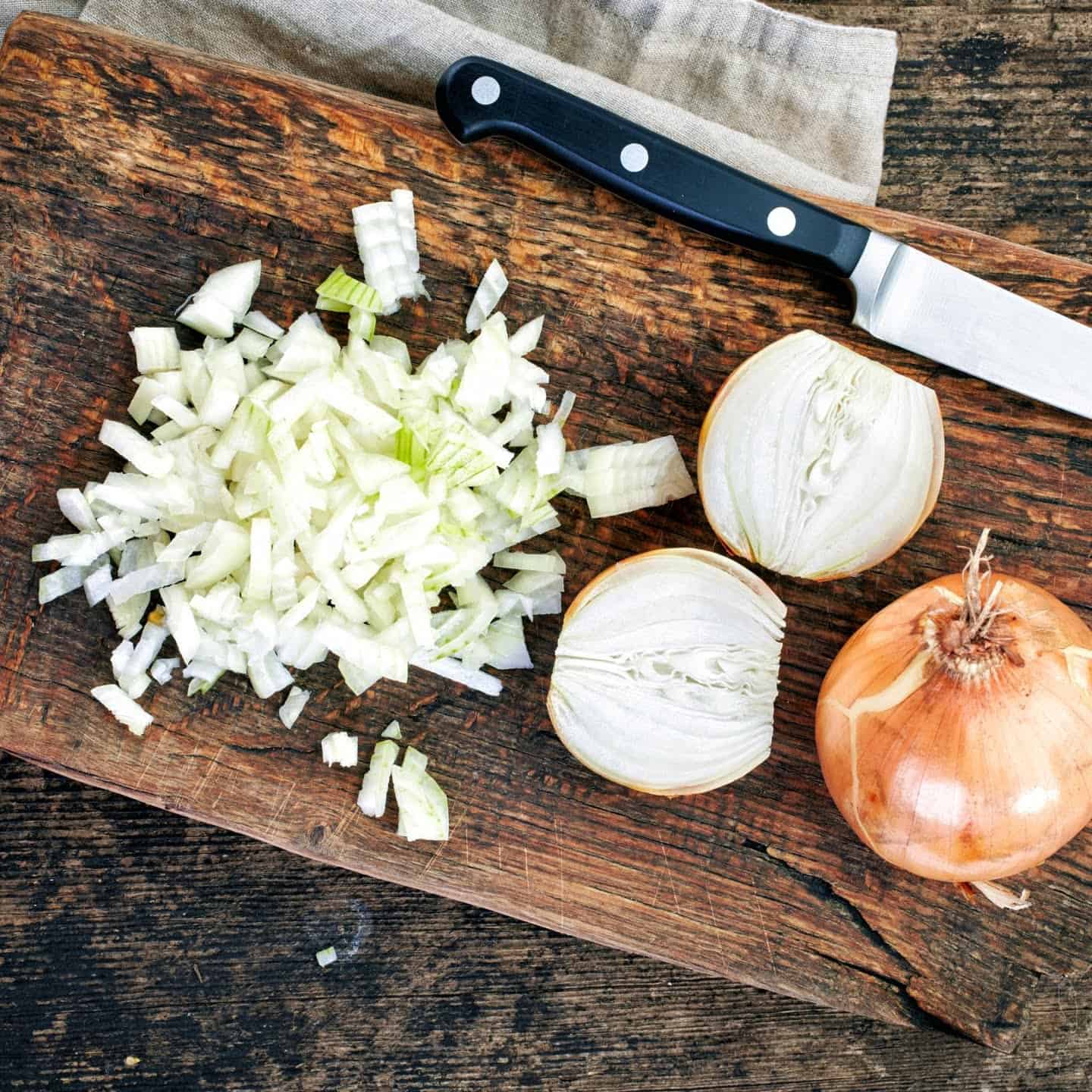 Contents
We'll also review how to tell if an onion has gone bad and how to chop an onion without crying.
By the end of this guide, you will be an expert at chopping onions!
So, without further ado…
How Can You Tell a Good Quality Onion?
First of all, before chopping, you want to make sure your onion is of good quality and not rotten. This will ensure you get as much chopped onion as possible from your chosen onion, including the most flavor.
You can tell that your onion is good to use by assessing the feel of the onion in your hand. In general, the onion (white or red) should be hard with papery dry skin. For the best way to store onions, you should keep them in a cool, dry place away from sunlight or heat.
How Do You Properly Cut an Onion? (5 Steps)
So, how do you properly cut an onion like a chef?
There is a very simple method to chopping an onion, yet most people tend to improvise it or continue to cut the onion the way they were first taught.
And if your eyes water each time you cut onions, you are definitely doing it the wrong way!
Of course, we can always learn to be more efficient.
Whether you want to save time in the kitchen or prevent your eyes from watering, here is the best way to chop an onion in just five easy steps.
1) Slice the Onion in Half
We want to remove the onion skin quickly, but we also do not want to remove the onion's inner layers that we can use in our cooking.
Before peeling and removing the skin from the onion, take a sharp, weighted chopping knife and slice the onion in half - right down the middle of the root.
That's right - you do not want to remove the onion's root. In fact, this is the part of the onion that will cause you to cry when removed!
At the end of this step, you should have two neatly cut halves of your onion with the intact outer skin.
2) Peel the Onion
With the onion cut in half, we can now clearly see the layers of skin that we need to remove.
Without having done the first step, we would still be clawing at the skin of the onion, most likely pulling off layers of edible onion at the same time!
Using your fingers, carefully peel the unwanted layer of skin to leave you with the smooth inner part of the onion.
If needed, repeat with the other half of the onion you cut earlier. If you do not need it, you can store it away in a sealed container and refrigerate it (for up to ten days) for future use.
3) Make Vertical Cuts in the Onion
Taking one half of the onion that you cut, make straight, vertical slices in the onion in the direction of the root, using a weighted knife.
You should cut as close to the root as possible, slicing down to your chopping board.
Use the knife's weight to guide your hand (apply pressure using your palm, not your fingers) while keeping the onion in a firm three-finger grip in your other hand.
For finely chopped onion, try to keep a few millimeters' gap between each cut.
4) Cut the Onion Horizontally
Keeping the onion in a firm three-finger grip, slice horizontally, three or four times, starting furthest away from the root, cutting all the way to the root.
You may need to spread your fingers to ensure the onion does not split open.
You can make three, four, or more horizontal cuts here, but ultimately, this step will prepare the onion for its final dicing in the last step.
5) Chop the Onion Finely
Now, for the final part!
The fifth and final step involves chopping the onion vertically again, except that we cut sideways (crisscrossing the cuts that we made in step 3).
Hold the onion firmly with your other hand while working towards the root.
Due to the way we sliced in the onion in steps 3 and 4, the onion should fall onto your chopping board in finely diced pieces.
Go as close to the root as possible, then throw the root section away.
You will now have finely chopped onion to scrape straight into the pan!
How Do You Cut Onions Without Crying?
Last, of all, how do you cut an onion without crying?
Other than wearing swimming goggles in the kitchen, there are other ways to cut an onion without your eyes watering.
However, if you want to wear swimming goggles, there is nothing wrong with that!
Our eyes water due to volatile chemical onions released into the air when cut, called syn-Propanethial-S-oxide. This chemical is a lachrymatory agent - working in the same way as to tear gas and pepper sprays - naturally causing the eyes to sting and water.
To avoid this from happening, try one, or several, of the following methods:
Avoid cutting out the onion root (do not remove it entirely before chopping).
Chill your onions in the fridge for at least 15 minutes before cutting them.
Use a fan (on low power) to intercept the chemical reaching your eyes.
Related Kitchen How-tos
Learning to cook can be challenging but also rewarding. I'm confident you'll find something valuable in my cooking how-tos and kitchen essentials.
Frequently Asked Questions
What does the phrase cutting onions mean?
Cutting onions is used to express watering of eyes, without the sensation of crying. Instead you may experience some burning and irritation as a result of cutting onions.
Why do you cry when you cut onions?
When you cut an onion, lachrymator is released. This compound causes the nerves around your eyes (lacrimal glands) to become irritated.
Conclusion
Chopping an onion does not have to take a long time, nor does it have to mean stinging, watery eyes every time you do it! In fact, cutting an onion is easy and can be done in just a minute or two using the five simple steps we have detailed above.
In addition, it's important to learn to recognize a healthy, firm onion that is ready to cut and how to chop an onion without crying. Not only is it a setback to have stinging eyes when you are trying to cook, but it can even affect the quality of the final dish.
Try one of my easy recipes for your next family meal! And if you have any questions, I'm here to help!