There are different ways of cutting a watermelon, depending on what you need it for - here, we talk you through a few so that you can enjoy your watermelon to the full. You will need a sharp knife that can cut through the tough rind, a chopping board, and plenty of clothes to mop up all the juice you will undoubtedly encounter when dealing with ripe watermelons.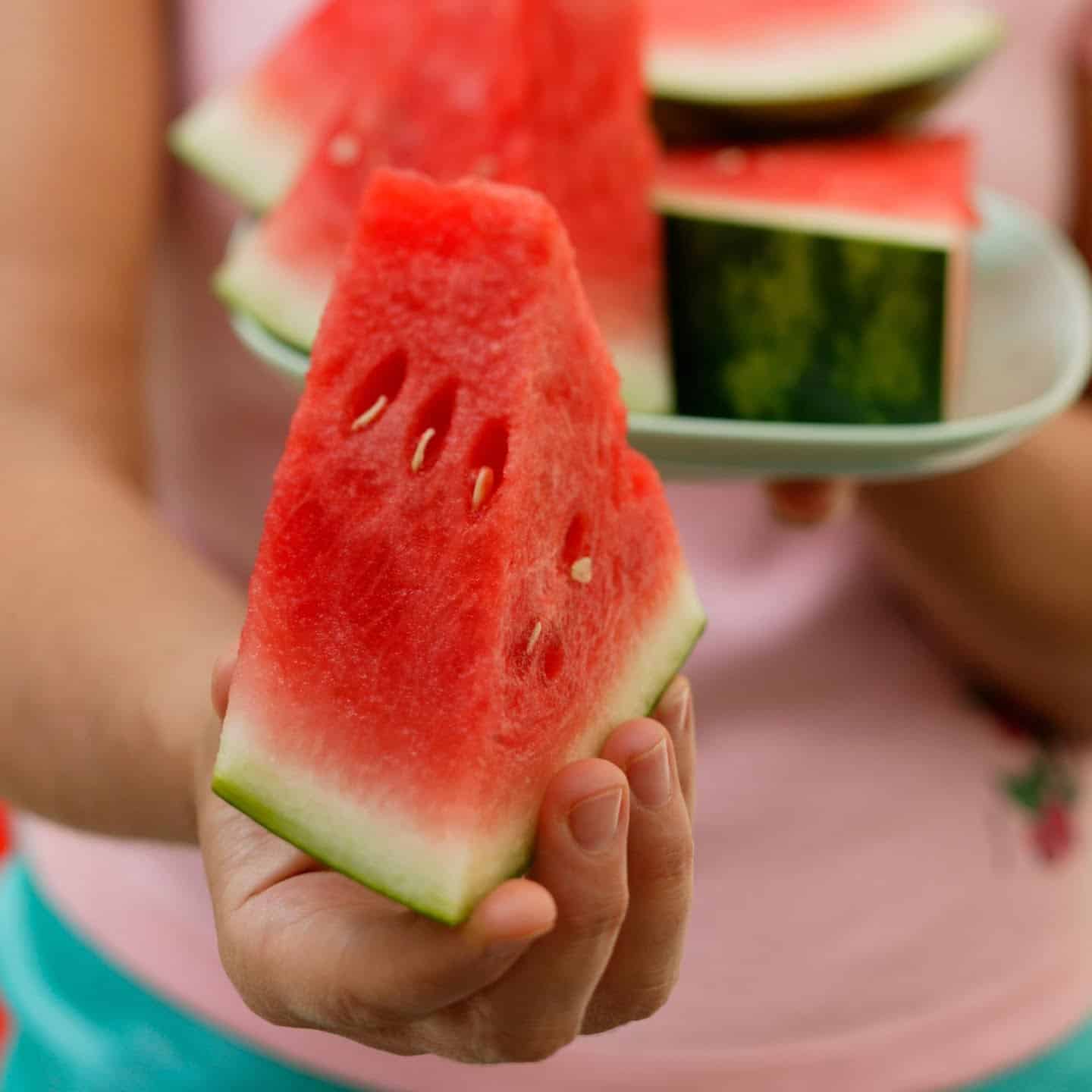 Contents
The watermelon is one of the most fun and refreshing fruits you can buy. 
A single watermelon contains up to 18 pounds of edible goodness so that you can gorge on the sweet flesh to your heart's content.
As the name suggests, a watermelon has very high water content, making it an excellent choice for quenching your thirst in those sweltering summer months, and it has a whole host of other health benefits too.
If you've never had watermelon before and are itching to try it, you may be wondering what to do with it once you bring it home from the grocery store. After all, trying to grapple with an object the size and weight of a bowling ball can be intimidating, as well as messy if you plunge straight in without the right preparation.
Watermelon Wedges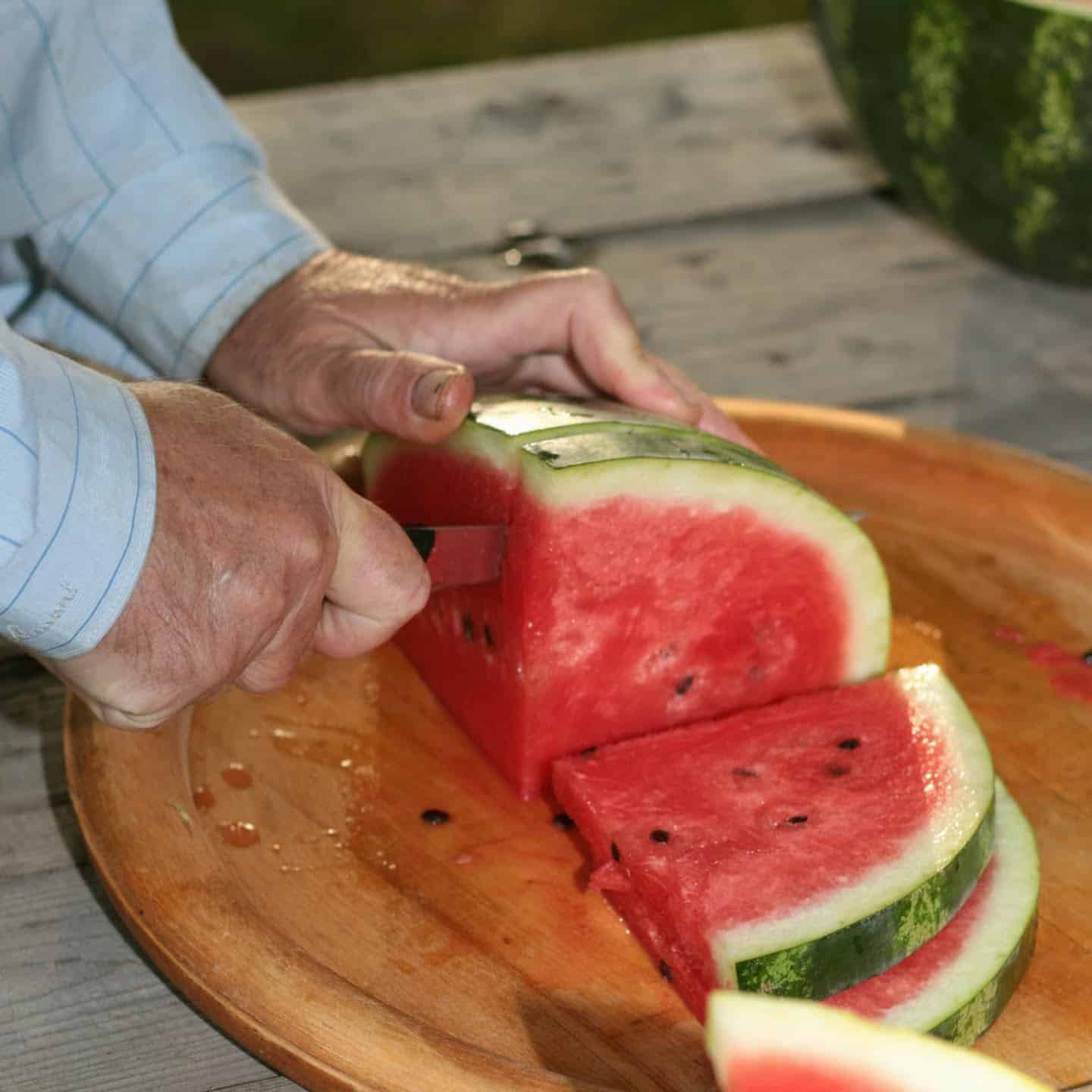 Cut your watermelon into fun-sized wedges to give an exotic beach feel. This is probably the easiest way to cut a watermelon and takes only a few minutes to achieve.
Slice off the top and the bottom of the watermelon near the edge, making a flat surface to work from.
Score an X shape across the whole top of the watermelon and cut through, so you end up with 4 even quarters.
Place each quarter so that the skin is on the chopping board and the flesh is facing upwards.
Starting at one end, cut down into the fruit to create wedges that are around ½ inch thick (you can make them thinner or thicker to suit your needs, but we recommend a ½ inch as it is ideal for most people to eat with ease.
Why Wedges?
They are great for parties or picnics because they are excellent finger food for people to grab whenever they want. The rind portion is helpful to hold to minimize contact with the flesh, so you don't end up with super sticky fingers!
There is barely any waste with wedges, as you can nibble your way through to the skin and hoover up all the tasty flesh.
They are a handy size for snacking on. Too much watermelon can make you feel bloated, so it is best to offer it in manageable pieces like this - people can always go back up for seconds!
If you need a quick platter that doesn't take a lot of preparation but still looks impressive, watermelon wedges are the way to go.
Watermelon Cubes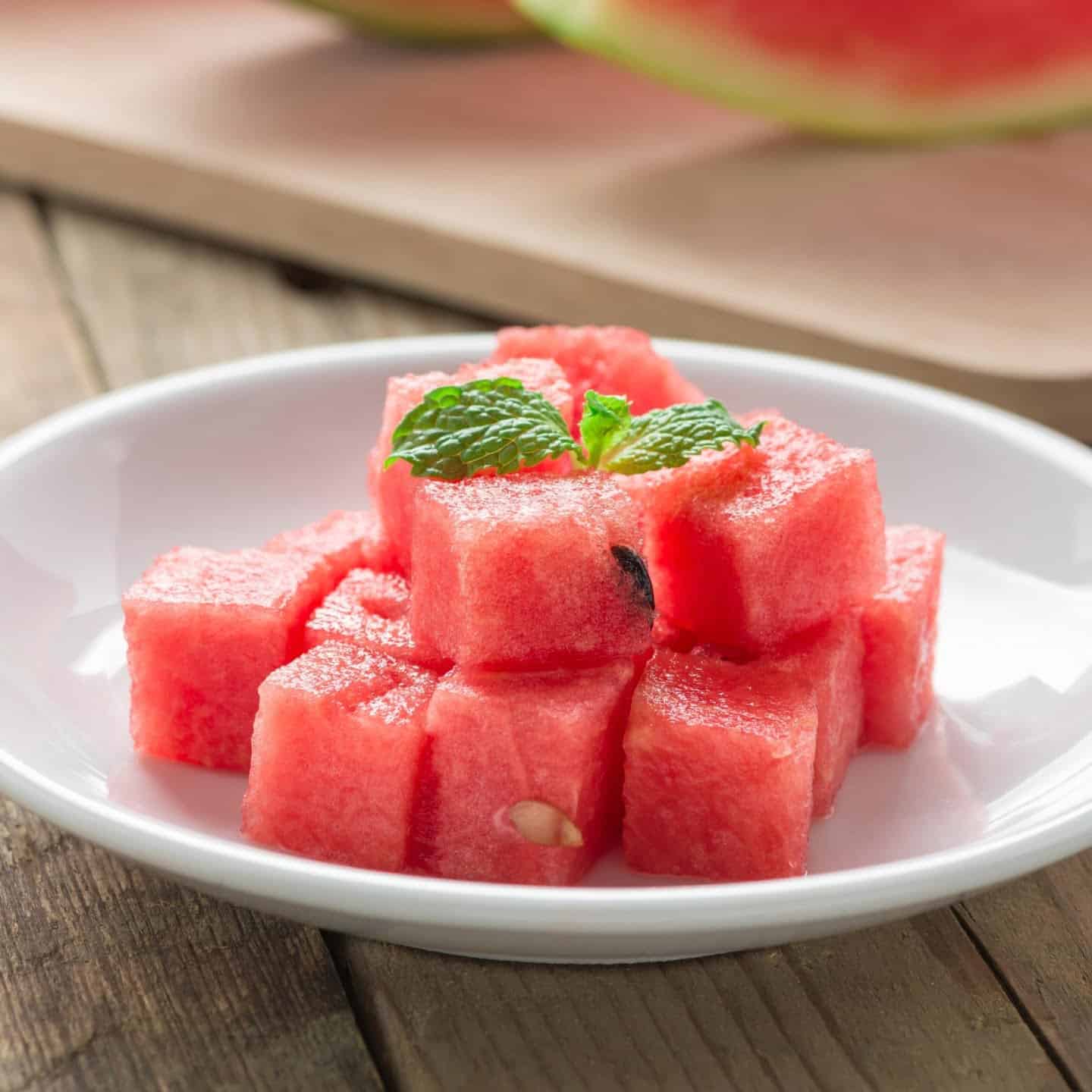 You will need your watermelon in smaller cubes with all the rind removed for some situations. Here's how:
Wash the watermelon to free it from any particles or bacteria that could transfer onto the flesh.
Remove the top and bottom slices so you can access the flesh inside.
Cut the watermelon in half horizontally across the middle, so each half still has rind all the way around.
Take one half and cut downwards at the edges where the flesh meets the rind, following the contour of the watermelon as closely as possible, so you don't remove useful flesh.
Continue until you have taken all the rind off that half, then repeat with the other watermelon half.
Now you have peeled the watermelon fully. You can cut it into chunks as big as you need them to be. It is easiest to use a grid method, where you chop the watermelon up into slices first, then cut each of these horizontally and vertically to achieve uniform pieces.
Why Cubes?
Watermelon cubes are excellent if you need to use your watermelon as an ingredient in a larger composition. This can be smoothies, cocktails, salads, or anything else that the cool flavor enhances.
They can also be eaten simply as a snack since they are bite-sized pieces you can pop in your mouth without leaving anything behind.
You can cut sticks of watermelon instead if your situation requires them.
If you're feeling adventurous, you can make fun watermelon shapes by using cookie cutters or a melon baller - why not experiment to see what works best?
Halloween Watermelon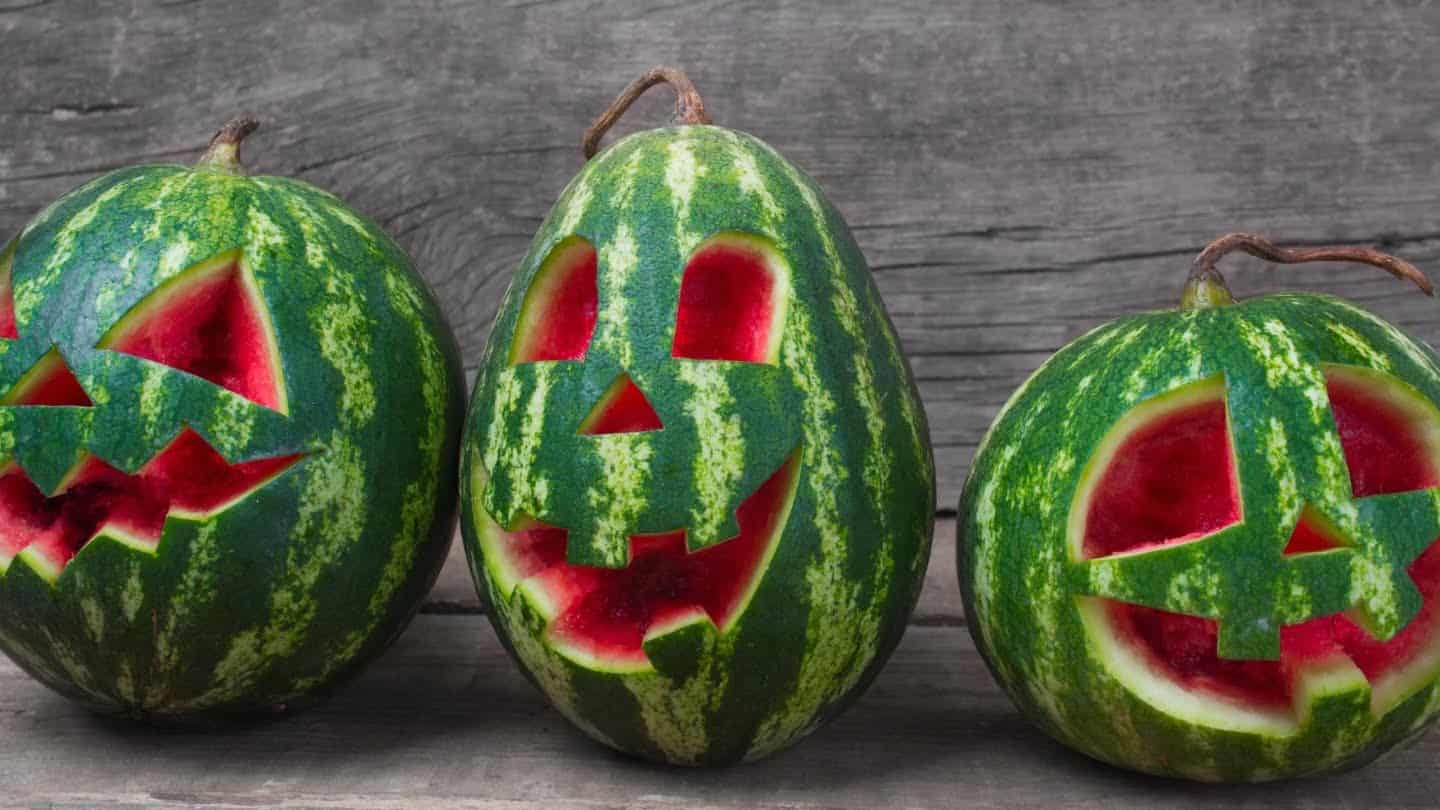 Did you know that watermelons work just as well as pumpkins for making funky Halloween decorations? The process is very similar and can make your creations stand out from the crowd at this time of the year.
Cut a large circle in the top of the watermelon so that you can access the pink fruit inside.
Scoop out the flesh with your knife, a spoon, or any other implement that may help.
Once you have hollowed the watermelon out, set aside the edible fruit to eat later.
Find the part of the outside that is best to work on (ideally flatter than the rest, but you'll need an area of skin that is at least smooth).
Cut two triangles for the eyes, one in the middle of them and slightly lower down for the nose.
For the mouth, cut two zigzag lines above the other, and connect them on either end—pop out the shape you have made.
Why Halloween Watermelon?
Watermelon is easier to work with than pumpkin because it is less stringy and requires less pulling. It is also a comparable size, so you don't have to stick to smaller squashes as an alternative.
The taste of watermelon is mild and appealing, so kids are more likely to eat the insides than they are with a pumpkin - carving a watermelon will encourage them to eat the fruit in a fun way.
You can hold watermelon carving parties at Halloween - it is a fun activity for both kids and adults to enjoy, and the flesh can be eaten in a variety of ways afterward, so you are using all parts of the fruit.
Watermelons are available in stores for longer than pumpkins, so you can also make fun watermelon faces outside of Halloween.
Related How-to Cook Articles
Check out these easy to follow kitchen essentials and learn something new.
Try one of my easy recipes for your next family meal! And if you have any questions, I'm here to help!