If there is one thing that all pomegranate lovers have in common, it's that we don't like cutting pomegranates. It's time-consuming. It's also tricky and messy.
Have you ever had pomegranate seeds explode everywhere, or pomegranate juice land on (and stain) your top or carpet? It's not fun.
Thankfully, there are ways to make the whole process a lot easier!
Grab a pomegranate, as we will go over the best way to cut a pomegranate (in five simple steps) below.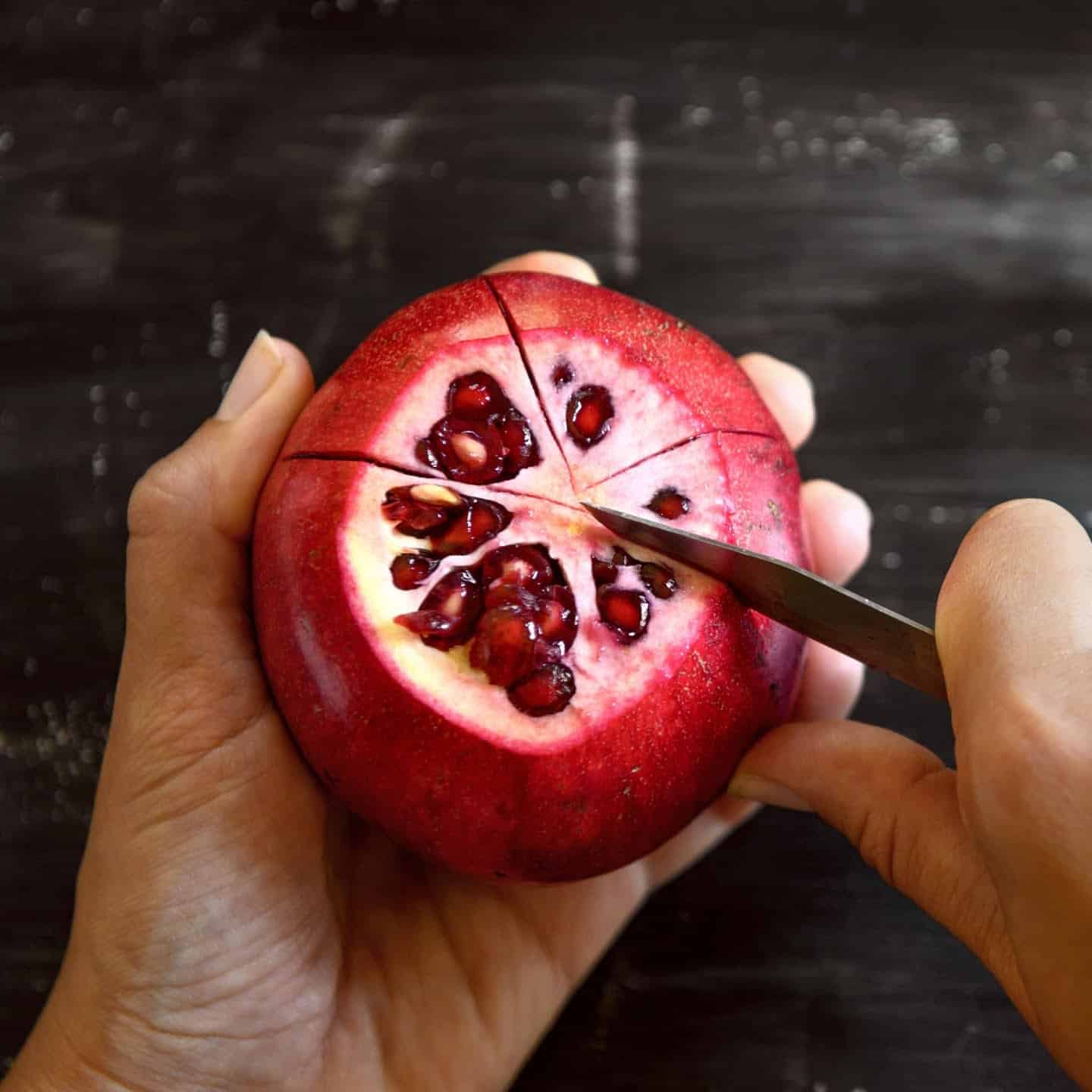 Contents
Pomegranate Benefits
First off, let's go over the benefits of eating pomegranates. This might make it easier to cut them in the first place!
Pomegranates, a Mediterranean fruit, are one of the healthiest foods in the world. They are packed with nutritious value and are reported to ward off several diseases, reduce inflammation, improve brain health, and more.
In fact, pomegranate is not just rich in nutritional value but rich in history and culture. It's a symbolic fruit in ancient Greek mythology and modern Greek culture and is thought to have inspired the word "grenade", coming from the French word "pomme-grenade."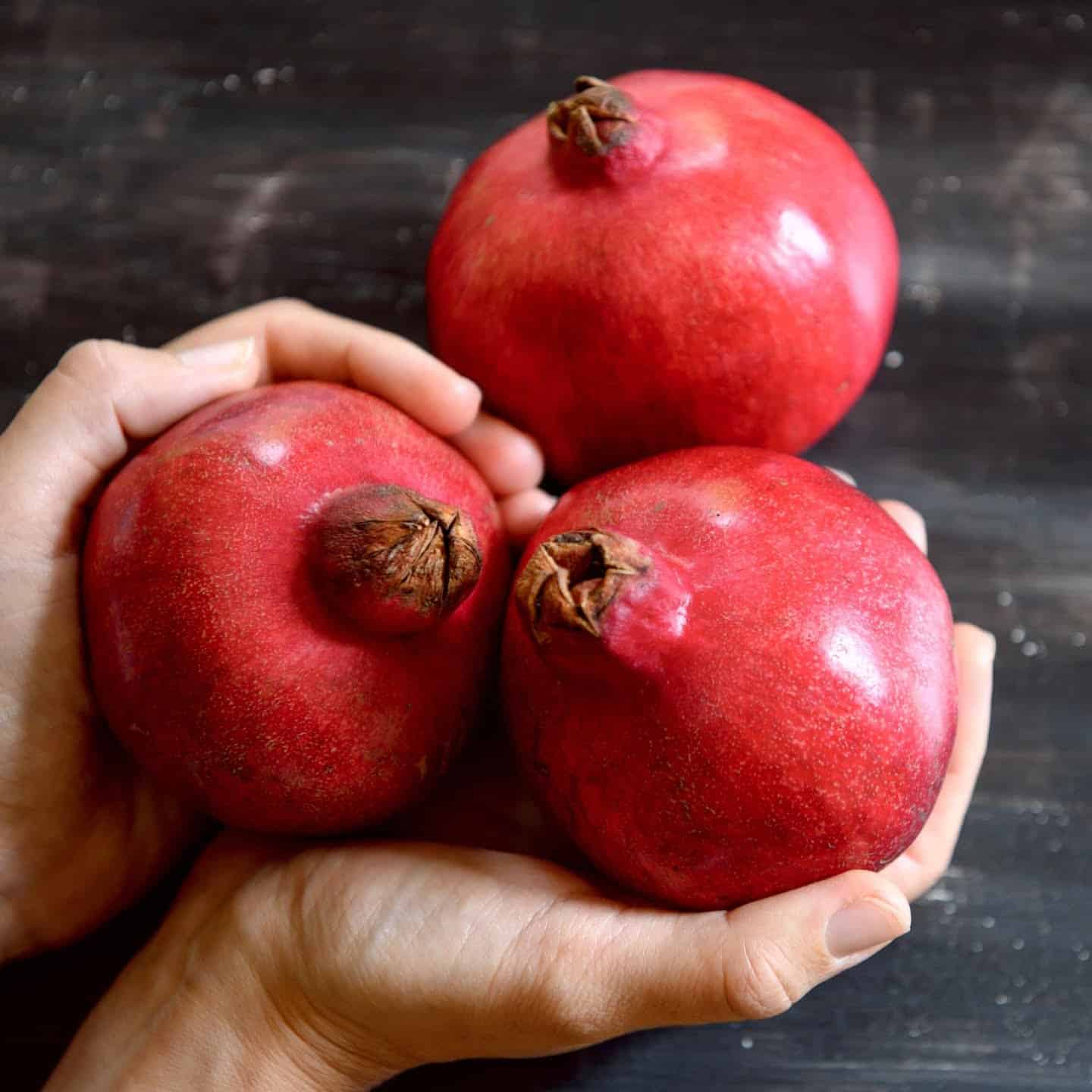 Overall, the pomegranate is a super fruit. And it's fair to say the benefits of pomegranates outweigh the disadvantages (such as cutting them).
Summarized, pomegranate benefits are:
High in vitamin C
High in vitamin K
High in fiber
Contains powerful antioxidants (polyphenols) with anti-inflammatory effects
Can improve digestion
May reduce blood pressure and the risk of heart disease
May improve memory
High in dietary nitrates that can improve physical performance
How To Cut A Pomegranate - Step By Step
So, what's the best way to cut pomegranates?
There are numerous ways to cut a pomegranate, as well as various "techniques" and "hacks" that claim to make the process faster and easier.
The truth is, most of them don't work!
So, before you beat your pomegranate or submerge it in water (and waste the juice), it's important to realize that cutting a pomegranate will always require patience and care.
This is the best way to ensure that you get as many intact seeds from the pomegranate as possible.
With your pomegranate in hand, let's dive into how a cut a pomegranate!
Step 1: Check If Pomegranate Is Ripe
How do you tell if the pomegranate is ripe?
Before cutting a pomegranate, check that it feels heavy in your hand. This can indicate if the seeds are big and plentiful. As a rule, it's worth leaving your pomegranates to ripen for a few days - even up to, or past, one week.
Other signs that the pomegranate is ripe can be a protruding crown and a slightly softened exterior.
Step 2: Cut The Crown Out
The first step involving your knife is to cut the pomegranate crown out.
Use a small, sharp knife and cut a circle around the crown, going deep enough to create a small upside-down cone shape.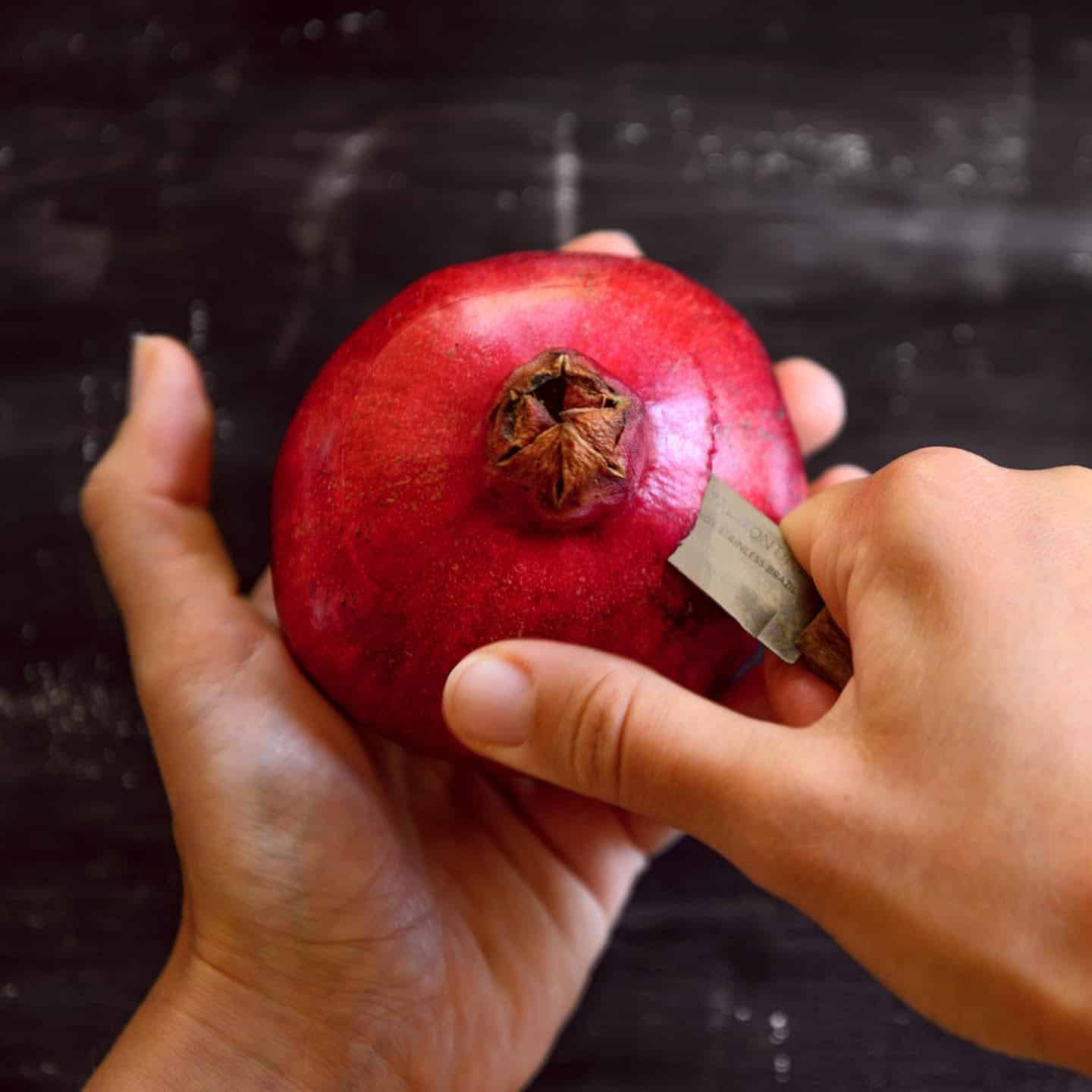 If done correctly, you should be able to pull the crown out in one piece.
There might be some pomegranate seeds on the underside of the crown, so make sure to loosen these into your empty bowl or container. You can also turn the pomegranate upside-down to pour any juice out.
Step 3: Section The Pomegranate
We need to open the pomegranate without damaging the seeds inside. So, to do this, we need to section the pomegranate.
Starting from the top, make shallow cuts (a centimeter or two) down the pomegranate, going all the way around the sides until you reach your first cut.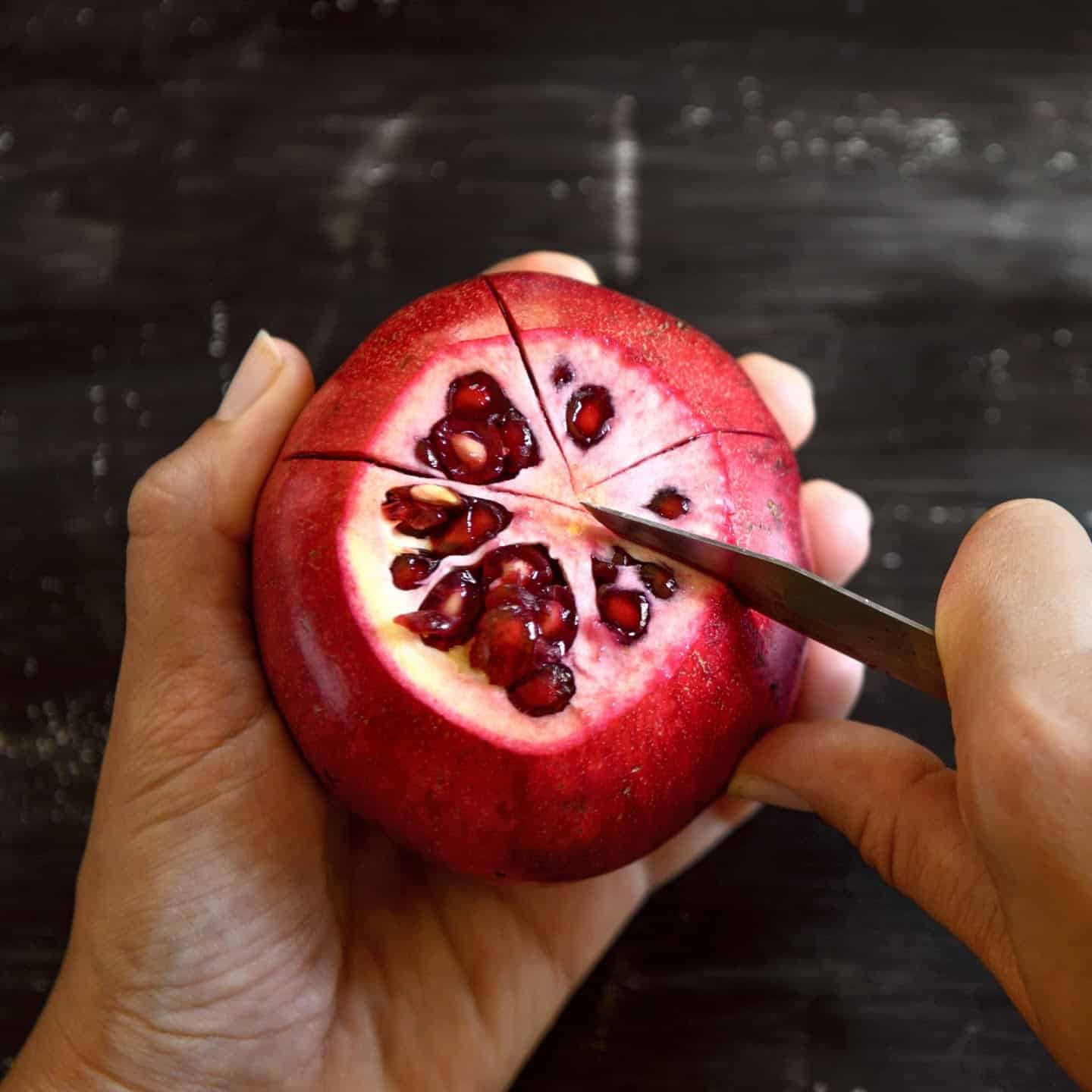 You should aim to make at least five or six vertical cuts, splitting the pomegranate into five or six sections.
Step 4: Open The Pomegranate
This step requires some care!
With a firm grip, open the pomegranate like a flower.
It is important to keep a firm grip, as it's easy for one of the sections to break off or for the whole pomegranate to slip out of your hand.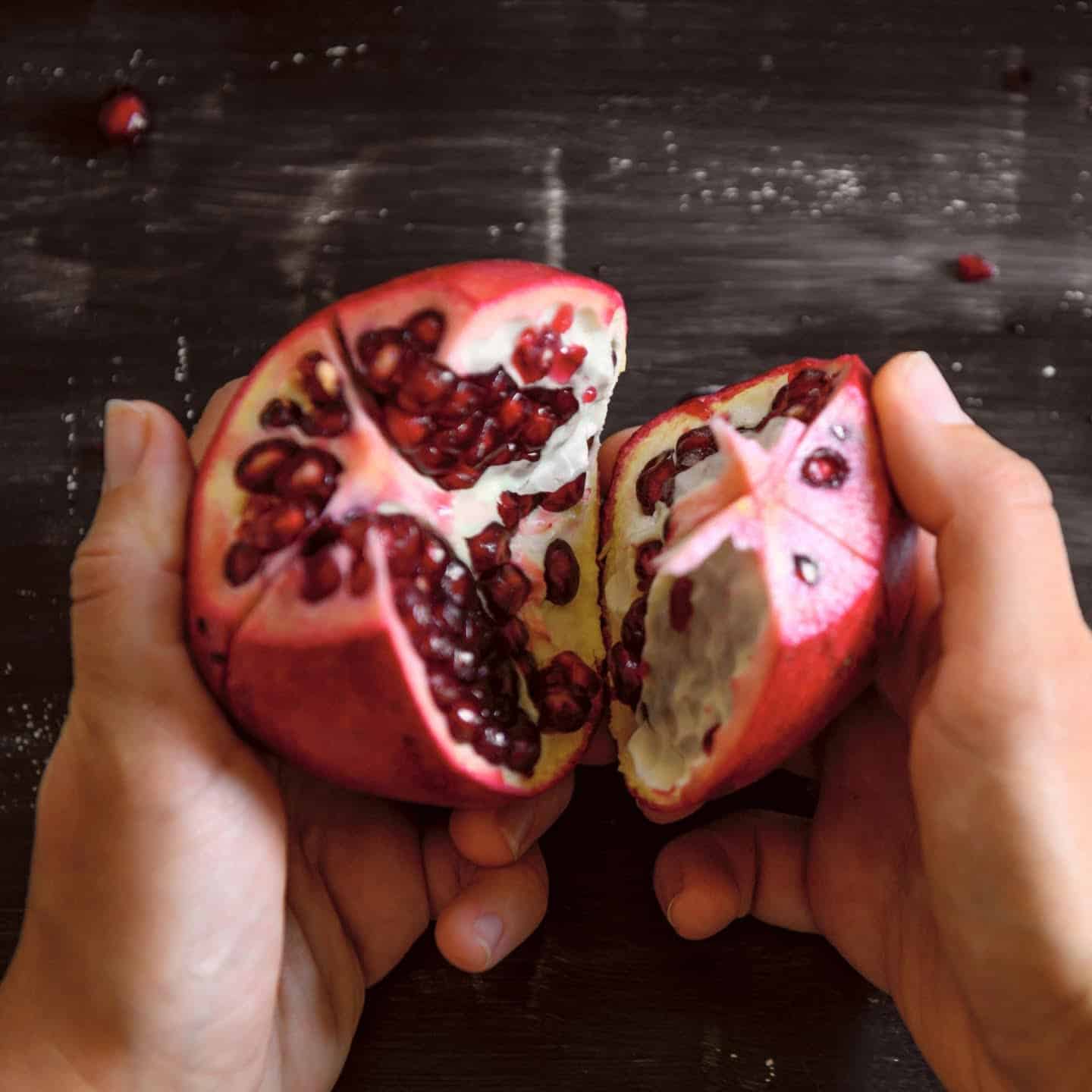 You will find that some pomegranate seeds will already come loose at this point, so make sure to do this step over a table or a bowl.
To make the next step easier, you can also separate the sections.
Step 5: De-Seed The Pomegranate
Here is the best part: getting the seeds!
To de-seed, the pomegranate, take the individual sections and bend them outwards to loosen the seeds into your bowl or container. This will make most of the seeds come loose.
Following this, use your fingers to loosen the remaining seeds lightly. You can "brush" the seeds loose and pick the seeds hiding within the pith.
Despite being edible, the pomegranate pith itself is bitter, so feel free to discard this part of the pomegranate as you go along.
How To Eat Pomegranate Seeds?
There are many ways you can eat pomegranate seeds, including simply spooning them from the bowl!
Pomegranate seeds are perfect additions to yogurt, frozen yogurt, and ice cream.
They also go well with granola, oatmeal, and various breakfast bowls.
In addition, if you like mixed fruit bowls, you can add pomegranate seeds to orange slices, berries, apple chunks, bananas, watermelon, and more for a summery, healthy afternoon snack.
Don't forget that you also make pomegranate juice! Put the seeds into a blender to make a juice drink or fruit smoothie.
Related How-to Cook Articles
Check out these easy to follow kitchen essentials and learn something new.
Conclusion
To top it off, cutting pomegranates is time-consuming, difficult, and messy. But by knowing the best way to cut a pomegranate (detailed above!), you can save time and get to those juicy pomegranate seeds as fast as possible.
There are many benefits to eating pomegranates and just as many ways to eat them - from adding them to your yogurt to making a summer smoothie or mixed fruit bowl. While it might seem like a hassle to cut and de-seed them, it's worth it!