House cleaning checklists play a vital role in simplifying typical household cleaning. These daily, weekly, and monthly cleaning checklists plus a few extra bonus deep cleaning ideas for each season.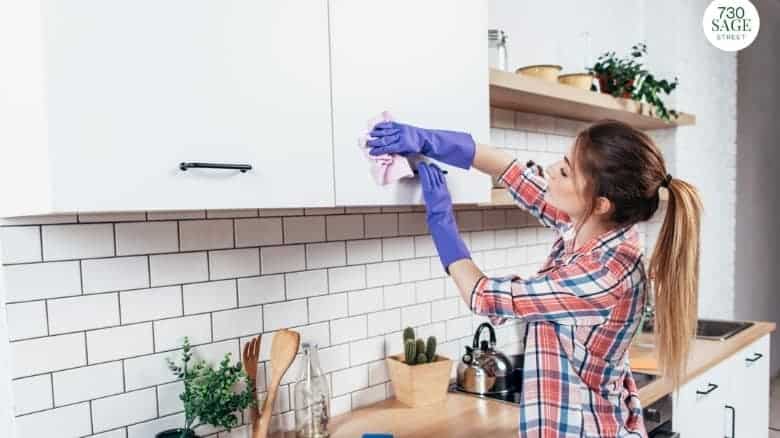 The best way to make the work easy for everyone is by having a set cleaning routine: time to clean, the rules, cleaning equipment, and everything important. There are very few people who enjoy deep cleaning, but this is absolutely necessary. A house cleaning schedule or routine helps keeps you more organized and efficient. Let's face it, if left undone, cleaning tasks become two or three times longer and more difficult. Save yourself, print of our house cleaning checklist, create a schedule or routine, put on some music, and get started.
Contents
What are printable cleaning checklists?
Everyone should love house cleaning lists. Something is satisfying and rewarding about completing these tasks. At that moment, you feel like you're the most productive person in the world. However, there is a little problem with that. Notepads are not as visually appealing as you may think. Plus, they leave behind an organizational issue. The perfect house cleaning schedule template can be categorized based on daily, weekly, and monthly cleaning. That's a win-win on every side. So, how do you divide your cleaning tasks into the ideal sections? We have a free printable cleaning checklist that takes care of household chores to your satisfaction.
How to delegate cleaning?
Delegate one job to each person
Make it a family affair
Be flexible with your delegation
Set goals and the task completion that will indicate success
Easy ways to make house cleaning fun
Listening to music
Turn it into a game
Use a timer
Reward yourself after a successful cleaning session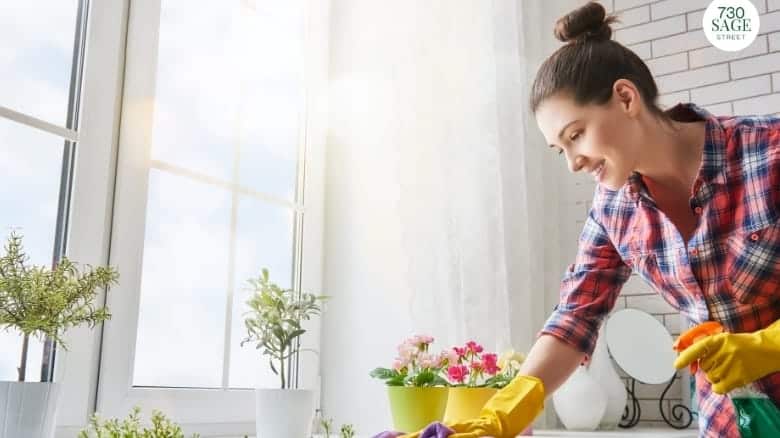 Recommended cleaning equipment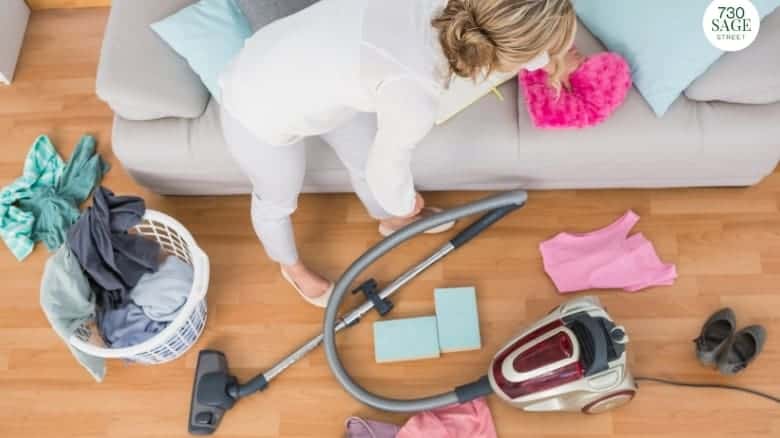 Daily cleaning checklist
This cleaning schedule contains basic daily cleaning tasks that will keep your house shining all day, every day. It includes essential daily tasks for your living room using affordable cleaning products. Make sure you opt for products that are sure to eliminate harmful germs and bacteria in less time. Here are some daily house cleaning tips:
Kitchen cleaning: Now, this goes without saying but sadly, some people like to keep dirty dishes for several days. However, this is wrong and should be on your daily cleaning checklists. Dirty dishes must not spend more than a day in your kitchen sink before taking care of the trash. Plus, this is a huge time saver!
Clearing kitchen clutter: Start by wiping down your countertops with an all-purpose cleaner and damp cloth. This should eliminate crumbs, splatters, and spills. Then sweep up other crumbs with a dustpan while removing anything that shouldn't be in your kitchen.
Bathroom cleaning: With some daily cleaning tips from our printable house cleaning checklist, you can excel at keeping every grime and germ away from your bathroom. Your daily bathroom home cleaning should start with wiping down the countertops, mirror, and sink with a wet washcloth or paper towel. Clear all clutters and pick up discarded towels.
Living room cleaning: Daily home care doesn't involve heavy vacuuming. That's why we left it out of the daily house cleaning checklists. Instead, keep the clutter in your living room under control by straightening up your cushions, taking objects off the floor, arranging books on the table, and using a handheld vacuum to handle dust bunnies on your rug or sofa.
Make the bed: You should do this every morning, immediately you get out of bed. Then clear out any items on your floor space and hang the clean clothing in your closet. Don't forget to spruce up your nightstand.
Weekly cleaning checklist
For your weekly house cleaning checklists, you can devote each day of the week to a specific task to avoid being overwhelmed with so many cleaning tasks. These are chores that you or cleaning services can handle at least once a week seamlessly.
Microwave cleaning: Your weekly cleaning schedule should include a heated microwave-safe bowl containing several tablespoons of vinegar and a cup of water. This will be used to clean the inside of your microwave with a sponge.
Bathroom surfaces: Get your home clean with cleaning products for the tub surfaces in your bathroom, tiles, glass, and bathroom sink.
Clear out your fridge: During the week, you would have been too busy to see everything that's in your refrigerator. Every week, take the contents out of your fridge and inspect them to ensure that all the bad ones are discarded. Then clean with a damp cloth.
Vacuuming: On your daily checklist, cleaning with your vacuum is unnecessary, but you can do this for your weekly cleaning routine checklist. Weekly, vacuum your carpets and dust out the furniture thoroughly.
Sweeping or mopping hardwood floors: Your weekly house cleaning schedule template should include cleaning the floors until they are spick and span.
Monthly cleaning checklist
These are the house cleaning tasks that don't happen daily, weekly, or periodically. For your monthly house cleaning schedule, you will discover aspects of your home that you have ignored all month long, possibly even longer. With this printable cleaning checklist, even a busy mom can have some free time. Since these cleaning jobs don't happen all the time, you can split them up with the family, even the kids.
Washing machine cleaning: Some washing machines need special cleaners while others will clean with any great soap. Whichever one is your model, pick the one that works best to run your appliance with hot water. I also use a ½ cup of white vinegar during regular towel washing; this helps remove grease and build up in your washing machine and works wonders on towels.
Vacuum cleaner: You have done a lot of vacuuming in the last few weeks, and those bags will need to be changed. Wait till it's three-quarters full and replace all dirty or torn filters.
Ceiling fans: Look up and see how much dust is on your ceiling fan. It has been a while since you cleaned them, right? Get your ceiling fans to function well and look nice by dusting them during your monthly house cleaning.
Light fixtures: Remove caked dust on your light fixtures and globes. It should take a few minutes to wipe them with a damp cloth and get the light fixtures shining again with just a little cleaning.
Air vents: Air vents are a good place for dust to build up over time while your scheduling template focuses on other parts of your home. Your monthly printable house cleaning schedule should include dusting them down and wiping down the walls close-by to prevent dust from blowing into your room.
Spring cleaning ideas
Here are a few helpful spring cleaning bonus ideas that I really appreciate. Feel free to add any of these to your house cleaning checklist!
Your home's entryway is often a collection point for clothes, boots, and shoes over the winter. This is a great time to clean your entryway from the top-down, store winter clothing, or give away anything unnecessary.
Pantry, Fridge, and Freezer are great spring cleaning cleaning ideas. Remove all of the items from each, purge expired items, and clean from the top down. This is a great time to re-organize existing items and note any missing items you'll need. I'd recommend doing one at a time to avoid cleaning overload.
Shampoo or Steam carpets - This is one of my favorite spring cleaning tasks. After a long winter, it just makes me feel good to have clean carpets that smell great. This also applies to curtains throughout your home. For whatever reason, these items have a significant impact on overall home cleanliness and freshness.
Summer cleaning ideas
In our home, there is always a lot of foot traffic in the summer and lots of people coming and going non-stop.
Floor cleaning, specifically hardwood and tile floors, are my primary targets. And I like to hit my targets early and ensure all of my floors, regardless of the type, are deep cleaned, polished, and protected for the summer ahead. You'd be surprised, but floor polish and protection are just as important as cleaning.
Autumn cleaning ideas
As we move into Autumn, I tend to focus on the house's exterior more and the yard. If you have a garden, this is another good task to add to your cleaning checklist.
Yard, Windows, and Gutters - I tend to focus on these in Autumn and aim to have everything wrapped up before winter. Yard work around here typically means finishing up my garden and applying late fall fertilizers to my garden and lawn. Next, I focus on cleaning gutters, and in some cases, I've relied on HomeDepot for help with this. And lastly, deep cleaning all exterior windows.
I'll also inspect and replace:
Winter cleaning ideas
Winter is often the month we hunker down and focus inward. This is also when we routinely shift to winter clothing. This means storing our summer and fall clothing and bringing out our duvets, winter coats, and boots. Depending on where you live, your winter cleaning checklist will vary a lot from Miami to Seattle. While I'm cleaning my fireplace, someone else may be cleaning their oven, and that is perfectly fine.
Helpful cleaning resources
Ready for house cleaning?
Add any of the above to this free printable house cleaning checklist, you can breathe in fresh air daily, knowing that your house is as clean as you would love it to be. This is an easy to follow house cleaning template which everyone will love. Grab the Google Sheet, which updates with the current week and month automatically. Save it, print it off, and start cleaning.
Save the Free Printable Deep Cleaning Checklist