MetLife Foundation
. All opinions are 100% mine.
I'm a poet!
Ok, not really.
It's pretty cheesy.
But that's the thing about moms. They actually kind of like cheesy. At least I do. But my kids are in elementary school. I'm not sure if my mom likes cheesy from her 40-something daughter.
Oh well, it's the thought that counts, right?
We all can't be poets for Mother's Day, but every one of us can honor our moms by writing a #Moem.
What's a #Moem you ask?
A "#Moem" is a tribute poem written and posted on social channels, preferably rhyming, in 110 characters or less.
If you are poetically challenged, never fear, however because Metlife has got you covered with their Moem Maker!
The MetLife Moem Maker is super easy to use and every time you create a unique #Moem and share it on Twitter or Facebook, MetLife Foundation will donate $10 (up to $50,000) to Dress for Success.  Dress for Success is an organization that provides financial advice and access to services for low-income women.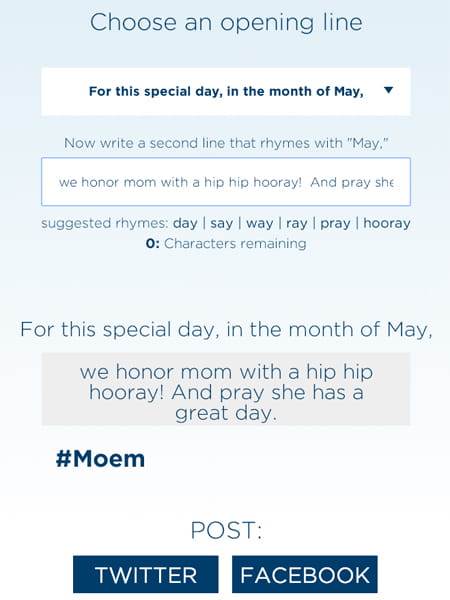 The Moem Makes starts you off by giving you a choice of opening lines, then it gives you rhyming suggestions, and you get to explore your creative side by writing a second line to complete your #Moem.
Got more than one thing to say?
That's fine, make more and share them so that you can help Dress for Success help low-income women to achieve their dreams.
Join our newsletter!
Subscribe to get updates and great stuff via email including subscriber-only goodies like free printables and giveaways.

This is a Sponsored post written by me on behalf of