I'm here to talk to you about your home thermostat.
I know, it sounds about as exciting as having the hair on your arms pulled out one by one.
But I promise that this is much more interesting than it sounds so stick around because by the end of this you will be as excited as I am about your home thermostat.
I never thought a whole lot about our thermostat. It came with the house. It's attached to the wall. It controls the ambient temperature in our home. It's one of those things that you don't really think about but that you use all the time and really couldn't function without it in a home with central heat and air conditioning.
We spend a lot of time standing in the hallway adjusting the thermostat based upon the external temperature. We get up after having snuggled into bed at night because we forgot to turn it down. I can't even begin to tell you how many times we "discussed" who should get up and turn it down at night.
Our thermostat is programmable but we never bothered to set it because we work from home and the temperature here is always changing, we find we end up modifying the program constantly anyway.
But still, I never thought it was a problem, just a normal part of daily life.
Until now.
Now I have a Honeywell Wi-Fi Smart Thermostat!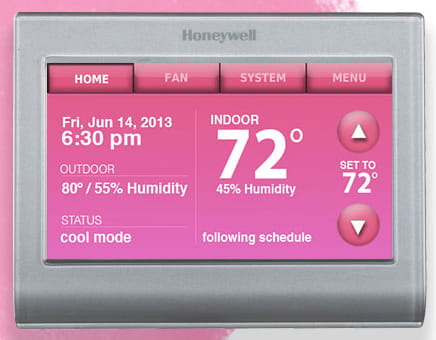 Honeywell Wi-Fi Smart Thermostat
Smart features, customizable touchscreen, and simple setup, plus Wi-Fi remote access.

Control from Anywhere
Simple Setup
Customizable Color Touchscreen
Smart, Flexible Scheduling
Smart Response
Advanced Fan/Comfort Control
Auto Alerts
Reliable App
Indoor Humidity Sensor
Locking Touchscreen
This thing actually changed my life because I spend less time in the hallway adjusting the thermostat than I ever have before.
Installation of the Honeywell Wi-Fi Smart Thermostat was fairly straightforward. My husband is quite familiar with electronics and electrical things which helped, but Honeywell has a great installation video that talks you through the whole process.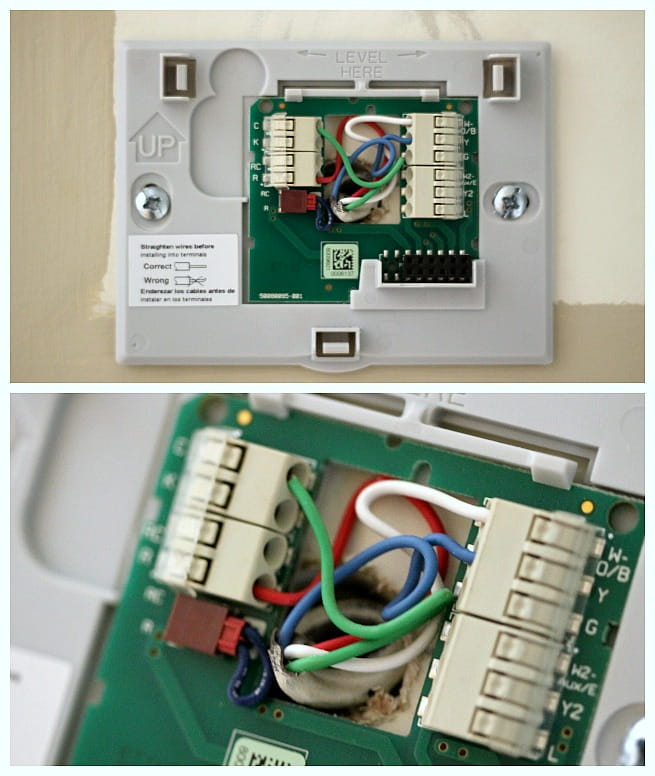 Setup was easy too. You simply select your Wi-Fi network, enter your password on the keypad that pops up on the touchscreen and it's ready to go. Then you simply download the app and create an account so you can control the thermostat from anywhere!
The video below shows you how the unit works and the available on-screen features.
Despite the problem I now have trying to find matching paint, I love having this thermostat. Seeing the outdoor temperature right on the screen is amazingly useful, and the vibrant screen means no more turning on the light in the hallway to see what the temperature is set at. I also love the control of being able to change the settings in my home no matter where I am right from my phone.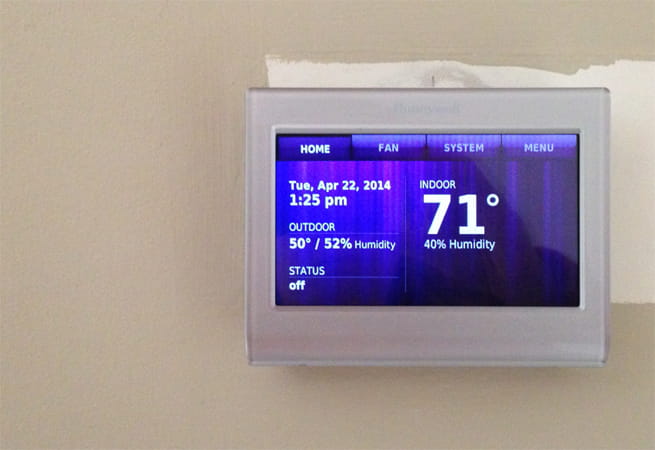 The Honeywell Wi-Fi Thermostat also has a thinner profile than our old thermostat, so it sticks out less into the hallway. It's less obvious (well once we fix the paint anyway) and less of a chance I will hit my head on it. Not that I ever did that before, that would be weird.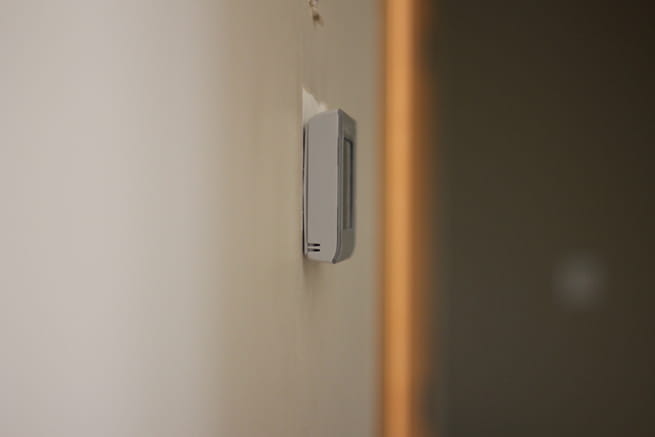 To find out if the Honeywell Wi-Fi Smart Thermostat will work in your home, scroll down to the home compatibility section on this page and take the quiz: WiFiSmartThermostat.com.
If you want totally control over your heating and cooling, enter the giveaway below!
Enter to win!
One winner will receive a Honeywell Wi-Fi Smart Thermostat. To enter, fill out the entry form below.
a Rafflecopter giveaway
Giveaway is open to the 48 U.S. contiguous states and ends on April 29, 2014 at 12:00 am CST. Winner will be selected at random from all eligible entries and will be contacted by email. Winner will have 48 hrs to respond. Please add kim@theysmell.com to your trusted email filter. If original winner does not claim their prize within 48 hrs, it is forfeit and a new winner will be selected promptly.
Join our newsletter!
Subscribe to get updates and great stuff via email including subscriber-only goodies like free printables and giveaways.

Honeywell provided the review product to facilitate this article.